When you hear the name "Caracas Arepa Bar," you probably wonder "what is this arepa and do I want to go to a bar that makes little else but them." While the arepa is something that needs to be experienced and not explained, the best I can say is that it's sort of griddled cornmeal English muffin. Caracas uses this to create a dozen sandwiches stuffed with the likes of pulled pork, stewed beef, avocado, black beans and plantains. If that doesn't get you excited, consider this: the most expensive one is $8 and you can eat there in under half an hour, making it at worst a much better use of your time and money than going to see After Earth.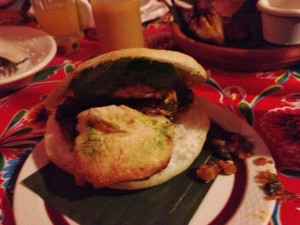 But if you have any complaints, you'll be the first. By focusing on this Venzeluan sandwich, Caracas has mastered the art of making them* which has landed them a spot on my "Go To Spots" list. I firmly believe it's a place every foodie in New York needs to try. It should be noted the arepas are not that large, and you'll probably want 1.5 to 2 if you're hungry. Also important: that yellow sauce in a squeeze bottle on your table is the hot sauce of the Gods. You'll want to slather it on everything that hits your table. While they won't tell you what's in it, I definitely get a combination of chilis, chipotle and cilantro – none of which have ever led me astray.
*I've actually never had an arepa anywhere else, so my qualifications to call Caracas the "master" are perhaps questionable.
As for actually going there my first piece of advice is be prepared to wait. The original East Village location is slightly wider than a shoestring and lines on weekends can be around an hour (I understand there's also a Williamsburg location that is quite a bit larger). Despite the size of the space, the owners have done a nice job decking it out in Venezuelan decor including some comically gigante Hugo Chavez heads. And the food generally comes quickly enough to make your forget you're touching thighs with the NYU student seated next to you.
I don't think you can go wrong with anything on the menu here, although I personally avoid the ones with the sauteed peppers.  Below are a few of my favorites: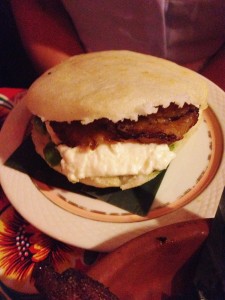 La Surena Areapa

 My favorite arepa combines spicy chorizo, avocado and their delicious chimichurri sauce. What else could you want?
de Pabellon Arepa

 The signature arepa comes with stewed beef, plantains, beans and their delicious white salty cheese. It's the heartiest arepa on the menu but if that's what you're looking for go for it.
La Del Gato Arepa

 If you're looking to go veggie, the slab of fried white cheese in this one makes a nice meat substitute. The fried sweet plantains and avocado temper it's saltiness nicely.
Yoyos

 These cinnamon battered plantains are a little on sweet side alone, but perfect when covered with the salty white cheese or table hot sauce.
Tajadas

 Perfectly fried plantains – crispy on the outside and soft within. Add a little salty cheese for a tasty starter.
Caracas Arepa Bar
93 East 7th Street (1st & Ave. A)
New York, NY


&
291 Grand Street (Roebling & Havemeyer Sts.)
Brooklyn, NY