Note: I was invited as a guest of the establishment and received a complimentary meal. This was not in exchange for a positive review and opinions expressed are my own.
Why Come Here? Crowd pleasing menu in a cozy setting, chance to sample many items with one of their signature "flights"
Flight is a recently opened gastropub in Yorkville that draws its name from the numerous "flights" of 3-5 food items or drinks they offer. This is a great setup if you're like me and always want to sample as much as possible. The food flights range from standards like cheese and charcuterie to sliders to the blowout "barnyard" flight of lamb, filet mignon and southern fried chicken.  Drink flights include beers, wines and whiskeys and refreshingly don't include the usual price penalty versus ordering a single drink by the glass.
Inside, Flight represents the intersection of old and new that is Yorkville. An old school L shaped bar offers ample spots to eat or drink while watching the game on one of their big screen TVs. The cozy back dining area features a beamed ceiling, exposed brick walls and charcoal banquettes. The front is enclosed with windows that open up in warmer months to provide the airiness of outdoor seating without the bustle of a Manhattan sidewalk. Throughout you'll find drawings of things like flying animals or flights of stairs – a subtle play on the restaurants name. This cozy setting and upcoming weekly live jazz nights are sure to make it a hot date night spot in the area.
The fare is a nice variety of American classics that is sure to please a wide crowd. In addition to the flights, there is a good selection of salads and apps like cornmeal crusted calamari and tostados for a light bite or snack at the bar. Those looking for a full meal will find no shortage of interesting options among the many pasta, meat and seafood dishes. The variety of offerings for both eating and dining make Flight a great spot for almost any occasion.
We were given a sampling of the Flight menu so portions in the pictures are generally smaller than you would likely receive. My recommendations are below: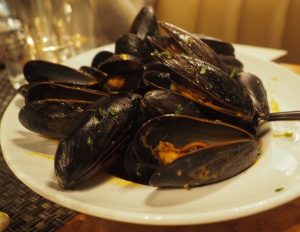 Steamed PEI Mussels 

The mussels are fresh and served in a tangy and slightly spicy thai curry sauce. You'll want an order on your table.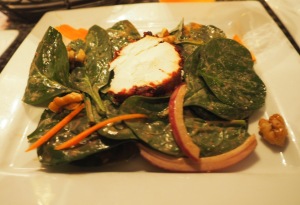 Spinach + Goat Cheese Salad 

A light, refreshing salad with big spinach leaves and a hunk of cranberry crusted goat cheese in a tangy balsamic reduction.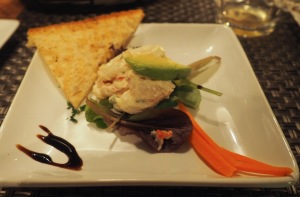 Avocado + Seafood Salad 

For those looking for a slightly more substantial salad, the chunks of calamari and shrimp make this a solid option.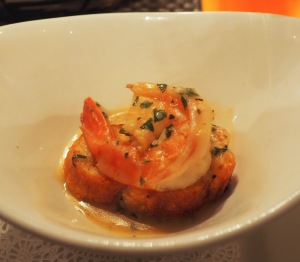 Shrimp Crostini 

This cheesy, garlicky piece of toast is the perfect compliment to a jumbo shrimp.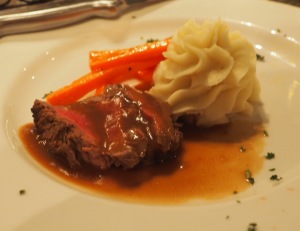 Filet Mignon 
Tender, flavorful and perfectly cooked in a savory gravy. If you're in the mood for steak this will not disappoint.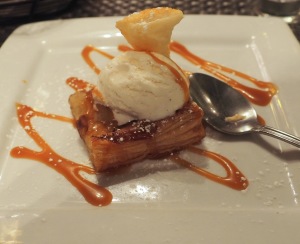 Warm Apple Tart 
Make sure to save room for dessert. This is a classic done perfectly with nicely spiced apples and a flaky homemade pastry crust.
Flight
1479 York Avenue (78th & 79th Sts.)
New York, NY