Why come Here? Impressing a date, parents or guests
Right Amount for 2? monkey bread, a starter, a pasta and an entree
I first came to this space several years ago when it was a mediocre wine bar. I remember sitting in the back room looking out at the garden and thinking someone could do a lot more with this space. Well, someone has. And they called it Piora.
Piora is a sleek restaurant perfect for impressing a date or a big night out with friends in the West Village. The front area has a long, quaint cozy bar with a cocktail list that makes it worth coming in just for a drink. Try the Sunset Romance. There are a few tables up there, but you want to hold out for one in the sexy back area. You feel like you could be eating in a chateau with wooden beams on the ceiling and a quaint garden against a brick wall back drop.
Once here you'll receive the menu, which is New American with Italian, French and Korean accents. Your meal should begin with an order of monkey bread and an appetizer. Fortunately the starters are primarily veggies and seafood so you won't be too full heading into the obligatory pasta course (preferably shared). Follow that up with a main consisting of heartier items like Porterhouse for 2 and Rohan Duck.
All of this ain't cheap as most of the entrees are in the mid-$30s, but you're getting high end ingredients and a great space in a prime area. It's also one of the few places in the West village where tables are comfortably spaced out, making it perfect for a European-style lingering meal. Come in viewing it as an indulgence, and you'll have no problem leaving with a lighter wallet.
Here's what I tried:
Monkey Bread

I'm hesitant to pay for bread at a restaurant given the shortage of high quality free stuff throughout the city. However, the crisp outside and cloud like softness within combined with the interesting flavor of the seaweed butter makes it worth shelling out the six bucks.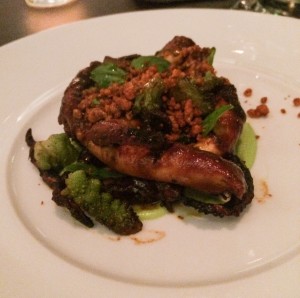 Barbecued Octopus 
Get ready to get smoked. This octopus picks up a ton of burnt flavor from the grill and the hot fermented pepper adds a sour spiciness. Despite the charred exterior, it's perfectly tender inside. The basil makes a refreshing addition.
Bucatini 
It's a little smaller than you might expect for $36, but it is loaded with dungress crab. The soft squid-ink noodles and pick up some interesting twinges from the black garlic and chili.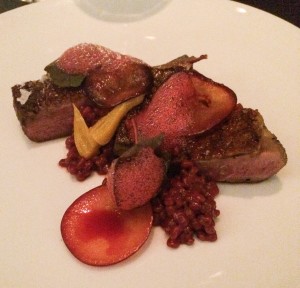 Rohan Duck

The duck with lavender at Eleven Madison Park is one of my favorite dishes of all time. While this doesn't quite reach that level, the mere fact it's in the same conversation makes it a must order.
Piora
430 Hudson Street (Morton & Leroy Sts.)
New York, NY