Why Come Here? Summery food & vibes, good eats in Meatpacking
Unlike the more dapper Major Food Group restaurants like Carbone and Dirty French, Santina just feels like a party. The room is filled with colorful flamingo chandeliers, giant flowers and plants all illuminated by massive floor-to-ceiling windows that make it feel like a trippy garden. And everyone looks to be having a good time, from the fruity cocktail pouring bartenders to the cabin boy dressed waitstaff. You can't help but do the same.
Currently Santina is one of the hottest restaurant in NYC and this summery good times vibe is no doubt a big part of it. Another part is the fairly light "Coastal Italian" menu that pairs well with the weather, even if most dishes are very good without being spectacular. On top is their specialty "Cecina" section, which is a fun-to-make-if-not-particularly-exciting-tasting chickpea crepe offering a number of different topping options. The rest of menu offers a crowd pleasing variety of veggie dishes, pastas and entrees heavy on proteins of the sea. Somewhat frustratingly none of them have descriptions so be prepared for a long interaction with your waiter unless you want to chance it. Fortunately ours was friendly and clearly well-versed in reciting all the preparations. Here's what we tried:
Calabrian Tuna Cecina

This sort of reminded me of a dosa, but without the delicious flavoring of Indian spices. They do give you a duo of sauces to counteract that, but this is more about the fun of creating your own little crepe than being a really great dish. Or maybe I just made mine wrong.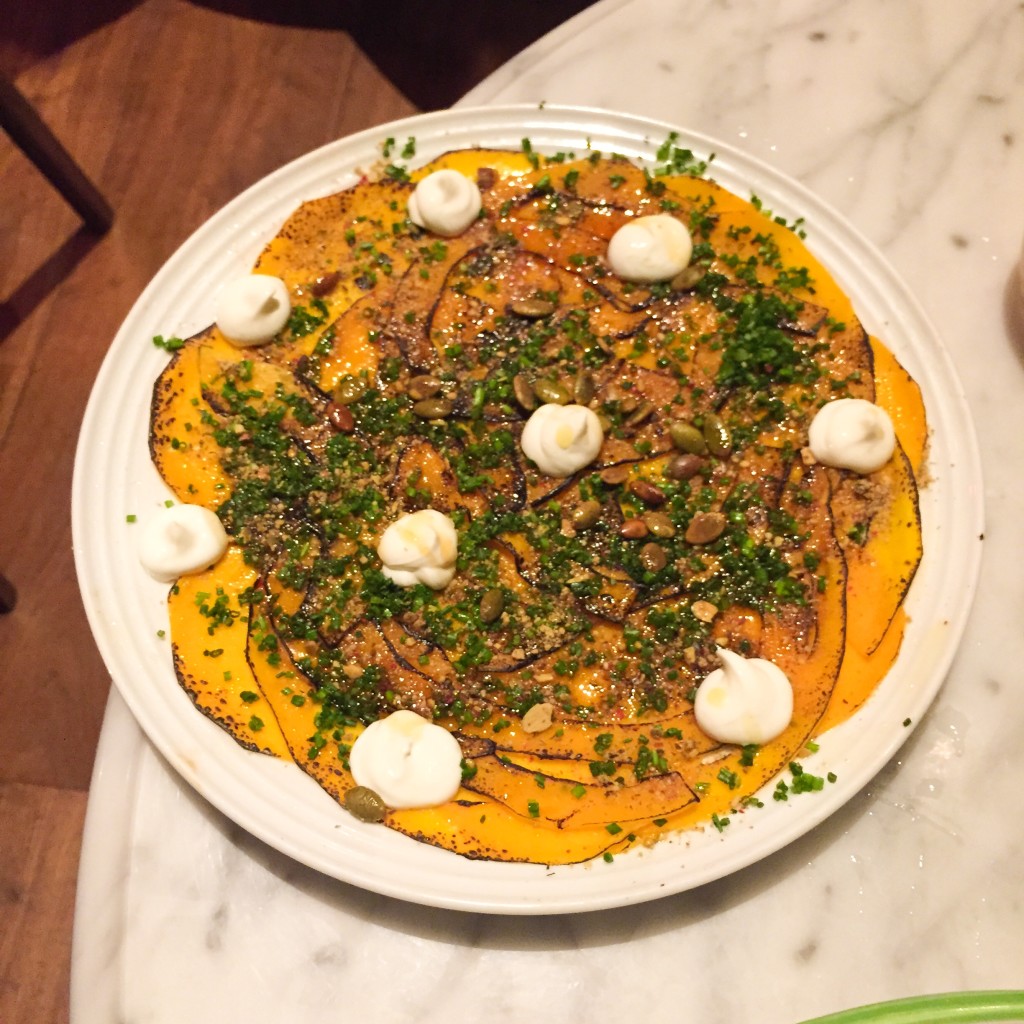 Squash Carpaccio

The most talked about dish on the menu because it's without a doubt the best. Thinly sliced squash is covered in peppers, spices and oils and topped with creme fraiche. Its lightness makes it ideal for summer, but I'd be quite pleased eating it year-round.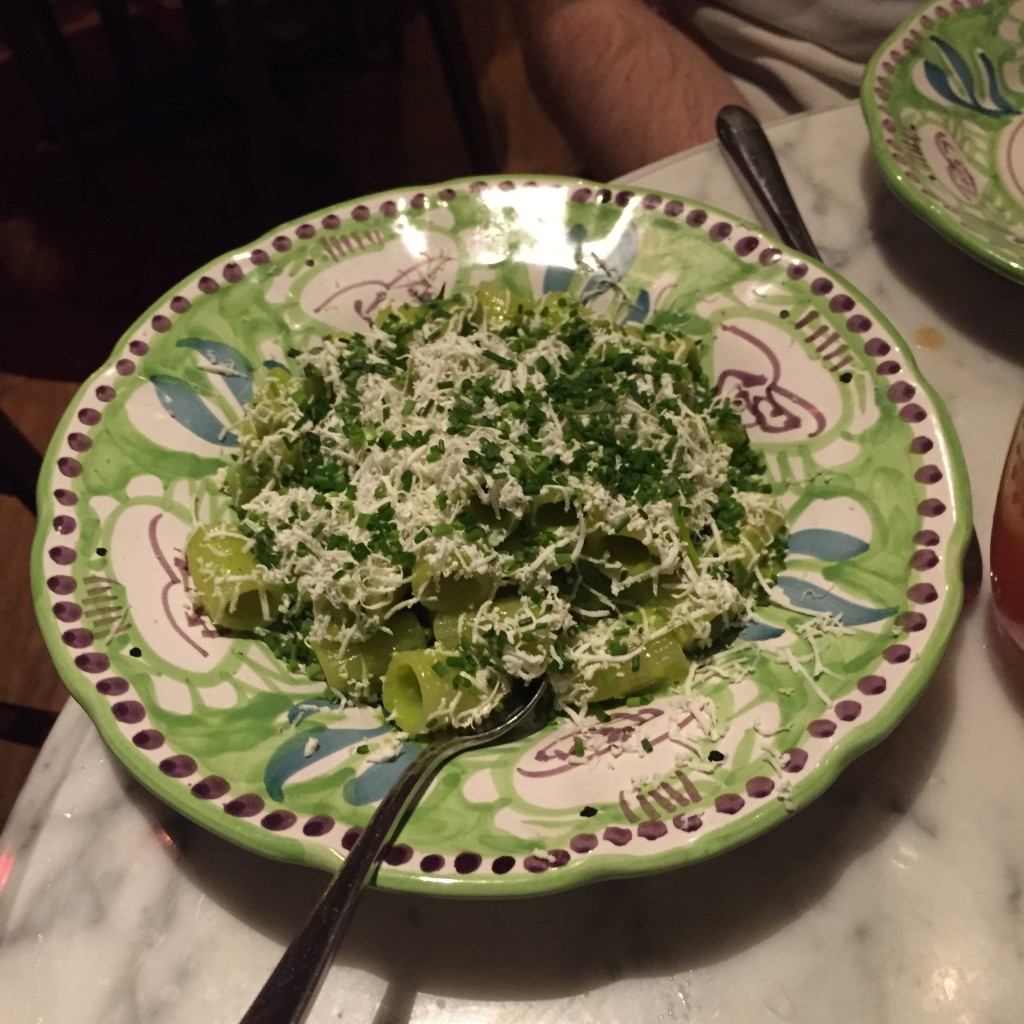 Rigatoni Verdi 

Another dish made for the season, it's a green pasta covered in ricotta. Light and well prepared but sort of lacking any memorable punch.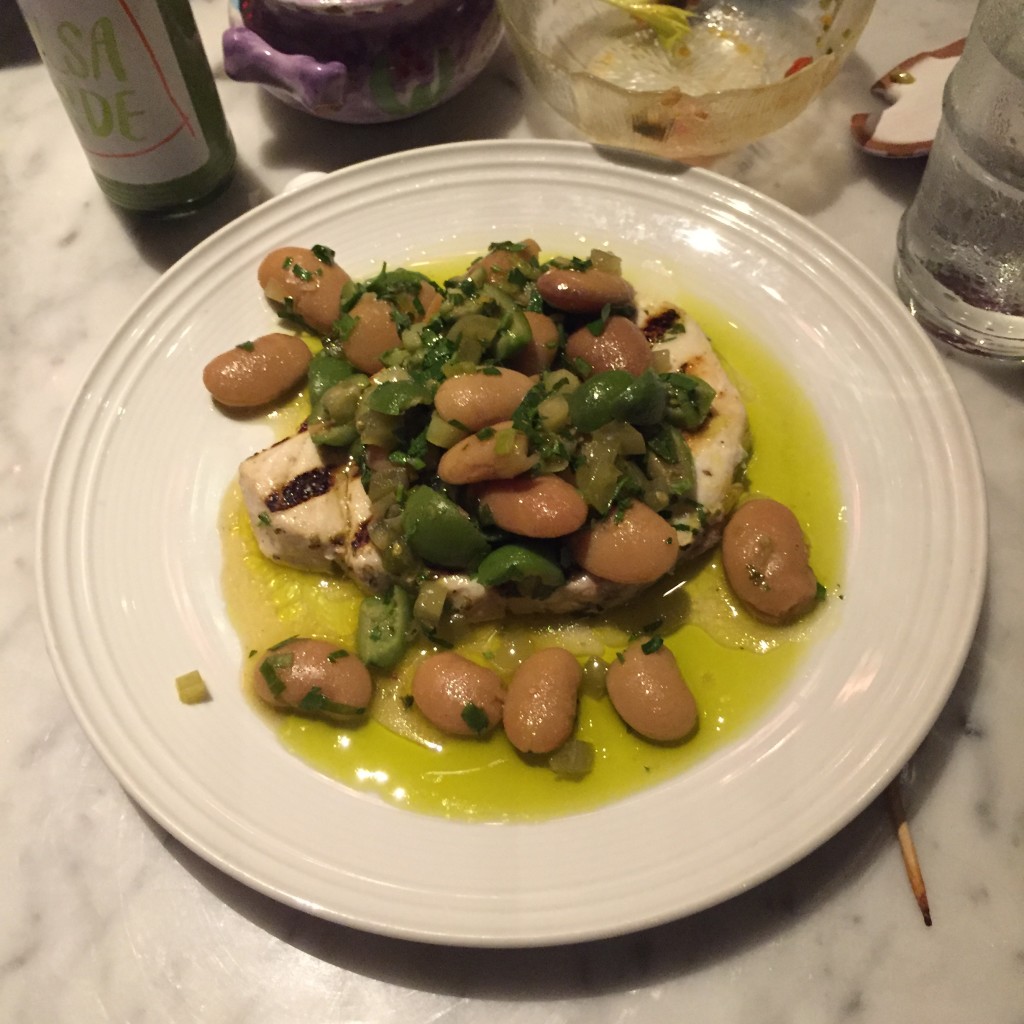 Swordish Dogana
Swordfish can be real hit-or-miss fish but this was one the best I've had. The dogana is a Mediterranean styling with fava beans, olives in a pool of olive oil. As far as simply prepared fish goes, this one nails it.
Santina
820 Washington Street (Gansevoort & Little W 12th Sts)
New York, NY