Why Come Here? Adventurous eating, shopping for hipster clothes makes you hungry
Right Amount for 2? 4-5 dishes
To reach The Gorbals, you have to climb the all concrete back stairway to the third floor of an Urban Outfitters store. The jury is still out on whether this makes the Gorbals a cool secret haunt or one that's just annoying to get to. Maybe it rubbed some people the wrong way as the early reviews were pretty mixed. After my recent visit I'm happy to say it seems to have found its footing.
Once you make it up the stairs, you find a restaurant with about the trendiness you would expect given the store its located within. The dimly lit dining area has an open kitchen, wooden tables and beams and frosted glass wall separating it from the shopping area. There's apparently also a rooftop bar I didn't make it up to on account of it being January.
The menu is about as unusual as the location. Expect to see things like Chicken Schnitzel with the claw still attached, falafel crusted sweatbreads and banh mi poutine. It's divided up based on where the thing came from with sections like field, coops, stream and barn. Everything is small plates style so you get to share. I'm recommending it for an adventurous meal with friends or a date, particularly if you can't wait to leave the store to show off your new graphic tee.
Here's what we tried: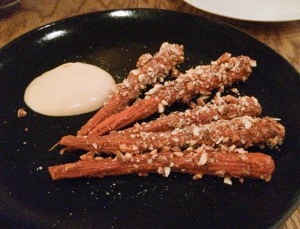 Chewy Carrots

Carrots are generally served crispy or mushy, but these guys have found an interesting middle ground. The almonds add a little extra crunch and the butter a savory element. Although the thicker one was a little too chewy, this overall made an enjoyable starter.
Falafel-Crusted Sweetbreads

The well spiced falafel dusting the sweetbreads could hold its own with any fried chickpeas in town. But what drew me to this one was the inclusion of cool ranch hummus. As a kid I used to eat about a bag of those Doritos a day. The Gorbals has perfectly replicated the taste in a healthier hummus format. If you feel like I do, this is a must order.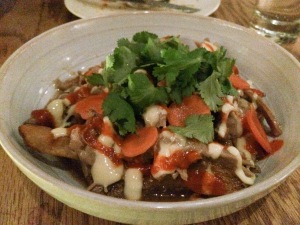 Banh Mi Poutine
This is the dish that first caught my eye at The Gorbals and I had no regrets. A substantial order of fries is loaded up with pork, cilantro, spicy mayo and hoisin gravy. Yes, it's as decadent as it sounds.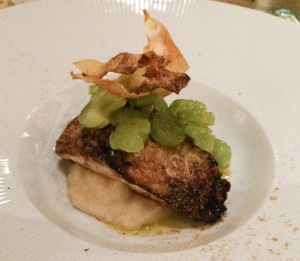 Celeriac
Celeriac is sort of a cross between celery and a turnip. I'd never heard of it but apparently people have been eating it for a while as the Wikipedia notes it was mentioned in the The Odyssey. If it's good enough for Odysseus, it's good enough for you. And it's actually quite delicious served three ways (fried, roasted and pureed).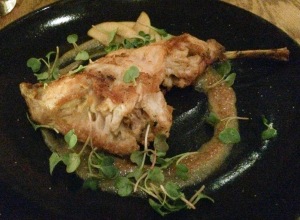 Rabbit
Very tender leg of rabbit in a tantalizing smoke sauce. It's also probably the only meat dish here that could be considered "light."
The Gorbals
3rd Floor of Urban Outfitters
98 N 6th Street (Wythe & Berry Sts.)
Brooklyn, NY