Why Come Here? Quick bowl of very good ramen
You wouldn't expect much from a ramen shop located on a strip of St. Mark's Place known more for bongs than broth. And when you peer through one of the large windows, your confidence is unlikely to increase. The painted concrete walls have little more than a few Japanese characters and posters covering them (grab a table by the window if you can). All of the seating is communal with a counter wrapping around three walls and a big table in the middle. Setagaya is not a great place for groups or for lingering. But if you're looking to get your ramen fix on quick, it will do the trick quite nicely.
Ramen Setagaya offers your standard ramen shop appetizers (gyoza, buns, etc.) and ramen in pork, chicken and vegetarian broths. If you come at lunch, they'll slash a full $1.05 off your bowl. The most popular ramen here is the spicy miso (in a pork broth), which is what I ordered. It arrived at my spot in about five minutes. My thoughts are below: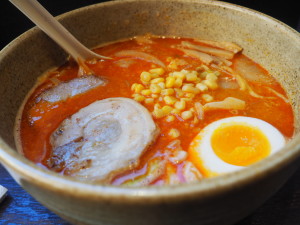 Spicy Miso Ramen
I really enjoyed the spicy miso broth which was salty with a good kick and strong pork flavor. The noodles were thick and chewy, probably the chewiest I've had (but in a good way). The pork was above average – a little tough but much better than the dried up strips you sometimes find at this price point ($12). The other fix'ins of corn, cabbage, bamboo shoots and egg left something to be desired. Given how much I enjoyed the broth, I think this could be three stars with a little sprucing.
Ramen Setagaya
34 1/2 St Marks Place (2nd & 3rd Aves)
New York, NY