Why Come Here? Eat almost any type of food imaginable with the East River and Skyline as your backdrop
When it comes to New York food markets, Smorgasburg is King. Thousands of people travel to Brooklyn every warm weather weekend to sample food from close to 100 vendors. Saturdays you'll find it at East River State Park in Williamsburg while Sundays they move to Pier 5 in Brooklyn Bridge Park. Both locales offer a feast for both the stomach and eyes with stunning views of the East River and Manhattan skyline. It's hard to imagine a better place to stuff your face with any type of cuisine imaginable.  Seriously, there's everything from Indian Tacos to Bolivian Sandwiches to Vegan Burgers. Getting a chance to sell your grub here is a highly competitive process which means while some things are better than others, everything is at least pretty good. Gather a bunch of friends and try as much as you can.
Fortunately I live a short walk from the Williamsburg location which means pretty much every Saturday you'll find me food-in-hand strolling the stalls, looking for my next bite. So yeah, I've eaten a lot of things there. And I will now rank them for your reading pleasure.
Note: As I continue going I'll keep this list up to date. So you'll want to bookmark this page. Not that you wouldn't anyway.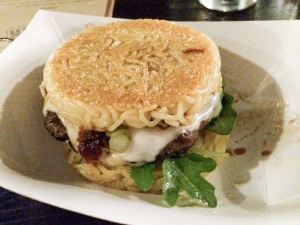 The Original Ramen Burger @ Ramen Burger 
Last year's hottest burger still draws the longest lines at Smorgasburg. The original is an angus beef patty covered with arugula, scallions and secret shoyu sauce on a bun constructed of ramen noodles. It's a really good burger, but novelty more than taste has elevated it to legendary status. Click the name above for my full review.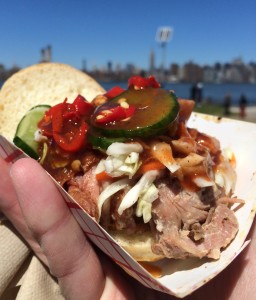 BBQ Pulled Pork Slider @ Mighty Quinn's* 
Another Smogasburg legend that's led to several brick-and-mortar locations but graciously continues serving here. You can also expect a long wait for this one if you're not there early. The pulled pork is tender and well spiced with a great sweet tangy BBQ sauce pickles and chilis. It's just a very well done BBQ sandwich.
Maine Style Lobster Roll @ Red Hook Lobster Pound*
One of NYC's best lobster rolls, it comes on a buttery bun with a touch of mayo.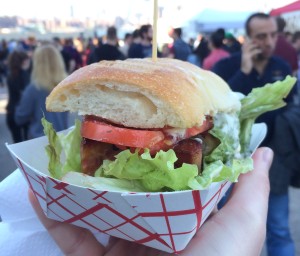 BLT @ Landhaus 
Landhaus has discovered the secret to the BLT. Replace the flimsy slabs of bacon with a big fat juicy slice of pork belly. Winner.
Channa Masala Sandwich @ Bombay Sandwich Co.* 
Indian style chickpeas with chutney on a fresh ciabatta it's packed with a lot of flavor and probably my favorite vegan sandwich in town. Check out their store on W 27th street for a wider selection of excellent vegetarian sandwiches.
Spicy Tuna and Short Rib Tacos @ Takumi Taco* 
The taco fusion craze takes on Japan with excellent results. What's not to love about big hunks of tuna in spicy mayo and avocado? Nothing. The crispy gyoza taco shell makes it a little more Japanese and is perfect wrapper. The short rib is meaty and tender and great with wasabi crema.
Mozz Pops @ Big Mozz NYC 

You can watch these guys just making fresh mozz all day. But you should try some too. Cause it's delicious.
Brisket Slider @ Lone Star Empire 

Moist, meaty and well spiced. It's a strong alternative if you want barbecue but don't want to wait in the Mighty Quinn's line.
Spring Rolls @ Lumpia Shack* 

They offer Pork, Peking Duck and Mushroom filling in crispy, Filipino style spring rolls. They'll give you all three for $8. Take the deal.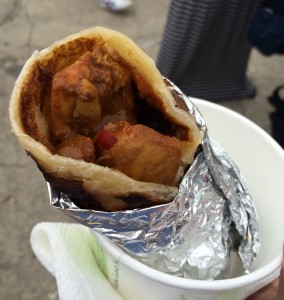 Chicken Roti @ Mamak Rendang 

Sweet and spicy chicken in a buttery roti. You're about to realize you can sell my anything in an ethnic wrap, but this is the best of the bunch.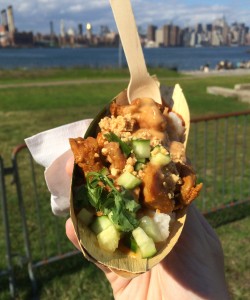 Chicken Satay Stick Rice @ Bamboo Bites

Spiced chicken, cucumber, cilanto over sticky rice. This is a solid snack I think could rate it higher if not for the peanut sauce.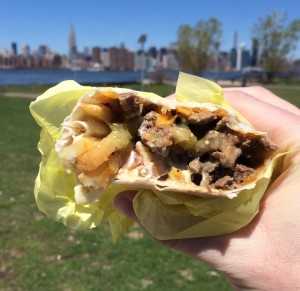 Carne Asada Burrito @ Best Buds Burritos 

I've gotta give these guys credit for being the first in NY to execute on the stoner fantasy of french fry filled burrito. Otherwise it's a pretty standard California style burrito with crema, cheese and cilantro.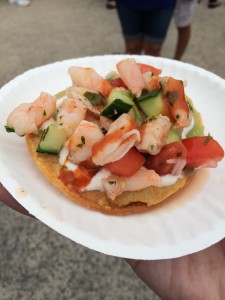 Shrimp Ceviche Tosatado @ El Super

A refreshingly somewhat lighter bite than most here, it makes a great option on a hot summer day.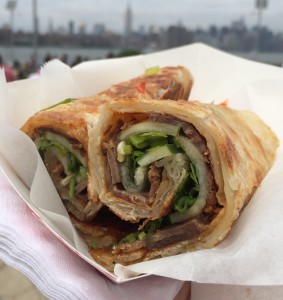 Beef in Scallion Pancake @ Outer Borough

I love the idea of using scallion pancakes to make a wrap. A good sauce could take it to the next level.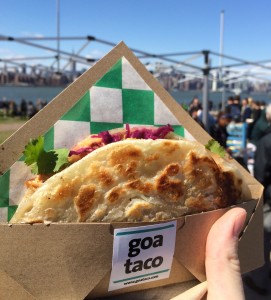 Slow Roasted Pork Belly Paratha Taco @ Goa Taco

I like the paratha and the pork belly, but I would have liked something a little more Indian than the somewhat uninspired cilantro / chipotle mayo combo.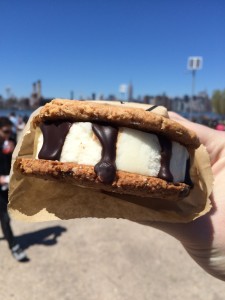 Goodwich @ The Good Batch 

I'm a longtime fan of the chipwich and my ability to turn down ice cream stuffed between two cookies is severely limited. This one uses a oat chocolate chunk cookie with vanilla ice cream and a drizzle of fudge. While it tastes good, it lost points for the hardness of the cookie.
Thai Style Issan Sausage @ Queen Cobra Thai

I ate these sausages off the street all the time in Thailand and loved them. These are a decent rendition, but don't pack quite the same punch.
Phatty Melt @ Chickpea & Olive 

A beet based burger with a few different topping options. It's meant as a vegan substitute to a burger and it's suitable if you want just that.
* Indicates vendor also has a permanent location
Smorgasburg (April-November)
Saturdays at East River State Park
Sundays at Pier 5 at Brooklyn Bridge Park
Brooklyn, NY