Why Come Here? One of NYC's best burger joints
"Pizza" and "Texan" burgers sound like the sort of things you expect to see in a TGI Friday's commercial. Usually a list of ten types of burgers like these slathered with all types of different toppings and sauces means the restaurant is trying to cover up their second rate beef. But there's nothing to hide in the burger at Black Tap Craft Burgers. They're serving up the Cadillac of burger meat, that of Mr. Pat LaFrieda. And unlike most places, even without asking they serve it a medium rare that actually comes out closer to rare than well done. It's so good I preferred the ones with less toppings on them. Thank God someone can properly cook a burger in this town.
Black Tap is one of my favorite burger spots not just because the burgers are great, but it's the perfect atmosphere to eat them in. The original Black Tap in SoHo has that quality where you're not quite sure whether it's more bar or restaurant. The place is as narrow as an East Village watering hole and features the same classic rock and hip hop playlist. Most of the seating is at the bar or counters around it. You're probably ordering from a guy behind the bar, and you could feel perfectly comfortable coming in solo and watching the game while downing your meal with a side of one of their many craft beers. Also, thanks to Shake Shack, a place that serves mostly burgers must offer shakes as well. And so Black Tap does that too.
They just opened a larger location in Meatpacking and I'll be interested to see how the more restauranty vibe plays out. In the meantime, here are my thoughts on the burgers with some unfortunately poor quality photos (the lighting is weird ok!):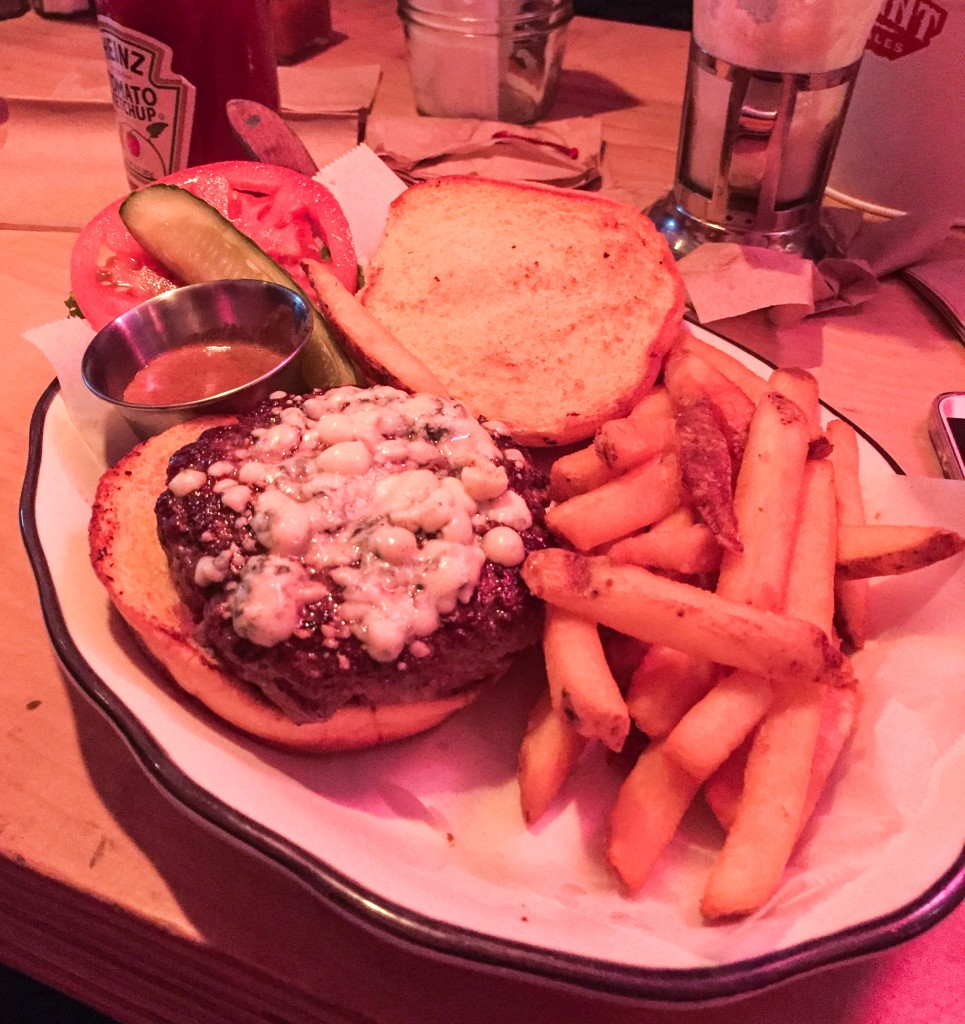 Steak Au Poivre Burger

 The blue cheese, the use of Prime Steak, the just right amount of peppery peppercorn sauce. This is a top 10 burger in NYC.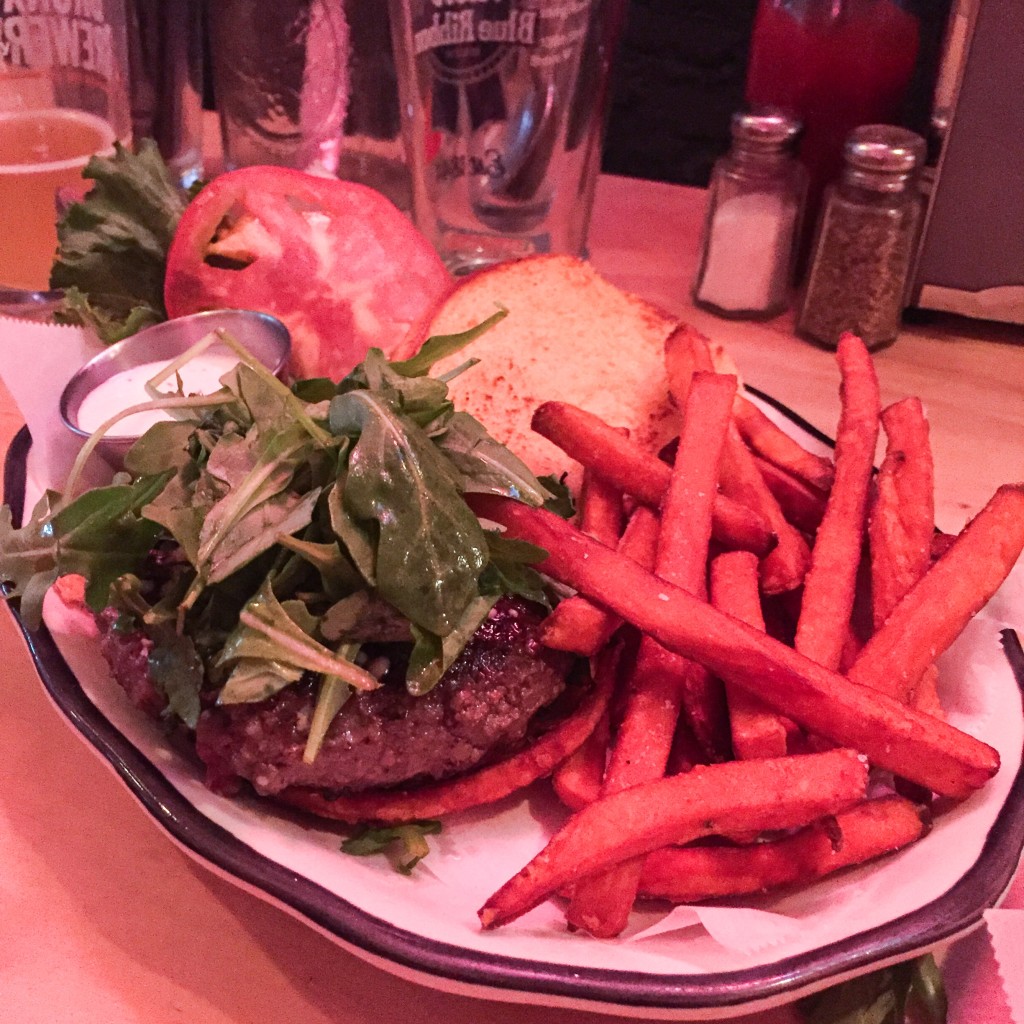 The Greg Norman

 Bonus points to anyone who can tell me why this is called the Greg Norman. This one also comes with the blue cheese so maybe I'm obsessed with it. But there is something seriously magical about this blue cheese sauce. The extra taste funky flavor from the wagyu beef doesn't hurt either.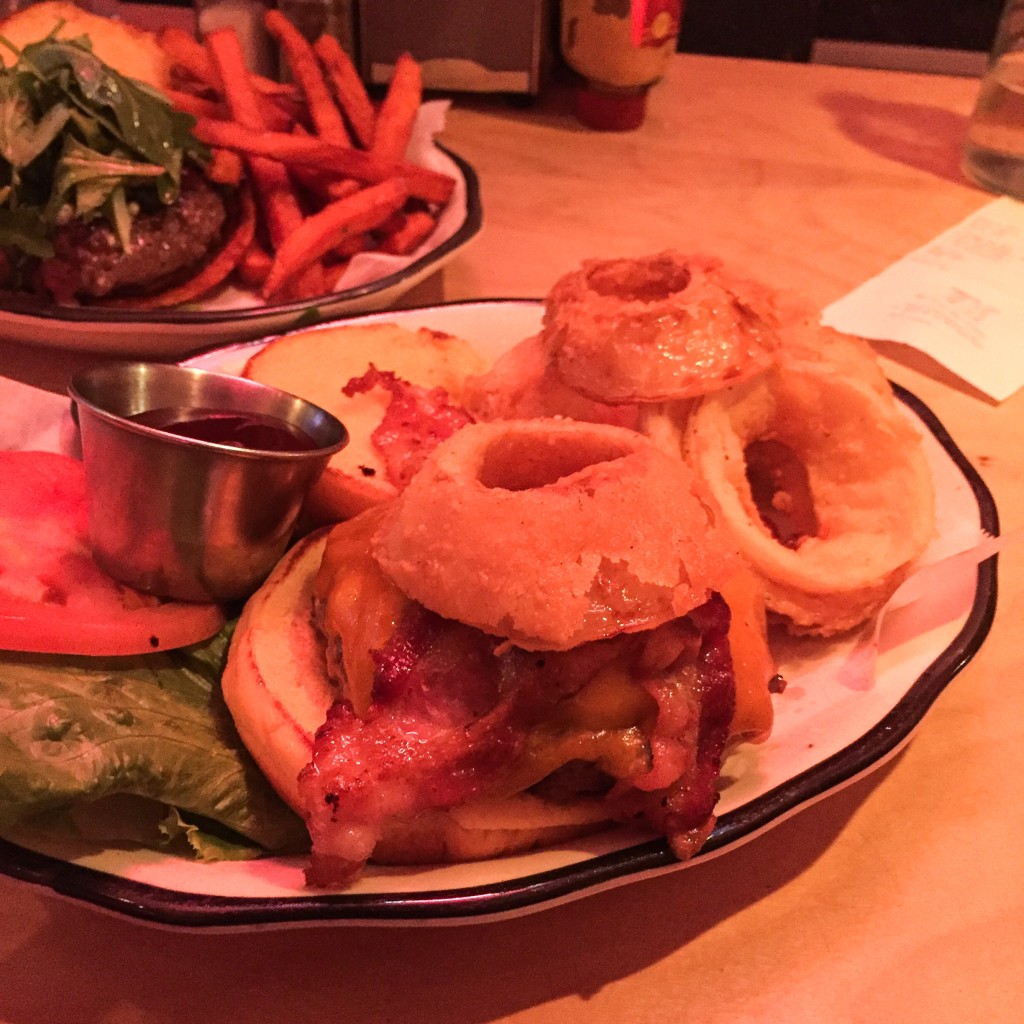 The Texan Burger
 This one comes topped with cheddar, crispy onions, bacon and Sweet Baby Ray's BBQ sauce. The main reason not to order this would be that the onion ring and sauce actually take away from the great taste of the patty itself, but it makes a solid second burger.
Fries, Sweet Potato Fries, Onion Rings

 You get your pick of one these bad boys to go along with your burger. I preferred the onion rings but they're all good without being anything special.
Black Tap Burger
529 Broome Street (Sullivan & Thompson Sts.)
New York, NY

Chelsea/Meatpacking Location:
248 W 14th Street (7th & 8th Aves)
New York, NY