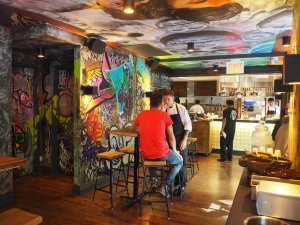 Why Come Here? Fantastic quick & cheap tacos, amazing al Pastor
Right Amount for 2? 6-8 tacos
If you're a regular reader of this blog, you're probably aware of my love for Alex Stupak and his first two Mexican efforts, Empellon Taqueria and Empellon Cocina. Both serve up some of my favorite tacos in the city, but also require a sit-down meal and prices upwards of $7 per taco. It's all good from time to time, but generally I need my taco cravings quenched quickly and cheaply. And that's where the newly opened Empellon Al Pastor comes in.
Al Pastor looks like a taqueria painted by the guys who paint chicken buses in Central America. There's some crazy colorful graffiti on the walls and a giant ceiling mural of a goat shepherding his flock of cash.  Ordering is done at a counter, where you receive a number on a stick. Then comes the main challenge of Al Pastor: securing a table before the runner brings you your tacos. This isn't made easier by the fact they came out in five minutes even on a busy Friday night. But considering you can be in-and-out in less than 20, standing isn't a terrible option.
Drinks are ordered separately at a bar near the entrance. I've been impressed with the cocktails at the other Empellons and this one appear to have a nice selection of beers, ciders, micheladas and mezcal cocktails. I say appears because I couldn't even get my order in before the tacos arrived. So you'll want to make this your first stop if you intend on having a cold one. Soft drinks can be ordered along with your food.
As for the menu, it consists of five tacos, some sides and a giant short rib platter in case that's not enough for you. All the tacos cost $4 and are served on corn tortillas. I prefer the flour served at the other restaurants, but ultimately I have no complaints about their thicker, maize-based brethren served here. I tried all five tacos currently featured on the menu on two visits. My thoughts are below: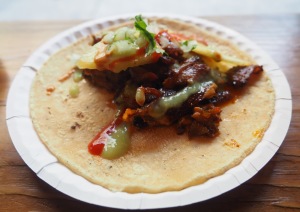 Al Pastor Taco

This is already one of my favorite tacos in the city. The charred, chili rubbed thin strips of pork are meaty and spicy. The pineapple slices balance them out without overdoing the sweetness.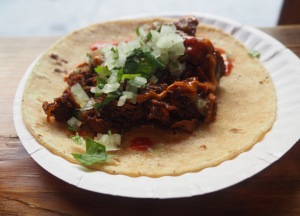 Steak Taco
Much like the excellent steak tacos at his other restaurants, the key here is the high quality of beef used. The caramelized onions give this an enjoyable steak sandwich quality.
Chicken Taco 
The chicken is stewed, making it basically fall apart in your mouth. The addition of chiptole salsa makes it a winner in my book.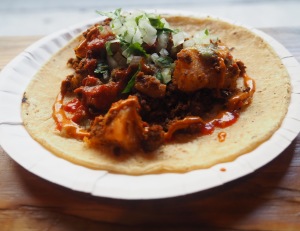 Potato & Chorizo Taco

The potato and spicy chorizo are both solid on their own. But somehow every time a bite included a hunk of spud, it overpowered everything else. It's still enjoyable but getting it to blend together better will take it to the next level.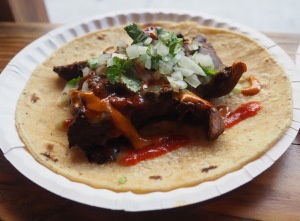 Mushroom Taco

This is probably the only one I won't order again. The mushrooms were on the rubbery side and packed a powerful punch of earthiness with nothing to balance it out. The awesomeness of the salsa and tortilla save it from a lower rating.
Empellon Al Pastor
132 Saint Marks Place (@ Ave A)
New York, NY