Why Come Here? Fresh seafood in a casual setting
While North Brooklyn has no shortage of high quality meat markets, it can be quite lacking when it comes to the treasures of the sea. Enter Greenpoint Fish & Lobster ("GFC"). They offer a nice selection of fresh, high quality and sustainable seafood near McCarren Park. And for those not inclined to prepare it themselves, they've got a kitchen serving up some very tasty offerings.
GFC looks like your standard seafood market, with a bunch of fresh fish on ice upfront and the obligatory white brick walls. The back offers a small amount of casual dining at both a counter and a few small tables. I don't think any could take more than 2 people, so don't plan on having your birthday party here. The offerings range from a rotating selection of raw oysters to fish tacos and lobster rolls to full on seafood entrees. The ones I've tried are below: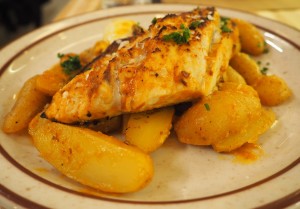 Seabass in Mango Salsa (Market Fish Plate)
The market plate changes daily depending on the catch of the day and should be your go-to order. The meaty seabass in a tangy salsa I had could hold its own at any seafood restaurant in the city. The curry spiced potatoes were a nice compliment.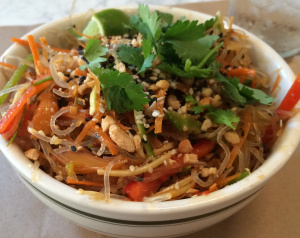 Kelp Noodle Pad Thai

I enjoyed the refreshing use of kelp noodles in the pad thai. It adds a slight crunch over the traditional noodles while sacrificing surprisingly little flavor. Bonus for healthy types: it's raw, vegan and gluten-free.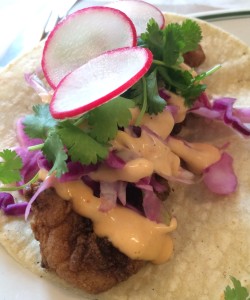 Fish Tacos

Meaty white fish with a nice crispy fry and tangy spicy mayo. Definitely one of the better fish tacos in town.
Hamachi Crudo

Generally I'm in the camp that when you've got some slices of really good fresh fish it's best to let them stand on their own. However, hamachi can be a little bland and the simple dressing of olive oil and sea salt wasn't quite enough to overcome that.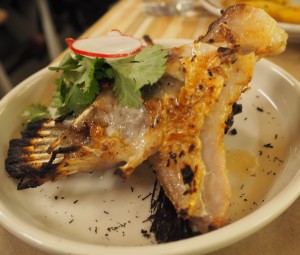 Fish Collar 

As you can see, the "collar" is in fact the area around the tail. It's sort of the "dark meat" of the fish with a distinctive texture and taste. I think I'll be sticking to the normal parts.
Right Amount for 2? 1 app & 2 entrees or 3 apps & 1 entree
Greenpoint Fish & Lobster Co.
114 Nassau Avenue (Leonard & Eckford Sts.)
Brooklyn, NY