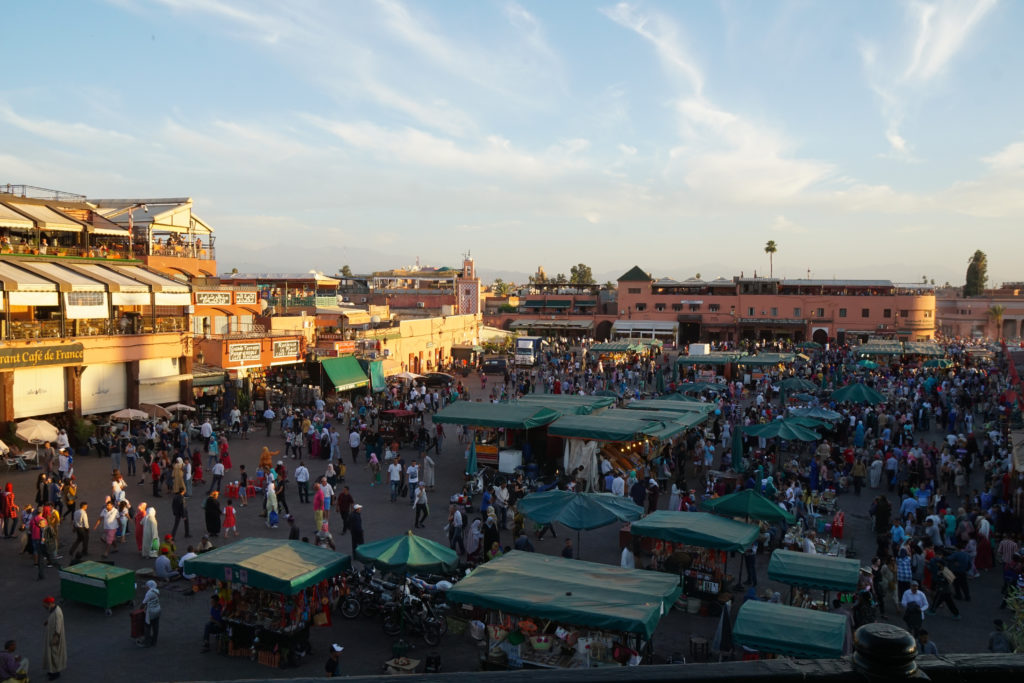 When you think of Morocco, images of camels trekking in the dessert and shopping in medieval Medina souks likely comes to mind. But what about food? If you have a Moroccan restaurant near your home you are probably familiar with couscous and tagines. You'll find they're generally much better and available in more varieties in their native land. Morocco is a place of many spices and few supermarkets which also means the food you're eating here is both fresh and flavorful.
The only downside is there isn't a whole lot of diversity, especially when dining at restaurants. Moroccans don't share our dining out culture so they're probably happy to see the same four or five staples on the occasion they do venture out. Spending a week or more here you may not be. But most big cities have other options to fill the gaps.
When you do partake in the local cuisine, here's what you can expect:
Tagines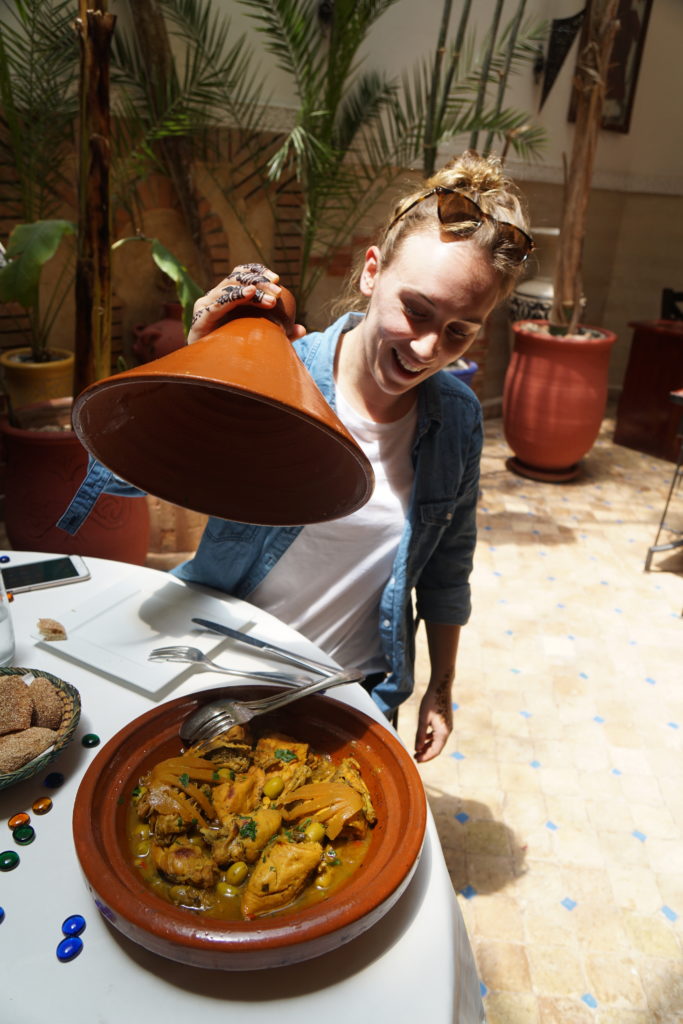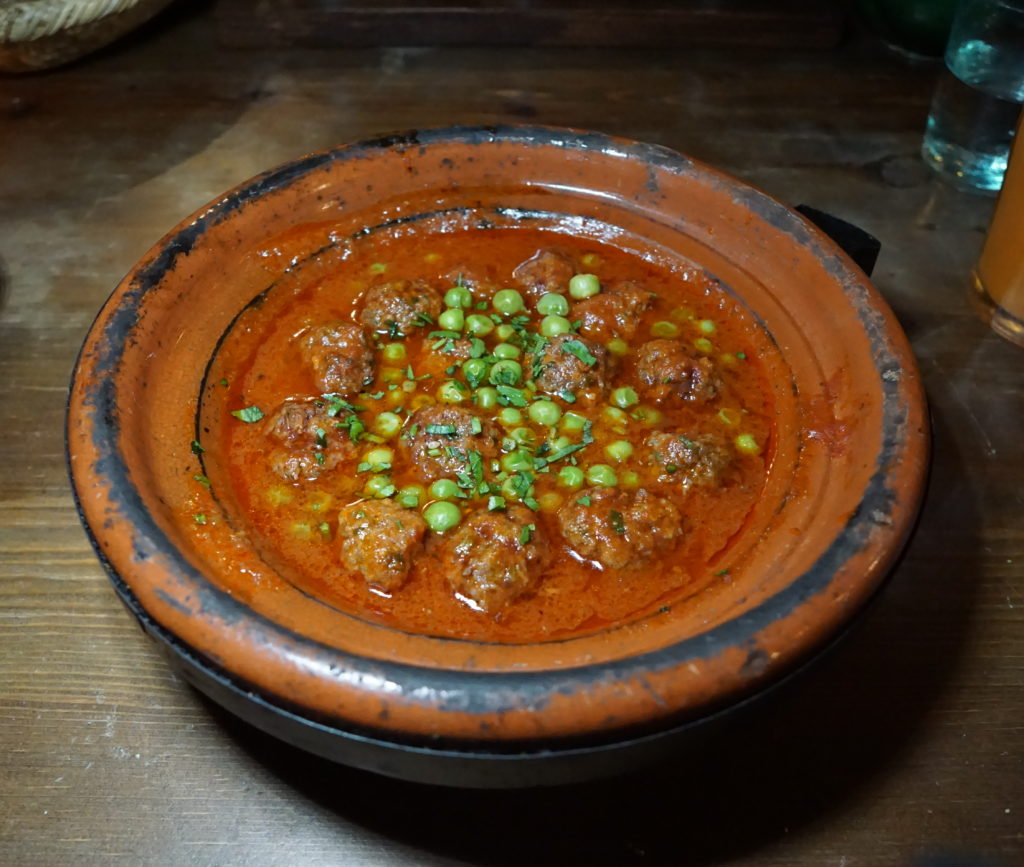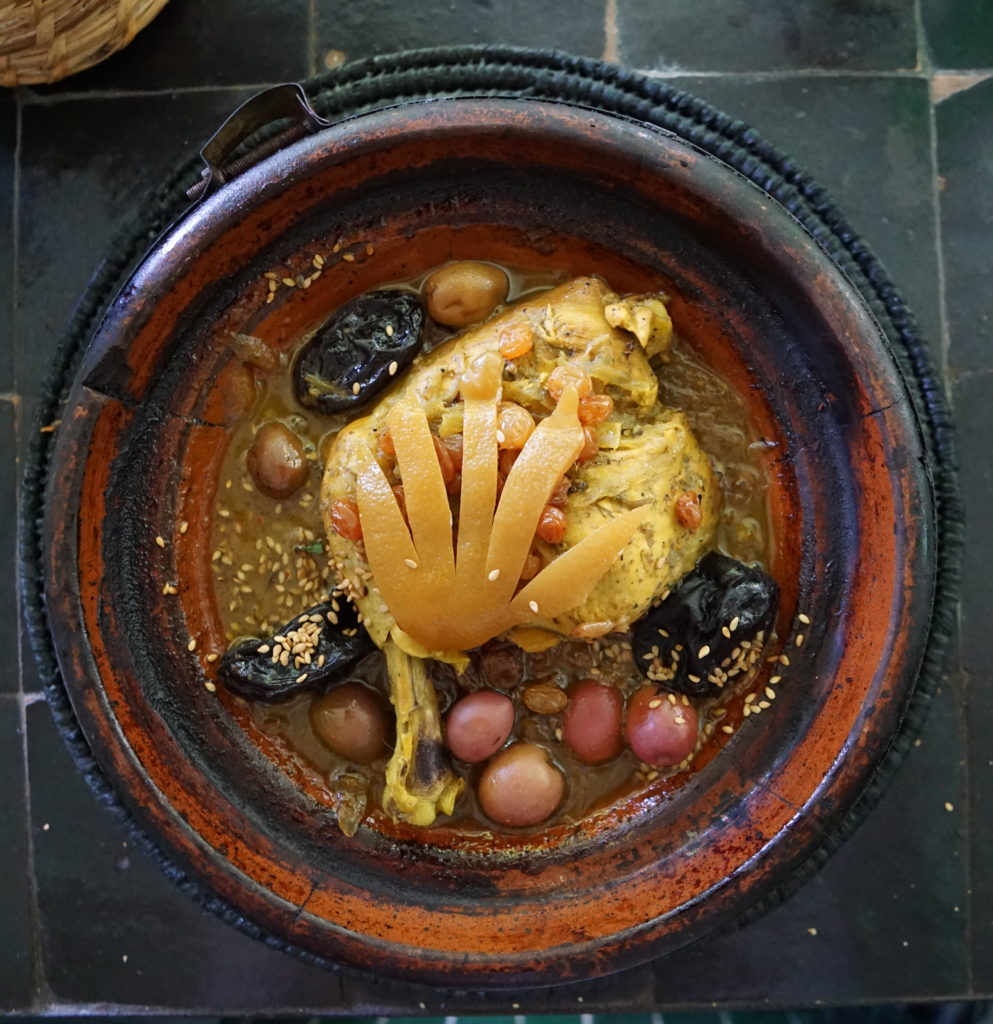 Tagine is the main entree you will encounter in Morocco. It is a stew of meat, vegetables and spices slow cooked in a pot that looks like it has a cone on top. Depending on the ingredients used, the result can be anywhere from savory to sour to spicy but is always very tender.
Chicken, Lamb and Kefta (lamb meatalls in a marinara-like sauce) are the most common proteins, but Goat, Beef and Seafood appear on menus in different parts of the country as well. My personal favorite was the Lemon Chicken, a somewhat sour tagine with preserved lemon and olives. The Goat variety I tried at Aubrege Dardara was one of the best goats I've ever eaten.
Couscous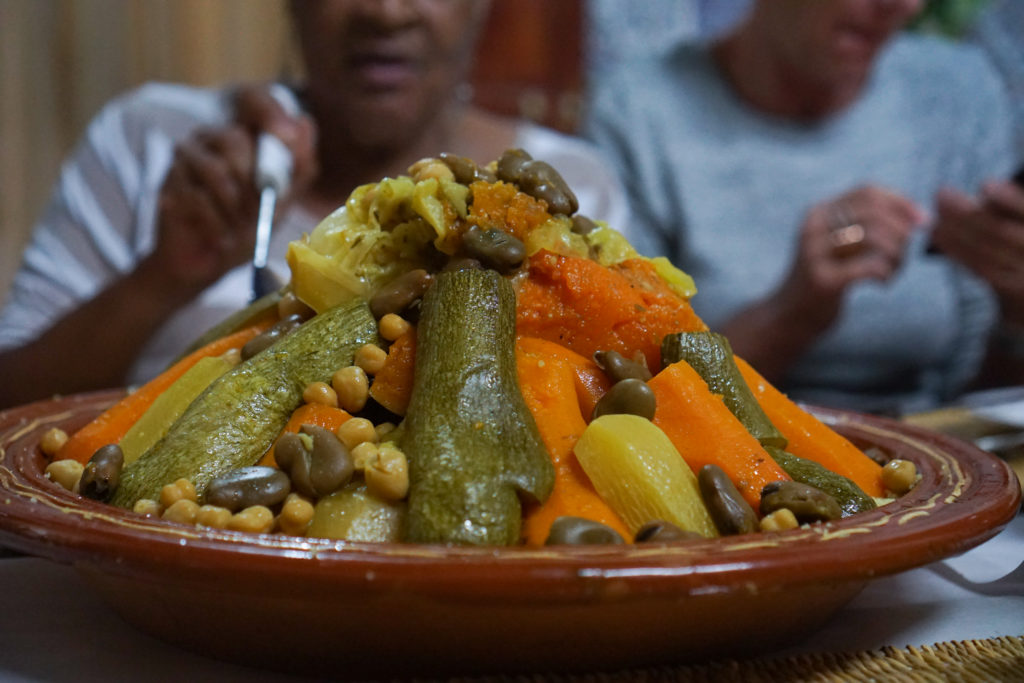 If you're a vegetarian, this is probably going to be your staple. The couscous is cooked similarly to a tagine but usually loaded up on root vegetables like carrots, cabbage and squash. There may or may not be meat hiding under the pile, as there was in the one pictured. I had a few good ones, but often the vegetables were sometimes a little on the soggy side.
Mint Tea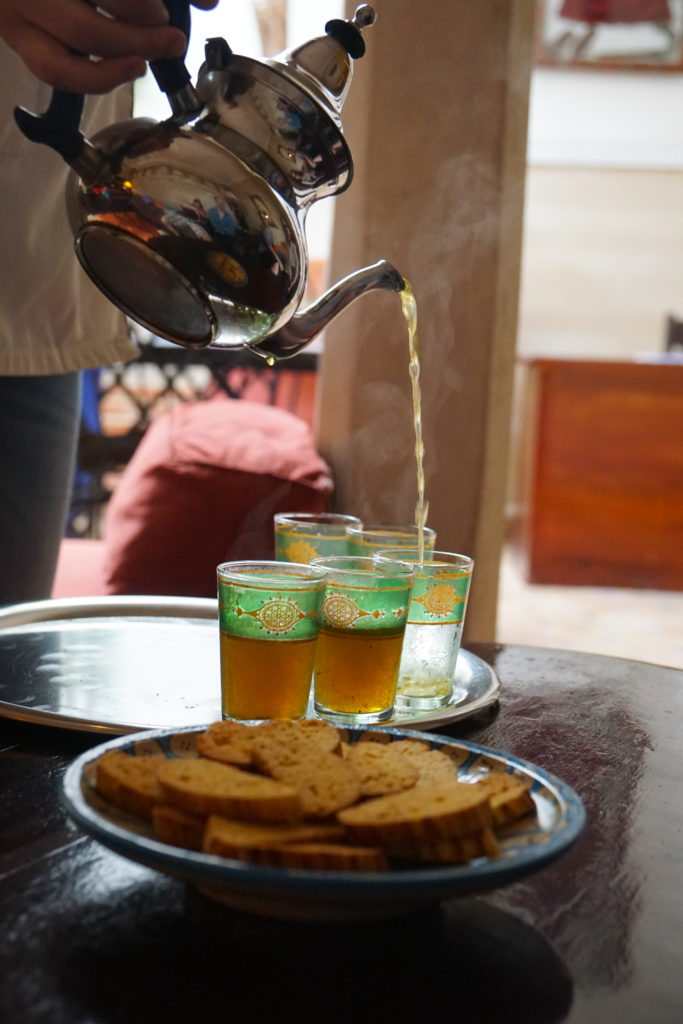 One item you will be offered almost relentlessly is Mint Tea, aka Moroccan Whiskey (NOT because it contains alcohol). A more appropriate analogy though would be a Mojito since it contains green tea, mint and – unless you request it not to – a whole lot of sugar.
Whoever is pouring will do so from as high above the decorated glass as possible. Ostensibly, this is to make the tea bubble and increase the flavor. Of course we all know it's really just part of competition to see who can go the highest without spilling. Pro Tip: You may want to practice with water before you go.
Salads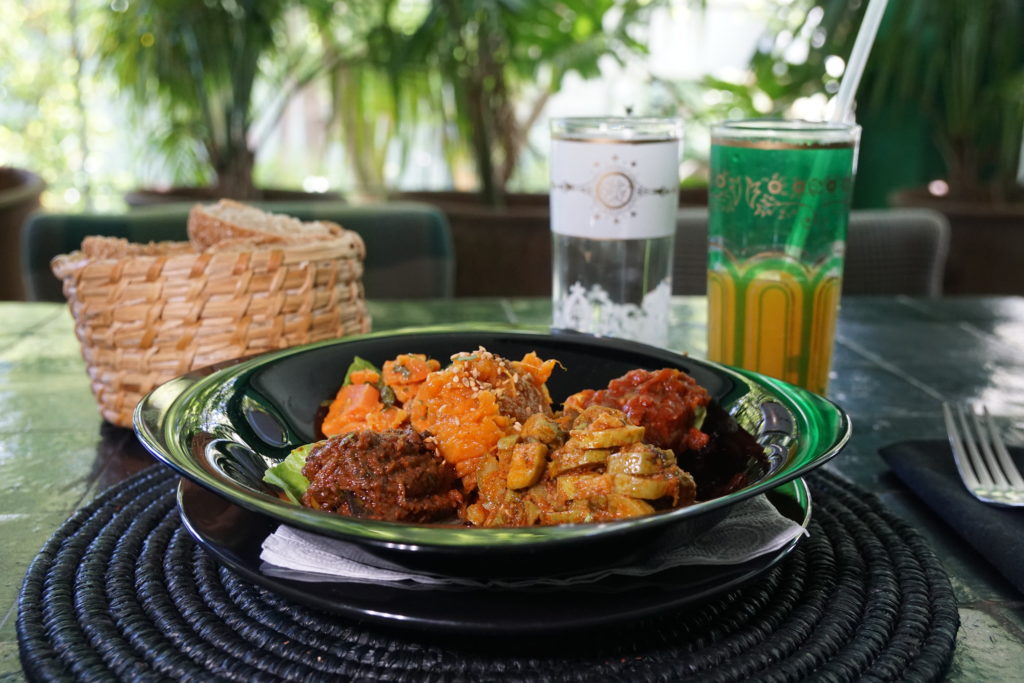 A Morrocan feast always begins with five-to-ten salad dishes to whet you whistle. Some of the ones to look out for include green peppers and tomatoes, anything with olives and Zaalouk – a smoked aubergine dip, seasoned with garlic, paprika, cumin and a little chilli powder. Scoop some onto your bread and enjoy.
Breads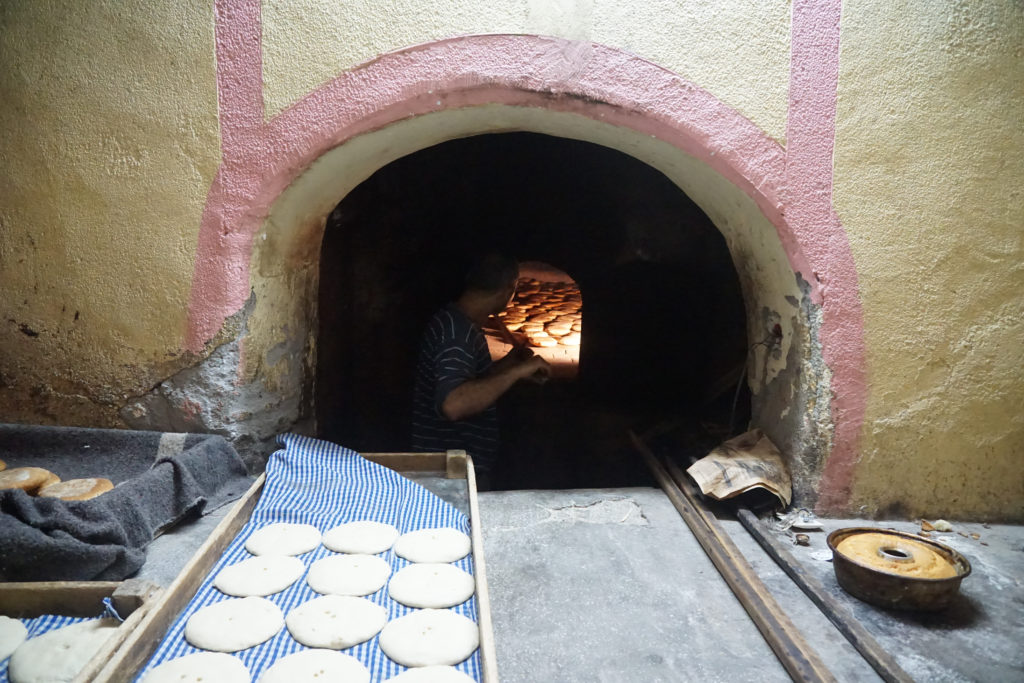 I always considered couscous to be the grain of Morocco, but it turns out they actually eat a lot more bread. The disc shaped loaf seen above is the standard you'll see coming out of bakeries like this one. Locals actually view it more as a utensil than a starter, using it to scoop up everything from salads to tagines.
Olives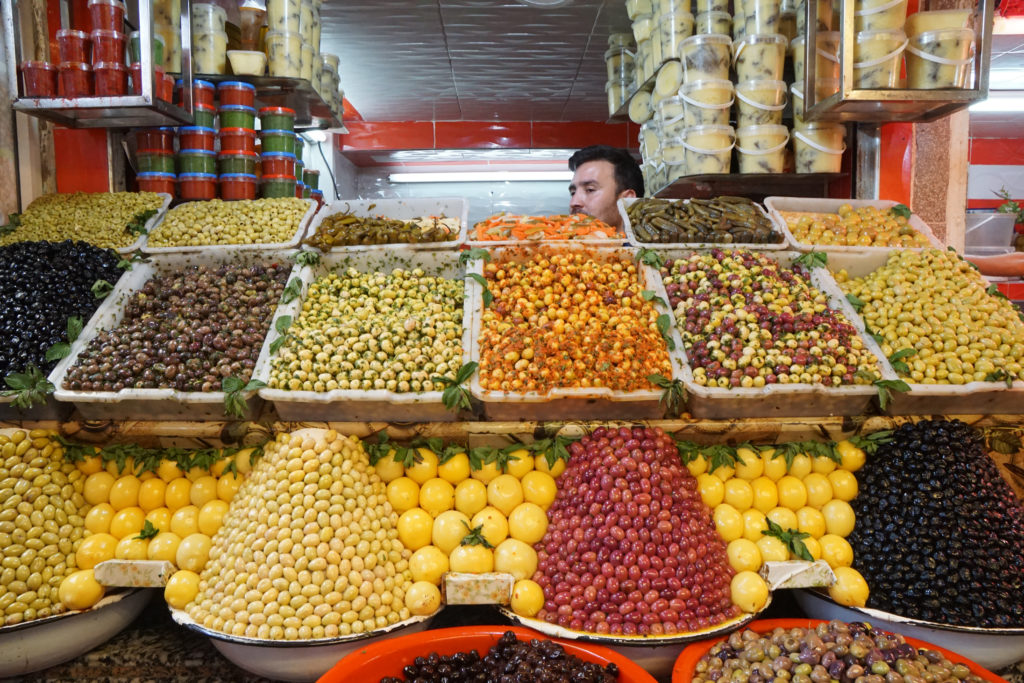 At nearly every restaurant the meal will begin with olives. And I have to say, Morocco has some of the world's best. The black ones are typically very salty (like kalamata olives) while the green ones often have a pepper sauce. Naturally these were my favorite and I may have eaten them by the bag full.
Pastilla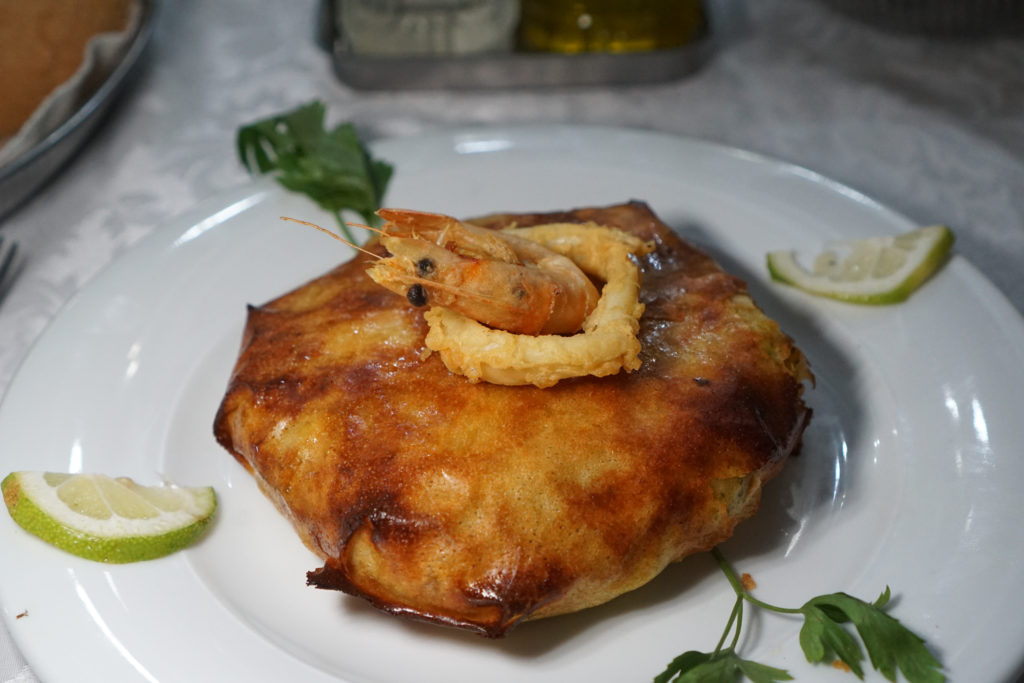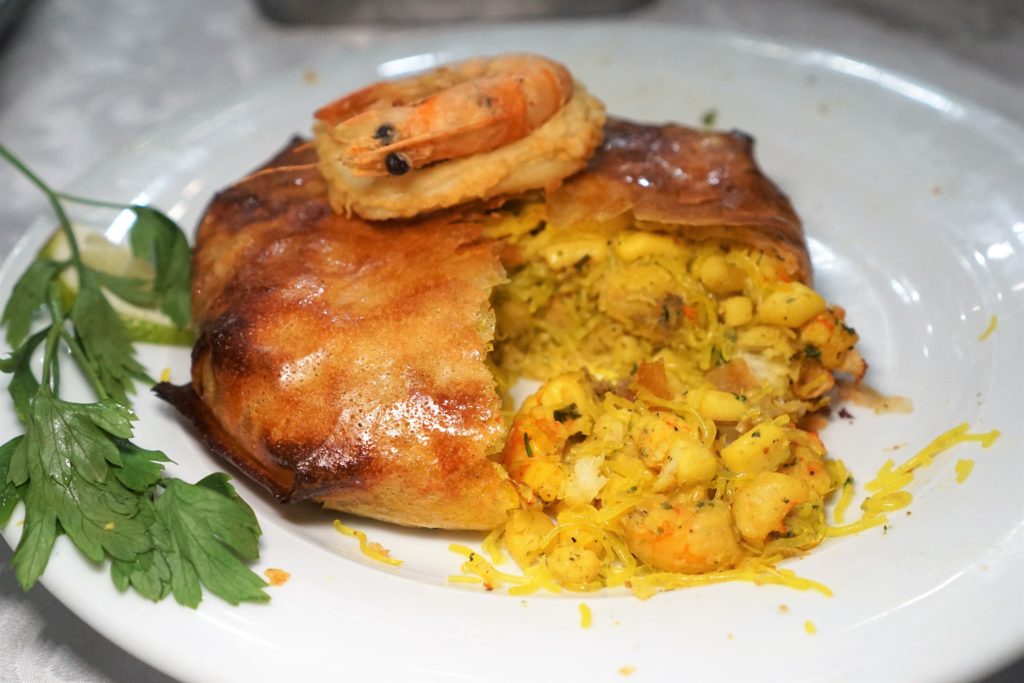 Pastilla is the souffle of Moroccan cooking – a true test of the chefs skills. Traditionally, it's a sugar covered pastry containing spiced piegon, almonds and apricots. I never encountered the pigeon filled pie on a menu while in Morocco, but you will see lots of more traditional fillings. I sampled a chicken one and while the filling was delicious, the icing layer on top was a little much for my taste. However, the sugarless seafood pastilla I tried at Les Fleures in Casablanca (pictured) was one of my favorite dishes of the trip. It contained both shrimp and squid with saffron and noodles. Keep an eye out for this one if you don't like your entrees too sweet.
Tagia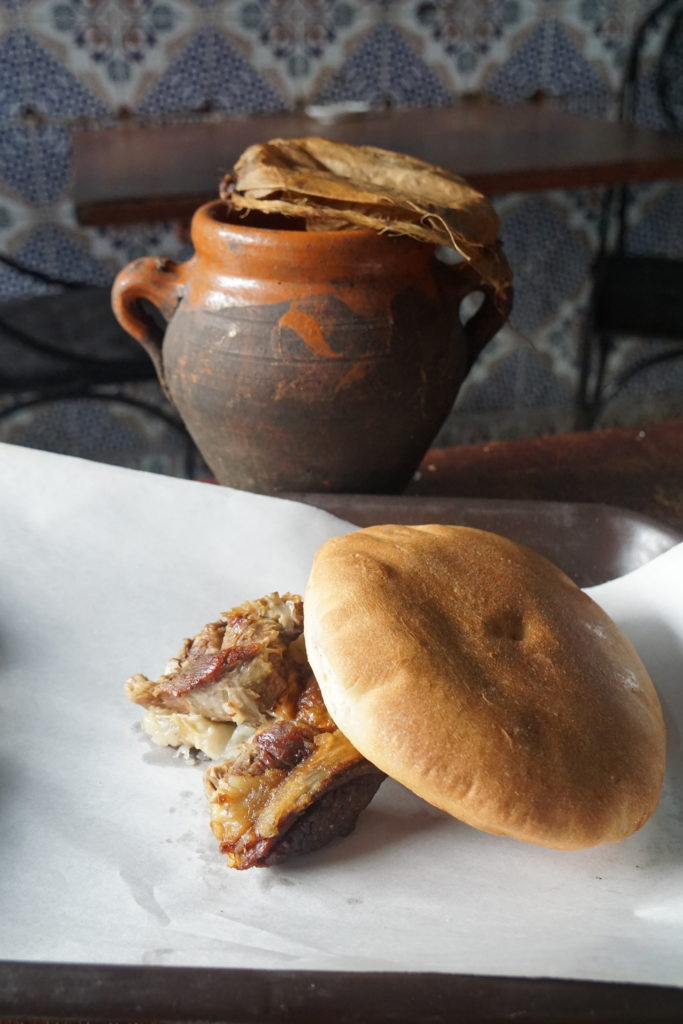 I only found this specialty in Marrakesh but if you're a lamb lover you won't want to miss it. Basically an entire lamb is stuffed into hot underground pit and slow cooked for 12 hours. The result is some fall-off-the bone tender meat with a nice crispy exterior.
Camel
That's right, they eat their desert steeds here. And if you're an adventurous eater you'll need to get in on the action. The meat itself is a lean red variety similar to bison. Unfortunately, you won't often find it on many menus, but you can buy it in a butcher shop and have it cooked up for you as we did in the Meknes Medina. Typically it's eaten as a Camel "Burger," which is really more of a meatball sandwich. Our butcher combined hump and body meat with some seasoning before grounding it up and the result was delicious.
If you're squeamish about eating camel remember this: they're overpopulating Morocco and have no natural predator. Only you can stop them.
Breakfast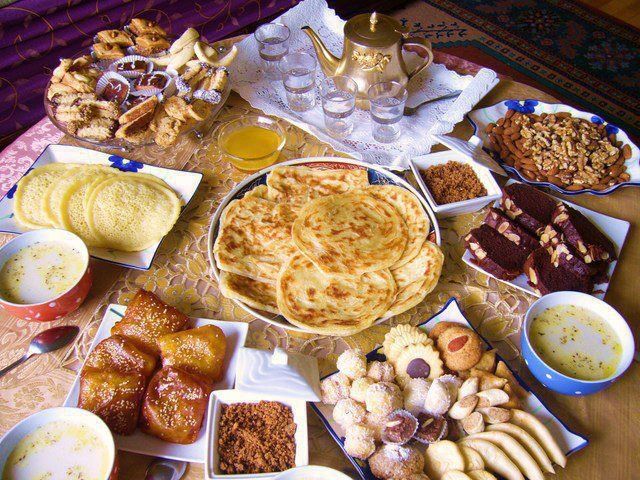 The traditional breakfast you will find in authentic hotels and Riads (converted mansions) is basically meant to carbo-load you for the day ahead. There's the crumpet-like Moroccan pancake (10 o'clock), flat and buttery m'smen bread (center) and usually some baguettes and pastries. Top them with butter, jam and honey. If nothing else, it'll keep you going until lunch. More upscale hotels will also serve a Western style breakfast with the usual suspects like scrambled eggs, sausage and bacon.
Alcohol
As Morocco is a predominantly Muslim country, most Moroccans do not drink alcohol or do so at home. Restaurants are typically booze-free other than those inside hotels or catering to tourists. Bars are few and far between. When you feel the urge, you can find alcohol shops in most towns with cheap, decent local wine and beer or expensive imported wine and spirits to bring to your hotel.
Recommended Restaurants
Marrakesh: Le Jardin, Zeitoun Cafe, Main Square Stall No. 1
Casablanca: Les Fleures
Chefchaouen: Aubrege Dardara, Cafe Aladdin