Why Come Here? Authentic Basque tapas that are among the city's best, great date spot
Right Amount for 2: Around 5-6 tapas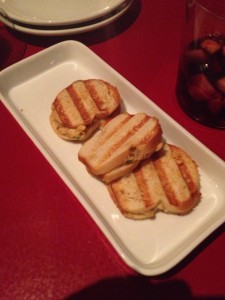 For those of us who have only seen the letters T and X together when abbreviating Texas, the first question that comes to mind when you see the word Txikito is "how do you say that?" Well, it helps to know that it's the Euskaran (Basque part of Spain) word for "little", and that they pronounce the "Tx" similar to our "ch." So the name is basically pronounced "chick-eat-toe." But don't worry ladies, you won't be forced to eat feet here.  While the Basque menu is more interesting than your typical New York Spanish offerings, the ingredients are fairly straightforward.
Txikito, in keeping with it's name and unlike many tapas halls here, is fairly small and not well suited for large groups. In fact the noise levels allow for a reasonable level of conversation. Combine that with a dimly lit, wooden plank filled interior that sort of resembles the interior of a 17th century ship and you have a great date spot that doesn't go "overboard" on the romance. And if you need more help sealing the deal, you can always order a pitcher of their potent and well balanced sangria. This was a tough table to snag when it first opened, but same day reservations are now pretty easy to come by.
The food itself consists of simply prepared Basque tapas in three categories: canapes (mini-sandwiches), cold (primarily seafood dishes) and meatier hot items. While most items are in the $8-15 range, you'll probably need 2-3 per person to feel satisfied so this is by no means a cheap eats venue. Still, given what many inferior tapas "hot spots" are charging, it's a relatively small price to pay for some of the city's best Spanish cuisine.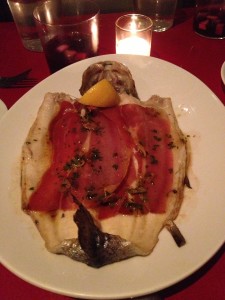 To help guide you through the menu, here are my top picks, although nearly everything has been at least very good. You can see all of my reviews here on my DishEnvy page.
Trout w/ Jamon Serrano & Garlic Vinegarette (recurring special)

 If this special is available, order it. It's everything you could want in a Spanish dish: perfectly cooked fish, salty ham, garlic and olive oil.
Txiki Txanpi (mushroom & shrimp grilled cheese)

 Not a ton of shrimp or mushrooms, but enough to provide nice flavor. The 3 stars comes from the delicious griddled bread that makes it a must order.
Foie Micuit

 A creamy foie with a sauce that manages to add some sweetness without overpowering.
Solomo (pork loin & green pepper) 

 Nobody does pork loin better than the Spaniards and this tender slice in a spicy and smokey rub won't disappoint.
Learn More About My Rating System
Txikito
240 Ninth Avenue (24th & 25th Sts.)
New York, NY

Note: Txikito also hosts one of my favorite food festivals, the Basque inspired Txikifest.