Why Come Here? Unique, healthy Indian spiced sandwiches that are vegan friendly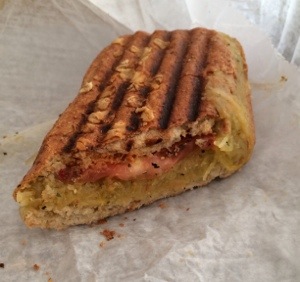 If the term "vegan sandwiches" conjures up images tofurkey and meatless "meatballs" and sends you running in the opposite direction, you're not alone. As a carnivore, I have 0.0% interest in replacing perfectly delicious meats with lesser soy-based versions with kitchy names. I do however love me some good, fresh veggies. Fortunately, the folks at Bombay Sandwich Co appear to feel the same.
After a successful run at Smorgasburg, Bombay Sandwich Co. recently opened a brick-and-mortar location, with about as little brick-and-mortar as I've ever seen. The customer space is seven feet wide by about 25 feet long in which they've managed to jam a small counter for about ten people to eat. Not surprisingly, things get pretty tight at the lunch rush, but fortunately it's connected to a plaza where you'll be able to sit in warmer months. In the meantime, the cozy confines will at least keep you warm, as will the friendliness of owner and cashier Shiv who seems to be on a mission to learn all his customers names. Good luck to you sir.
As I mentioned, the food is primarily vegan although two dishes do contain actual milk-of-a-cow mozzarella cheese. And as the name implies, there in an Indian bent to the food. But don't come here expecting anything you've seen on the streets of Mumbai. The sandwiches here for the most part contain chutneys and some Indian spices, but are otherwise unique creations using local and seasonal ingredients like squash, kale and fennel. The menu is also not limited to sandwiches, but also offers wraps, bowls and salads for those watching their carb intake. So far I've tried several of their sandwiches and found them all tasty and satisfying. My recommendations are below and I'll update the page as I continue to work my way through the menu.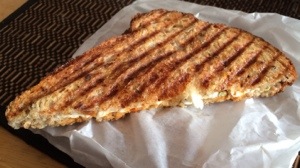 Pesto Perfect 

 The kale & walnut pesto is the real deal and a good compliment to the spaghetti squash. They say it's seasonal, but I'm hoping the pesto at least makes the permanent menu.
Honey-Fennel Grilled Cheese

 One of two non-vegan options it's also probably the heartiest sandwich on the menu, making it perfect for these chilly days. It's a nice combination of sweet, spicy and tangy.
Smorgasburg Sweet Potato

 The sandwich that started it all has a smorgasbord of toppings including including dried cranberries, cilantro, ginger and chutney. Needless to say, it's an explosion of different flavors that airs a little on the sweeter side.
Bombay Sandwich Co.
48 West 27th Street (6th Ave & B'way)
New York, NY