Why Come Here? Some of NYC's best ramen
Continuing on my high-end ramen pilgrimage, my third stop was Totto Ramen. After Ippudo, Totto is probably the next most well known of the city's ramen dens. Naturally this means you can expect to wait. I have heard two hours is the standard at dinner and the process is, well, unpleasant. Unlike Ippudo, they will not call you or text you when your table. They also will not provide you with anywhere to wait. Instead you are to write your name on a notepad mounted to the wall and wait outside until your name is called. I view it as a test to ensure that only true ramen lovers get their fill. Or those who go alone for a weekday lunch and wait ten minutes as I did.
In addition to the popularity, there's another reason the waits are so long: the place is essentially a rabbit hole. We're talking about an underground bunker with a counter seating 8 and maybe 10 tables for two. This is not where you bring a bunch of your buddies to chow down. You pick one lucky one and go. I sat at the counter which gives you a great view of the magic happening. Expect to see a lady blow-torching pork bellies and some giant bubbling caldrons containing noodles and stock.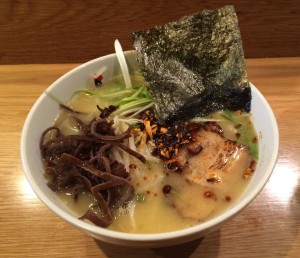 As for the ramen itself, Totto uses a broth known as paitan. Paitan is a chicken bone broth that has some heft to it, but less so than the tonkotsu pork broth featured at Ippudo. The paitan broth is available in normal, spicy or extra spicy (with the addition of hot sesame oil) or with miso and ground pork. There's a long list of toppings you can add ranging from additional meats to mushrooms to spicy bamboo shoots. The remainder of the limited menu consists of vegetarian and cold versions of the ramen and a handful of meaty sides. With all ramens under $12, it's definitely the best value I've seen in the upper ramen echelon. Here's what I had:
Totto Spicy Ramen

The milky broth was salty with hints of chicken and a strong pepper flavor. The sesame oil added a bit of kick, but definitely didn't overpower with spice. I like the heavy presence of scallions and that my mushroom topping was sliced lengthwise such that it could almost be confused with the noodles. The double helping of pork was an unexpected plus, especially at this price point. The noodles were on the slippery side but could have been a touch more al dente. If you're into ramen, this needs to be on your hitlist.
Learn More About My Rating System
Totto Ramen
366 West 52nd Street (8th & 9th Aves)
New York, NY

Note: If the wait is outrageous, there is a second location nearby at 464 West 51st Street.