Why Come Here? Good ramen in a food dead zone
For my fourth ramen experience, I checked out Tabata Ramen, based on it receiving the "Best Ramen" award by Midtown Lunch. It beat out  Ippudo, Totto and Ivan (my first 3) to take the crown, so the bar was set high.
Tabata Ramen is located on the picturesque stretch of 9th Avenue between Port Authority and the Lincoln Tunnel. This might explain why the ramen is priced 20-30% less than the other three I've visited. The lack of spending on decor could be another reason. The walls are basically adorned with photos of dishes, flags with Japanese characters on them and lamps. At the front is a formica bar counter with nine seats with a few basic wooden tables along the sides and back. I'd say it could seat up to 30.
But good ramen I've learned is not about the ambiance or decor, it's about ordering a bowl of noodles, slupring it down and going about your business in fifteen minutes or less. And this part Tabata had down pat. The waitress took my order within one minute and had the soup on my counter spot in less than five.
The menu is larger than Totto and Ivan with a full page of appetizers like tofu and dumplings and about a dozen ramens available. They also give you a basic miso salad with your order so at least you get a couple greens before dousing your body with salt and fat. I ended up ordering the Sutamina Ramen – a spicy miso and soy sauce flavored soup. Here's what I thought: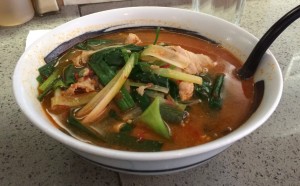 The Good: The noodles were floppy and slightly al dente. It also had an usually large collection of veggies including scallions.
The Pretty Good: While the broth was rich and had a nice kick from spicy miso, I found it a little too salty.
The Bad: The pork. There were a few chards that were tough, fatty and cartilagey pork. Definitely would go vegetarian if I come back.
The Verdict:

Above average noodles and broth but not worthy of a special trip to Port Authority West.  If you're in the area and can get past the meat, it's a nice option to have. But I have no clue how it beat out the other three in the Midtown Lunch poll. We may need some independent observers next time.
Learn More About My Rating System
Tabata Ramen
540 Ninth Avenue (39th & 40th Sts)
New York, NY