Why Come Here? Unique and inviting steakhouse decor, prime angus steaks dry aged for 35 days
I was recently invited to a press dinner at Angus Club, a new Midtown steakhouse started by four Benjamin Steakhouse vets. You may be thinking that Midtown East needs a new steakhouse about as much as it needs a another Starbucks. But there are several reasons Angus Club is a worthy suitor for your steakhouse dollars.
The first is the space, where the art deco decor is unique and more welcoming to the fairer sex than what's found at most temples of beef. The street level contains a classy marble bar with TVs and a small, inviting dining area. Follow the stairs down past a Picasso-esque wooden mural of a cow and you realize how big this place is. The spacious main dining room features reclaimed wood walls, generously spaced tables and chandeliers that look like they may have been raided following the siege of Winterfell. Then there are the many themed private rooms. These include rooms decked floor-to-ceiling with oak, cork and leather (where dressing to theme is thankfully not required nor recommended) and my personal favorite Chef's Room with rose wall paper and a stunning large wooden table formerly of a yacht.
Another reason to come to Angus is the impressive care that goes into selecting the meats. Executive Chef Eddie Avduli travels to the Hunts Point meat market two to three times per week to hand select the perfect steaks. All steaks are USDA prime black angus (hence the name) and dry aged in house for 30-35 days. Why is this a big deal? Dry aging creates much of the flavor in steak and most of the other guys only do 25-30 days due to the weight loss that comes with a longer age period.  Still, the prices at Angus Club remain comparable to the other top dogs. There's even a lunch prix fixe where you can get a soup or salad, junior ribeye and dessert for 35 bucks.
The rest of the menu basically consists of typical steakhouse favorites with some interesting twists. Here's what I sampled: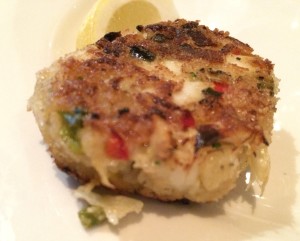 Porterhouse 

In order to demonstrate how tender their steak is, owner Margent Maslinka cut this with a spoon like it was a stick of butter. When's the last time you saw that? It was also perfectly cooked (a rare medium rare, as you can see) with a great mix of char and meat flavor. I'll put it up against any porterhouse in the city.
Crab Cakes 

These are the way crab cakes are supposed to be done: stuffed with crab and a few other seasonings. None of that bread filling nonsense. These also come with the pleasant addition of a tangy and spicy housemade sriracha sauce.
Angus Club Salad 

According to Maslinka, this was the salad he would have Eddie prepare for him when they worked at Benjamin's. While most of the ingredients look like your typical steakhouse salad (iceberg, tomatoes, onions) what made this one standout were the hunks of charred smokey Canadian bacon. If you'd rather skip the greenery, it's also available on it's own.
Grilled Chilean Sea Bass 

I'm not one to come to a steakhouse and get the fish, but if you're a pescatarian dragged here by your carnivorous friends this thick hunk of bass, simply prepared in a lemon and white wine sauce, will allow you to go home happy.
Mushrooms 

Mushrooms and steak are a classic pairing, but the addition of truffle oil takes these to the next level. Order with confidence.
Creamless Creamed Spinach 

 Despite being called creamed spinach, there's no actual cream involved here. The spinach's creaminess simply comes from the water in the preparation, so go ahead and order yourself something healthy to even out that porterhouse.
Learn More About My Rating System
Angus Club Steakhouse
135 East 55th Street (Lex & 3rd Ave.)
New York, NY