Why Come Here? One of NYC's best sandwich shops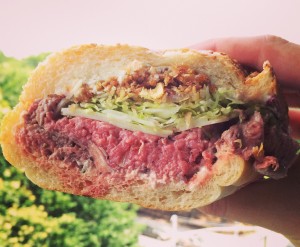 Meat Hook Sandwich Shop occupies a tiny space in East Williamsburg marked only be the image of a meat hook and the word "sandwich." It comes from the guys who run the Meat Hook, one of Brooklyn's top butcher shops. And while it's been open for less two months, I'm already prepared to proclaim it one of New York's best sandwich shops.
Step inside and you'll find little more than a hanging menu, a counter and a handful of tables. That's because all the frills were saved for the sandwiches. The meats come from their butcher shop and the breads from Bakery Boys and Sullivan Street Bakery. The selection rotates daily, but there always seem to be five meat sandwiches with a veggie and a sausage option. All their sandwiches have unique twists, from the tonatto covered roast pork to the recently added beef tartare. So far I've made three visits and been blown away each time. While they do sometimes run out of some of the meats (especially the chicken), I've never experienced much of a wait. So get here before the masses find out. Oh yeah, they also serve beer.
Roast Beef 

First off, the roast beef on it's own is amazing. Rare, moist and packed with flavor. Then they cover it with hash browns, cheddar and what they call "horsey sauce." It's also a monster. I had to eat the second half for dinner because I'm clearly not sharing it.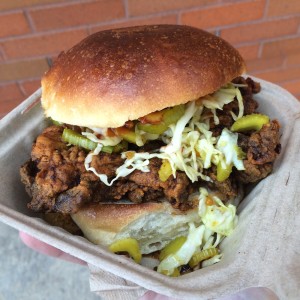 Hot Chicken

A massive, crispy fried hunk of chicken slathered in hot sauce on a brioche bun. It's got a kick but it's not overly spicy, perhaps owing to the hunk of cole slaw on top. This one seems to always sell out early, with good reason.
Roast Pork
Topped with spicy raisins, escarole and tonatto, this sandwich has some crazy flavors going on. What is tonnato you may ask? Apparently it's a mayo made with tuna. The fishiness definitely comes through, but is well matched by the sweet and spicy raisins. Some people love this one but while I appreciated it's distinctive taste, I prefer the more meat forward options.
Meat Hook Sandwich
495 Lorimer Street (Powers & Grand Sts.)
Brooklyn, NY