Why Come Here? Hands down, the best pizza in New York
When people ask me "what's the best pizza in New York?" and I tell them it's at a place in Midwood, Brooklyn they usually respond with "what's the next best?" No one seems to think Di Fara is worth the trip… except for everyone who's ever made it. There are few food group in NYC where one rendition is clearly stands out the best. There are legitimate debates over who has the best burger, bagel, ramen or dumplings. But there's no doubt Di Fara is number one. And it's not just the best pizza in the world, it's one of the best things you will ever eat. So make the trip to Midwood one night soon. I guarantee you won't regret it.
The incredible experience begins as you walk into a hole-in-the-wall that looks like basically every other pizza slice joint in the city. That is, except for the line down the block and countless accolades covering the walls. And when you enter you will immediately see the difference standing by the counter: 80-year-old Dom DeMarco. He has made every pizza himself since Di Fara opened forty years ago. You'll watch him toss your pie, sprinkle on various cheeses, clip fresh basil leaves and monitor the crust as it cooks in the oven, turning it and adding additional cheese as needed. You truly get the feeling of watching a master artist at work. To learn more about his process and further psych yourself up for your visit, I recommend watching this short documentary.
A few other important things to know before making the trek to Di Fara: You will wait one to two hours for your pie, so don't come too hungry. It's closed on Monday and Tuesday. It's BYOB and there's a grocery store across the street if you don't feel like lugging your own half way across the city.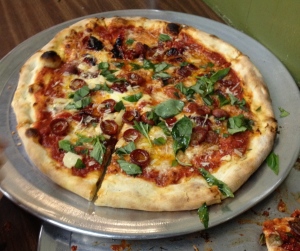 Regular Pie

A chewy, perfectly charred New York-style crust provides the base for the best pizza on Earth. It's then covered in a tangy-sweet San Marzano tomato sauce and a bombardment of cheeses including a blend of three types of Mozarella, Grand Padano and Parmigiano-Reggiano. To call is "pizza" is almost an insult.
Square Pie

The only acceptable food debate regarding DiFara is whether the regular or square pie is better. Personally, I prefer the thinner crust of the regular, but bring some friends, get one of each and decide for yourself.