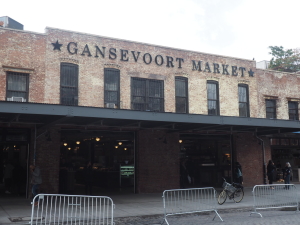 The age of the New York gourmet food hall is officially here and I'm embracing it with open arms. No more arguing with your friend who wants sushi or a lobster roll when you want barbecue. No more splitting bills with that guy who always just "throws in a $20." No more planning ahead a group meal. The food hall represents the culmination of every of modern casual gourmet dining is about. And I'm all for it. So expect a lot more of these reviews in the months ahead.
Gansevoort Market opened last week in the Meatpacking District in a space that was, in fact, a market some 200 years ago. Time truly is a flat circle. The market is currently sporting around 15 vendors and offers a legitimate reason to come to Meatpacking during the day (or at all). A few of the restaurants have their own seating, but most eating is done in a small communal area to the back. It has a bit of a haunted feeling (perfect for the season) with distressed brick walls and twisted vines growing around wooden picnic tables. The skylight overhead completes the feeling you've entered some sort of enchanted foodie forest.
In order to see what the market has to offer, I decided to spend a morning and afternoon eating my way through it. It was pretty crowded on a weekday so I imagine sitting on weekends could be a challenge. Here's what I tried:
The Bruffin Café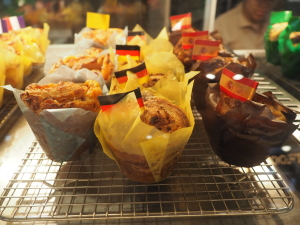 Who says donuts and croissants are the only breakfast foods that can be crossbred? The "bruffin" mixes the humble muffin with more daring brioche. The result leans much more on the brioche side with the only "muffin-like" part being the flavored top. So maybe a better name would be the "briochin." Surprinsgly they're not limited to or even focused on breakfast food. Most muffins are on the savory side with each named for the country it represents (for example, the Greek contains spiced beef, feta cheese, spinach, and kalamata olives). As it was still breakfast time, I tried the Canadian

, which has bits of bacon inside and maple syrup drizzled on top. I found the brioche a little overpowering, but some of the other ones might hold up better.
Yiaourti Greek Yogurt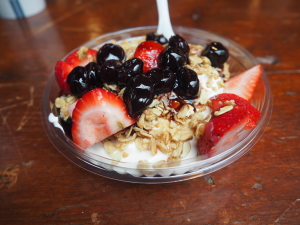 This is a make-your-own Greek yogurt parfait station that I expect will be a popular breakfast spot for the area (assuming anyone get up in time for breakfast here). Given my breakfast most mornings consists of Fage and granola, this one was right up my alley. The yogurt has the thickness of Fage, but a much creamier texture. This is probably due to the 9% fat content, so I won't be replacing my 0% Fage with it on a daily basis. But as a treat let's be honest, fat tastes good. You get six ounces with one topping for six dollars, fifty cents per additional topping. These include the standards like granola, nuts and berries along with some flavored honeys. I topped mine with granola, strawberries and sour cherry honey and I give the whole deal

.
Pig Guy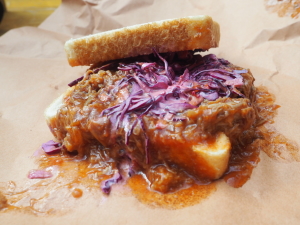 As you may remember from my annual trip to the BBQ festival, I love me some 'cue. And while I've learned to enjoy brisket, my childhood trips to North Carolina have made me pulled pork man. Pig Guy is serving up both, along with chorizo and and smoked chicken. As a pig guy myself, I naturally with the pulled pork. It's slathered on two pieces of Texas Toast to soak up all the sauce. It needs it, because unfortunately while there was plenty of the tasty tangy sweet sauce, there was far too little pork mixed in with it. Hopefully they can remedy this as things get going because this sandwich has potential. For now though, it gets

.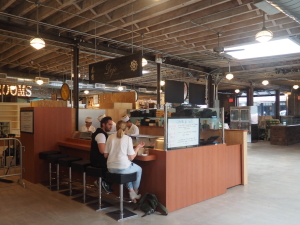 The original Sushi Dojo is an East Village hot spot among connoisseurs looking for reasonably priced cuts of fish. As far as I know, this little counter is their first foray into something smaller. At Gansevoort Market, you get the choice to order a la carte at the sushi counter (if you can snag a seat) or choose one of their "Grab & Go" Bento Boxes. I had Box "B" which include chef's choice of 8 pieces of sushi 
The fish was very fresh and about as good as I've had from a takeout counter.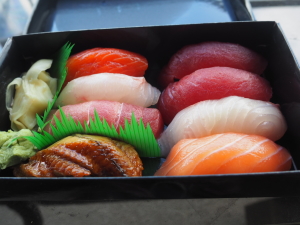 Other Noteworthy Restaurants in Gansevoort Market:
Tacombi Tacos
Ed' Lobster Bar
Donostia (Tapas)
Luzzo's Pizza
Crepe Sucre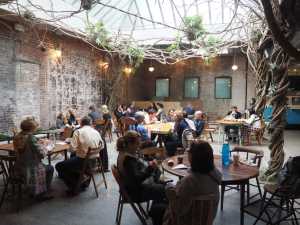 Gansevoort Market
52 Gansevoort Street (Greenwich & Washington Sts.)
New York, NY