Why Come Here? Unique Israeli inspired small plates, date night
Right Amount for 2? 1 Large plate, 3-5 smaller plates
Bar Bolonat comes from the team behind Four-Star Falafel maker Taim and Dishelin Guide go-to spot Balaboosta. So you can imagine I've been angling to get in here since it opened last Spring. While it's pedigree made tables tough to come by at first, things seem to have settled down and weeknight reservations are now available without too much notice.
Bolonat is located on a quiet corner of Hudson Street right after the Eight Avenue split and across from Abingdon Square. It's a smallish restaurant (or average by West Village standards) that's made even more intimate thanks to a bar that separates it into three sections each with a single row of tables. Because of this spread, it's surprisingly quiet inside even when crowded. All this combined with dim lighting and a cozy minimalist decor adds Bolonat to the list of great Village date spots.
The fare at Bar Bolonat consists of Israeli-inspired sharing plates. This means many flavor combinations you won't find anywhere else and a menu where I was thoroughly excited to try every dish. The options are divided into three sections of increasing portion size – snacks, small plates and larger plates as our waitress informed us. Note the use of the term "larger" as nothing on the menu is particularly large or cheap, so expect to drop to drop some decent coin for a satisfying meal. Thankfully the wine list contains many interesting bottles under $55 and is well curated. Still, the prices and lack of a true knockout dish mean I probably won't be in a rush to return but I certainly recommend giving it a go at least once.
Here's what I had: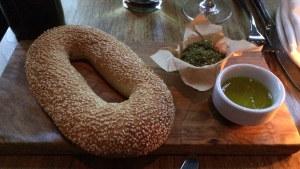 Jerusalem Bagel 

Airy, soft, thin and shaped like a race track this is not your typical New York bagel. Which is probably why they call it a Jersualem Bagel. It's served with za'atar and olive oil and is a tasty start to the meal, although it also kind of makes you feel like you're paying $6 for your bread.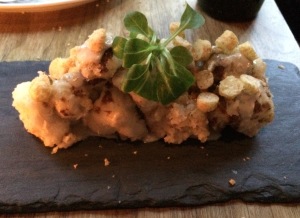 Everyday Cauliflower 
This dish is aptly named, as I wish this was the kind of cauliflower I could eat every day. The vegetable is perfect baked with the flowers browned and the rest remaining tender. The tahini and peanut "bomba" balls add some very interesting taste and texture.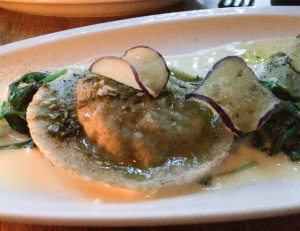 Za'atar Ravioli 

This was the only miss of the night. The ravioli itself was expertly prepared but I can't say I really tasted the eggplant or za'atar. The spinach and potato were also overly salty.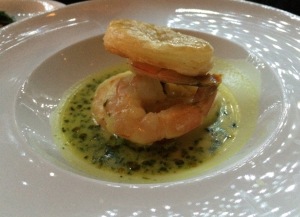 Shrimp in Yemenite Curry 
The curry is similar to a Thai or Malaysian yellow variety with a healthy slug of Middle eastern spices, turmeric and cilantro. It's definitely a taste I've never had before and would like to again, although if anything I found it a little too delicate.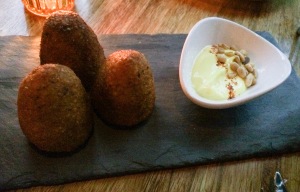 Hudson Street Kibbeh 

Described as "bulgar teardrops" you don't really know what to expect when you order these. It sort of looks like Stonehenge and it sort of tastes like a mix between falafel and a samosa.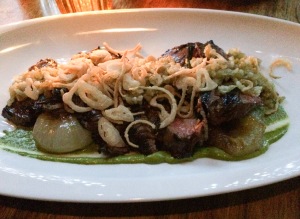 Minute Steak 
Despite being very thiny sliced, they're able to nicely char the spiced exterior while providing a juicy pink interior. It's probably the boldest dish flavor-wise on the menu. It deserves a 3 for the taste alone, but it loses a half-star because it's a smallish amount of skirt steak for $31.
Bar Bolonat
611 Hudson Street (@W 12th St.)
New York, NY