Why Come Here? A must try foodie experience, unique and fantastic flavor combinations
Right Amount for 2? 4 small plates, one entree
Shalom Japan brings about the marriage of two of the few remaining cuisines that have yet to pair off: Japanese and Jewish. While some of these combinations have worked better than others, I'm happy to report this one is a match made in heaven. If this restaurant were in the West Village instead of a remote part of Williamsburg (that's either not yet cool or still cool depending who you ask) you would be calling two weeks ahead of time to snag a table. As it stands I was able to secure our spot a couple days beforehand, but it still was deservedly packed on a Friday night .
Shalom Japan is located in one of the least traveled parts of the 'burg, right where the Williamsburg Bridge ramp meets the BQE. But as you approach it appears to you like a foodie oasis in a desert of darkness with its hanging lantern and large bright windows occupying a corner space. Once inside, you find a cozy industrial chic space with brick walls, dim lighting and air vents over head. There is little else to distract you from the food, which warrants your full attention.
So what does this Japanese-Jewish combination yield? For starters, note that the "Jewish" plays a supporting role to its East Asian partner with most dishes focused on fish and noodles. It does appear more prominently in things like the sake challah and matzoh ball ramen, but overall I consider the cooking here to be more its own breed than a fusion. None of it would feel out of place at a trendy Fine Dining or New American restaurant. The menu changes every day and consists mostly of small plates with a handful of entrees.  These don't come cheap as you can expect to drop about $100 per person with drinks, but for the quality I have no complaints. In fact, I would say it was one of my favorite meals of the year. Here's what I ate: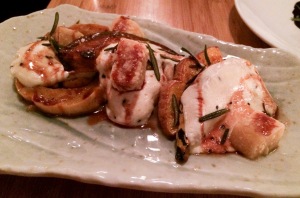 Fall Squash, Housemade Mozzarella, Nigella Seeds, Fried Chickpea Tofu 

Not particularly Japanese or Jewish, but who cares. Every time I eat squash this winter I'll be fantasizing that it has a thick clump of this mozz on it.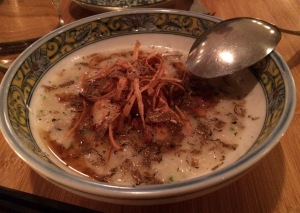 Peconic Bay Scallops, Burgundy Truffle Congee, Gobo Chips 
The salty, savory congee provided an interesting compliment to these tiny scallops. My only complaint is that the promise of truffle proved misleading.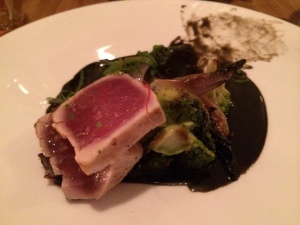 Tuna Tataki, Black Tahini 

The black tahini is ink-like in texture and brings a rich sesame taste to the perfectly seared tuna.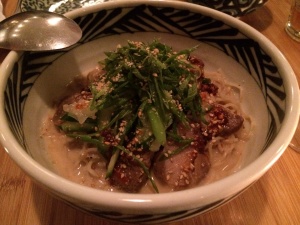 Sesame Mazemen, Pork Char Siu, Shishito Peppers, Chile Oil 

It's tough to pick a must order dish with the many incredible flavor combinations here, but I'm going to go ahead and give this one the medal. It's rich and spicy, fresh and porky all over a bed of perfectly done noodles. What more can you ask for?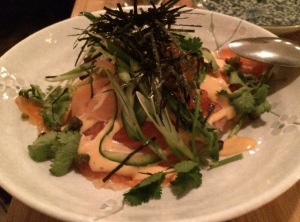 Lox Bowl, Rice, Cucumber, Japanese Pickle, Avocado, Ikura 

  Lox and cream cheese bagel is one of my weekend staples, but this opened my eyes to a new world of what can be done with smoked fish. The lox could hold its own against any Jewish deli's and the comforting mix of accompaniments give it the satisfying hardiness of the brunch staple. I would eat every Sunday morning if I could, but it was the perfect ending to our meal here too.
Shalom Japan
310 S 4th Street (@ Rodney St.)
Brooklyn, NY