Why Come Here? Amazing upscale pizza and NYC's best burger
Right Amount for 2? Two pies, half a burger or appetizer
New York's newest must try restaurant is in…Clinton Hill. Sounds more like the beginning of an SNL Stefon bit than a true statement. But that's how strongly I feel about this place. Emily is doing everything right from it's signature pizzas, to cocktails to quite possibly the best burger in NYC. While the waits are already stretching to an hour, expect them to become unbearable once the big publications figure out where this place is.
Emily is the lovechild of two college sweethearts whose romance began with a slew of pizza dates. The restaurant is named for co-owner Emily while Matt, an alum of Roberta's and Pizza Moto, helms the kitchen. It's located on what Manhattanites would call a desolate block although it's probably considered fairly happening for the neighborhood. The space is a typical dimly lit, brick walled typical Brooklyn establishment that's nothing special except for what's coming out of the kitchen.
But what is coming out is truly amazing. Emily is one of those newfangled pizza places with crazy artisanal toppings. While this may make pizza purists may cringe, they can take solace in the fact that the Neapolitan pies are perfectly cooked with crusts hitting trifecta of perfectly crispy, chewy and charred. The pies are divided into four color coded sections: red, white, pink and green. While the red and white are what you expect, the pink come topped with vodka sauce while the green is the first known use of tomatillo sauce on pizza. We tried four pies and I'm happy to say all their topping combinations worked very well. There are also salads, pastas and a burger everyone must eat at least once in their life.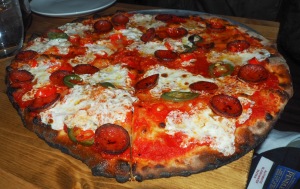 The Colony 

A classic red pie with pepperoni, this guy gets elevated to the next level with the tantalizing addition of spicy (pickled chilis) and sweet (honey) elements. For the sake of my pants, I'm glad it's located in Clinton Hill.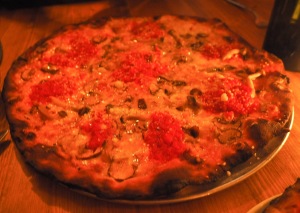 The Matt 

It's a secret off-the-menu pie named for the Chef that also refused to photograph well, so you know it's gonna be awesome. While I don't have a full list of ingredients, it's basically a white pie cooked "well done" with a thick layer of cheese and mushrooms and globs of tomato sauce on top.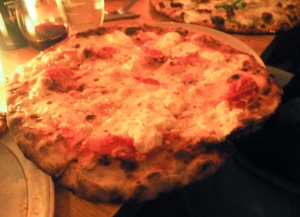 The Uncle Ray 
While this white is covered in 4 types of cheese, it's the dollops of ricotta that really jump out at you. Ham and sichuan oil add a little smoke and spicy.
¡PXG! 

This comes from the "green" section and was ordered as much out of curiosity as anything else. It's topped with tomatillo sauce, mozzarella, cilantro and 'nduja (similar to chorizo). While this may sound weird and probably won't be your favorite, the flavors actually worked together surprisingly well. Give it a try for something different.
Emmy Burger 

Normally the last thing you need to cap off a meal of pizza is more meat, bread and cheese but this is no ordinary burger. In fact after years of searching, I'm ready to proclaim it my favorite in NYC. The juicy, medium rare dry aged beef has an incredible meaty taste. Topped with a sharp 4 year aged Grafton Cheddar with a spicy Emmy Sauce on a pretzel bun, it's all I've thought about since eating it.
Emily
919 Fulton Street (Waverly & Clinton Aves)
Brooklyn, NY