Why Come Here? Interesting Northern Italian cuisine in a cozy setting
Right Amount for 2? One item from each section or 2 starters, 2 pastas
There is something about a big Italian meal with friends that no other type of meal can ever seem to match. Sharing courses of pastas, antipastas and meats with a good bottle of sangiovese is simply one of life's greatest pleasures. Any time I move to new neighborhood figuring out where I'll have such a meal is a top priority. If you live around Cobble Hill, Brucie should be that place for you.
When you enter the partially subterranean space, you'll feel like you've entered a home in the Italian countryside. Which is exactly where you want to be for such a meal. There are two rooms featuring rustic wall paper, wooden tables and chairs and walls stocked with books and pantry items. The cooking also has a down home feel with a small number of offerings that changes based on available ingredients. In typical Italian format, it's divided into numerous course with a few appetizers, a pasta course and some large shared meat options. Naturally you'll want to get in on all them. Here's what we had on a recent Saturday night: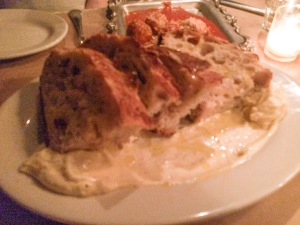 Bread & Butter

I refuse to give up the notion that bread should be free, but if you're going to pay a thick crusty slice with homemade lemon butter certainly won't make you feel slighted.
Caesar Salad (Not Tried) I didn't try this one but it got rave reviews from others at the table so I'm mentioning it. It bucks Caesar tradition by coming out shredded and includes beets and radish.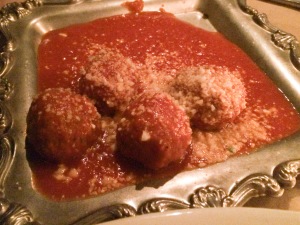 Meatballs

Cooked to tender perfection and served in a bath of tangy marinara.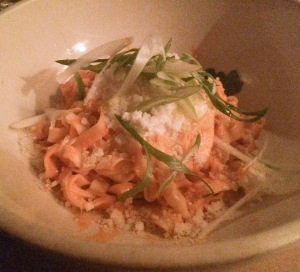 Tagliatelle w/ Tomato Butter

I saw this written up all over as a must try dish with brussels sprouts and burrata. While I enjoyed the buttery goodness of the sauce, not having those two in my pasta did leave something to be desired.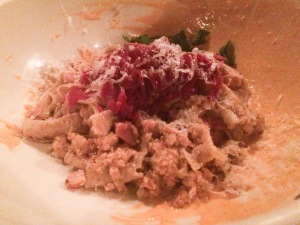 Paparadelle w/ Lamb Ragu
This was described as their take on a Rreuben with a Russian dressing like sauce, rye pasta and sauerkrat. I'll take this bed of homemade papradelle over bread in my Reuben any day.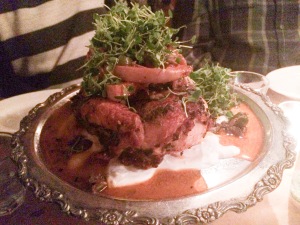 Chicken alla Brucie

The signature dish lived up to it's billing. It's a whole chicken, cooked under a brick which makes the skin amazingly crisp while keep the meat moist. Then there's the yogurt sauce and sour sweet potatoes that keep every bite interesting. Bring a friend (or 3) and shell out the $50.
Brucie
234 Court Street (Baltic & Kane Sts)
Brooklyn, NY