Why Come Here? The real question is, why not?
Right Amount for 2? 2-3 from the veggies/ones, 3 from the two (pasta) and three sections
At some point Upland owner Steven Starr must have thought to himself "how can I make a restaurant that will make everyone happy." Friends, clients, dates, foodies, vegetarians and gluten haters will all love this restaurant. Yes, this make Upland the Emma Stone of restaurants. The only problem is, it makes Upland the Emma Stone of restaurants. Which means if you want a table before 10, you better have booked it two weeks ago.
So what makes Upland this mythical unicorn of restaurants? Well, let's start with what happens when you step inside. The setting somehow manages to feel opulent, trendy and casual all at once. A golden hue emanates throughout from the large open bar upfront to the Mad Men era collection of booths in back. But upon closer inspection you find a beamed ceiling, checkered tables clothes and walls adorned with pickled vegetables that help relive you of any concern you should be wearing a coat and tie. The casual-friendliness of both the hosts and your waiter fully put you at ease. All are meant to fell comfortable at Upland.
The food is from Justin Similie of Il Buco Alimentari is described as "Contemporary California" which I translate to mean seasonal and vegetable-driven. It's also pretty heavily Italian influenced drawing on Similie's previous gig at one the city's best Italian eateries. So while there are entire sections of mostly vegetables, they're balanced out with pizzas and pasta courses. This may not represent the pinnacle of innovative cuisine, but it's the type of food that will please the most people and is just really damn good. Also, the wine list is extensive with good bottles in all price ranges. And my cocktail was delicious. Do I really need to keep giving you reasons to come here?
Here's what we tried: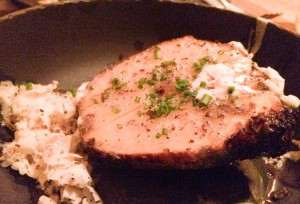 Slow Roasted Celeriac
I've seen celeriac pop up on a few menus lately and I have a feeling it's about to trend. Why? It meets the trifecta of being very food for you, something our ancestors ate a lot of and having an interesting sounding name. Mark my words next time you see it on a menu. But how does it taste? Think of it as a sort of sweeter celery with the texture of a potato. Be ahead of the curve and order this one with delicious black truffle butter.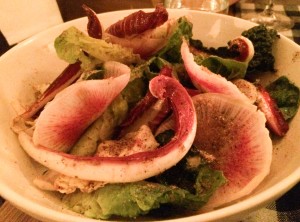 Five Lettuce 'Caesar' 

  Not only is it the coolest looking, but it may very well be the best tasting caesar in the city. The unique blend of lettuces is done up nicely with a dressing that's light but packs a strong garlic-anchovy punch.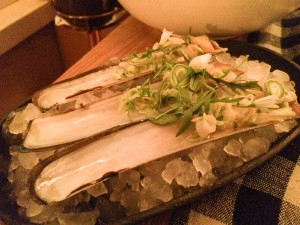 Razor Clams 

Razor clams score points for being the coolest looking and most fun to eat of any type of shellfish. But then they lose them for not having much flavor. To make up for that, Upland blends them with almond and spring onion, although the lemon juice ended up overpowering everything.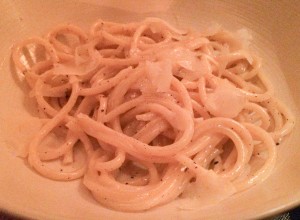 Bucatini Cacio e Pepe

  Cacio e Pepe literally means cheese and pepper. Which are usually the starting blocks of a pasta, not the ending point. But sometimes beauty lies in simplicity. Simplicity and perfectly cooked pasta.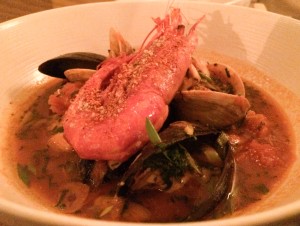 Upland Cioppino 

Honestly, I find cioppino hard to get excited about. It's the (half) Noah's Ark of seafood dishes with one of every fish and shellfish you can find tossed into a boatload of sauce. So I ordered this one because our waiter said it was his favorite dish on the menu. It is quite good and they use a Korean condiment called gochujang which gives a slightly funky taste. But I still can't get too excited about it, especially given the other options here.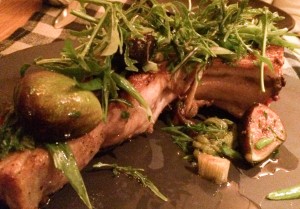 Crackling Porcelet 

This weirdly shaped hunk of pork is the dish people are going to be talking about it as I can't imagine not ordering it. The meat is sort of like crispy pork belly meets perfectly cooked pork chop. Naturally, love ensues.
Upland
345 Park Avenue South (entrance on 26th St)
New York, NY