Why Come Here? Awesome fried chicken sandwich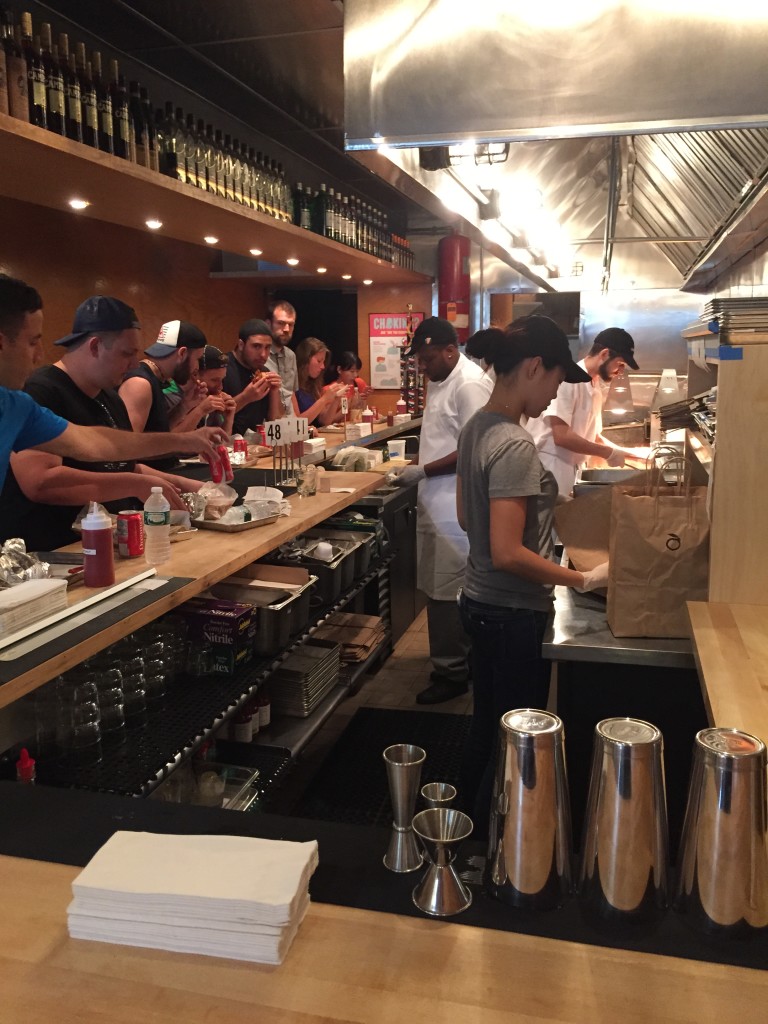 David Chang can best be described as a wizard who spins Korean food into gold. His other restaurants – the Momofukus Noodle Bar, Ssam and Ko – are slammed every night. Milk Bar floods instagram with photos of corn flake covered cones and crack cookies. About a month ago he opened his first fast food venture – a fried chicken sandwich shop called Fuku. Naturally blogs have exploded and people have  lined up and down First Avenue to get their hands on it, even for weekday lunch in an area has approximately zero office jobs. So what are they so excited about?
Fuku is in the old Ko space and has seen little renovation from those days. Given Ko was a $200 tasting menu only restaurant, let's just say Fuku doesn't quite look like a quick service establishment. You enter and are greeted at what looks to be a maitre d' station. It is in fact the counter where you place your order. Payment is by card only. Yup, nothing is what you expect. After ordering you receive a number and wait for your food to be delivered while staring at the open kitchen and listening to the solid classic rock playlist. If you don't hear something from Zeppelin, ask for a discount.
The menu is very straight forward – chicken sandwich, fries and salad. The "Spicy Fried Chicken Sandwich" comes with nothing but the chicken and some pickles. Those in the know however order the super-secret off menu "Koreano" which adds – get this – pickled cabbage! Yeah, the ladies next to me were pretty impressed. There's also a momfuku sauce you'll want to apply that's sort of a blend of hoison, soy and sriracha.
Fuku is currently opened for lunch Thursday-Sunday and dinner Friday and Saturday. I'd love to see it open late night soon, though the lines might be even worse. They also unexpectedly offer wine, a beer (Tecate) and single pours of liquor. Because nothing says "I lunch in the East Village" like a fried chicken sandwich and shot of vodka.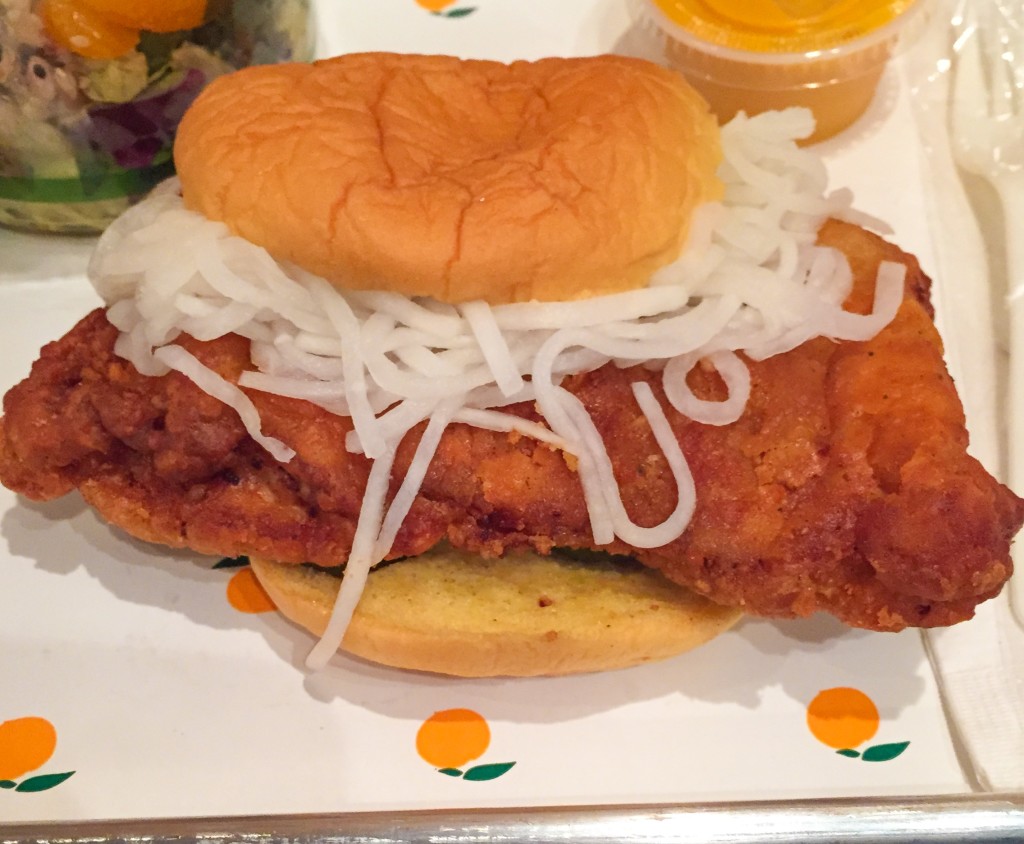 Koreano 

As I said before this is the Spicy Fried Chicken with pickled cabbage. But it's delicious. "Spicy" might be a bit of an overstatement, but the perfectly crisped fry batter has some nice Korean spices going on. The massive hunk of meat is moist inside and partially contained by a soft semi-sweet bun. I'm not gonna say it's necessarily worth an hour wait, but it is pretty incredibly good.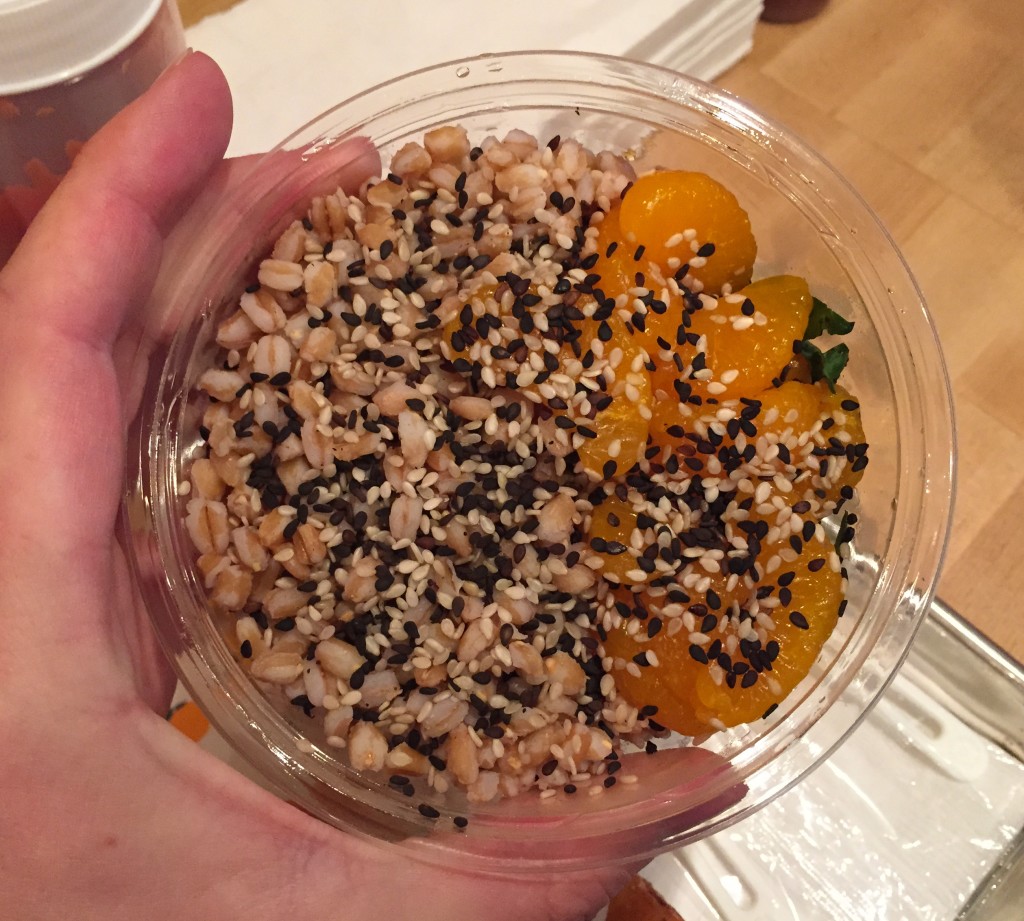 Fuku Salad
Remember nothing here is what you expect. This is essentially a bowl of farro and sesame seeds with some chunks of mandarin oranges and  pieces of mint and indistinguishable greenery. It's quite refreshing and makes a perfect compliment to the sandwich. Plus you waited long enough to order two things.
Fuku
163 First Avenue (10th & 11th Sts.)
New York, NY