Why Come Here? Try Gramercy Tavern cooking without breaking the bank or a reservation far in advance, solidly priced and excellent new american
Right Amount for 2? 1 app, 2 entrees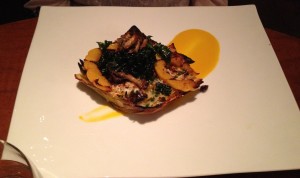 Gramercy Tavern has remained one of New York's most popular restaurants for over 20 years with diners calling a month ahead of time and donning coat and tie to spend $90 (or more) on the Dining Room's prix fixe menu. Fortunately, for those of us want to try the famous food but don't want to put up with the above formalities, there is another option. In the front of Gramercy Tavern lies the "Tavern Room" which takes no reservations, requires no special attire and serves its own equally delicious menu a la carte at prices that almost make you want to apologize to Danny Meyer for stealing from him (all entrees under $25, with several less than $20). There's even a $45 tasting menu if you want to feast on the cheap. Sure, it's a little louder and more casual than the Dining Room and you may have to wait a bit, but the service and food remain top notch. This is definitely a place worth adding to the rotation.
Here's what we tried: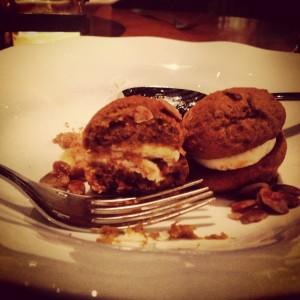 Butternut Squash Lasagna, Kale, Mushrooms and Pine Nuts

 To be fair, butternut squash and kale are two of my favorite veggies. But the earthiness with a touch of sweet still might make this the best lasagna I've ever eaten
Grilled & Braised Flaitron Steak w/Quinoa, Sunchoke and Hazelnuts

 The quinoa, sunchoke hazelnut salad was spot-on but it overpowered the steak which I found slightly lacking in flavor. Enjoyed it thoroughly nevertheless.
Pumpkin Whoopie Pie w/ Rum Ice Cream

 I love pumpkin desserts but this one really stands out. There's a layer of glazed pumpkin you scrape off the bottom of the place and the rum ice cream is just the right amount of cooling and bite. I just wish there were more of it.
Gramercy Tavern (Tavern Room)
42 East 20th Street (Park & B'way)
New York, NY
Restaurant Website