Why Come Here? Fresh, high quality sushi without breaking the bank
Right Amount for 2? Sushi for 2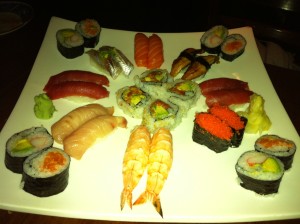 There are three levels of successful sushi restaurants in New York. At the bottom rung is the place serving cheap, mediocre fish that manages to stay packed to the gills (pun intended) because they'll let you drop as many sake bombs as you can in a two hour period. In the middle is your standard delivery joint where the fish is good on its own, but rolled up and covered in enough spicy sauce and fake crab it makes for your favorite "healthy" weeknight meal. And finally at the top lies the temples to the sea where eating your fish anything other than sashimi or sushi style is considered an insult to both the chef and Posieden himself.
The problem with eating at this top rung is you often need to drop over $100 person to fill up on their treasures of the sea. Enter Kanoyoma: your every week upscale sushi restaurant. As with all top sushi restaurants, the play is to let the master sushi chef select your meal from the day's bounty. We usually go for the sushi for 2, which includes a very filling 16 pieces of top quality, fresh sushi and 3 rolls for $52 – a fraction of what you'll spend for this quality other places. To be fair, It usually includes some of your less exciting fish such as salmon and shrimp (as well as a couple more interesting ones), but they are good as it gets. If you want to get fancier however, Kanoyama does offer more unusual fish in an 8 piece omakase that goes for a mere $37. including a roll and dessert just to make sure you don't leave hungry. The sake list is also affordable and fantastic.
Best of all, you can have this in a soothing, dimly lit, perfect-for-a-date spot centrally located in the East Village. And now that they have expanded into the adjacent space there never seems to be much of a wait. If you haven't been, add this to the top of your dine-in sushi list now.
Recommended: Sushi For 2 

Kanoyama
175 Second Avenue (11th & 12th Sts)
New York, NY
Restaurant Website