Why Come Here? An Upper West Sider with a downtown vibe and a southern soul
Right Amount for 2: Pickles, 1-2 apps, one sandwich or entree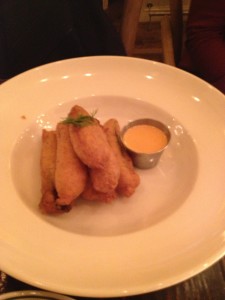 I rarely venture to the Upper West Side for food (unless it's Pumpkin Ice Cream at Trader Joe's), but with two friends raving about a new place called Jacob's Pickles (and only one of them actually obsessed with vinegarized veggies) I decided I needed to give it a shot. The space is built to make you forget that you're uptown with an industrial chic look, speakeasy style back-lit bar and alt rock music. The food is Southern cooking with a twist and focus on pickles. Basically, it's like hipster Paula Deen opened a restaurant on the UWS.
Upon arriving at your table, you have a few tough decision to make. First, will you order one of the intriguing cocktails like Rosemary Vodka lemonade or the Honey Julep, or sample one of the many unusualcraft beers on tap? Next, you're going to need some pickles. Naturally, there's a a wide variety to choose from and you get a lot in one order, so do choose carefully. Finally, while there are some good looking apps and "home cooking dishes", you're next decision is really which of the massive Southern Biscuit Sandwiches with Fried Chicken is going to bust your gut that day. Whether you get it covered in pickles, fried tomatoes or gravy, you can't really go wrong. You also get a side of grits in case your arteries haven't clogged yet.
So while it's not the most earth-shattering menu, there are some very good options and it's a great addition to the neighborhood. Here's what I tried:
Special Sours Pickles 

  A thick cut of cucumber that's a little sour but definitely has some honey going on too.
Fried Pickles 

 The batter is thick and delicious and the spicy mayo tops it off nicely. The only problem is you don't actually taste any pickle.
Honey Chicken & Pickles Biscuit Sandwich 

 Sweet and juicy fried chicken, hot & sour pickles on a fluffy biscuit. If you're going to get your daily calorie intake in one dish, this is how you want to do it. At least pickles are kind of healthy, right?
Jacob's Pickles
509 Amsterdam Avenue (84th & 85th Sts.)
New York, NY
Restaurant Website