Why Come Here? A great neighborhood spot for upscale, innovative Thai
Right Amount for 2? 1 app, 2 entrees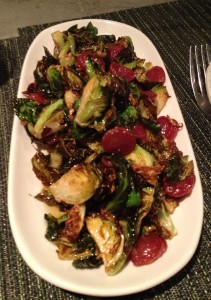 I've touted Kin Shop as one of my favorite restaurants since starting this blog, so it's about time I put together a formal review. My love of Kin Shop can be summarzied by its combination of three of my favorite restaurants themes:
1) Upscale Casual  Yes, everyone's doing it right now, but why shouldn't they be? Who doesn't want a nice meal out without feeling like they're in the waiting room for da club or dining in an eighteenth century palace? With Kin Shop, you get a sleek white space, open kitchen with lots of bar seats that actually have backs! Bonus: you can usually snag without much of a wait if you're too lazy to make reservations.
2) A Varied Menu with Reasonable prices. One trend, particularly popular in the "upscale casual" category, is the small menu. Now in many ways, it's a good thing. I want the focus to be on what the chef things is best, not a Cheesecake Factory style list of every dish ever imagined. But in a go-to spot, you need some variety as well and that's by definition lacking on ten dish menus. Kin Shop's selection of selection of salads, veggie plates, noodles and curries however make it easy to get a totally different meal every time. And while it isn't cheap, low 20s entrees is quite reasonable for this quality of cooking.
3) Real Thai Flavors. I've been to Thailand and as the scores of other people who also have will similarly complain, the food we get here ain't the same. Now, Harold Dieterle is not trying to reproduce classic Thai dishes here. But the herbs and spices are legit and will make you feel more like you're in a modern kitchen in Bankgkok than an American chef's in New York. Another authentic touch: the tables come with dried chili powder and spicy fish sauce seen on nearly every table in Thailand yet seemingly deemed unsuitable for American use and rarely seen here.
Below are my favorite dishes: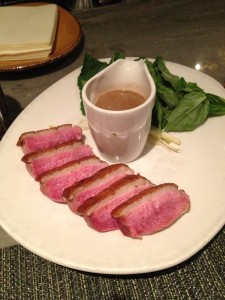 Red Curry Roasted Duck Breast 

 The duck cooked medium rare is juicy and delicious. The curry is flavorful with the right amount of spice. Wrap that up in a roti and it's one of the best things you'll ever eat.
Steamed Pork Meatball Soup 

 Succulent meatballs in a delicious, if slightly salty, broth. A great start to the meal.
Fried Pork & Crispy Oyster Salad

 Oysters and Pigs have been paired since Missy Piggy first dawned her pearls, but for some reason people didn't think to eat them together. Thank you Harold Dieterle for putting two-and-two together and creating the perfect meaty, salty and sweet "salad".
Fried Brussels Sprouts & Chinese Sausage

 This dish smacks all the taste sensors: bittersweet brussels, smokey sausage, sweet coconut chutney and tangy apple vinegar. If you feel the need for some greens while eating here, this is where you want to get them.
Kin Shop
469 Sixth Avenue (11th & 12th Sts.)
New York, NY
Restaurant Website