Why Come Here? An adventurous night out, great cocktails, NYC's premier foraging restaurant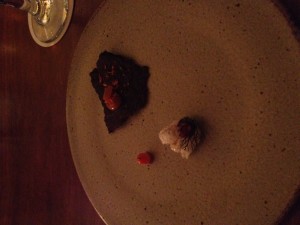 Let me start out by saying this: Aska is not a restaurant you bring your parents to. The modern Scandinavian cooking bears no resemblance to the ligonberry, smoked salmon and herring platters you think of as "traditional Scandinavian." In fact, much of it bears little resemblance to things you think of as "food." Instead, it follows a trendy cooking style known as "foraging" (set by Copenhagen-based Noma) which essentially means "let's find some stuff in a forest that no one is cooking with and serve it to people." So you find ingredients like purslane (a weed), lichen and autumn leaves. Aska is about the adventure of eating unusual food that's good more than eating something downright delicious. But for those who are up for the adventure, a very enjoyable evening awaits.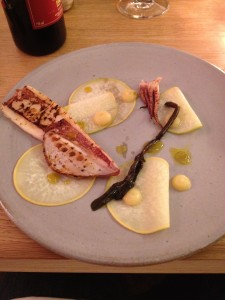 While you might not know what "modern Scandinavian  food is, the space is probably exactly what you would imagine as "Modern Scandinavian . An airy two-story loft with plenty of wood and a mural of birds soaring against a white (and thus presumably freezing) backdrop on the wall. It serves as a coffeeshop and studio by day and formerly hosted Frej, a similar themed restaurant by the same chef. We opted for the $65 tasting menu since hey, it's not like you know what you're ordering anyway (it's offered Sunday-Thursday nights only).
The meal started at the bar where which whips up some dynamite (and not too weird) cocktails you'll want to get your hand on. While seated there, we received four bar snacks including delicacies like dried pigs blood and fish skin chips with some more traditional caraway seed bread throw in to settle the stomach. From there, we were lead to a table in the back where the six-course tasting officially commenced.  While the dishes were hit or miss, they definitely had an earthy quality that reminded you something had been "foraged" and brought on your plate. The presentations were all also quite impressive. For $65, it's an necessary and affordable foodie excursion.
My thoughts on some of the dishes: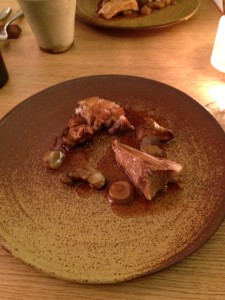 Dried Pig's Blood

 It comes in chip form with a single berry cleanse the bitterness off the palate.
Brocolli

 A head of broccoli comes upside down in an oyster emulsion. Probably the least weird thing we ate. Plus you get to eat it with your hands, which is always fun.
Shrimp, dill, rapeseed oil

 One of the lighter, more refreshing dishes with a strong herbaceous quality.
Salsify

 Maybe the most ununusal dish on the menu as it includes both lichen and forest leaves. You've probably never tasted anything like it, not that you particularly needed to.
Pork Shank 

 By the time this came I was ready for some meat and the salty porky flavor contrasted perfectly with sweeter beet and apple.
Aska
90 Wythe Avenue (@ N. 11th St)
Brooklyn, NY
Restaurant Website