Why Come Here? Strange but delicious fish-focused small plates
Right Amount for 2? 3 pieces of sushi (each), 3-4 other items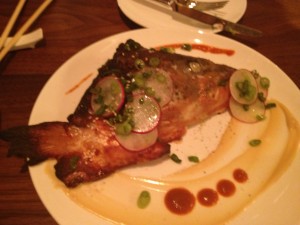 Chez Sardine is the latest addition from West Village master restaurateur Gabe Stulman who has done great things with Fedora, Perla, Joseph Leonard and Jeffery's Grocery. Chez Sardine is an Americanized Izakaya, which is essentially a Japanese tapas bar (for the traditional version, check out Rockmeisha). I don't think I've seen anyone else do this per se, but playful small plates in a casual setting is something New York has gotten pretty familiar with. The inside does maintain a Japanesey feel with a sleek design, the typical light wood paneling, pictures of fish and a classic rock soundtrack (ok, maybe that's not Japanese). The place is pretty tiny and does take some reservations, so if you don't have one, you're probably waiting two hours. Surprisingly once you sit though, you're not packed like "sardines" as tables are reasonably spread out by West Village standards (aka more than 3 inches).
The menu comes in sections that include snacks, sushi, small & large plates and Miso Maple Salmon Head. Despite some weird sounding combinations, nearly everything hit the mark, but make sure you dig deepest into the sushi and Salmon Head sections. While the fact that only two items are over $20 may give you the impression you'll escape without a hefty tab, keep in mind you'll need a reasonable stack of dishes to fill yourself up. It feels like a cool local spot you'd like to frequent for some small bites and drinks, especially late night. Unfortunately, the popularity and prices take that out of the equation for most of us. But it's still a great addition to the neighborhood.
My top picks are below. You can find all my reviews and photos on DishEnvy.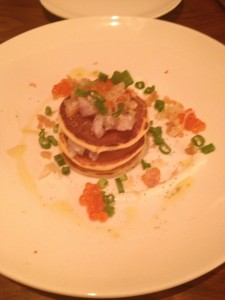 Miso Maple Salmon Head

 The miso maple glaze isn't too sweet and is definitely plate-lick worthy. Why the head of a salmon though? I can't answer that, but they do say the cheeks are the best part. Dare you to eat the eye!
Smoked Arctic Char Sushi 

 I'm not sure I've had smoked fish on sushi before. It's not as strong of a smokey flavor as smoked salmon, so you get more of the char flavor. Get a piece.
Beef w/ Sea Urchin Sushi 

 Sea urchin can be weird and fishy. But they get the good stuff here and the creamy, umami goodness is the perfect topping for the seared beef.
Breakfast Pancakes 

 Despite the name, these are on the dinner menu. Imagine the McGriddle, except fresher and filled with salmon roe and cream cheese. Yeah, you'll want to try it.
Chez Sardine
183 West 10th Street (@ West 4th St)
New York, NY
Restaurant Website