Why Come Here? Good, hearty upscale drinking food in the East Village you can probably walk into
Right Amount for 2? 3-4 dishes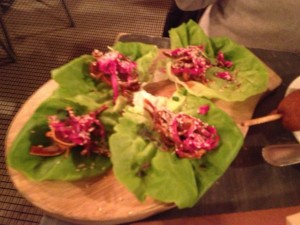 You know those days you're craving the spices of Southeast Asia and the smokey, meatiness of Texas BBQ? No? Well, you can imagine what it would be like if you did. And if you did, or do now that I've mentioned it, you have Duck's Eatery to satisfy both at once. The menu is not surprisingly meat heavy and even the greener dishes generally contain something that's been smoked or charred. In other words, it's exactly the type of upscale drinking food you want to wash down with beer and whiskey, which are naturally also plentiful here.
In terms of ambiance, Duck's feels pretty much like a bar. It's loud, tables are densely packed and the bar itself takes up a good quarter of the space. Although it's small, we didn't have any wait for a table on a Saturday night. That's good because it's better as a quick option for a night out in the East Village than a planned out foodie indulgence. And if you treat it that way, Ducks will do you right.
Here's what I tried: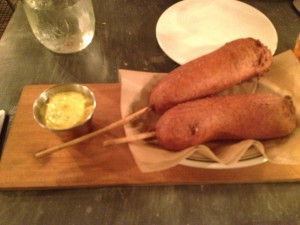 Lamb Corn Dog 

 I learned something with this dish: lamb's gamey flavors are best surrounded by fried cornmeal. This was a special but hopefully it finds permanent place on the menu.
Little Neck Clams 

The sage and peppercorn broth is the star here. You can't get enough of it on the clams, so fortunately there's some texas toast to sop up the rest.
Crispy Pig Ears 

 I'm torn on rating this one. The first bite of spicy, sweet, porky crunch is amazing. But eat two of the lettuce wrapped tacos and it's too much. Make sure you have someone to split these with and you'll be happy.
Pipa Kaula (short ribs) 

 The soy and vinegar rub is quite tasty, but the short ribs lacked that rich meaty flavor you hope for. Also, there wasn't that much meat on the bone.
Note: Tuesdays are brisket night, which includes smoking it over night in apricot preserves and adding fish sauce. I've yet to try it but it's definitely on the list.
Duck's Eatery
351 East 12th Street (1st & 2nd Aves)
New York, NY