Why Come Here? Tasty Neapolitan style pies for under $10, NYC's lowest emission food truck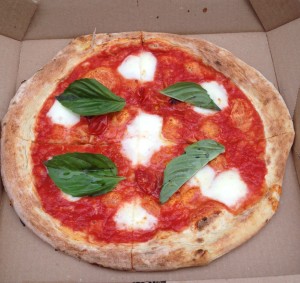 As food trucks have grown throughout New York to cover nearly every food type, one that I had thus far stayed away from is the pizza truck. Somehow it just didn't seem right. Unless you're cooking up a DiGiorno, pizza is best left to specialty ovens not typically found in a van. And with space limited in a truck I figured you'd either be waiting a while for the pizza of your choice or have to settle for whatever was just out of the oven. Plus it wasn't as if New York is exactly lacking in place to get a quick slice.
However when I was invited to try the Neapolitan Express truck which rolled out earlier this year, I was impressed at how they had managed to allay my concerns to serve a fresh, tasty pie on the go.  As you may have guessed, they make Neapolitan style pies (10-12 personal pies with a thin, chewy crust similar to Keste), which are currently available in 4 varieties: a margherita with either traditional or bufala mozzarella, a cheese-less tomato pie and a dessert version filled with nutella. Unlike most of your quick-stop pizza joints, Neapolitan Express actually cooks your pie to order thanks to an ingenious assembly line process (that's actually fun to watch). A ball of dough is put in a dough presser (which does exactly what you'd expect), then is promptly topped in front of you and placed into a custom Made-In-Italy pizza oven that managed to reach 900 degrees – cooking your pie in a mere 90 seconds. Find A 10 to 12-inch pie to be too much for one sitting? Fear not, the box actually folds in half to make a handy carrying case for 2 slices (see below).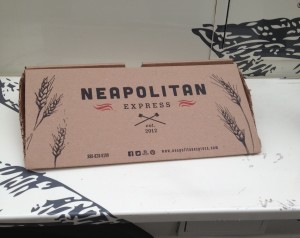 In case the pizza isn't enough reason to support these guys, their sustainability efforts are perhaps the most impressive of any food truck in New York. Their's is the only truck in NYC which runs on compressed natural gas – a cleaner alternative to gasoline – with solar panels providing additional power. On top of that, all ingredients are organic and locally sourced (except those that need to be imported from Italy.)
For now, you can find the Neapolitan Express truck's location on Facebook and Twitter, but one place you may want to note is their spot in the heart of Meatpacking from 4PM – 4AM Thursday to Saturday. Here's what I tried: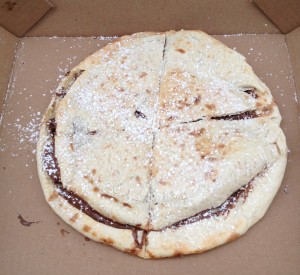 Pizza Bufala

 A margherita style pie with big hunks of bufala mozzeralla (a tangier and more flavorful version than that of a cow) on a thin yet chewy crust. The crushed tomatoes and tangy as well with a strong sweet flavor from the basil and olive oil. You won't find a Neapolitan pie this good for anywhere near the $9 price tag in the city.
Pizza Cioccolato

 On this one they cut open the crust length-wise after it's been cooked and stuff it with nutella then sprinkle on powdered sugar. I'm a big nutella crepe fan and found the chewy crust a great complement. Hope to see them add some fruit soon to round it out.
Neapolitan Express Food Truck
Various Locations
New York, NY