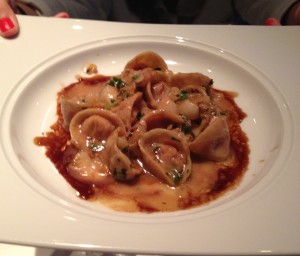 Why Come Here? Fantastic views, food fit for foodies and their grandmas, Westchester's best special occasion restaurant
42 is so named due to it's perch on the 42nd floor of the Ritz-Carlton Westchester. If you've been to White Plains or anywhere else in Westchester, you probably realize that not only does this make it the tallest building in the county, but also that few other buildings stand anywhere near its height. Which means 42 boasts sweeping views in all directions of tree-lined Westchester, Long Island Sound and even Manhattan in the distance. The two-story, floor-to-ceiling windows also ensure that even if you can't snag a seat by the window, you'll still be able to take in the vista.
Now when you describe a restaurant with the words "view," "hotel" and "Westchester,"  "Great Dining Experience" probably isn't the next term to come to mind.  And yes, many aspects do reek of your typical hotel dining experience including a long stroll through the Ritz-Carlton lobby, a trying-too-hard-to-be-sleek white column and chandelier filled dining room and the requisite large group celebrating the deal they just closed on the company tab. But once you get past that, you'll find 42 has created what is probably Westchester's best restaurant for special occasions (in my case, my Mother's birthday).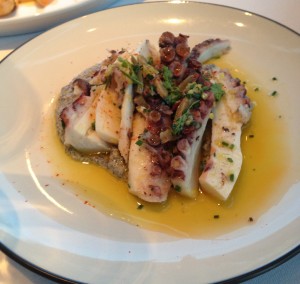 It begins with great service. The waiters are attentive and ours did a terrific job walking us through a large menu which includes many ingredients the average hotel diner is unlikely to be familiar with. He was also very helpful in describing their artisan cocktail program, where many cocktails were much more impressive than they read on the list. Make sure you try at least one.
When it comes to the food, the menu may be pricey with most entrees in the mid-$30s, but hey it's the Ritz, it's got a sweet view and the menu is solid all the way through (we tried about a dozen dishes among us). There's a large array of options including dips, crudos, apps, pastas and main with a varying level of sophistication which allows 42 to offer something to please every palate. My group, which included my my not-exactly adventurous grandmother, slightly more daring parents and always looking to be surprised self, was the perfect testament to this. Below are my top picks from what we had:
7 Spice Bison 

 Bison burgers are growing in popularity, but after trying this I expect to see more steaks on menus. The meat was incredibly tender and the crusting of spices added a sweet-spiciness. Worth the trip up to White Plains alone.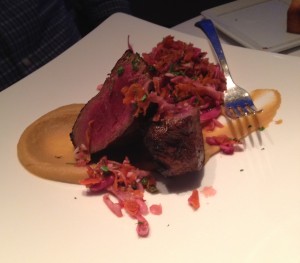 Arroz Pato 

 Arroz pato is often more rice than duck, but not here. A huge, tender and juicy duck breast comes on a bed of forbidden rice with smokey, sweet and spicy sauces. Definitely a definite must order if you're into duck.
Duck Liver Tortellini 

 The brown butter and fatty liver are flavorful and rich, although this is tempered somewhat by the fresh ramps. If you can find someone to share it with, go for it!
Octopus Crudo 

 Big hunks of perfectly cooked octopus. The menu says "lots of lemon" and isn't joking around. It could be toned down a bit to let the octopus stand on its own, but it's still quite enjoyable.
PFC (Portuguese Fried Chicken) 

 This dish is all about the sweet, spicy and tangy Portuguese spices which create a great flavor combo. Unfortunately the chicken itself was a little bit dry. Maybe you'll have better luck.
42 The Restaurant
The Ritz-Carlton Westchester
One Renaissance Square
White Plains, NY