Why Come Here? A coastal style seafood shack in New York City, complete with cornhole and mini-golf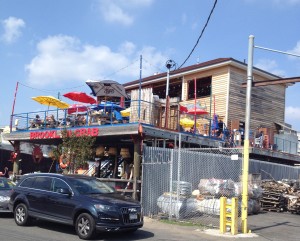 Red Hook. If you've been to this land that the subway system forgot, it's more likely you were picking up a new set of dinner plates than something to actually eat (it's home to NYC's only Ikea). But a newcomer has emerged that offers a legitimate reason to spend a day in Red Hook, even once your apartment is fully furnished.
Brooklyn Crab is a tri-level crab shack that looks like it belongs more on the shores of Maryland than Brooklyn. This is what you're coming for because even though the food is good, it's nothing you can't find in more accessible parts of the city. Level 1 is your bar area, complete with pool table, corn hole and 18-hole miniature golf course. At least I think it's 18, it's hard to tell when only half the holes are numbered, and in no discernible order. The second floor in true crab shack style includes both an enclosed, nautical themed bar and large patio with the requisite wooden benches and umbrellas. The top floor contains an additional dining area with a roof over it that offers views of the Red Hook docks and Staten Island. While it's technically open year-round, you definitely want to spend an afternoon here while the weather is still warm.
The menu is your standard seafood shack fare: fried seafood & seafood sandwiches, a raw bar and of course lots of crabs. It's all very fresh and delicious if a little pricey. The crabs come out steamed whole which means you have to break them open yourself to access the sweet meat inside. If you're not sure how to do that, then you're like just about everyone else at the restaurant. The back of the menu does provide instructions, but no one would complain if the tables came equipped with an iPad loaded with video tutorials. While you're unlikely to master it on the first visit, I promise you'll find a way to at least avoid starving. Or you can just order a po'boy.
Maryland Blue Crabs 

 The crabs are fresh and high quality, so the meat is sweet and tender once you figure out how to get it out. I recommend the spicy boil which isn't too spicy and provides a peppery, salty flavor. Since it's on the shell, you'll probably have to lick it off your fingers to enjoy it with the meat.
Brooklyn Crab
24 Reed Street (Van Brunt & Conover Sts)
Brooklyn, NY

To get to Brooklyn Crab from Manhattan, it's most advisable to take the Ikea Express Boat. In fact, it's always most advisable to take a boat when given the opportunity. The boat leaves from Pier 11 near Wall Street on this schedule.