Why Come Here? Fresh, organic and local salads with all the fixin's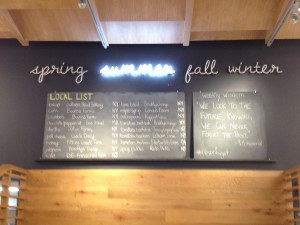 With 19 locations in DC, Boston, Philly and now New York, Sweetgreen is a bonafide chain. And normally I wouldn't take the time to support a chain. But Sweetgreen is different and I'm officially obsessed. Judging by the 20+ minute waits for a salad at lunch, I'm not the only one (Pro Tip: order online 1/2 hr ahead of time to skip the line). So why all the excitement you may ask?
Think of Sweetgreen as the Chipotle of salads. In some ways, it even kind of looks like a Chiptole. But now multiply that by 100, and you'll begin to understand why people are flocking to this place. All the ingredients are fresh, organic and locally sourced (there's even a board the tells you which farm they came from). The number of options is mind blowing. Anything you could ever think of putting in a salad is there, and so are many things you never considered. There's even throw in some fresh seasonal fruits – peaches in August and now Watermelon and heirloom tomato for September. Personally, I feel strongly the kale, warm grains (a mix of quinoa and farro) and spicy broccoli belong in every salad, preferably topped with either truffle oil or carrot chili and of course sriracha (did they build this place for me?). Most of the custom salads are under $10 and if you download their slick app, you can not only pay on your phone in about 0.5 seconds, you also get your 11th salad gratis. You'll never settle for Chop'd again.
Update: I've now also tried the Williamsburg and Tribeca locations. While the service is a little slower, they also tend to be less crowded and serve the same delicious salads. As I eat here often, come back for reviews of new menu additions.
While many will choose the build your own salad option, I usually find that to be too much thought for my lunch break and go with one of their Signature Salads. Should you feel the same, here's what I recommend:
Earth Bowl

 The aforementioned warm grains with a peppery arugula and hunks of sharp cheddar. It's the most substantial salad so it's my go to for when a bowl of greens just won't cut it.
Spicy Sabzi

 Everything spicy they've got is thrown on a bed of kale and spinach. It's got a nice kick and the least calories on the menu, making it my Monday must order.
Misoba

 A good change of pace option: mesclun and avocado and topped with soba noodles, cilantro and seasame ginger vinaigrette.
Sweetgreen
1168 Broadway (27th & 28th Sts.)
New York, NY

162 N 4th Street (Bedford & Driggs Aves)
Brooklyn, NY

413 Greenwich Avenue (@ Hubert St)
New York, NY