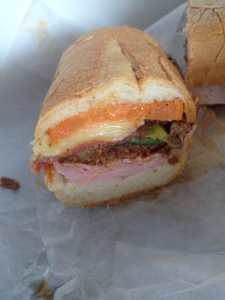 Why Come Here? Inventive & delicious sandwiches, solid vegetarian offerings
If I told you to think up a "Hipster Sandwich Shop," it's unlikely your vision would differ much from No. 7 Sub. A tiny space old industrial space with practically no seating and a monochrome color scheme. Servers with beards, tatts and ironic t-shirts. Sandwiches that could be called "ironic" takes on classics, like a Zucchini Parm with no marinara sauce or The Godfather Part II (an "italian sandwich" with Chorizo and Thai Basil). It's even located in the Ace Hotel, arguably the first hotel made by and for hipsters.
But if hipsters aren't your thing, don't let that turn you off to No. 7 sub as they're still friendly "mainstreamers". And they sling some of the city's best and most inventive sandwiches. All of them are made to order and served on crusty french bread. The nine sandwich menu – which includes 4 vegetarian offerings – is diverse enough to make it pretty much the only sandwich place I hit up during the week. And having tried nearly everything, I can say I'm a huge fan across the board, particularly of their decision to put potato chips on many of their sandwiches. My favorites are listed in order below, and you can find all my reviews on my DishEnvy page.
Zucchini Parm

Despite it's name, this sandwich has little in common with the traditional as there's no parm or marinara sauce. The zucchini is only lightly fried so you can actually taste it, and the pickled jalapenos give it a solid kick. Surprisingly, it actually a fairly light sandwich suitable for everyday consumption.
The Godfather Part II 

What mad genius decided to combine salami, chorizo, jalapenos and sweet potatoes? It hits on all the favor centers, but it's also a beast of a sandwich to put down. I also say I'll save some for later, but I never do.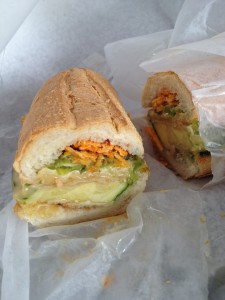 Cold Balsamic Chicken 

  I love balsamic, I love avocado and I love potato chips. Put them together and you've got a light, go-to sandwich, particularly in summer.
Turkey Meatloaf 

 Most meatloaf sandwiches have jaw unhinging hunks of loaf spattered on them. This turkey meatloaf , however is an appropriate size for a human to eat for lunch. It's nicely seasoned and the cilantro is a refreshing touch, although I wouldn't mind a little more of the marinara sauce.
No. 7 Sub
1188 Broadway (28th & 29th Sts.)
New York, NY

Pro Tip: Since seating is non-existent, take it to the Ace Hotel lobby around the corner or Madison Square Park if it's nice.