There's little doubt that the enjoyment of food comes from more than just our sense of taste. No one like gnawing on a rubbery piece of meat, regardless of how delicious the sauce. And Instagram has certainly proven that people can derive tremendous pleasure from even a tiny image of someone else's meal. But pairing music with food? I can't say that's something I had considered before. So when I was invited to the book release dinner for Barbara Werner's Musical Pairing: The Art of Harmonizing Music to Your Meal, I found it far too interesting to pass up.
While the tag line may read "the art of harmonizing music to your meal," Ms. Werner boils it down to more of a science. Each dish is given a "food pairing number" based on the protein, richness of sauce, cooking method and spice level. Songs receive a "music pairing number" made up of the genre, primary instrument, tempo and dynamics. If the number is the same, you've got yourself a food and song pairing.
So how well does this work? To demonstrate, the dinner began with a bowl of plain old vanilla ice cream. First we took a bite of it on its own, then had another while listening to a paired piece of classical music. I have to say the second bite was definitely more enjoyable. But then again, good music makes everything more enjoyable, right? To prove that's not the case, another classical piece with a non-matching pairing score was put on. Enjoyment reduced.
While classical may seem like the natural genre to pair with food, Ms. Werner demonstrated that any type of music can work. Over our nine course meal, everything from Paint it Black to Gangsta's Paradise appeared on the soundtrack. Each pairing elevated the enjoyment of the dish by probably a quarter- to half- point on my rating system.
So overall I was quite impressed with how well it worked. I probably won't be scoring and pairing every meal I eat, but I could imagine coming up with some playlists for a few favorite dishes. I expect you'll see this more as people look to set the right background music for dinner parties and events. I am also now taking bets that a restaurant launches a "music tasting menu" within the next year.
You can learn more about musical pairings, get suggestions and order a copy of the book at MusicalPairing.com
As for the food itself, we sampled a lot of it with the music. Below are my top picks should you dine at Ruth's Chris sans musical pairing.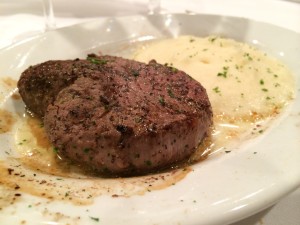 Petite Filet
As the name implies, Ruth's Chris is known for their steaks and with good reason. While it may not be quite on par with the city's top steakhouses, they serve up a very tender and flavorful piece of beef.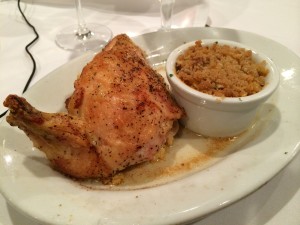 Stuffed Chicken Breast
This was a surprise favorite for me given there's not too much you can do with stuffed chicken that hasn't been done a thousand times. While this chicken was quite good, the sweet potato casserole is what got me. It's on the sweeter due to addition of brown sugar and was the perfect compliment to the tangy cheese inside the chicken. I'd also take one by itself for dessert.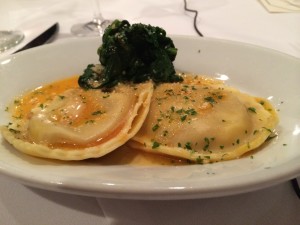 Veal Osso Buco Ravioli

In sticking with using other senses on food, this was definitely the best smelling dish of the night thanks to the brown butter sauce. But the ravioli itself was nice and light and osso buco didn't dominate as I thought it might. It's another solid option if you don't feel like getting the steak.
You can learn more about musical pairings and order a copy of the book at MusicalPairing.com
Ruth's Chris Steakhouse
148 W 51st Street (6th & 7th Avenues)
New York, NY