Continuing my tour of our friendly neighbor to the North, I recently took a trip to Montreal, Quebec. Given that the area was settled by the French and remains staunchly Francophone to this day, it's not surprising that it's widely viewed as the food capital of Canada. Should you make a trip up there, I recommend a dinner at these spots:
Le Club Chasse et Peche (423 Rue Saint-Claude)
Although the name translates to "The Hunting and Fishing Club" there's no membership required to dine here. Don't tell your friends that though, as the experience is very much that of slipping into one of Montreal's old dining dens. While most restaurants in the Old Montreal section try to draw you in with large windows peering into their fancy spaces with mediocre food, you could quite easily miss the small sign next to the unassuming 18th century door that leads to Le Club. I'm guessing that's just the way they like it.
Once inside, the old world experience continues with arched doorways leading to numerous small dining chambers. Ours was dimly lit with stone and darkly painted walls, about six tables and a bar featuring an exposed brick vaulted ceiling. The crowd was well-dressed with a reasonable mix of locals and tourist. Yet for a what is essentially a fancy French restaurant, Le Club manages not to be stuffy or pretentious.
The food is rich and it helps if you are too (entrees are in the mid- to high- $30s), but it was consistently some of the best french cooking I have experienced. There was not one item I wouldn't order again, although every item on the smallish menu was intriguing in its own way. So if you're up for something fancier, don't waste your money on the many tourist traps in Old Town. Enjoy a real Old Montreal dining experience here you won't regret.
Top Dishes:
Braised Piglet Risotto 

What's that you say? A pork risotto sounds too light to you. How about we top it with some crispy foie gras shavings then. God bless French Canadiens.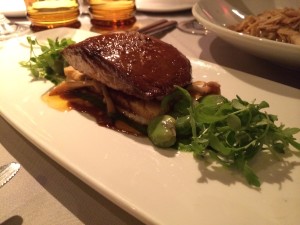 Foie Gras 

They love their foie in Montreal and they do seem to have some of the best stuff on the market. This one sits on a bed of vegetables and mushrooms including…wait for it…truffles. Continue your decadence with a plate of this.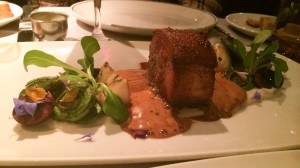 Suckling Pig 

A perfect cut of pig, with a crisped outer layer of fat providing a bacony flavor to the tender chop within. As with every other dish, it needs a decadent topping and this time that topping is marrow. Fantastitique.
BarBounya (234 Avenue Laurier Ouest)
Right Amount for 2? 5-6 plates
At some point on your trip, your body with need more to run on than crepes, foie gras and poutine. Enter modern Turkish spot Barbounya. It's located far from the tourist hordes in the Mont-Royal neighborhood and eschews the typical Montreal rustic style for a modern feel with high ceilings, exposed brick and communal tables. The vegetable and seafood focused menu is served in tapas-sized portions that are large enough to share with a few friends. Our server recommended getting 3-4 per person, but I would say five to six max for two people unless you order very lightly. Other than his attempt to expand my waistline, our waiter was very helpful in working us through a menu that includes many Turkish words and later in securing a taxi home.
Top Dishes: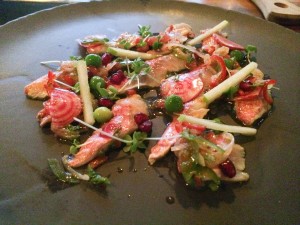 Barbounya Ceviche 

Barbounya (red snapper) is thinly sliced and served on a plate with tomato, chili and other spices. It lacks the overpowering lime flavor often found in ceviche and has some interesting Turkish accents instead. It's one of the best ceviches I've had and an absolute must order.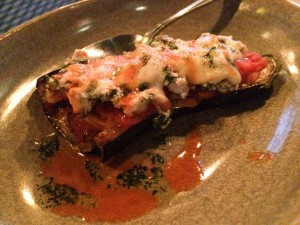 Ricotta Imam Bayildi 
Imam Bayildi is a Turkish dish that involves taking an eggplant, slicing it in half and simmering it in olive oil with garlic, tomatoes and Turkish herbs. Sounds good. But the geniuses at Barbounya realized the missing ingredient: cheese. So the whole thing is covered in baked ricotta. I've never had a Imam Bayildi before, but I can't imagine anyone doing it better than this.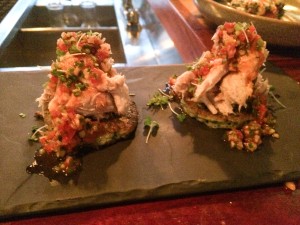 Zucchini Pancakes (w/ smoked mackerel) 
While I love pretty much anything smoked, the risk is always that the smokiness of saltiness overpowers the rest of the dish. This mackerel is light and low on the smoke flavor. It's great compliment to the tangy zucchini pancakes and salsa.
For a lunch or a casual meal, check out my post on Casual Dining in Montreal.