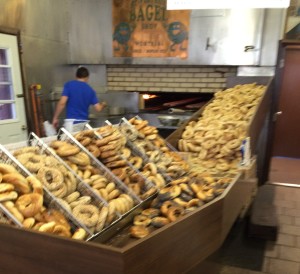 Below are my recommendations for a casual meal in Montreal. For a full-on dining experience, check out my post Fine Dining in Montreal.
St-Viateur Bagel (263 Rue St-Viateur Ouest)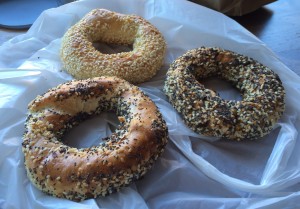 Generally when I leave New York, I plan on giving up bagels for the duration of my trip. But if Montreal is the world's "other" bagel capital, St-Viateur Bagel is its Washington Monument. Step inside and you'll find a guy feeding bagels into a massive wood burning oven and tossing the finished products into huge bins. Relative to NY bagels, these guys more resemble a 1920s tire with a giant hole in the middle and smaller, flatter edges. While this sounds weird, these bad boys can hold their own with anything I've had back home. Ask for whatever is freshest out of the oven and you'll feel like you're biting into a poppy or sesame covered cloud. While there's no seating at this location, you can pick up some lox and cream cheese and make your own sandwich at home or at the nearby Club Social coffee shop.
Reuben's Deli & Steaks (1116 Rue St-Catherine Ouest)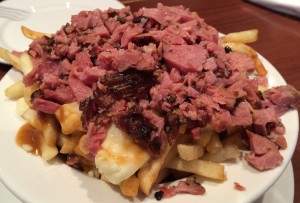 Rueben's specializes in another delicacy typical to NYC: smoked meat. It's similar to our pastrami, except that brisket it used leading to a slightly fatty end product. I found it to be lighter and less salty than most New York renditions and must admit I generally prefer this style. The traditional serving is with mustard on rye, where it comes piled mile high (whoops, wrong city). The "small" clocks in at 10 oz while the Big Bang weighs a full pound and towers almost six inches off the plate. You probably shouldn't finish either alone. Other versions include a classic Reuben with sauerkrat and swiss as well as a must try poutine edition. The space resembles sort of a cross between a bar and diner that's suitable for a hefty lunch or casual dinner.
Recommended: Famous Super Sandwich
, Reuben's Chop-Chop Poutine
Olive Et Gourmando (351 Rue St-Paul Ouest)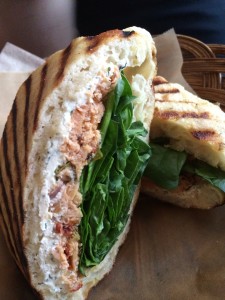 One place Montreal doesn't generally fare favorably with New York is gourmet sandwiches. While the French breads make them all pretty enjoyable, when the flashiest topping is ham and cheese you eventually long for a little more excitement. This explains the popularity of Olive Et Gourmando, a small sit-down sandwich shop in Old Montreal which offers interesting sandwich combinations like garlic and yogurt chicken, smoked trout and pancetta, pork and gruyere. The seating is tight and waits can be long but the hipster French cafe vibe, creative sandwiches and local beer and wine selection make them worth putting up with.
Recommended: The Gustavo
, The Smoked Trout

Juliette et Chocolat (3600 Boulevard Saint-Laurent)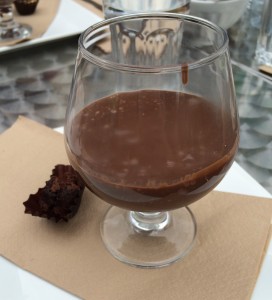 Here's a place unlike anything you'll find back home: a chocolate bar. They offer many chocolate-centric desserts which are delicious although nothing new. Where Juliette is special is the "single origin" chocolate menu. Here you'll find lists of chocolates with detailed tasting notes usually reserved for fine wines, served melted in a glass to be eaten straight up by spoon. It's a decadent and cool experience, and the chocolate is damn good even if you don't taste every nuance. They also serve excellent coffees including a chocolate covered Viennese, so make sure this is on your list for dessert or a midday pick-me-up. Your girlfriend will be thrilled and you'll enjoy it too.
Recommended: Any Single Origin Chocolate, Fleur de Sel Caramel Pot