Note: I was invited as a guest for a complimentary tasting event. This was not in exchange for a positive review and opinions expressed are my own.
That cheese and alcohol go well together comes as a surprise to no one. In fact I could probably live on these two alone, although granted not for very long. While wine & cheese was once considered the ultimate pairing, the recent trend has been to try to combine it with other types of booze. I am a fan of this. Recently I've been to pairings of cheese with beer, sake and now tequila. I've yet to be disappointed.
My most recent event was hosted by the French Cheese Board and Casa Noble and therefore consisted of pairing French cheeses with the Noble's tequila. Now there are two categories of tequila: the kind you have poured down your throat in Mexico and the kind you sip or make a non-sweet cocktail with. Casa Noble is clearly the latter and is one of the best tequilas I've ever tasted. As far as sipping tequilas go, it will be my first choice going forward. The cheeses were also excellent, and paired very nicely with Mexico's finest. My thoughts on the pairings are below: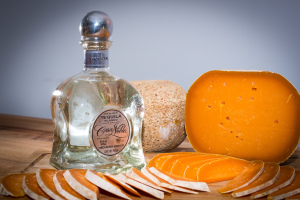 Casa Noble Crystal & Mimolette: Think of the mimolette as the French version of Edam, or basically a more mild aged gouda. If you like that style, you'll love this cheese. The Crystal Casa Noble was the smoothest blanco tequila I've tasted. It had some nice citrus and salty notes that really hit their stride when paired with the mimolette.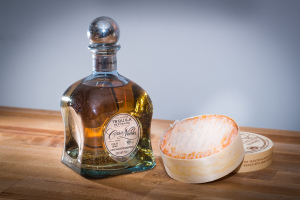 Casa Noble & Epoisses: Epoisses is a semi-soft that's pungent without overpowering making it pretty approachable. The reposado was unusually sweet with hints of vanilla and caramel. It's absolutely a tequila made for sipping.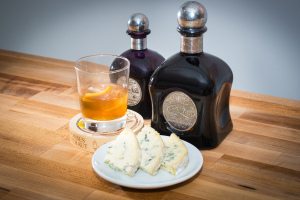 Casa Noble Anejo & Fourme d'Ambert: The Fourme is a crumbly, creamy well-balanced blue. The anejo picks up a a deep and unique flavor from three years of aging in french white oak. With hints of butterscotch, hazezlnut and honey it's as complex as a good whiskey.
If you want to learn about making French cheeses or just want to try and buy some at a discounted price, the French Cheese Board is hosting a free public event this Friday (11/21) from 11-7. Check it out.
The French Cheese Board
26 West 39th (5th & 6th Aves)
New York, NY