Why Come Here? Great Moroccan cuisine in a cozy atmosphere
Right Amount for 2? Mixed platter, 1-2 apps, 1 entree
When a place has been open for over thirty years and still packs the house every night, you know it's something special. Cafe Mogador combines a sleek, dimly lit space that's romantic enough for a first date but cool enough for a meal with friends with delicious light, original and affordable Moroccan fare. Basically it's perfect for almost any occasion. So much so that since moving a few blocks away from their Williamsburg location, I have come here more than any other waiter service restaurant.
While the food at both locations is basically the same, the two-year-old Williamsburg outpost of "Mogs" (as only I call it) is the more attractive of the two. You enter into the main dining room and find what looks like an old farmhouse other than the long bar taking up half of it. There is wood siding and random old photos with some exposed brick as required by neighborhood ordinance. While that's nice on its own, the true star here is the enclosed garden in back. It's loaded up with plants, flower and couches making it one of the areas best date spots. And to top it off, tables are actually well spaced by NYC standards. The original East Village location is part underground and packed quite a bit tighter. It still enjoys a romantic and mysterious candle lit ambiance that feels like some trendy den in Marrakesh.
The menu is loaded with Mediterranean appetizer staples like hummus and tabouli, but also gets more interesting with yogurt & cardamom tandoori chicken and veal & bulgar meatballs. You could easily make a meal of apps and no one would fault you. Although if you want to get into the entrees, one of their specialty tagines is definitely the way to go. A tajine is a Moroccan clay pot meal and you can choose to put either chicken breast or a leg of lamb in one of four preparations. I've never gone wrong with any, although I prefer the chicken. I hear it's quite a popular brunch spot as well.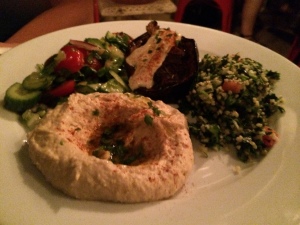 Mixed Platter 
When you go to Cafe Mogador, you are required to start your meal with this. It includes their hummus, tabouli, tahini eggplant and arabic salad. The texture of the hummus is perfect and while I don't usually love tabouli, I'd say this is the best I've had.
Yogurt & Cardamom Marinated Tandoori Chicken
This is only an appetizer which is unfortunate cause I could eat a whole meal of it. Dipped in the accompanying jalapeno and roasted red pepper chutney it's sweet, spicy and tangy.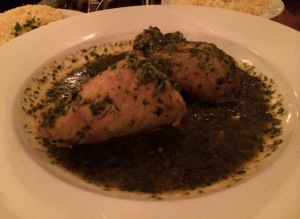 Chicken Charmoulla Tagine 
This is my favorite tagine combination. The charmoulla sauce is a heavy on the cilantro and very herbaceaus. The simmered chicken is very tender.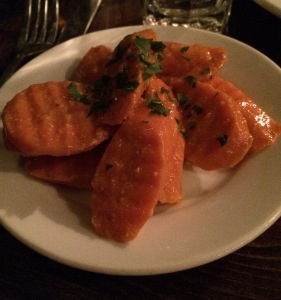 Spicy Carrots 

If you like cumin, you'll need an order of these. The carrots are cooked to a perfect firmness and they're not that spicy, unless you dip them in the accompanying chili paste of course.
Blackened Zahatar Chicken

You get a breast and a thigh, blackened with some very tasty Moroccon spices. Served with a little salad and crushed home-fry style potatoes, it's a steal for $18.
Meatballs

Cooked in a light, cardamom flavored broth these were tasty little balls. They were a little hearty for a hot July evening, but I may try them again now that the weather has cooled.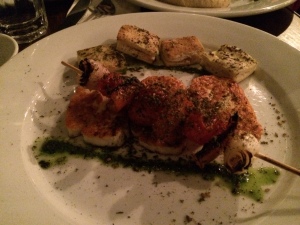 Roasted Haloumi Cheese 

Served with a kebab of roasted veggies and z'atar bread, this actually ended up tasting more like an Italian flatbread than anything else. It's a good combination of flavors albeit nothing special. The roasted tomato is the highlight.
Cafe Mogador Williamsburg
133 Wythe Avenue (N 7th & 8th Sts.)
Brooklyn, NY

Cafe Mogador
101 Saint Marks Place (1st & Ave A.)
New York, NY