Why Come Here? Excellent New American style takes on Mexican cuisine
Right amount for 2? 4 dishes
As a big fan of the food of Mexico, let's just say I excited to hear Enrique Olvera of Mexico City's Pujol (the 20th ranked restaurant in the world) was opening a restaurant in New York. It's been jam packed since opening in November but I was able to get in late on a Friday night. While this one may not make a top 20 restaurants of the world list, but it's still a great addition to the New York dining scene.
Step inside Cosme and it feels a bit like the Battlestar Galactica with soaring black ceilings and gray walls in a surprisingly large space. Fortunately there are some flowers and little cactuses on the tables to remind you this is Earth and we do have colors here. It's also lively enough to not make sitting in this gigantic space awkward and after a couple of their fantastic tequila cocktails you wouldn't care if it were a spaceship anyway.
The food takes you on a journey of its own as the dishes reach far beyond their Mexican roots. There is no guacamole or tacos on the menu (though you do get to make your own with some excellent homemade tortillas). The most comparable restaurant in New York is Empellon Cocina, but Cosme delves further into the New American realm with some strong nods to Japanese and Italian. Items like uni tostada, burrata in salsa verde and crispy octopus mole give you some idea of the fusion happening here. Prices are also very New American with at least 2 $20+ dishes needed to make a meal for most people. While it's not the game changing restaurant Pujol might be, it's still a very unique and enjoyable meal. My thoughts on what I had are below: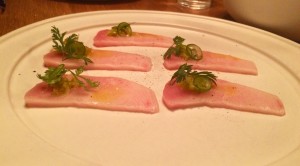 Sliced Raw Hamachi

Covered in fermented serranos and fish sauce this looks more like something that would come out at an upscale Japanese restaurant. Which makes it a perfect representation of what Olvera is doing here. The fish is a little spicy and sour and makes a great start to the meal.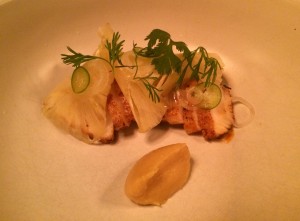 Cobia al Pastor 
A play on the classic al pastor with whitefish replacing the traditional roast pork and a pineapple puree joining the party. Bonus: you get to wrap it all into a taco using their "single origin" corn tortillas.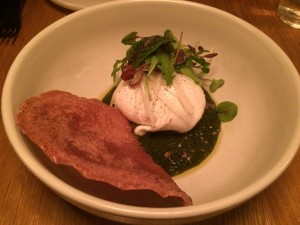 Burrata 
Mexico meets Italy in this one with a perfectly fresh, moist hunk of burrata sitting in a pool of thick salsa verde. How these two took so long to get together I'll never understand.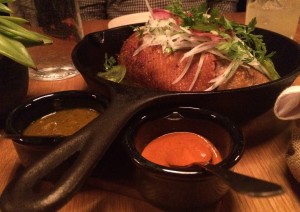 Duck Carnitas 

It says it's for two although you could easily split it among four. The slow roasted half-duck has a layer crispy skin protecting the tender meat inside. It comes covered in onions, radishes and cilantro with both habanero and salsa verde. You then get to roll all this into your own taco. It might be more food than you need, but I have faith you'll find a way to get it down.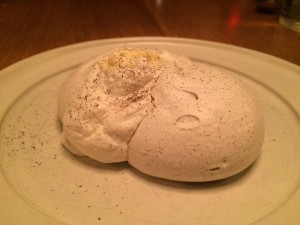 Husk Meringue with Corn Mousse 

Normally with so many tantalizing fusion options I would skip on dessert. But no matter how full you are, don't do it. First off, you get the enjoyment of smashing into the meringue shell. Once inside you find a creamy, smokey dessert that's slightly sweet and unlike anything I've ever tried.
Cosme
35 E 21st Street (5th Ave & B'way)
New York, NY