Why Come Here? Manhattan's most authentic Isan Thai, get your spice on
Somtum Der is a mini-chain with one other location: Bangkok. That's the type of cred I like to see in my Thai restaurants. But this place won't be everybody's bowl of noodles. If Cafe Spice is your pinnacle of Thai cooking, you probably best stay away. But if you heart authentic Thai cuisine that doesn't have the spice toned down, sauces sugared up and inferior Western ingredients substituted, you're going to love this place.
The food at Somtum Der comes primarily from the Northeast region of Thailand known as Isan. This differs from what we usually see in America with a focus on salads, fermented fish sauces and enough chilis to kill a small animal. There is not a single curry on the menu. We ordered our food medium-spicy and let's just say the table got pretty quiet once it arrived. But it was the good kind of burn that compliments the dish without overpowering it. While the cooking may not be quite at Pok Pok's level of originality, considering it's in the East Village and has no waits it's a damn fine alternative.
The menu is divided into sections of salads, fried, grilled and noodle dishes. I recommend at least one from each. While I've spent about a month in Thailand my two friends at this meal had never been and were unfamiliar with this style of cuisine. Let's call them Spicy and Mild based on their heat preferences. I'll throw their thoughts in too for comparison. Here's what we tried: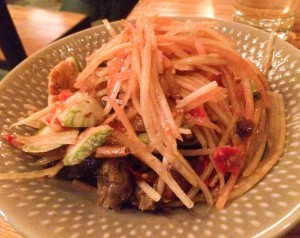 Tum Poo Plara Somtum (Isan Papaya Salad w/ Crabs)

As our waitress reminded/warned us when we ordered, this dish kind of tastes like licking a dockworker. A layer of fermented fish sauce sits on the bottom and the shelled crab legs don't do anything to detract from it. Let's just say it's a taste you've either acquired or you haven't. Oh yeah it's spicy too. Mild didn't love it, but Spicy and I agree it's worth a try.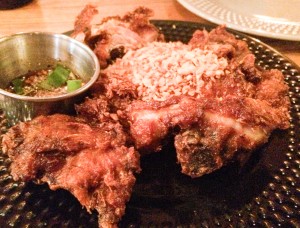 Sa Poak Kai Tod Der (Deep Fried Chicken) 
One the specialties here is the deep fried chicken thigh. The cooking is perfect and the spicy fish sauce nails it as a compliment. It's probably the lowest on the adventurousness scale of anything we had, but all three of us agreed it's a must order.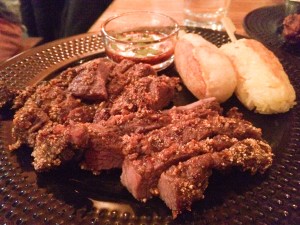 Nue Rong Hai Der & Khao Ji (Grilled beef skewers) 

The beef was well cooked but didn't have much flavor without the very spicy chili dipping sauce. Fortunately you get some sticks of coconut sticky rice sticks to help extinguish the flames.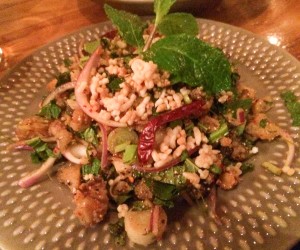 Larb Pla Dook Yang (Catfish Salad) 

This is the dish that got me most excited. I don't know exactly what it was, but something about it just tasted like Thailand in a way very few dishes in America do. If you want real Thai food you won't find elsewhere it's a must order. Spicy and I agrees it was the best dish of the night.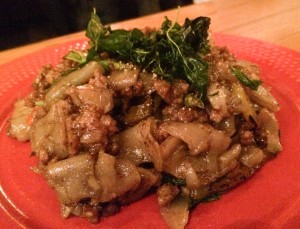 Pad Ki Mao Pork & Basil 
You need something on the table that's good and won't burn out every last inch of your mouth. The crispy basil pork noodles are perfect for this. Mild declared it his favorite dish of the night and it is a fantastic rendition.
Right Amount for 2: 4 dishes and a sticky rice
Somtum Der
85 Avenue A (5th & 6th Sts.)
New York, NY