Why Come Here? Iconic restaurant, Old New York dining, meat-fest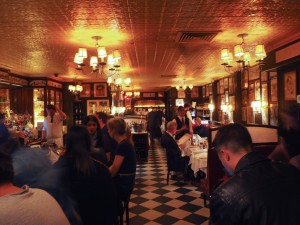 The entrance to Minetta Tavern could very well be a portal to 1940s New York. Pull back the curtain to find tile floors and a tin ceiling, caricatures on the walls  and tucked away leather booths and you half expect your dining companions to be mid-century gangsters.  There isn't even a single window to the outside, not that its awkward location on narrow MacDougal and tiny Minetta Lane would bode well for a drive-by anyway. When I entered I immediately ordered a Brooklyn (similar to a Manhattan) at the bar. I couldn't imagine drinking anything else.
The service harkens back to another era as well. The uniformed waitstaff (people still do that?) manages to nail the service trifecta of friendly, attentive and knowledgeable. When we asked for bread for our marrow, our waitress offered freshly toasted baguettes with caramelized onions free of charge. Another waiter chatted us up about photography and old movies.  To an outside observer, it looked like we ate here twice a week. But this is all part of what makes Minetta such an iconic establishment.
The menu pays homage to the time-honored tradition of meat-centricity and reads like a list of animal parts. Pork trotters, foie gras, bone marrow. Some fish and pasta thrown in for good measure. But what Minetta is known for is beef. While there are numerous way to take your steer, the fabled black label burger and cote de boeuf receive the most acclaim. These are what drew me here with steakhouse blogger Johnny Prime to celebrate his fourth anniversary dinner. If you're looking for the best steaks in town, he's your man (plus his photos put mine to shame).
When it came to ordering, let's just say it was the kind of meal where our appetizer was a burger. Yeah. Here's what went down: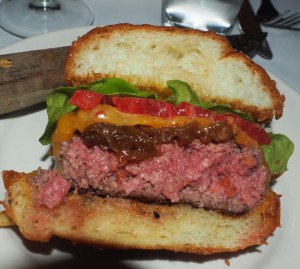 Black Label Burger 

Probably New York's best known burger and with good reason. They use prime, dry aged meat for the patty which gives it a funky taste you won't get from the average stuff. It's cooked right and they don't go crazy with the toppings; other than some perfectly caramelized onions its just the standard lettuce, tomato and optional cheese (we added cheddar). Bonus: the crispy thin "McDonalds style" fries are among the city's best.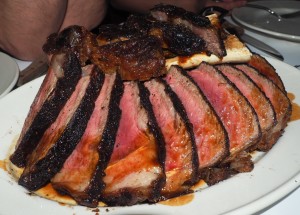 Dry Aged Cote de Boeuf 

This is one of those dishes a meatophile needs to gorge on at least once in their lifetime. It includes a huge ribeye, some beef rib and marrow on the bone. The meat is magnificently cooked with a thick charred crust on the outside but juicy medium rare within.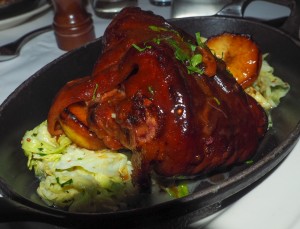 Braised Heritage Pork Shank 

  It's fall of the bone tender, flavorful and served over a bed of mustardy cabbage. You wouldn't order it over the beef, but they always say you shouldn't just eat red meat.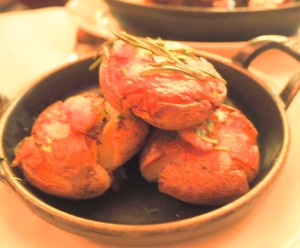 Punched Pommes 

You need a side of something from the ground with all that meat. These crispy little potato cakes with a nice helping of rosemary are a great option.
Minetta Tavern
113 MacDougal Street (Bleecker & W. 3rd Sts.)
New York, NY