Why Come Here? Satisfy your Tex-Mex cravings
Since New York was brandished with two new Tex-Mex restaurants earlier this year, there has been no shortage of hype and hate. On the one hand, the promise of true Tex-Mex in this city  has kept both El Original and Javelina as packed with people as their enchiladas are with cheese. On the other, a herd of big name reviewers have come in and trampled over both places. So what's the deal?
It's true, neither has gifted us with food on par with the best the Lone Star has to offer.  But in my opinion the hate has gone way too far. Complaints about slow or forgetful service (which I did not personally experience) are like at least partially the result of being understaffed for the explosion of diners that came knocking once the queso started flowing. And while I wouldn't call either place a "foodie destination," the handmade tortillas, rich refried beans and creamy queso dips are a big improvement over what we had before. If you're missing creamy, cheesey goodness of Tex-Mex and don't set your expectation too high into that big Texas sky, both places can make you happy as a hog in mud.
You can read my Javelina review here.
Compared to Javelina, El Original occupies a large Hell's Kitchen space more reminiscent of a restaurant you would actually find in the Lone Star State. The menu is also more traditional Tex-Mex. There are big sections of enchiladas and fajitas, frito pies and the much loved but rarely seen in NYC combo platters. The food was a little hit-or-miss but I enjoyed most of it, especially when washed down with something from their long and strong list of margaritas. Here's what I tried:
Chips & Salsa 

Texas hospitality demands that every table receive a complimentary basket of chips and salsa. The chips were fresh and crispy, the salsa tomatoey and nicely spiced.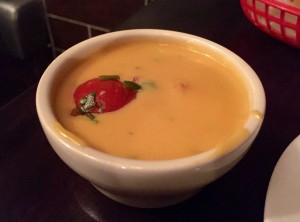 Chile con Queso

Unlike the fancier Javelina version, this feels more like Texas with thick, melted Velveeta cheese engulfing bits of tomato and jalapeno.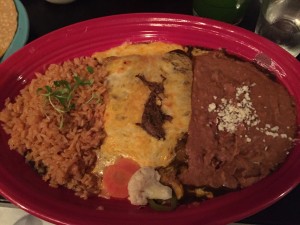 Beef Enchiladas

As you can see, they don't hold back on the cheese on these bad boys. The real star though is the picadillo beef, which is shredded and spiced with cumin and coriander. The creamy refried beans are also solid with a bacon-y flavor. Feel your arteries clogging yet? Fortunately they add a slice of carrot and floret of cauliflower to balance everything out.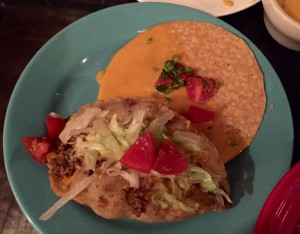 Puffy Beef Taco

& Chile Con Queso Tostada

I had the Pablo Deluxe Combo, which came with these in addition to the enchiladas above. The puffy taco had the same tasty picadillo beef but the shell was a little soggy and overpowering due to its puffiness. The tostada is basically a poor man's version of the queso dip. It gets a star for the cheese, but kind of makes me sad to look at. Just stick to the enchiladas.
Right Amount for 2? 1-2 apps, 1 entree or 1 dip, 2 entrees (entrees are large)
El Original
735 Tenth Avenue (@ 50th St.)
New York, NY