Why Come Here? Outdoor eating in Union Square, people watching with cocktails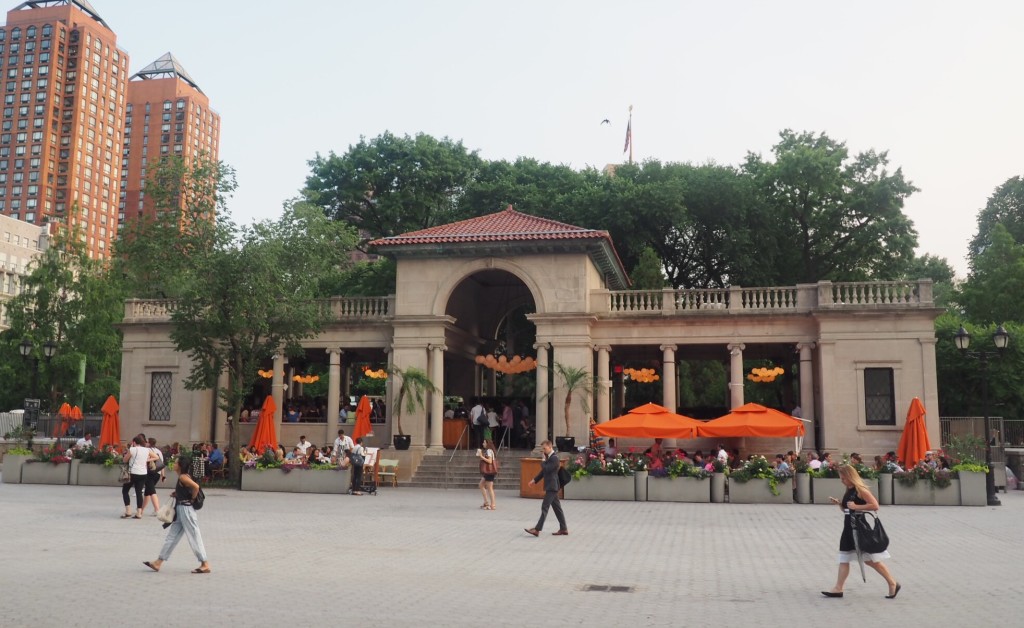 If you have walked through Union Square recently, you may have noticed there's now a giant restaurant sitting on the north side of the park. With a large courtyard overlooking the square and Roman style open-air restaurant in back, it's hard not to be tempted by The Pavilion's visual charms. If you're hungry however, resist the temptation. Like far too many restaurants that offer a fancy space and great view, The Pavilion offers only that.
I'll start off with the good, as I'm told is proper to do. The space is pretty cool. Sitting in the restaurant area feels like dining in King's Landing on Game of Thrones with its stone columns, chandeliers and open air walls overlooking both the square and park. The tropical leaning cocktail list also delivered as both the Rialto 15 and Market Whiskey Sour were perfect for a summer day. If only I had ended my visit there.
The meal started off well enough as we were promptly seated and received our first round of cocktails and two dishes in a reasonable if not expedient amount of time. At this point it seems the waitstaff decided we'd had enough. We were unapproached for nearly half an hour as our glasses sat dry. Finally we were able flag someone down for another round. However instead of a much needed libation, we were presented with the check despite the fact we were waiting on two more dishes. In retrospect I should have accepted their generous offer to let us bail, but decided to correct the error.
The food is basic New American / Italian with crudos, lots of vegetables and some pasta and meat dishes. It's the type of menu you see in a decent hotel restaurant that wants to sound fancy: a large number of dishes that sound like crowd pleasers but ultimately are overpriced and underwhelming. If you feel the need to come for the ambiance, grab a cocktail and maybe a share plate but get your meal somewhere else.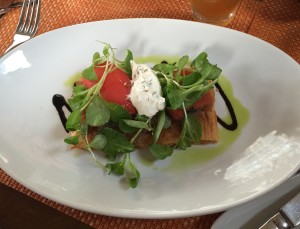 Farm Goat Cheese & Tomato Tart 

This was the best dish of the night with tangy goat cheese and poached tomato over a flaky pastry crust. If you need a snack with your cocktail, get one these.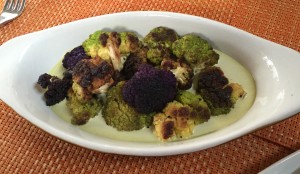 Rainbow Cauliflower

Crispy and served in a creamy tahini sauce, these are a respectable way to take your veggies.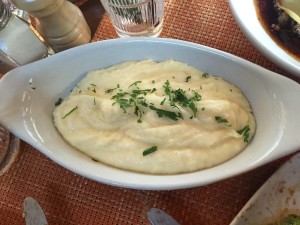 Mashed Potatoes

If you make mashed potatoes buttery enough, they always taste good. Covering them with chives doesn't hurt either.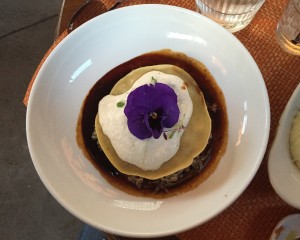 Short Rib & Broccoli Rabe Lasagna 

Classic case of something beautiful on the outside, but ugly within (your mouth). The short rib was overcooked to the point it turned a deathly shade of gray. I wouldn't have known there was rabe in there if I didn't open it up and find a few specks of green.
Right Amount for 2? 2 (or 4) cocktails and a share plate
The Pavilion
20 Union Square West (North Side of Union Square)
New York, NY