Why Come Here? My favorite Indian restaurant in NYC, creative dishes, fun/relaxed vibe
Let's face it, Indian food in NYC people get particularly excited about. With a few exceptions, you could generally waltz into any mid-sized town in England and find better Indian food than you will here. For whatever reason most of our restaurants go too heavy on the butter and cream and have nearly identical menus, maybe because 80% of people just order samosas, naan and Chicken Tikka Masala anyway. You'll also generally find the same dark green or red hues with a little Hindi paraphernalia sprinkled in and service that's awkwardly formal for what most people consider a casual meal.
Babu Ji is nothing like this and is the place that will get you excited to eat Indian in New York again.  Instead of being formal, it feels almost whimsical.  On the street you're greeted with a giant sign of a man with a turbin and handle bar mustache. Inside you'll find a bright white, well lit space with more comical Bollywood-esque artwork. The service is so relaxed they even let you take your own beer out of the fridge. Chef Jessi Singh surprised me with a pat on the back at one point in our meal as he made the rounds to make sure all was well. And indeed it was. But while this concept is a pleasing change of pace, it's the food that has people lining up for hour long waits on Avenue B.
The menu is equally refreshingly in both it's brevity and creativity. It consists of food "from the street" and "from the pot." Basically the former are the appetizers and the latter more entree-sized curries. The street food jumped out to me as the more exciting section and that is indeed where the highlights of the evening were found. Everything was solid though and I'd certainly consider the $50 "Eat Like a Babu Ji" tasting menu next time to get my hands on more of it. Prices are above average for Indian, but cheaper than top tier spots like Tamarind and Junoon and honestly I prefer eating here anyway. This is no doubt my new favorite Indian spot in New York. If it weren't as crowded as a New Delhi market, I'd be here all the time. Here's what I tried: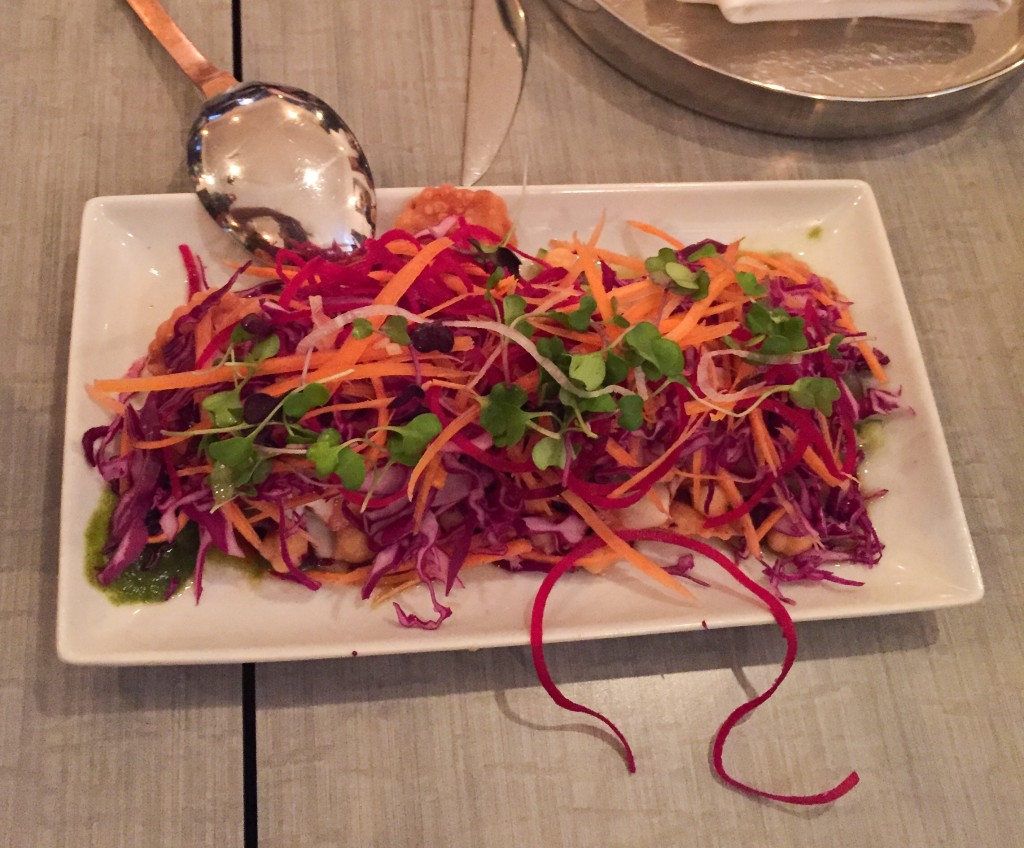 Papadi Chaat

These are proclaimed to be "Indian Nachos", although they've inverted the topping to chip ratio so this is mostly a fork affair. No matter, it's a delicious mix of chutneys, chickpeas, tamarind and pomegranate where eat bite presents its own joy. As the menu unabashedly states, these are "a must try."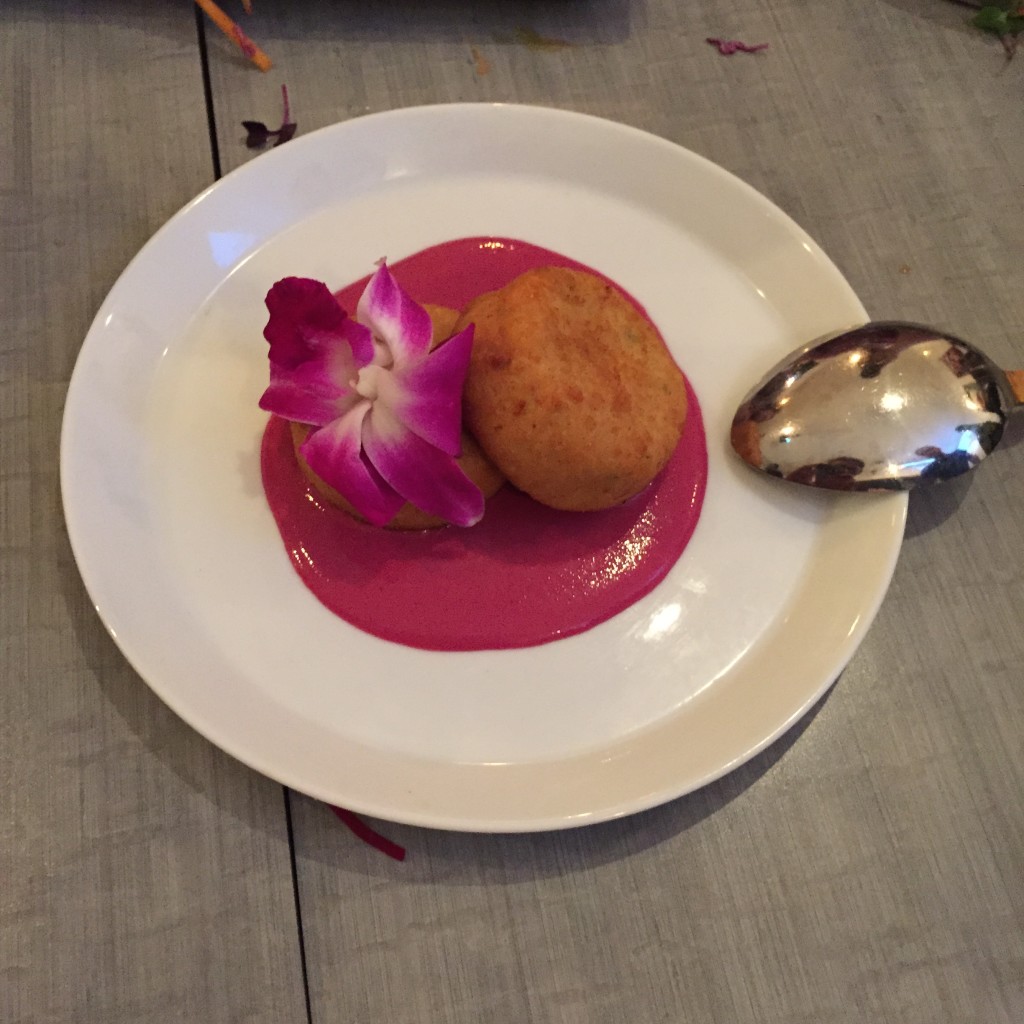 Yoghurt Kebab

This is more croquette than kebab but let's not get caught up on words. The spiced yogurt filled whatever-they-are on bed of a beetroot ginger sauce are the bomb. My favorite dish of the night.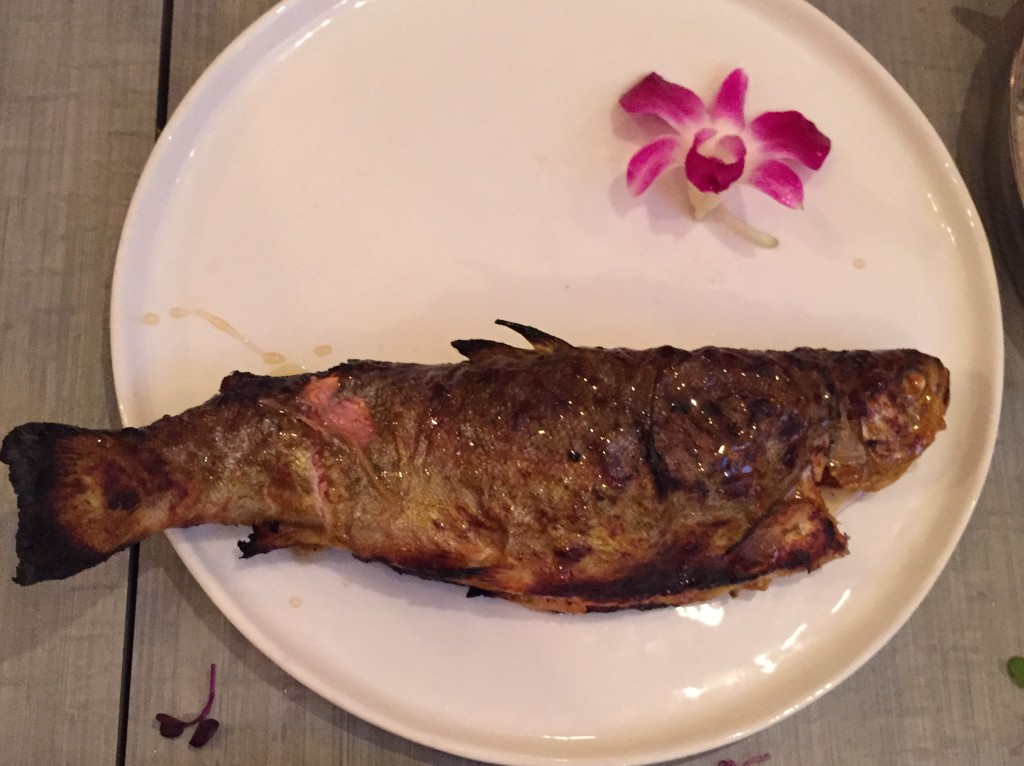 Rainbow Trout

It's hard to get me excited about trout, a fish that's fairly lacking in taste on it's own. Enter honey-ginger glaze. If there were more of it this could be a showstopper but it's very good as it is.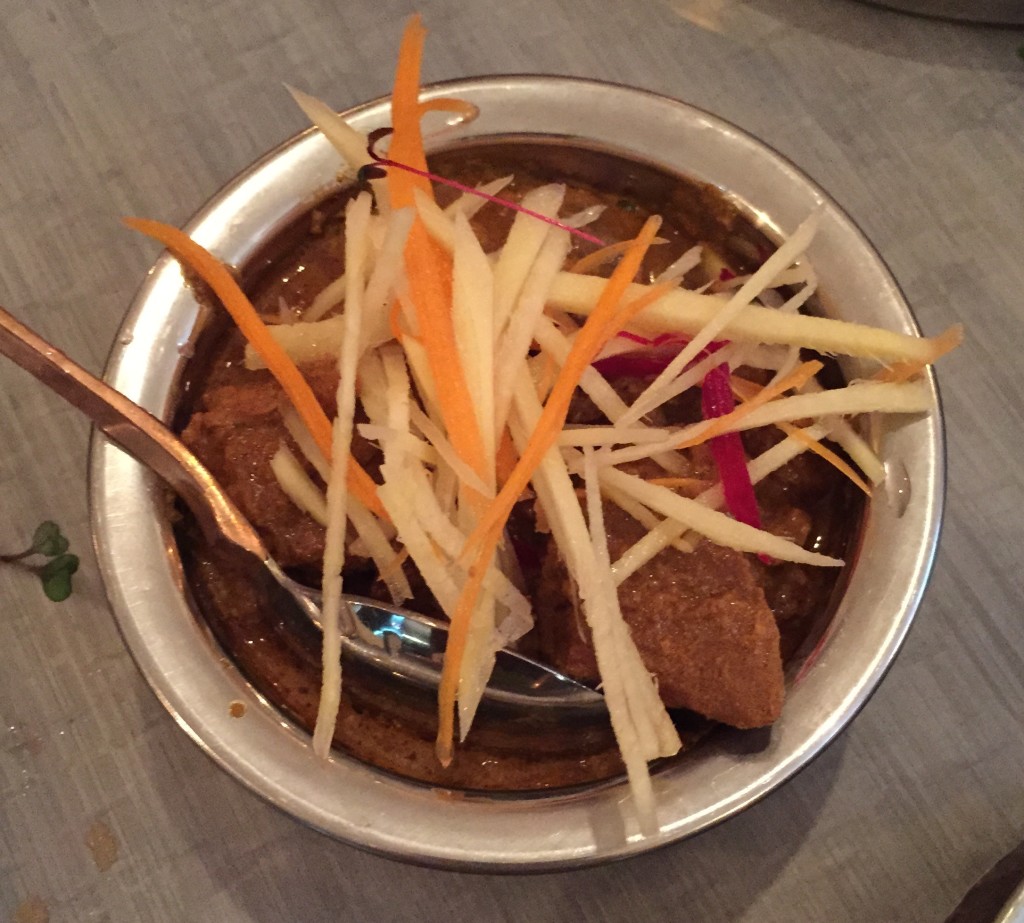 Lamb Roghan Josh

 Big hunks of tender lamb leg are stewed in a curry of fennel cardamom bay leaves and cloves. The lamb leg is perfectly tender and juicy, but the curry itself feels more like something you could find elsewhere.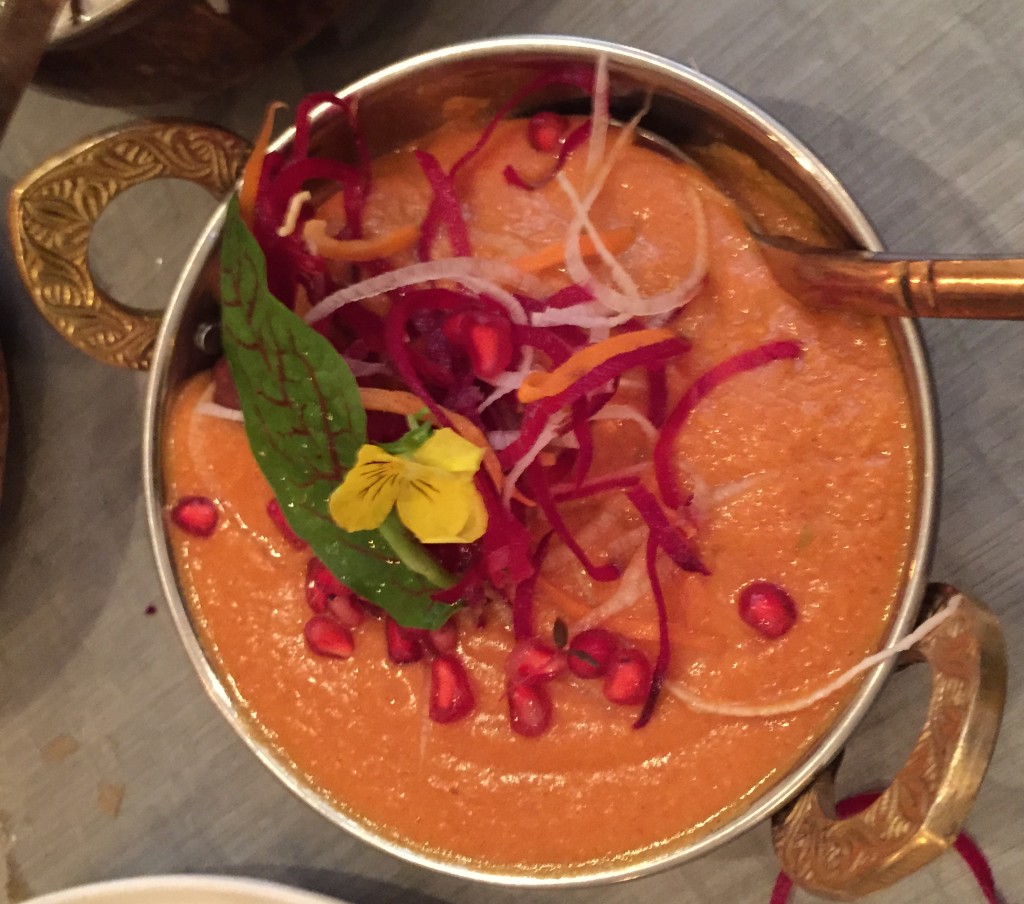 Anjeer Kofta
 A curry of cashew & shallot, however, is something you won't find on any other menu in the city. The question is why. It's tanginess is perfect with the slightly sweet pomegranate and fig koftas inside. These guys really are kings of hitting all the taste buds.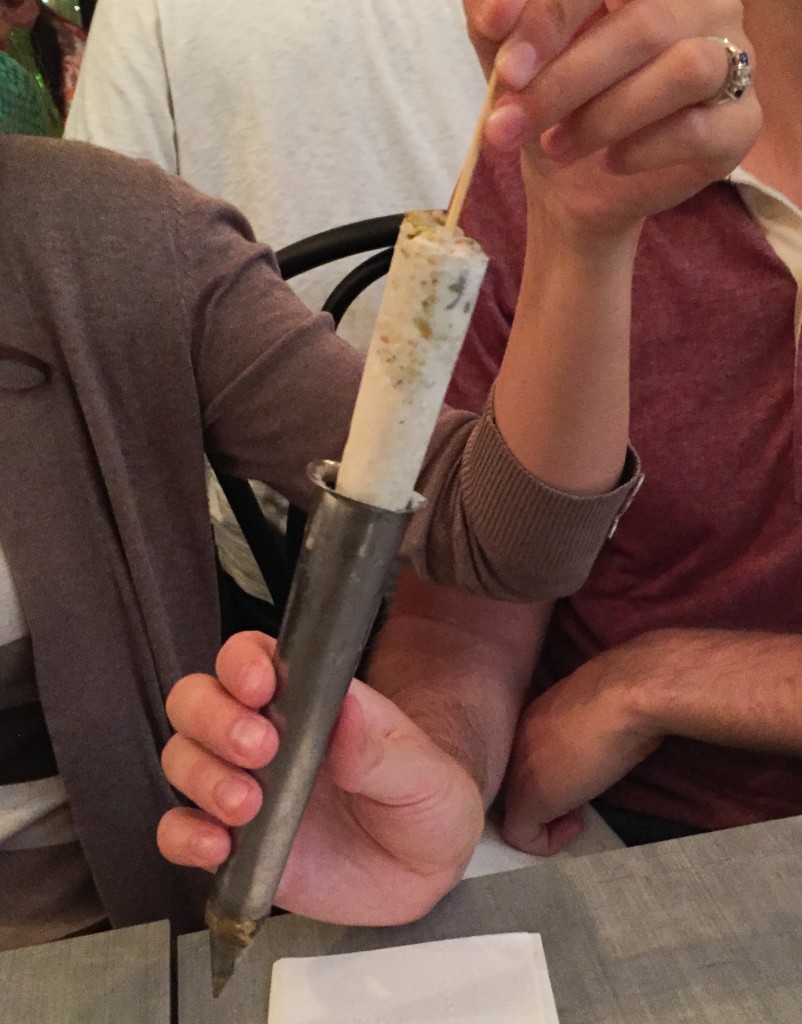 Cardamom, Honey & Pistachio Kulfi
I'm not gonna lie, the fact it's presented basically like a sword is a big part of the appeal for me. But it's also a tasty mix of cardamom, honey and pistachios frozen into condensed milk. You're not allowed to leave until you've had one.
Babu Ji
175 Avenue B (@ 11th Street)
New York, NY