Why Come Here? Experience sushi in its purest form, world class omakase experience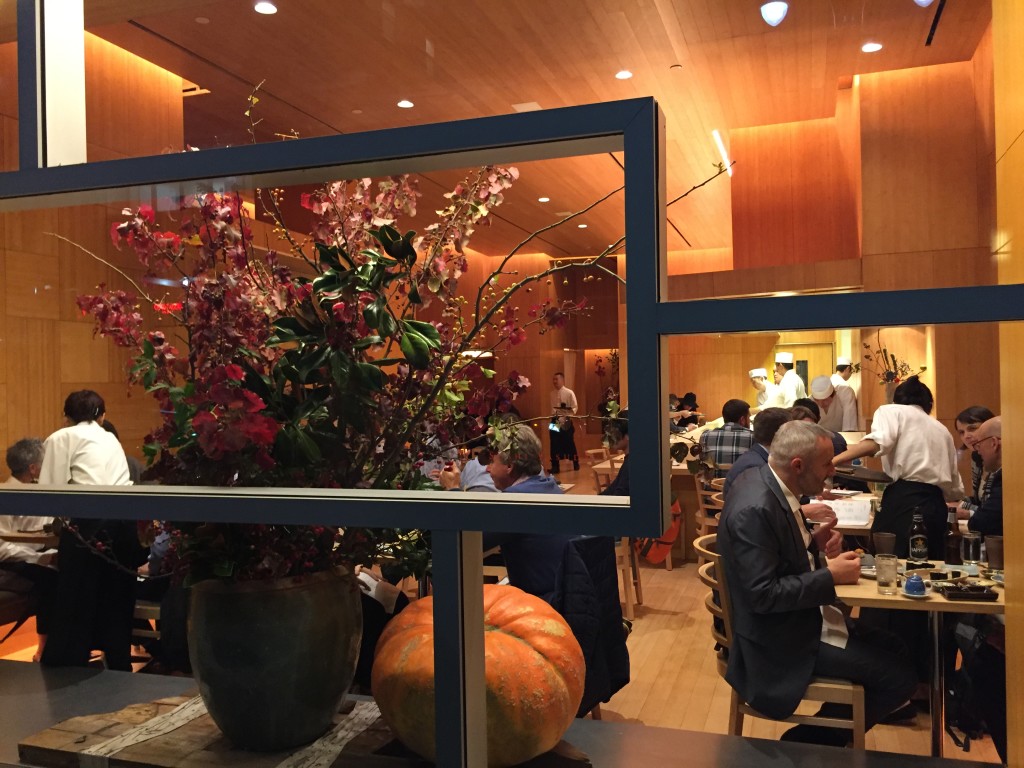 New York may have nearly as many sushi restaurants as Starbucks, but when it comes to eating raw fish in its purest form, there is no better place than Sushi Yasuda. The laser focus on the food begins right at the entrance: only an illuminated drawing of a fish announces you've reached your destination. Once inside, the decor continues this minimalism appropriate to a temple of fish: there is no music, no wall hangings, not even a cocktail list. But yet the small things they do do demonstrate the utmost care. The sleek oak paneling sets a calming ease as  you enter. The plates you receive are handmade and painted in Japan. Beer and sake is poured into clay cups. All this creates a sense you have entered a shrine to the treasures of the sea and your sole objective is to enjoy them to their fullest.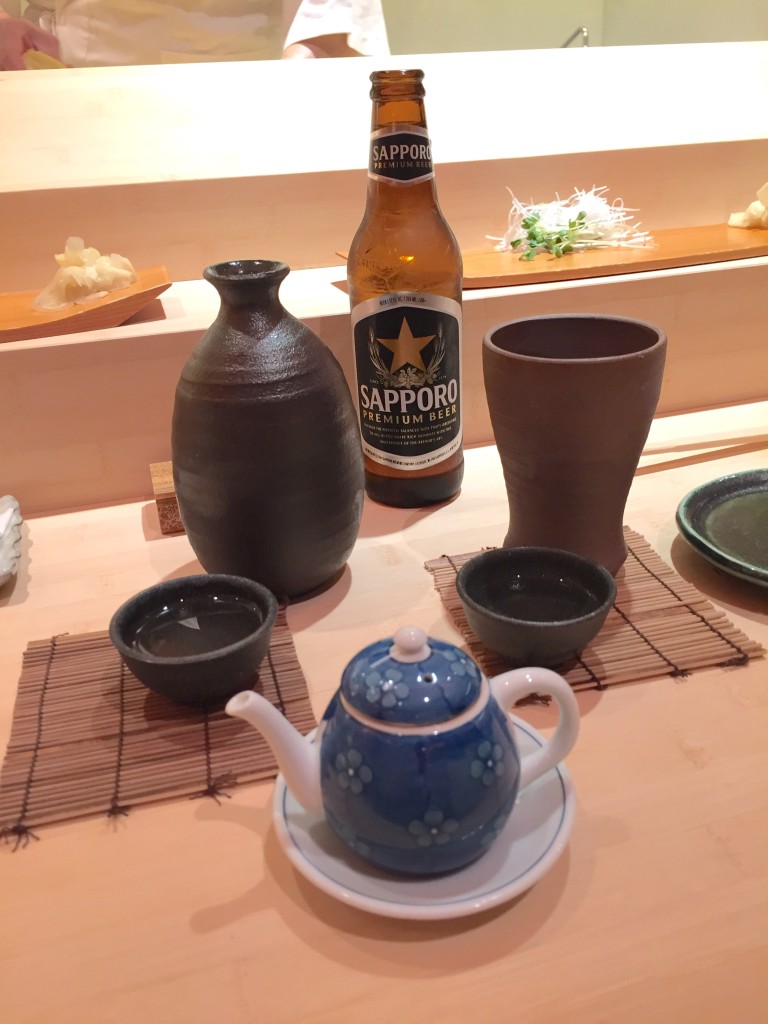 To get the most of this experience, you need to snag a spot at the L shaped sushi bar that dominates the dining room. Here you'll be sat in front of and introduced to the master sushi chef who will orchestrate your evening. While language barriers may prevent a deep dialogue, it establishes a connection between patron and chef you don't find in other dining establishment. We chose the omakase route leaving him to determine the sushi and sushimi courses he felt were right for us. From there, he is the director and the fish is the star. There's no spicy mayo or avocado. The only allowable condiments are soy sauce and wasabi, and the meal was plated the right amount of each. I have to say there's a real pleasure in not having to make any decision other than when you've had enough. The experience doesn't come cheap, but it's something every foodie need to try. Here's what we ate: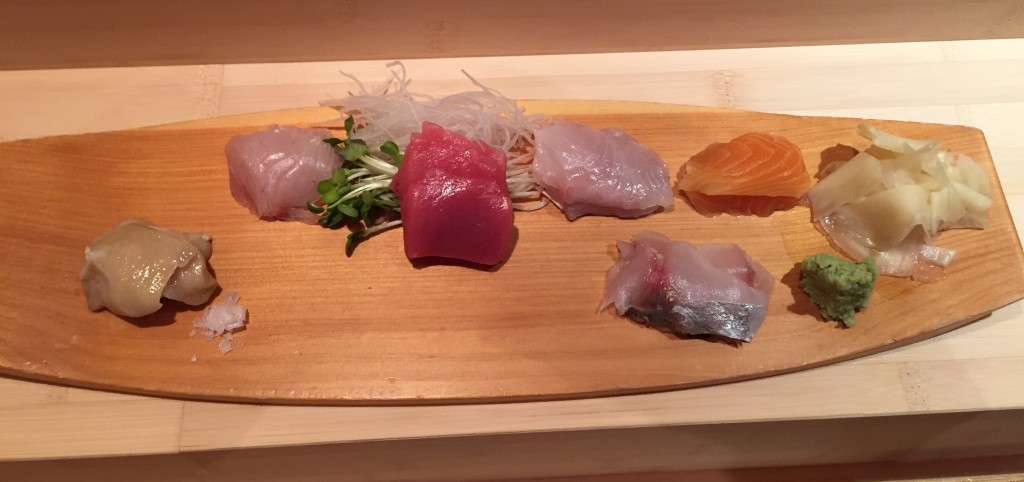 Sashimi Omakase

 Every piece melted in my mouth and tasted fresh from the sea. The tuna in particular may have been the best I've had. The crab (far left) actually tastes more like an oyster. A very worthwhile treat.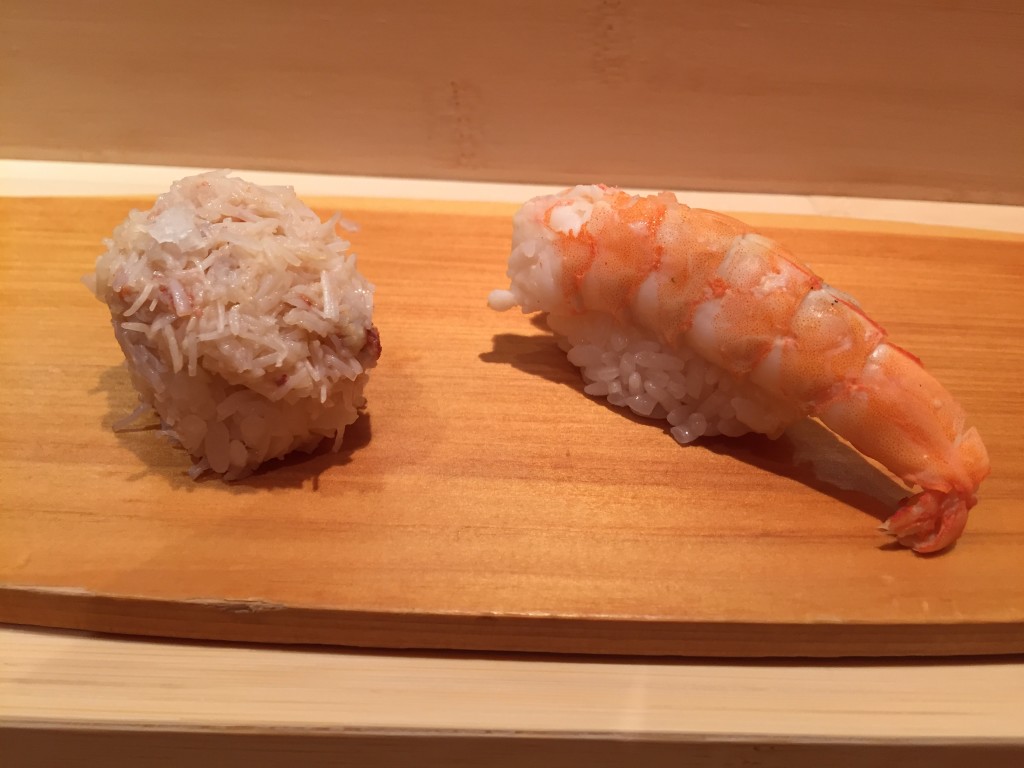 Rock Crab
 & Shrimp

Usually I'm not a fan of shrimp in my sushi unless it has been tempura-ed. But not surprisingly this one was a game changer. Our chef says it's all about temperature I have to agree. It was served room temperature and lacked the unpleasant firmness of the chilled ones you receive at lesser places. The rock crab was also excellent but a little less special.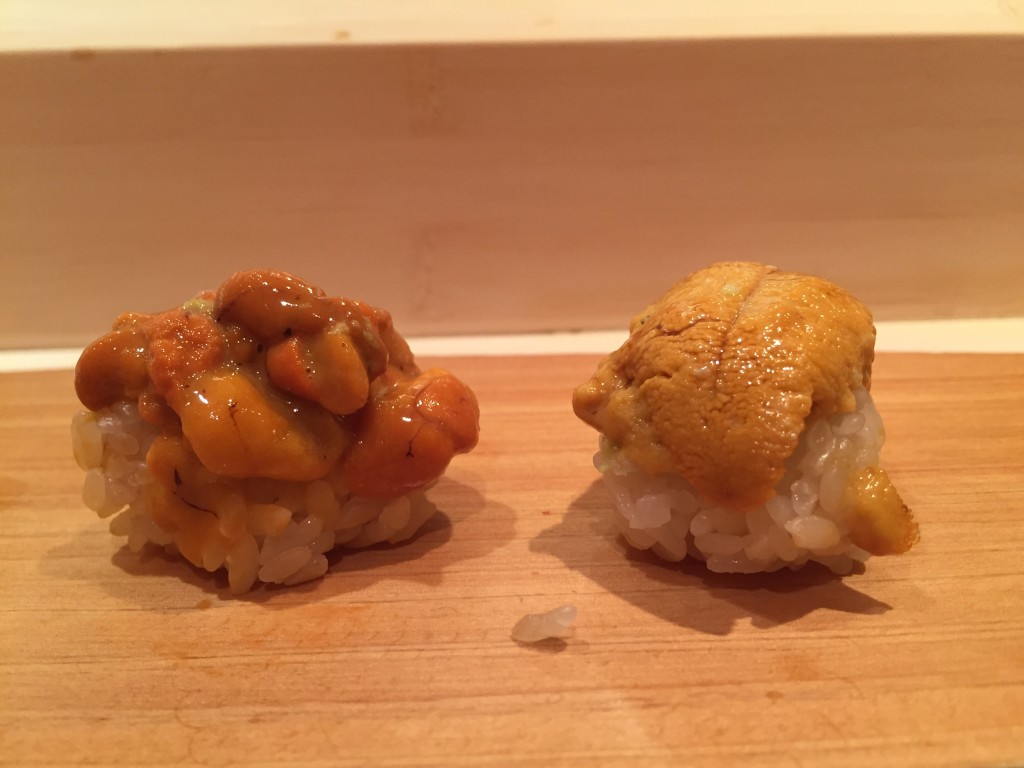 Japanese & Santa Barbara Uni

 Our next course was a comparative uni tasting of sorts. The one on the right is from California and is what we typically think of as uni here. The one on the left is from Japan and has almost nothing in common with it's American brethern save the creamy texture. It's got a much funkier taste that really begs to be eaten on its own.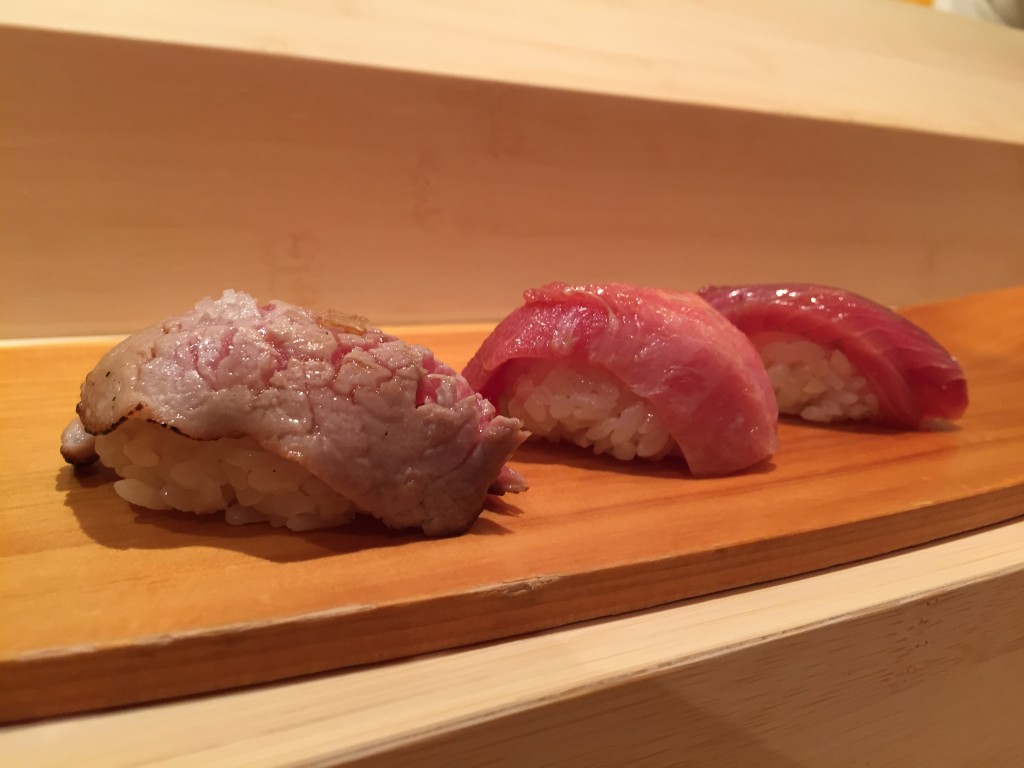 Yakishimo (Seared Toro), Toro

 While I have come to appreciate most types of sushi, tuna varieties will always have my heart. And of course the fattier the better. Toro (fatty tuna) melts in your mouth and the slightly seared version gives you the needed variety after a full meal of eating raw fish. This is up there with a perfect ribeye or first growth wine in man's greatest culinary indulgences.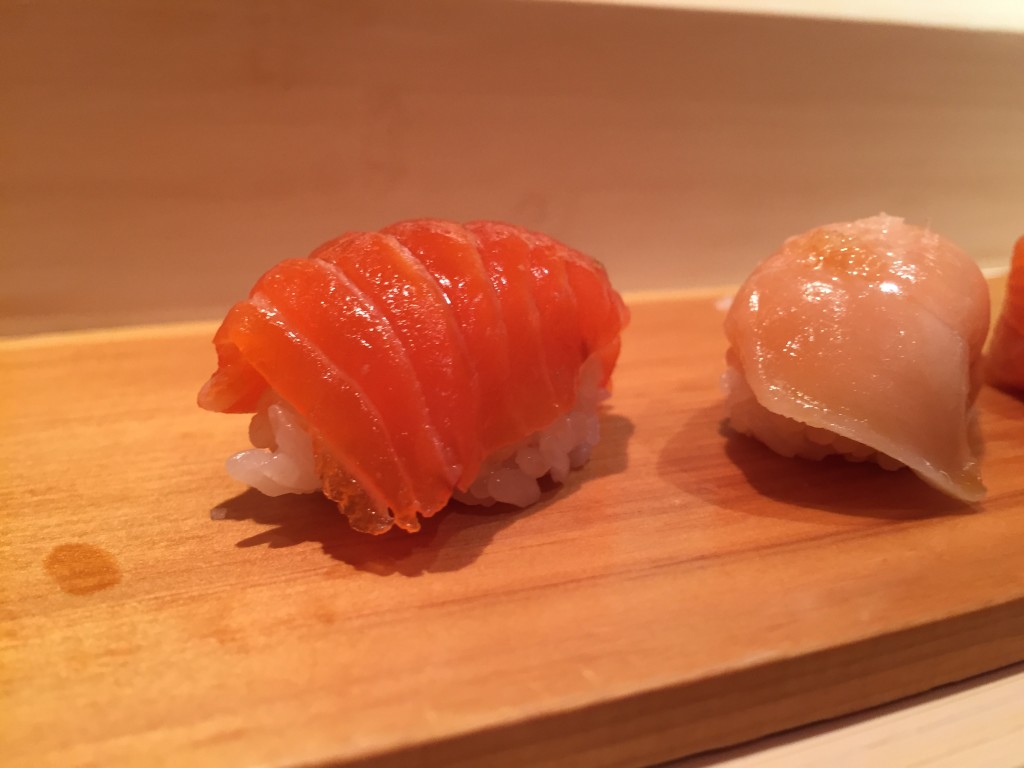 King Salmon, Coho Salmon

 After a helping of toro, ending the meal with salmon is almost a let down. But to be fair, this was the best salmon I've ever had.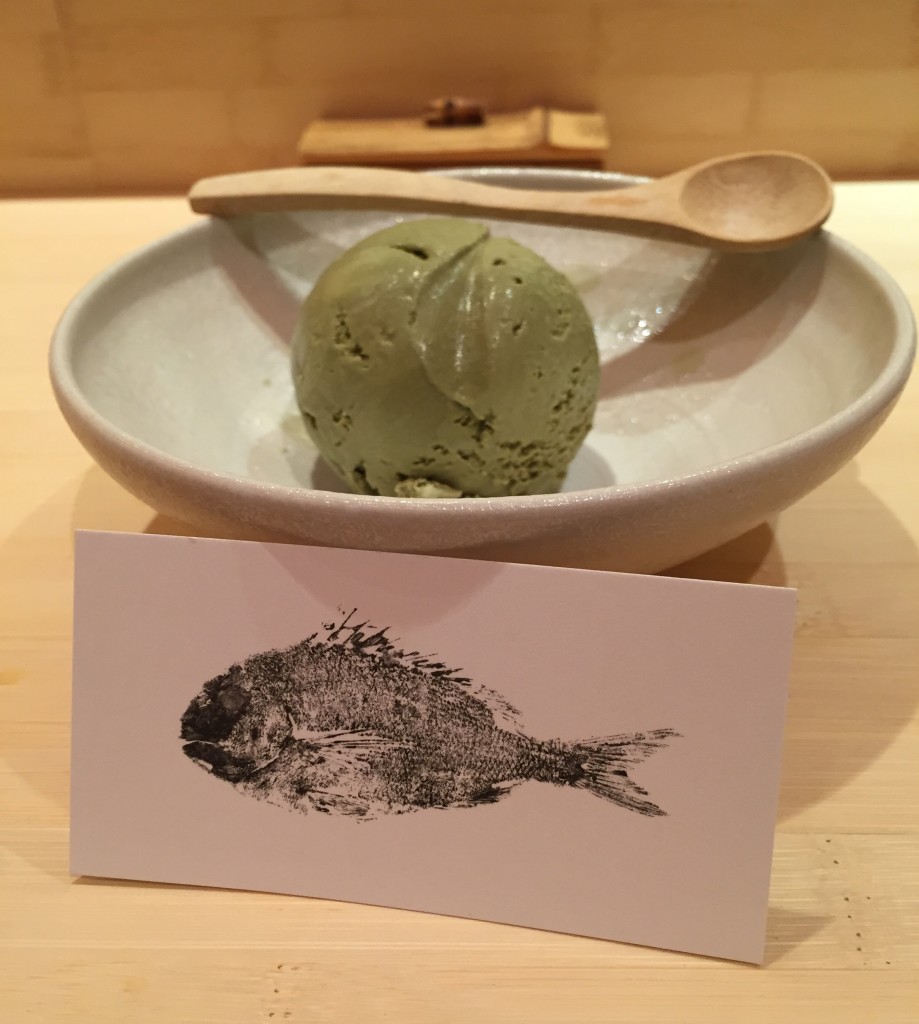 Green Tea Ice Cream
 Other than the invention of fried ice cream, Japan hasn't done much for me in the dessert realm. But like everything at Yasuda, if it's there, it's gonna be good.
Sushi Yasuda
204 East 43rd Street (2nd & 3rd Aves)
New York, NY