Why Come Here? Foodie indulgence, innovative tasting menu, an intimate meal with 16 year old wunderkind Flynn McGarry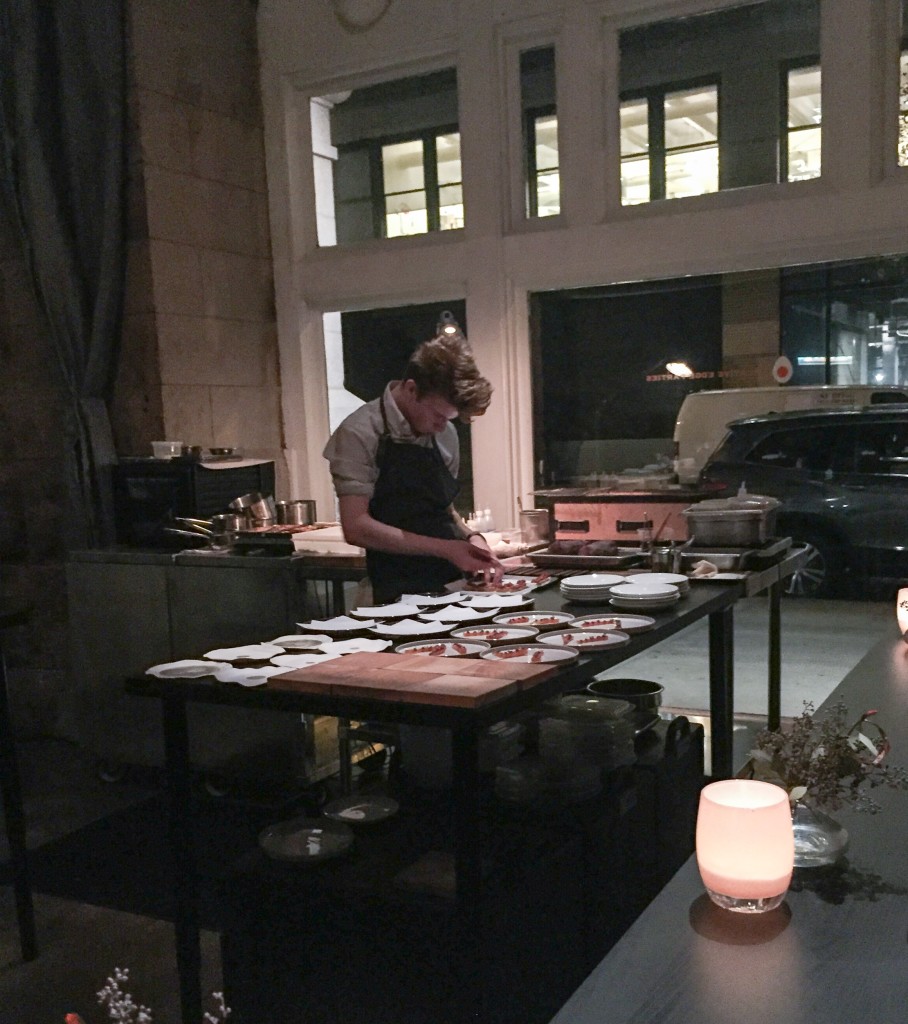 Think of Flynn McGarry as the real life Doogie Howser of cooking. At 12 he was running a supper club out of his parents home in Studio City, CA. At 13, he worked at Eleven Madison Park and Alinea. Now at 16, he's brought his popup to the West Village where he serves a 14-course dinner on Saturday and Sunday nights for $160. Meanwhile I'm twice his age and my biggest success in food comes from writing about it. So I figured the least I could do is pay him a visit.
Eureka resides in a catering company space so naturally the decor is pretty minimal. It doesn't matter though because the entire focus is on Flynn. He works sans sous chef in the middle of the room with the 12 seats organized in a C-shape around him. You kind of feel like you've come to watch a magic show. The only thing taking the pressure off is his partner Matthew Mako who greets you with a glass of champagne upon entering (why doesn't this happen more often?) and continues working the room pouring wine, serving plates and chatting up the crowd throughout the meal. Even though it's in a public space, this informality of chatting with both Matt and Flynn gives you the feeling you're dining in someone's home. It's pretty cool and unique in NYC. Given the star power of chefs these days, it's something I'm frankly surprised you don't see more of.
The cooking is also something we're not seeing enough of. It's modern and playful but actually is pretty light, particularly on the sauces. Yes it's expensive, but so are the ingredients. But hey there's a reason things like foie gras and caviar cost a lot of money: they're awesome. The menu changes frequently, although a few items like the foie, caviar, uni and rib eye seem to hang around. Here are the 14 courses in all their glory: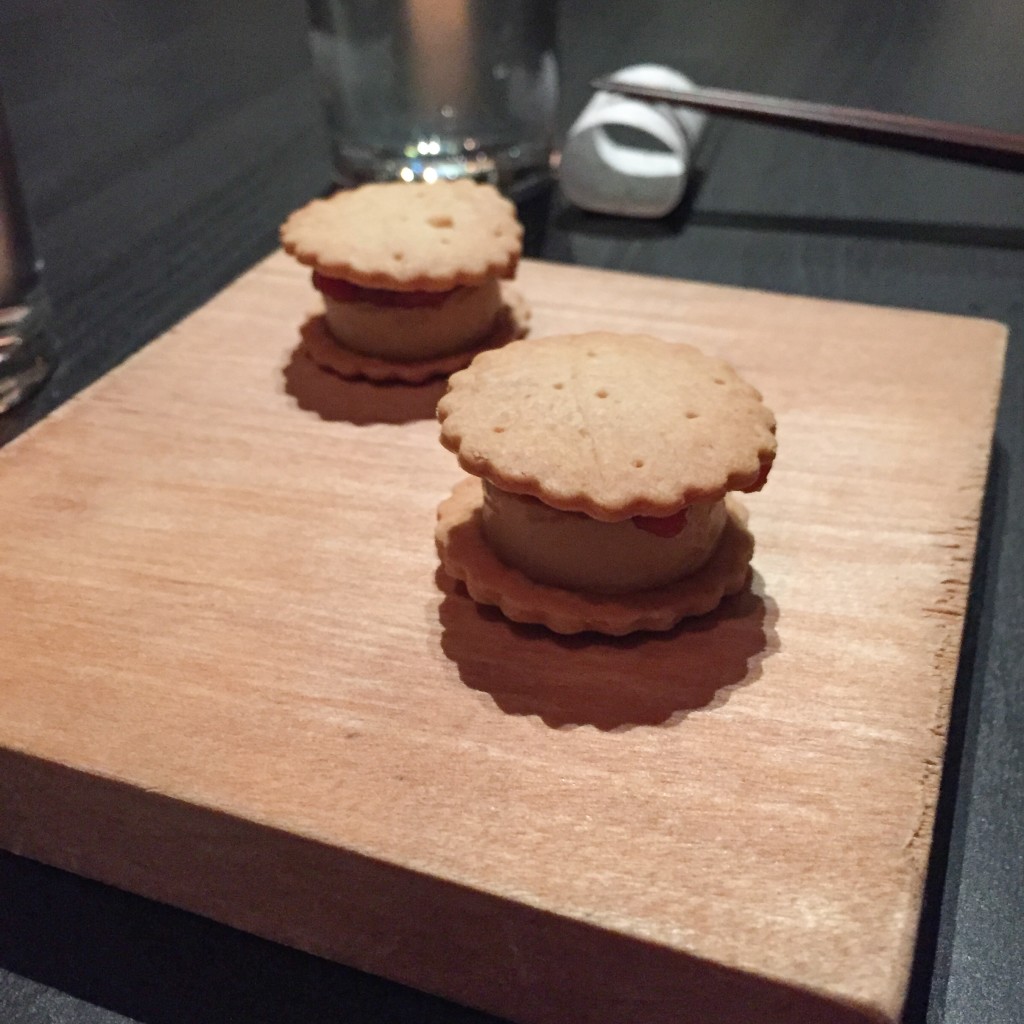 Foie Gras on a Ritz Cracker
 Is it meant to be the ritziest ritz cracker? Some sort of metaphorical blending between childhood and adulthood? Or just a reminder you can put a hunk foie gras on anything and it's delicious?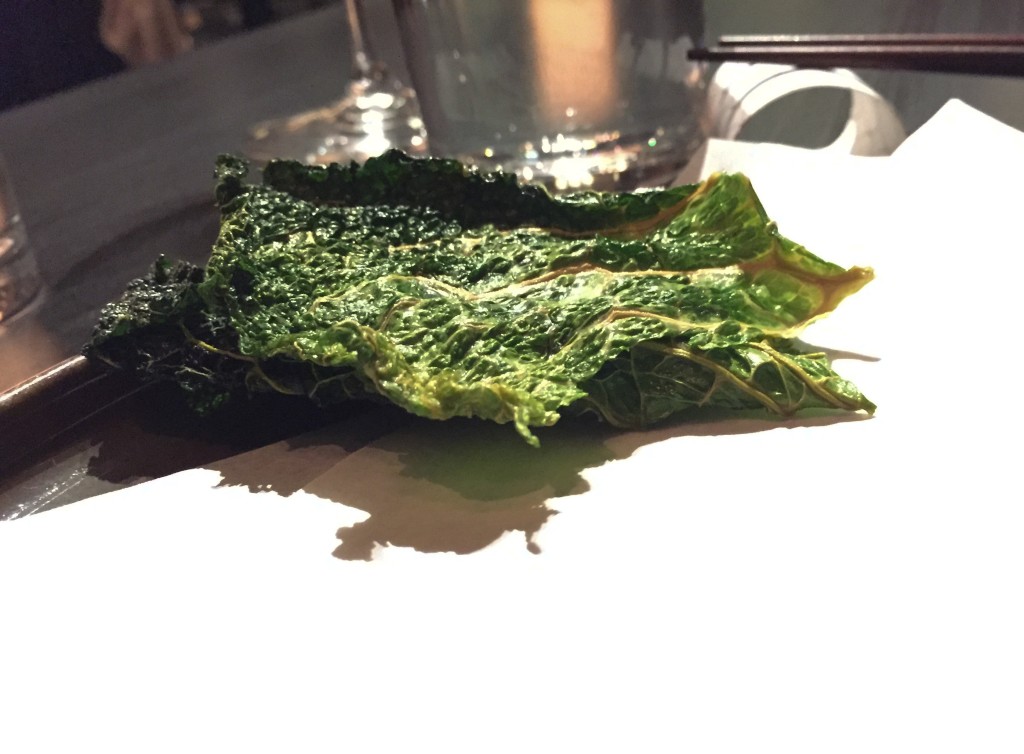 Cabbage
To be honest, I had no clue this dehydrated to a crisp piece of greenery on top was a cabbage leaf until we received the menus at the end of the meal. Maybe I should have paid better attention. But what I did know is that with some olive & tomatillo it makes a tantalizing little sandwich. Take note for your holiday party.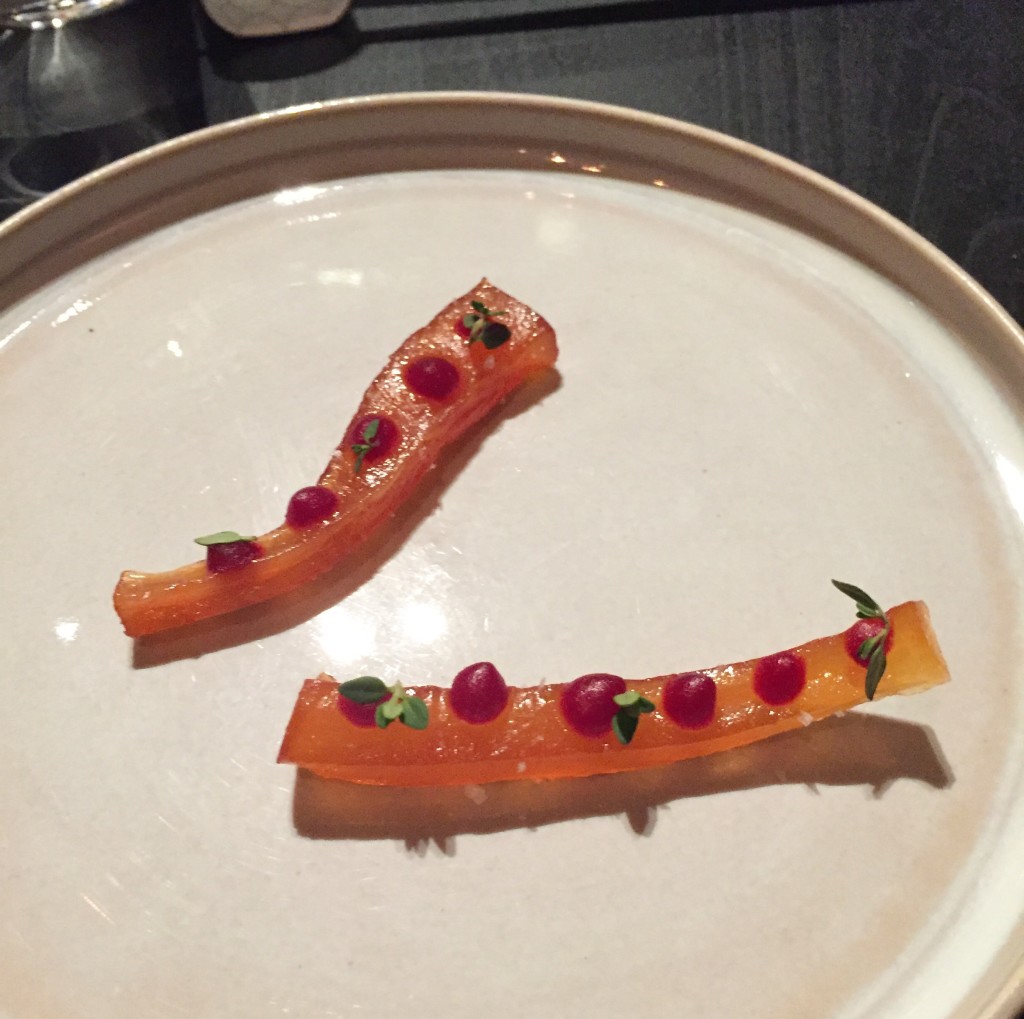 Parsnip (elderflower)

 Chewy and steeped in cranberry and elderflower this is  like a really good version of a Swedish candy.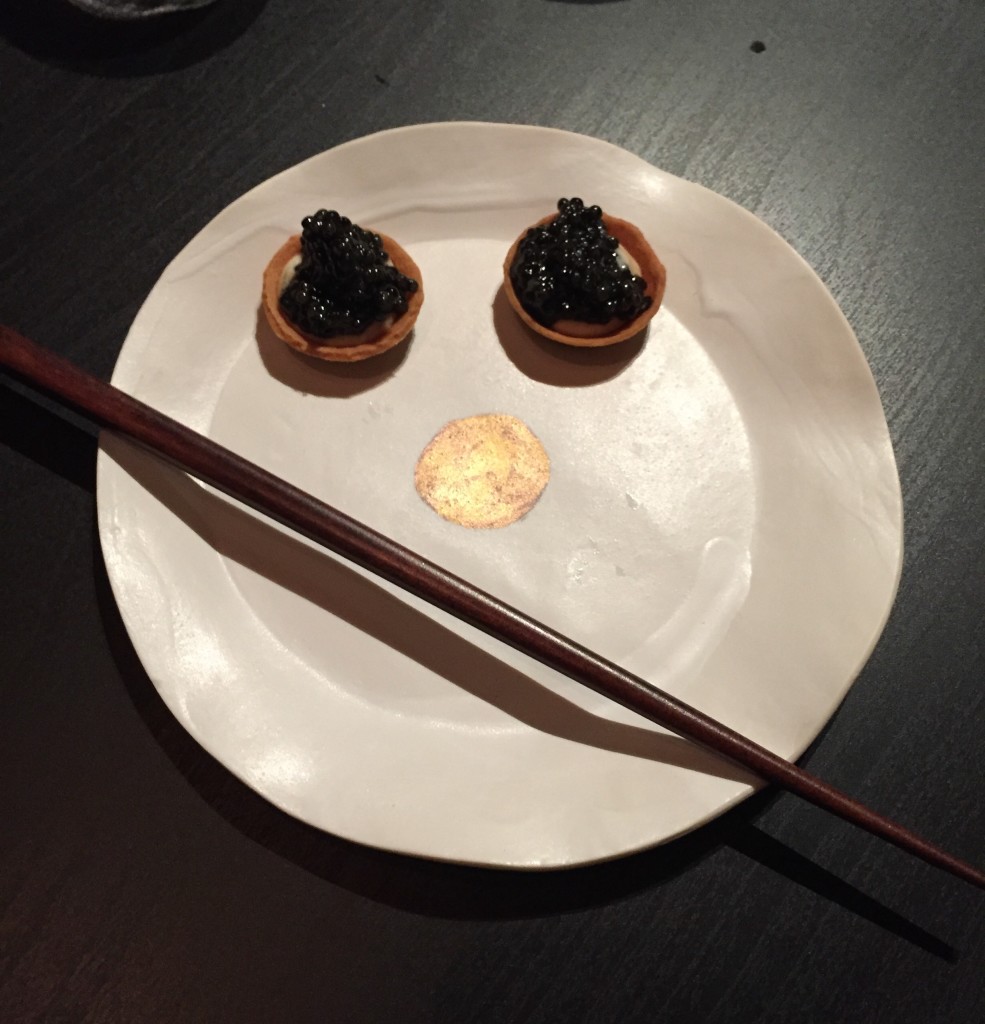 Caviar
With caviar eyes, a golden nose and a sideways smirk, this gets my vote for the new "Rich Bitch" emoji. But also its caviar over creme in a pastry – so of course it's good!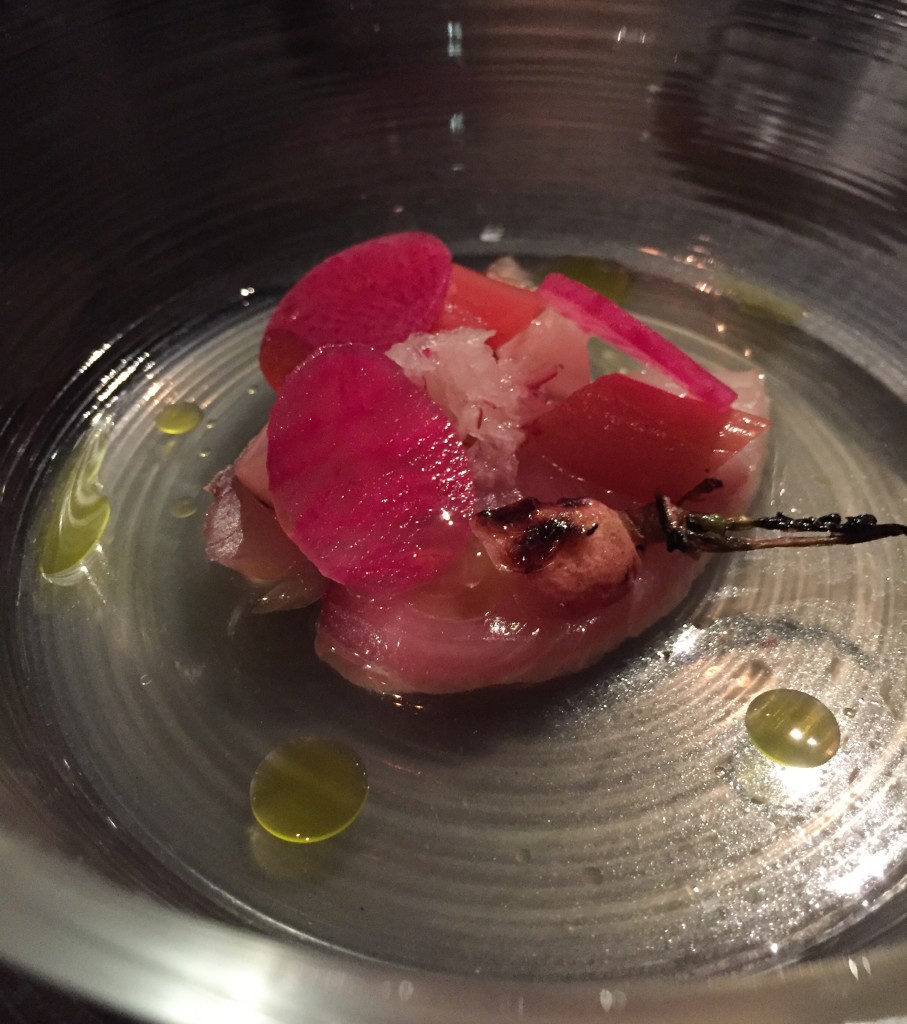 Hamachi

Next up was hamachi with radish and chicories. It's a nice delicate bite between the caviar and what followed.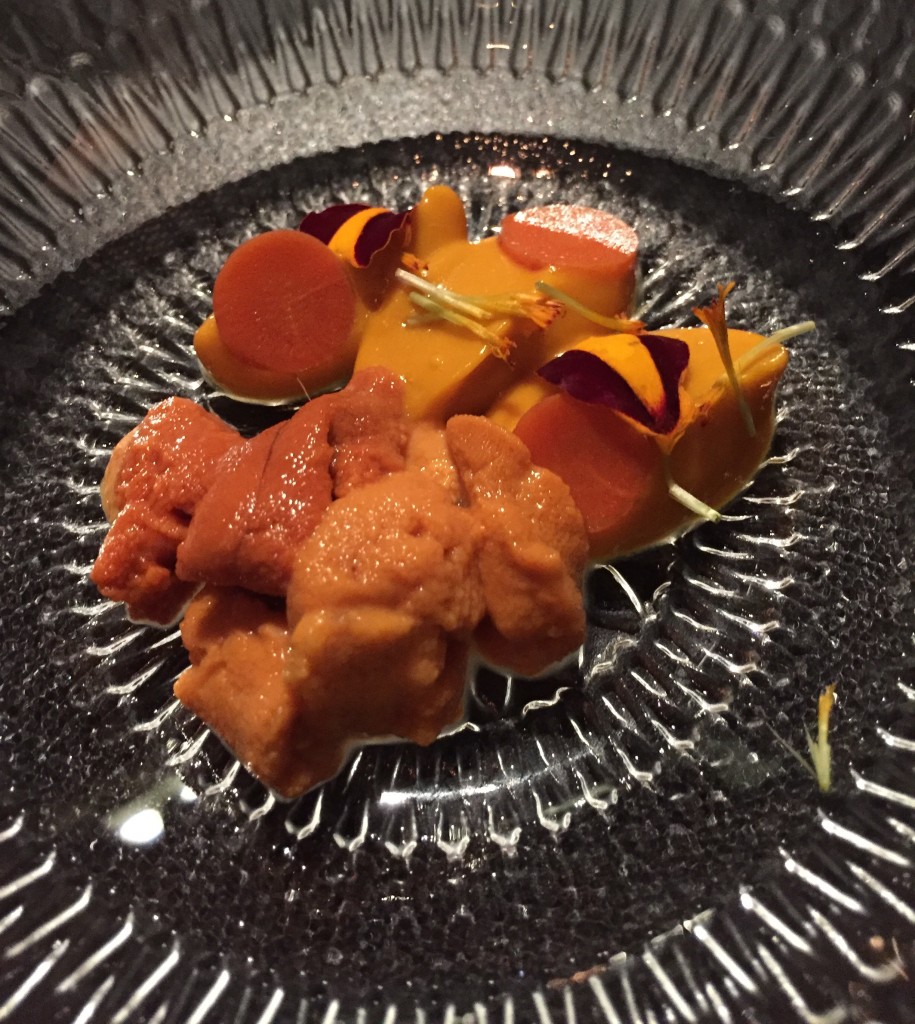 Sea Urchin

 At this point Flynn kicked it up a notch, starting with this seemingly random combination of Maine uni, coffee and carrots. Let's just say it works. I expect this to be one of his signature dishes going forward.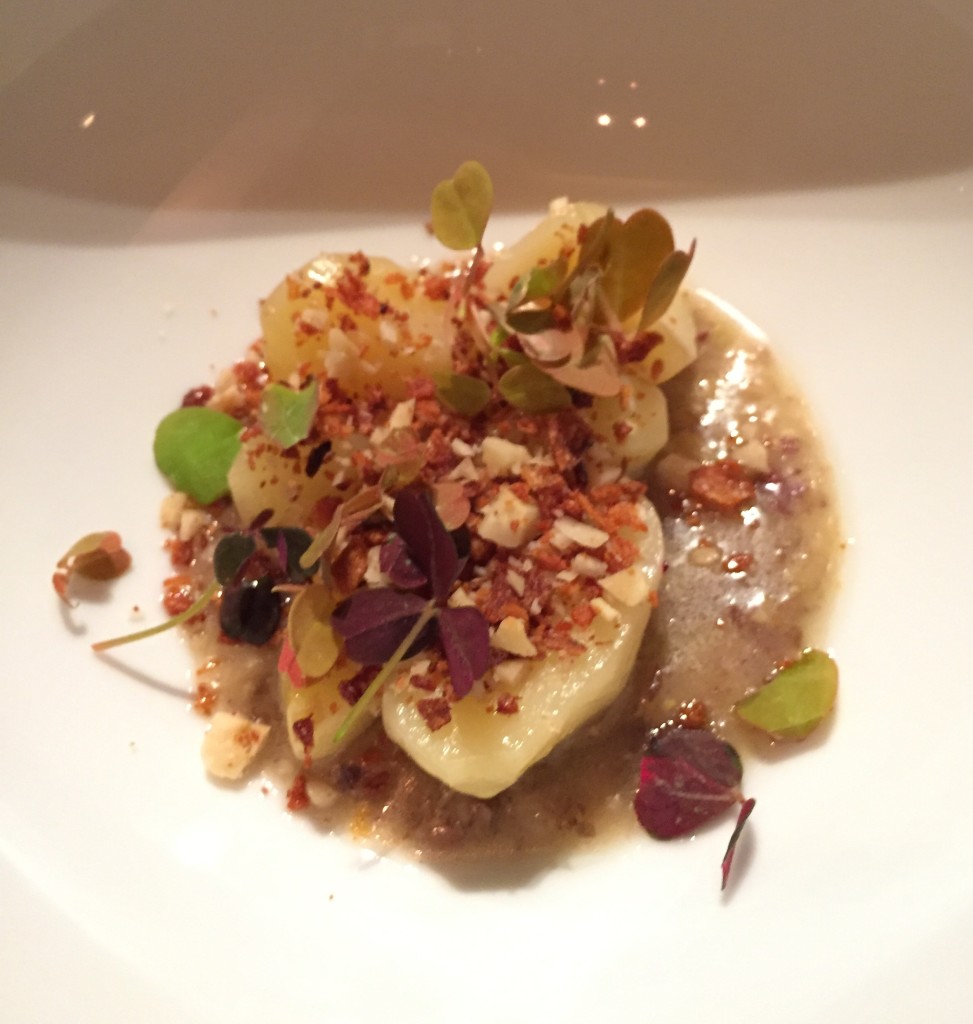 New Potato

As with many things here, this sort of reminded me of something else. In this case, it's a loaded potato skin. But instead of bacon, it's just the crackled bits of skin. Instead of sour cream, it's braised in yogurt. I consider this to be the healthy version and expect it now to be served at all football parties in Brooklyn.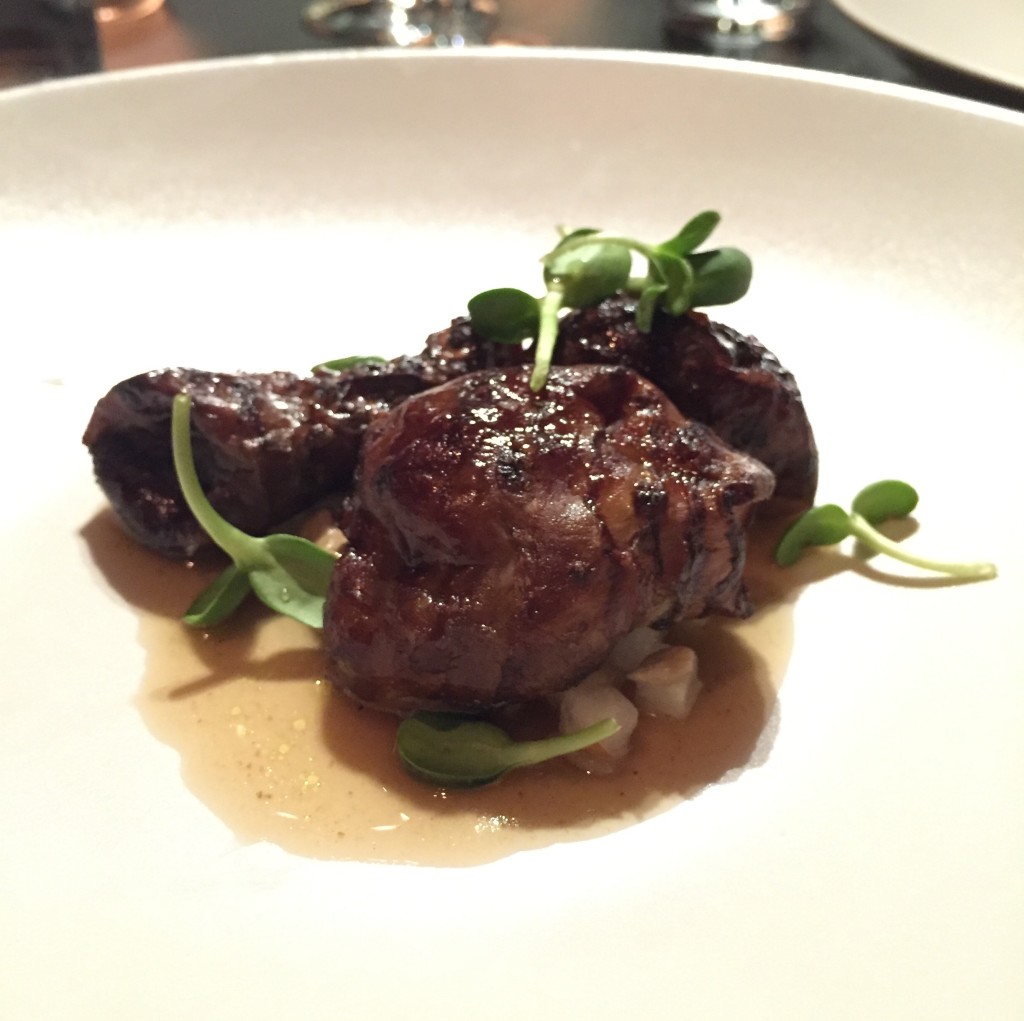 Sunchoke

 To be honest, I've never seen the appeal of the sunchoke. This is one of the best ones I've had as it's cooked well and cuts like butter. But even with Asian pear and pistachio it was a little earthy for my taste.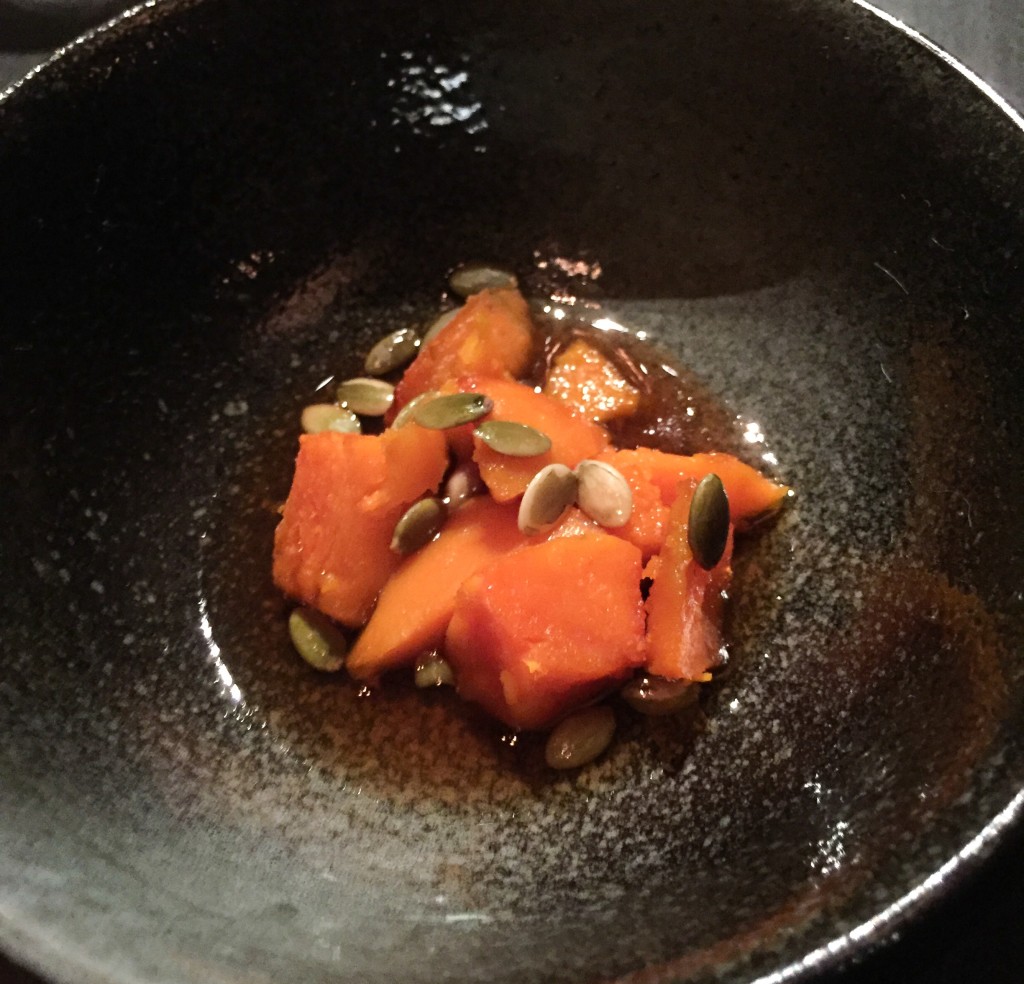 Autumns Squash

 The squash is cooked in cider and mulling spices so it's basically Fall on a plate. If you love that taste – and based on Pumpkin Spice Latte sales you probably do – you'll love this dish.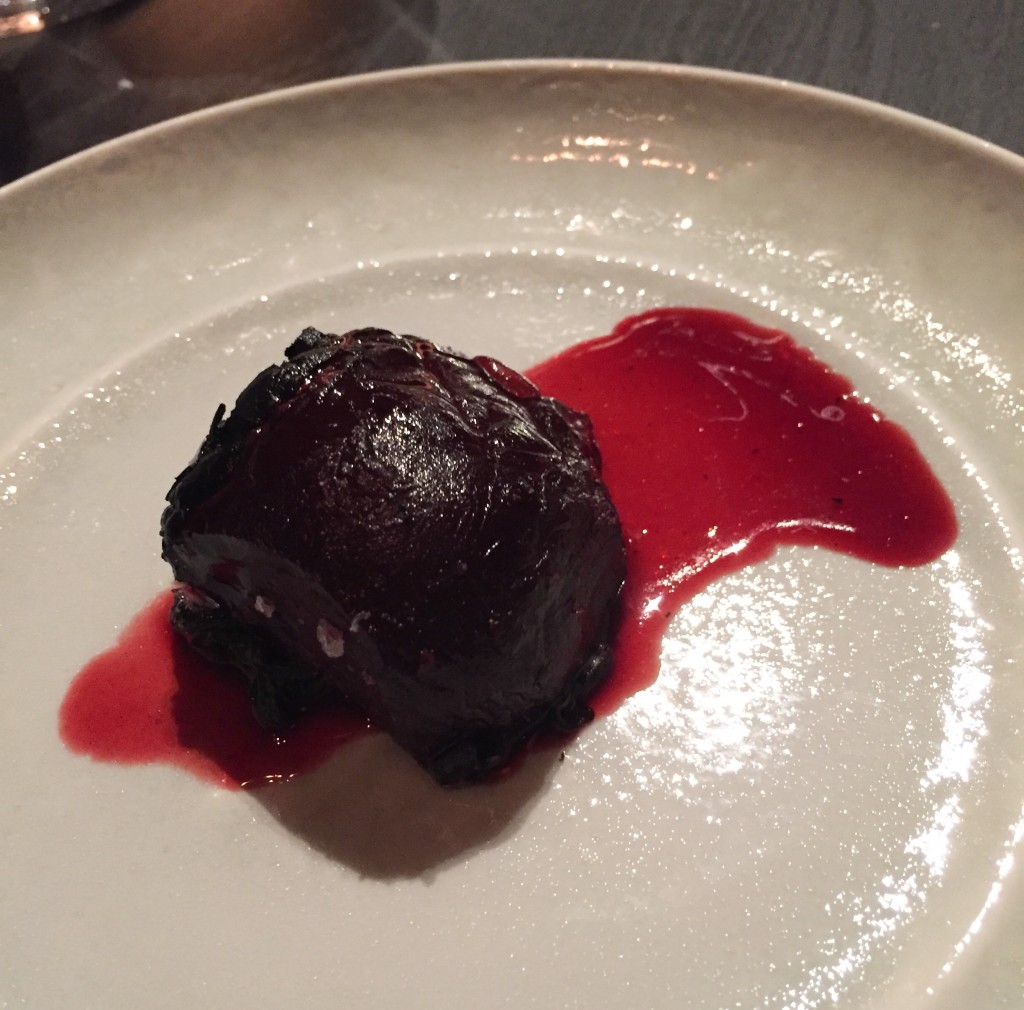 An Aged Beet

Another timely entrant, the "Beet Bleeding to Death" made for the perfect post-Halloween dish. In reality it's cooked over embers and in a beet bordelaise. It's nice to see someone doing beets with something other than tangy cheese.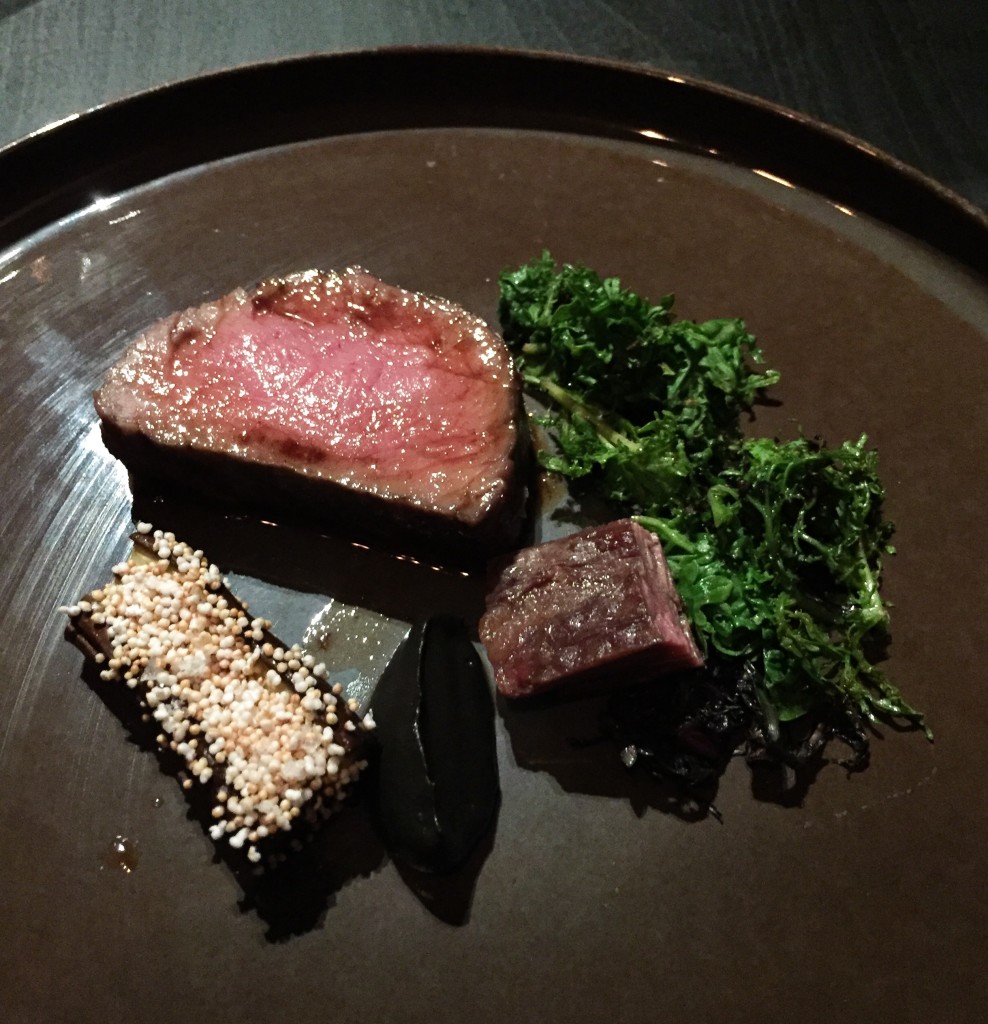 Dry Aged Ribeye

Let's just say at 40 days, this piece of meat has aged quite gracefully. Getting a little chunk of the cap on the side doesn't hurt either. Oh yeah, there's some eggplant and greenery there too.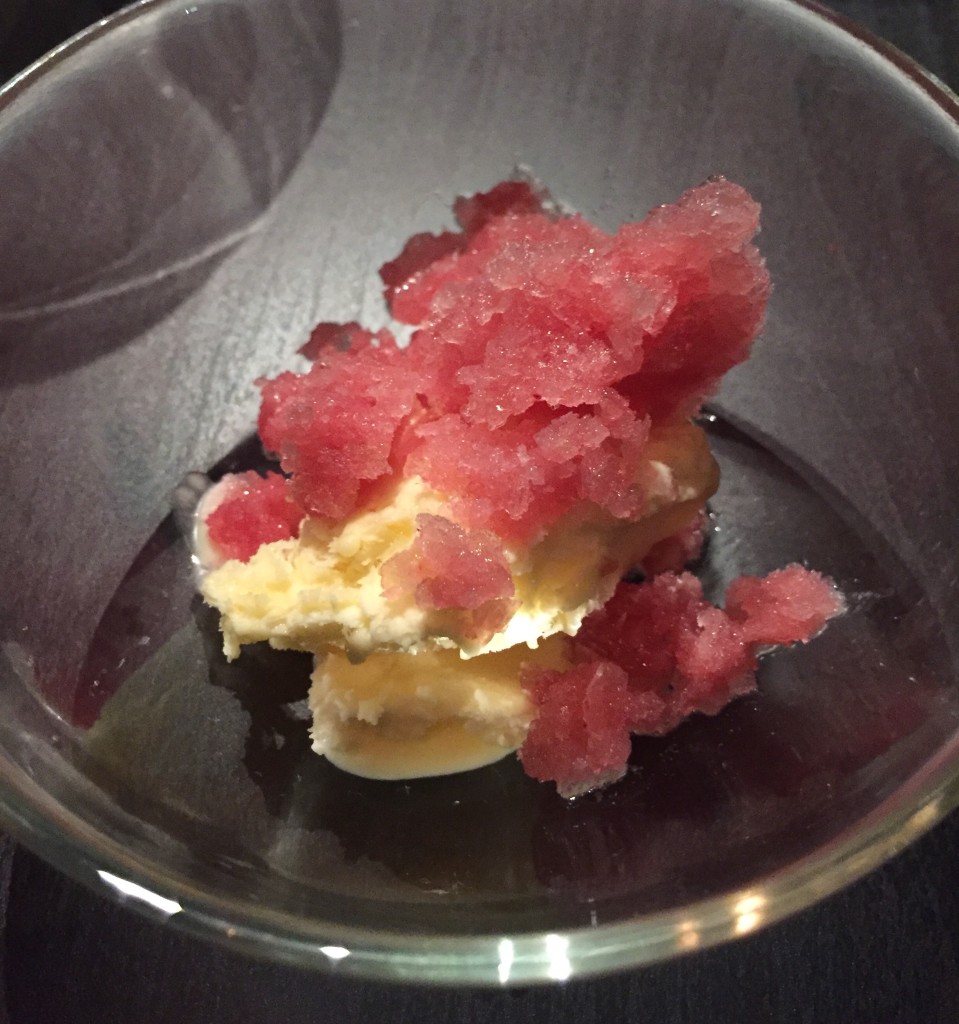 Sage
 Served as a semifreddo with concord grapes, this was a refreshing palate cleanser after the all savory.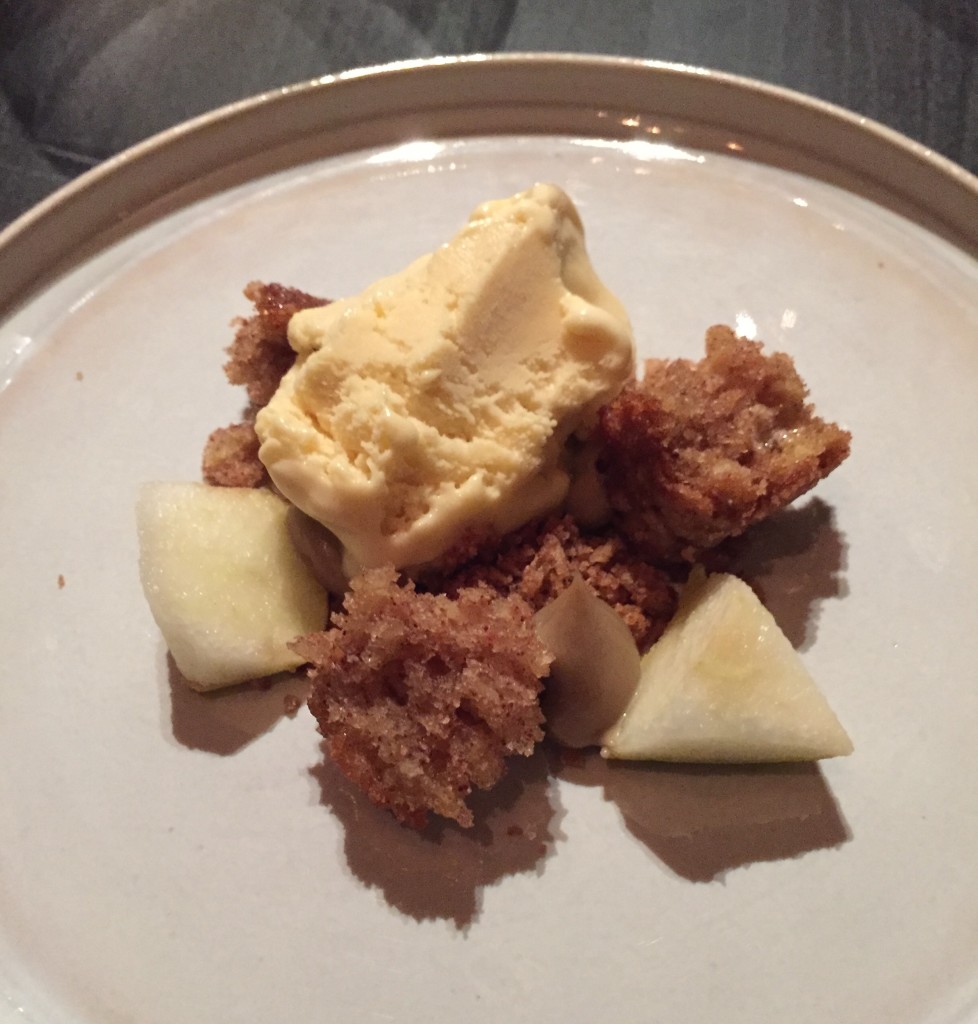 Black Sesame
 Had I had too much wine at this point to remember exactly what this tastes like? Maybe. But I do remember thoroughly enjoying this deconstructed pickled pear pie.
Eureka
639 Washington Street (Barrow & Christopher Sts.)
New York, NY