Why Come Here? Exciting takes on Peruvian food, cool space, great cocktails
Peruvian is often considered the premier cuisine of North America. Places like Nobu mention it as an influence in their cooking. And who doesn't love a good ceviche on a warm summer (or recently winter)'s day? Yet every Peruvian restaurant I've visited in New York has left me wondering what the fuss is all about. Until I went to Llama Inn.
Llama Inn opened last month and comes from Eleven Madison Park vet Erik Ramirez. The location is a little weird (East Williamsburg, under the BQE) but the space itself is great. It's on a narrow triangle island allowing it to offer large windows on three sides (yes, unfortunately two face the BQE). Through the doors that look like the entry to an Incan temple is a soaring spaced filled with giant plants, colorful chandeliers and what appears to be a rainbow colored rope climbing wall (note: do not attempt to climb). In the center is a huge triangular bar whipping up some great cocktails and sangria. If you sit near it Llama a great place for groups or a night out. But tuck yourself away in a cozy booth and it can also be an ideal date spot.
The menu consists of small plates and built for sharing. Whether it's legal to open a non-tasting menu restaurant in Brooklyn without conforming to this style remains a legitimate question. Sections are veggies, meat, fish and grilled (meat). Around 2 per person seems like about the right amount and doesn't end up breaking the bank. The menu is solid through and through and it was a legitimate debate over what to order as everything looked great. I think you'll be hearing a lot about this place next year when more critics make the journey out here. Here's what I ate: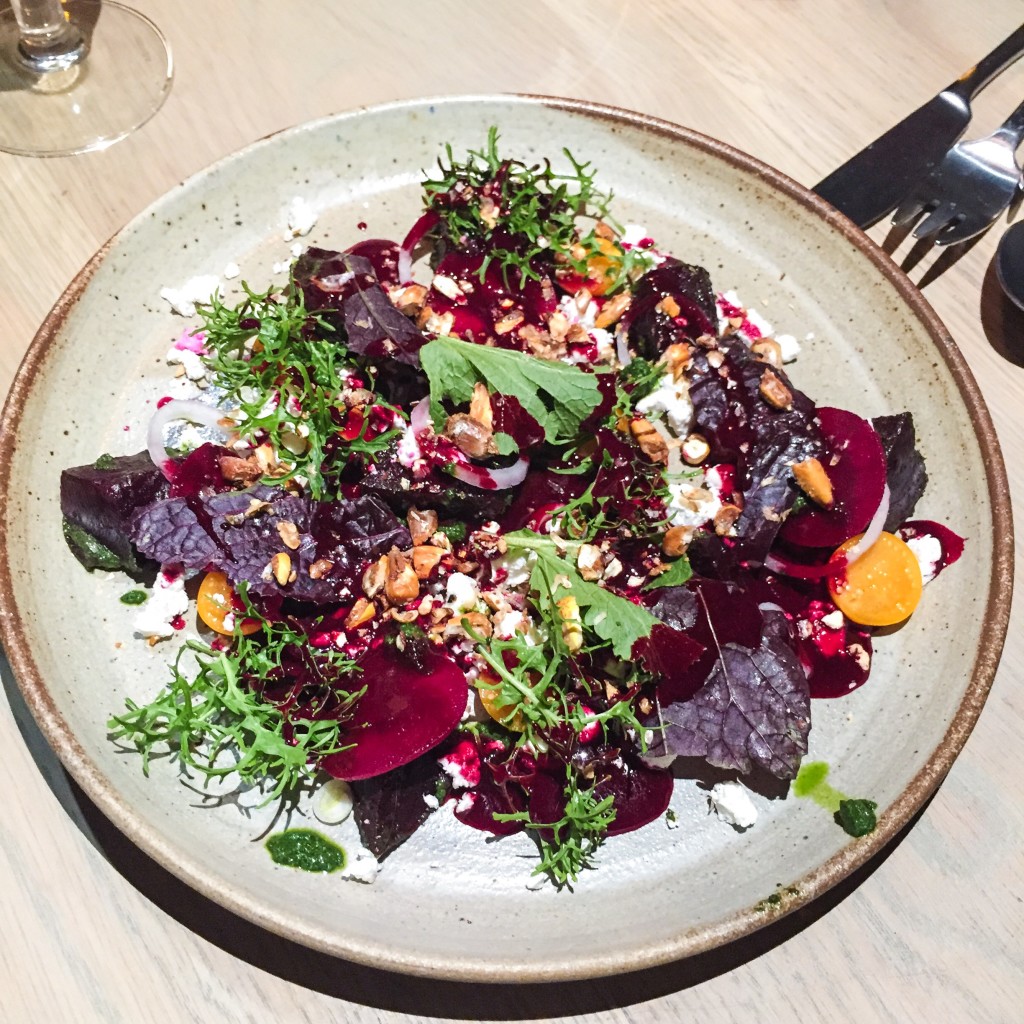 Beets

 Beet salads seem to be a requirement on every menu these days and for the most part everything that can be done has been. So yes, Llama uses the standard goat cheese, but the addition of Peruvian ingredients muna (Andean mint) & cancha (toasted Andean corn) make it worthy of your time.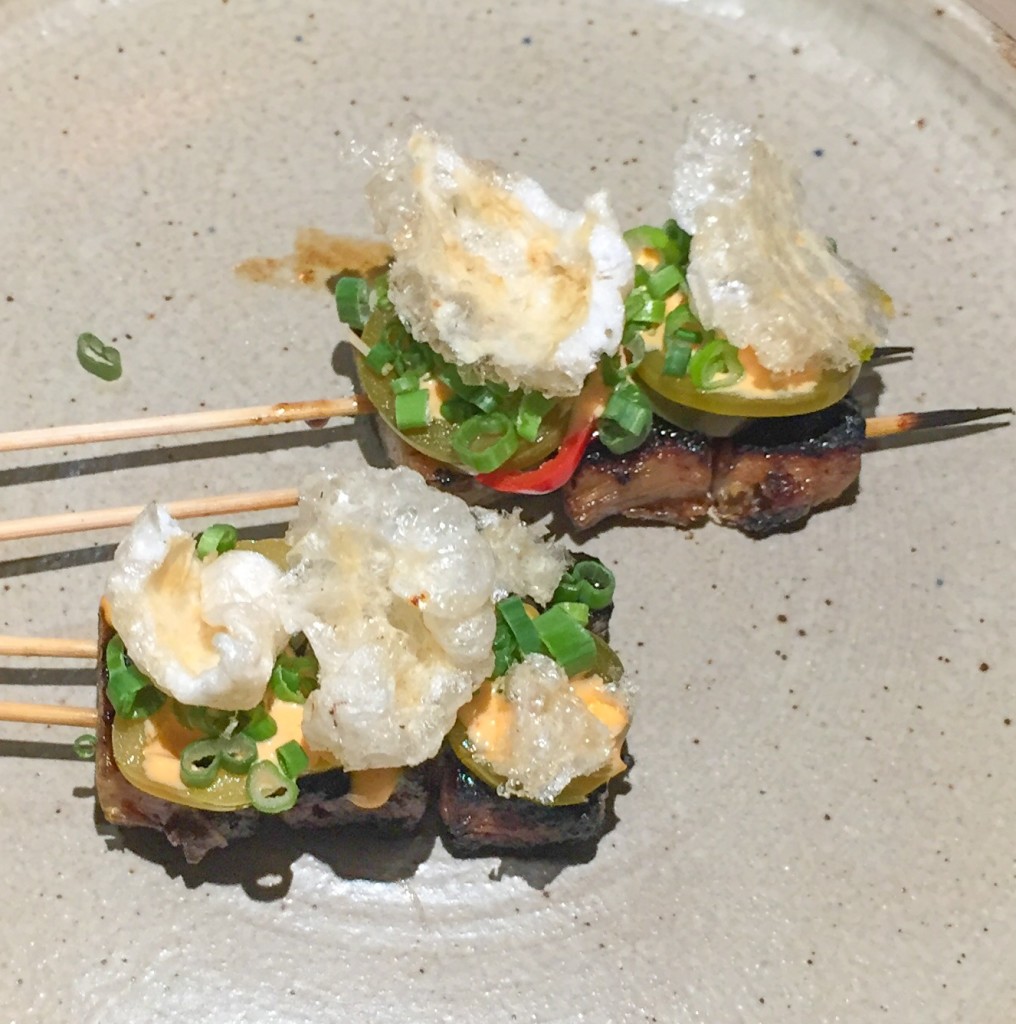 Pork Belly Skewer
The "anticucho" section of the menu features these grilled meats on a stick. The belly comes with nicely charred with picked chilis and spicy mayo. You want it.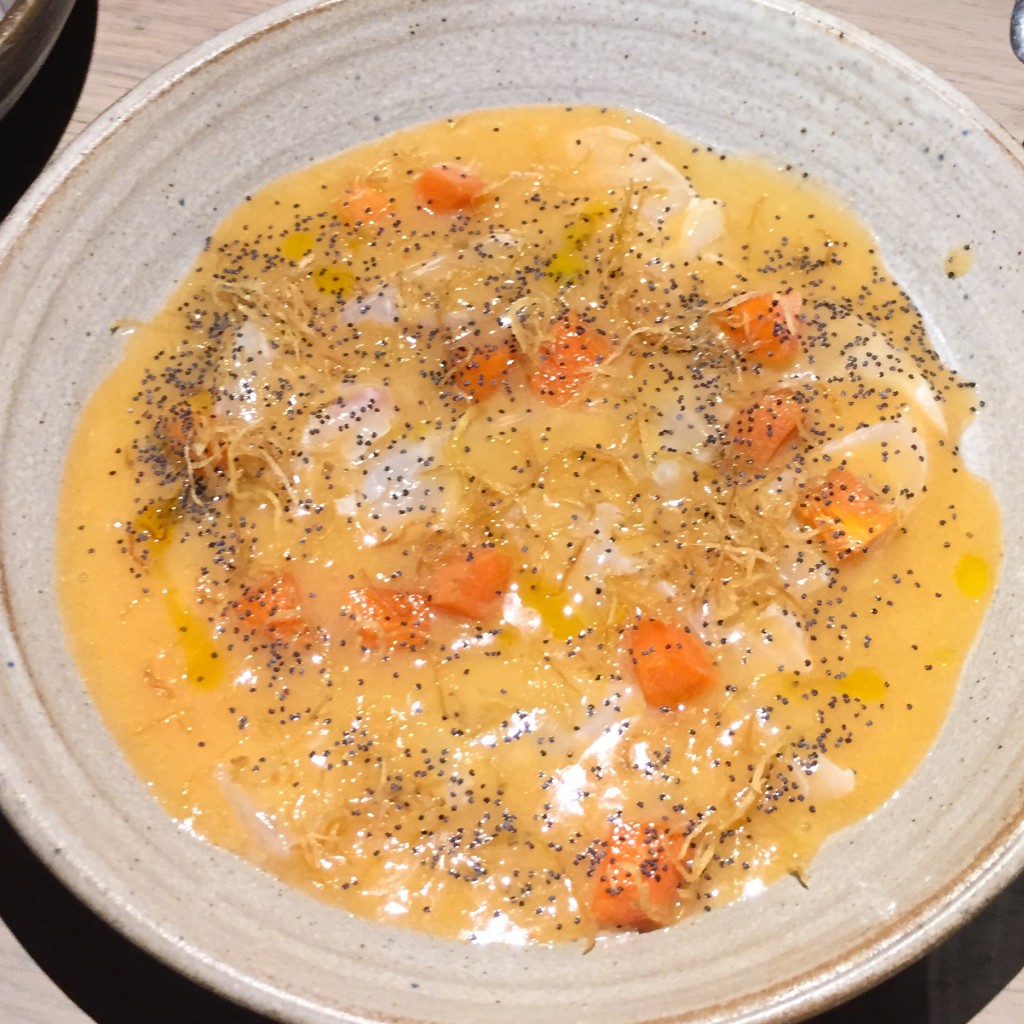 Sea Bream Tiradito

 Not the most photogenic dish, but my favorite of the savories. The crudo style bream gets a little sweetness from yuzu and a kick of ginger. If you like ginger, this will probably be the best crudo you had this year.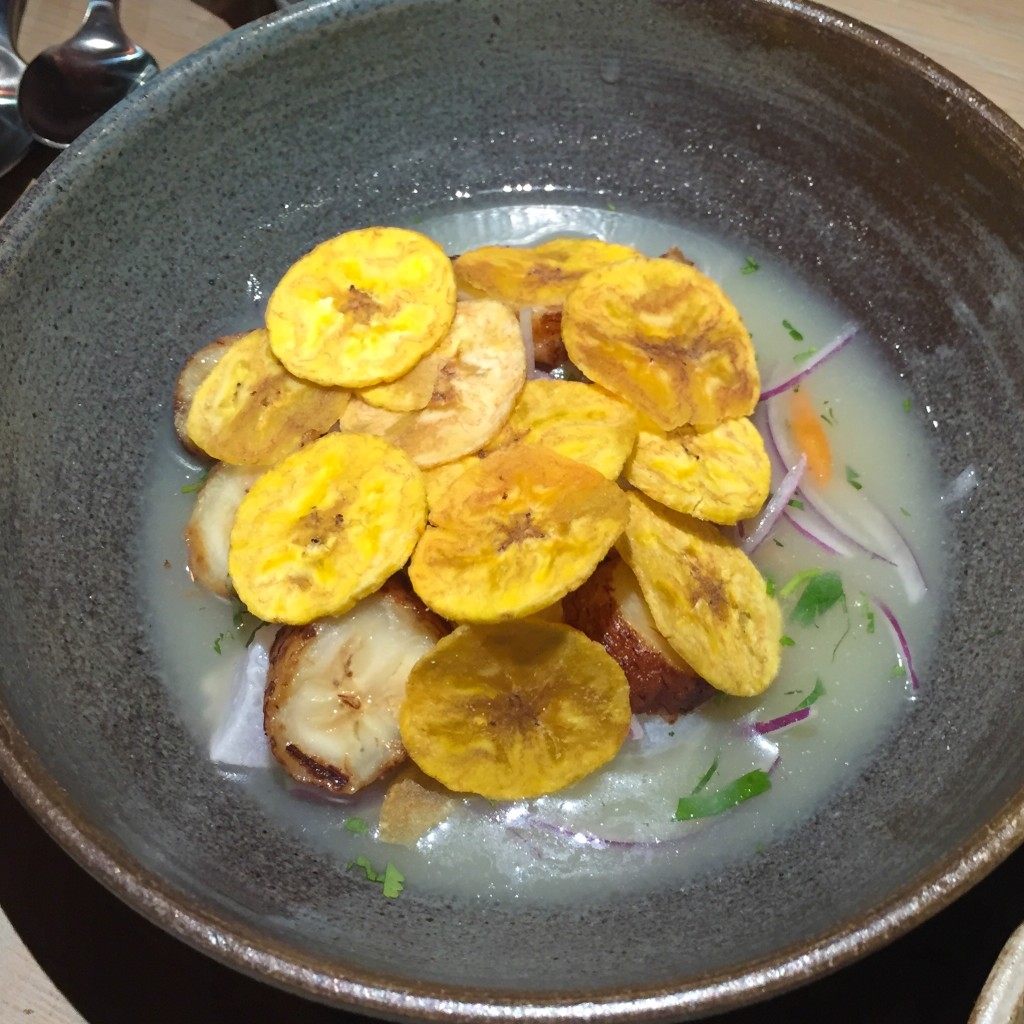 Fluke Ceviche

 The sauce was described as the "Peruvian hangover cure" Like many cures, it's not much better than the disease. It's a milky broth with a slight spice and weird tanginess to it. I'm guessing it's one of those acquired taste. On the plus side, the fish itself was quite tasty.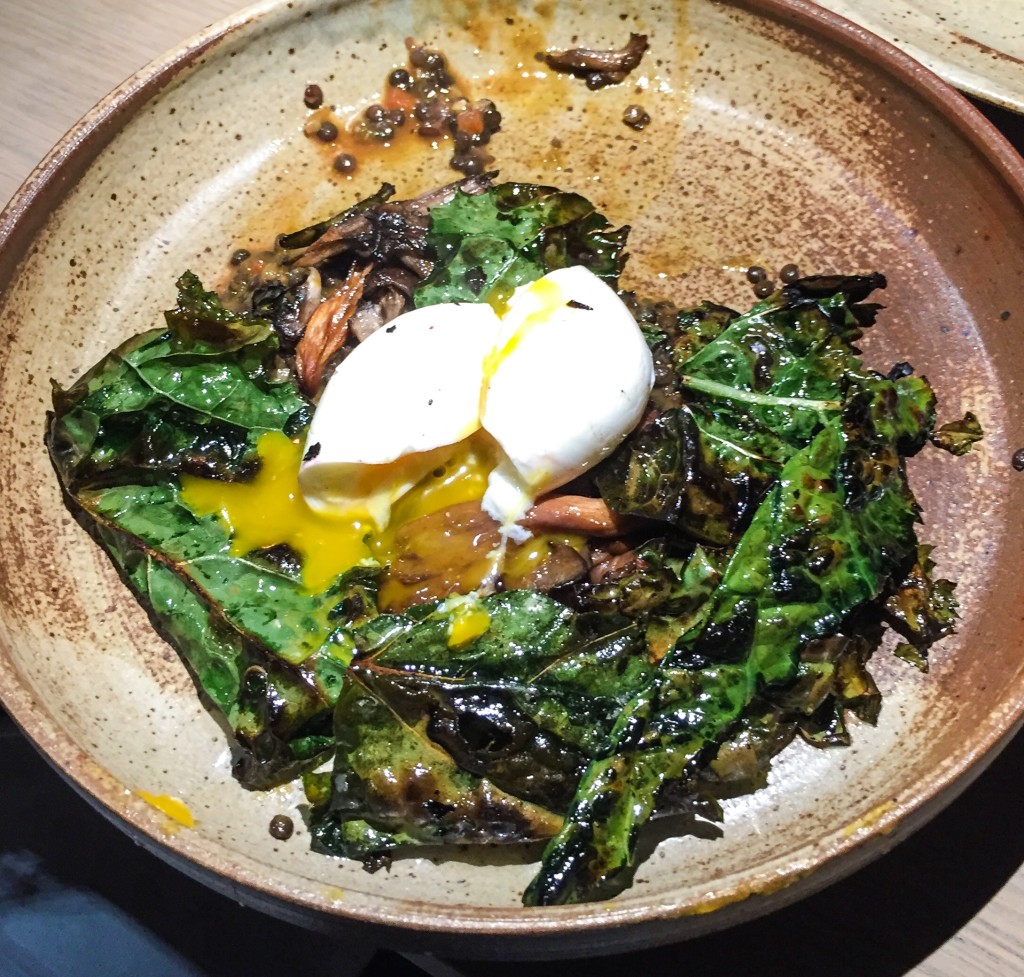 Lentils, Mushrooms and Kale
 This sounds like a bowl you ordered at a health food restaurant. But grill the kale, toss in some maitake & oyster mushrooms with a poached egg on top and you've got a very solid vegetarian option. And presumably it's still reasonably healthy.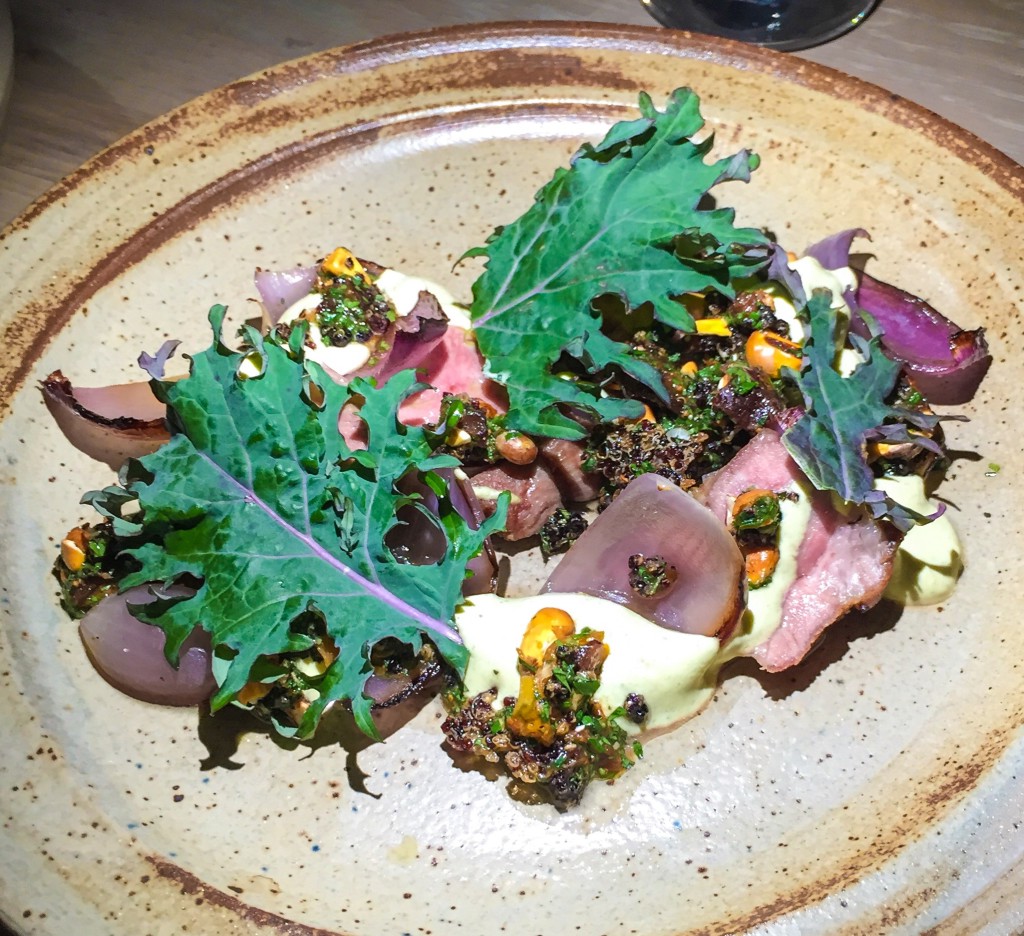 Pork Shoulder
 Hidden under the sprigs of huacatay (Peruvian mint) is some thinly slice pork with yogurt, onion and some dried fruits. It's a fun blend of flavors and the pork here is done perfectly.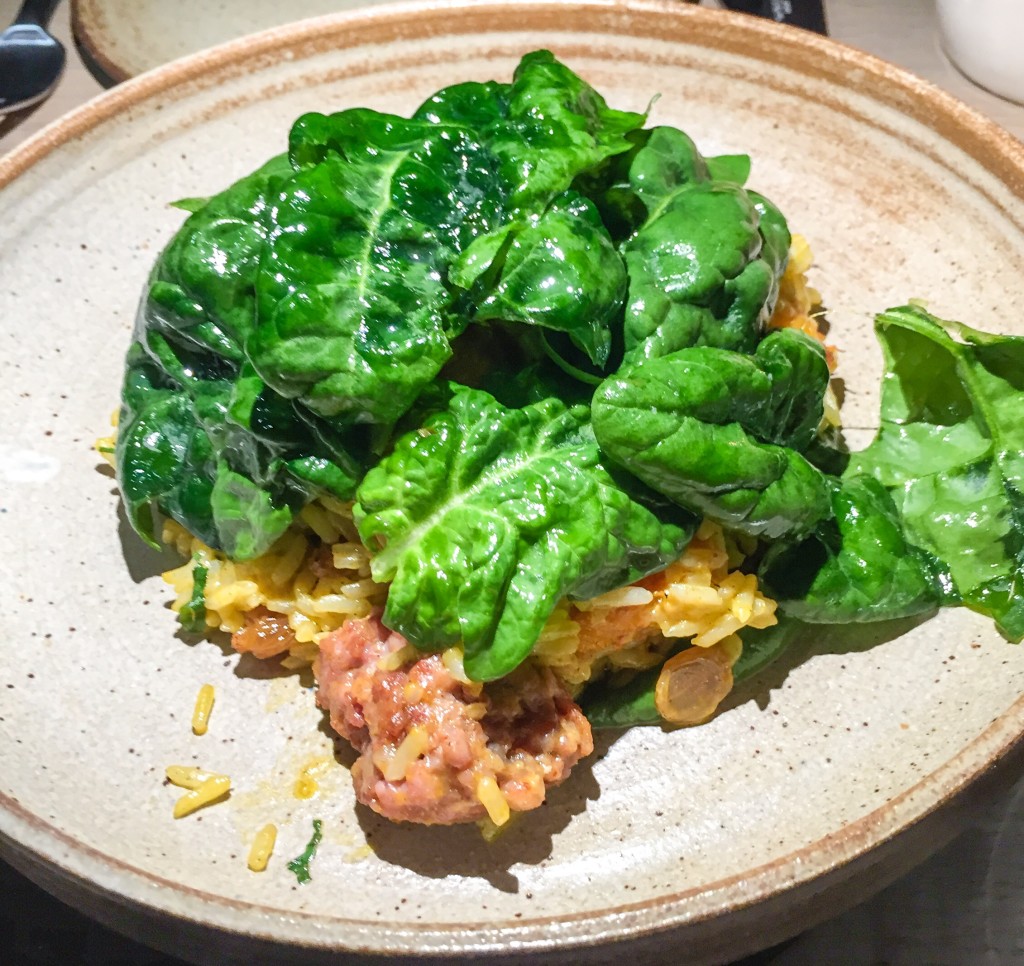 Duck Sausage

The blend of slightly spicy sausage with squash, cumin and beer ('cause why not?) creates a great balance of flavors. The farro makes it quite satisfying.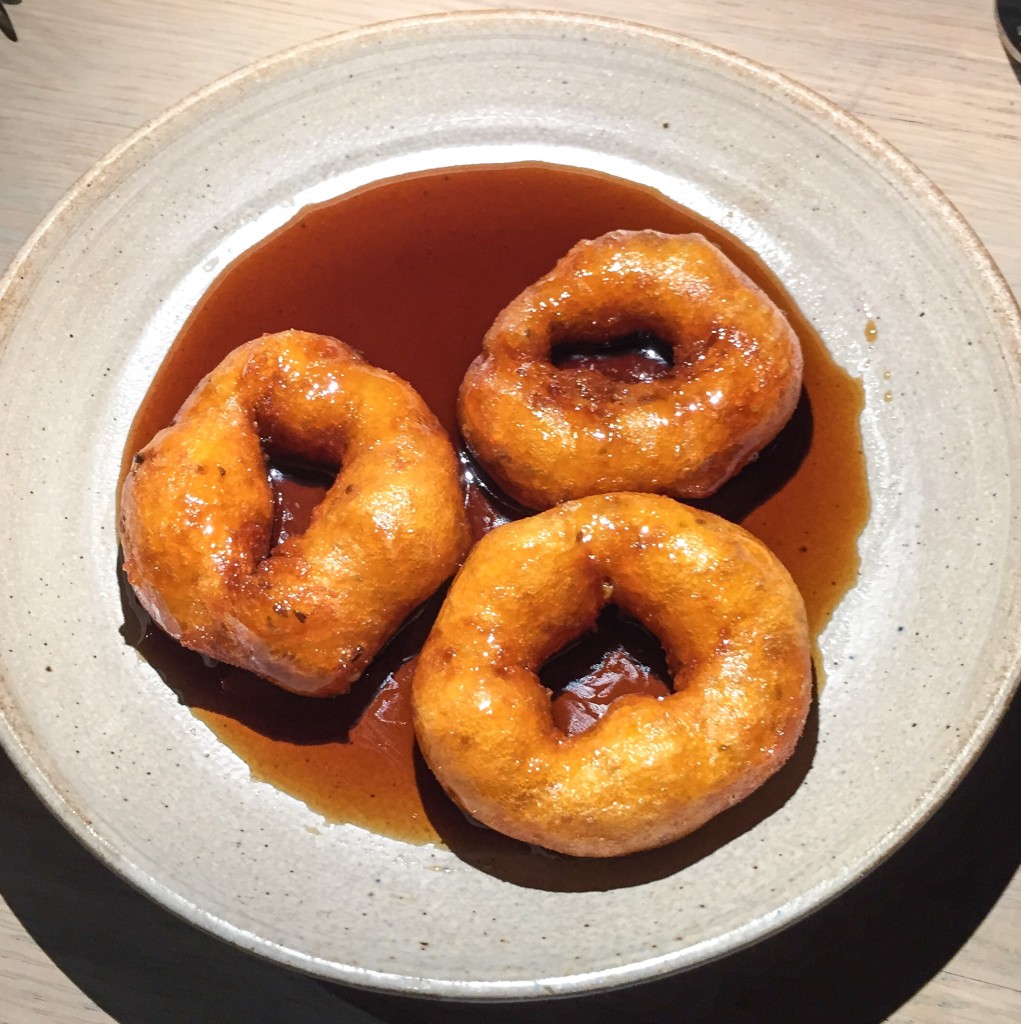 Bunuelos

Bunuelos are a Peruvian doughnut made with squash. I've never had a doughnut that has such a crispy glaze on the outside but is so pillowy within. And it doesn't hurt that they're smothered in chancaca – a Peruvian sugar sauce. These could be the premise of their own shop.
Right Amount for 2? 4-5 dishes
Llama Inn
50 Withers Street (Union & Lorimer Sts.)
Brooklyn, NY