Why Come Here? Modern Nordic dining experience from Noma Co-Founder
When a restaurant opens from a co-founder of the former #1 restaurant in the world, its going to get my attention. Such is the case with Agern, a recently opened Nordic eatery from Claus Meyer of Noma in Copenhagen and Icelandic Chef Gunnar Gislason. If you're familiar with Modern Scandinavian / Nordic cooking you know it involves using a lot unusual "foraged" ingredients. This is code for a lot of wild grown things you've never thought to eat and tends to lend itself towards earthy flavors that are more bitter and sour than what the typical American palate is accustomed. Personally I think of it as much as performance art as fine dining and wouldn't particularly want many items in my everyday diet.  In other words it's about the experience, but it's not one that will necessarily be everyone's cup of Ocean Broth (which was in fact an aperitif).
Adding to the unusualness is Agern's almost hidden location within Grand Central Station. Basically you want to use the 42nd & Vanderbilt entrance, take the walkway to Rite Aid, make a right, pass a bodega and if you hit the Shuttle to Times Square you've gone too far. But fear not, once inside you'll quickly forget the mass of commuters you just battled through to get here. Agern is calm, with a modern woodsy simplicity that's sort of exactly what you expect a high end Scandinavian restaurant to look like. The space is surprisingly large for a tasting menu restaurant which allows for well spaced tables so you can easily try to figure out with your dining companions what the last dish tasted like.
There is an a la carte option, but the main appeal here are the tasting menus dubbed "Land + Sea" (with meat) and "Field + Forest" (without). Both are seven course deals preluded by five "snacks" that guarantee you're not going home hungry. Prices are steep at $145 for Land & Sea and $125 for the vegetarian, but they do include gratuity.  Interestingly, less the half the dishes are actually different.  But of course I did not pass on the meat. Here's what arrived: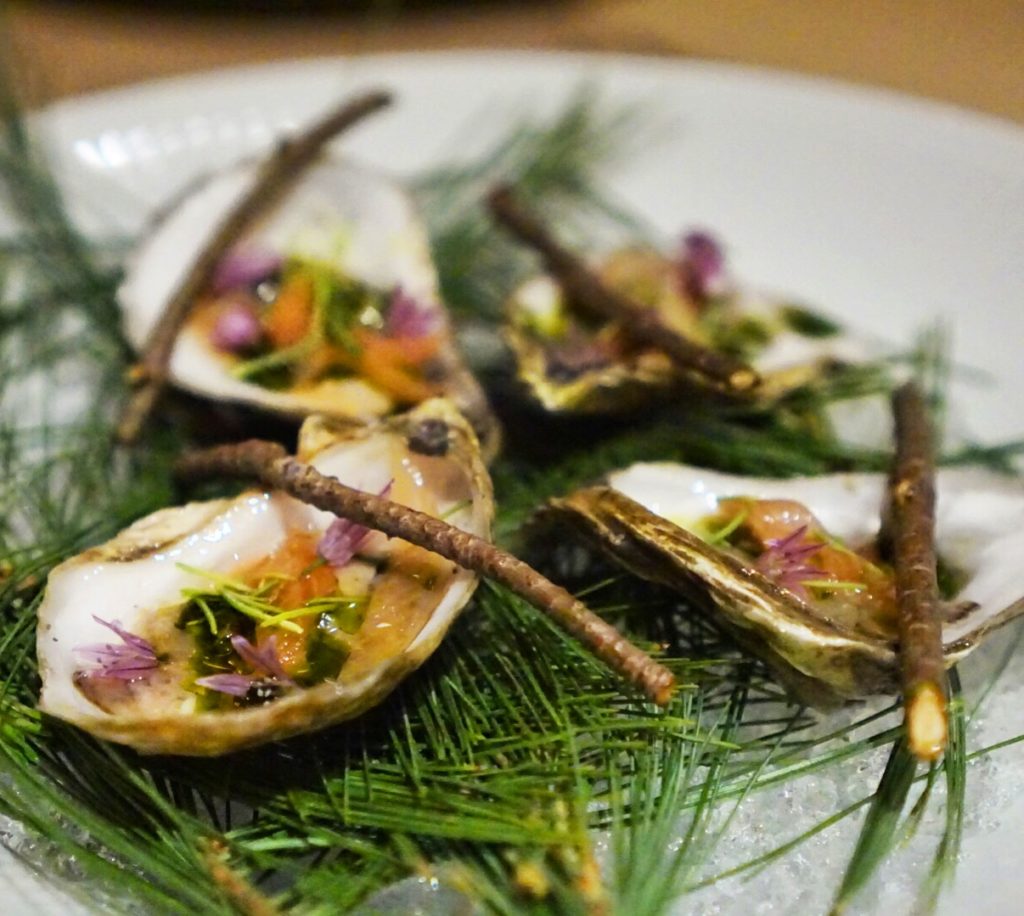 Oyster & Pine A slightly sour take on mignonette. Don't eat the pine. (I think)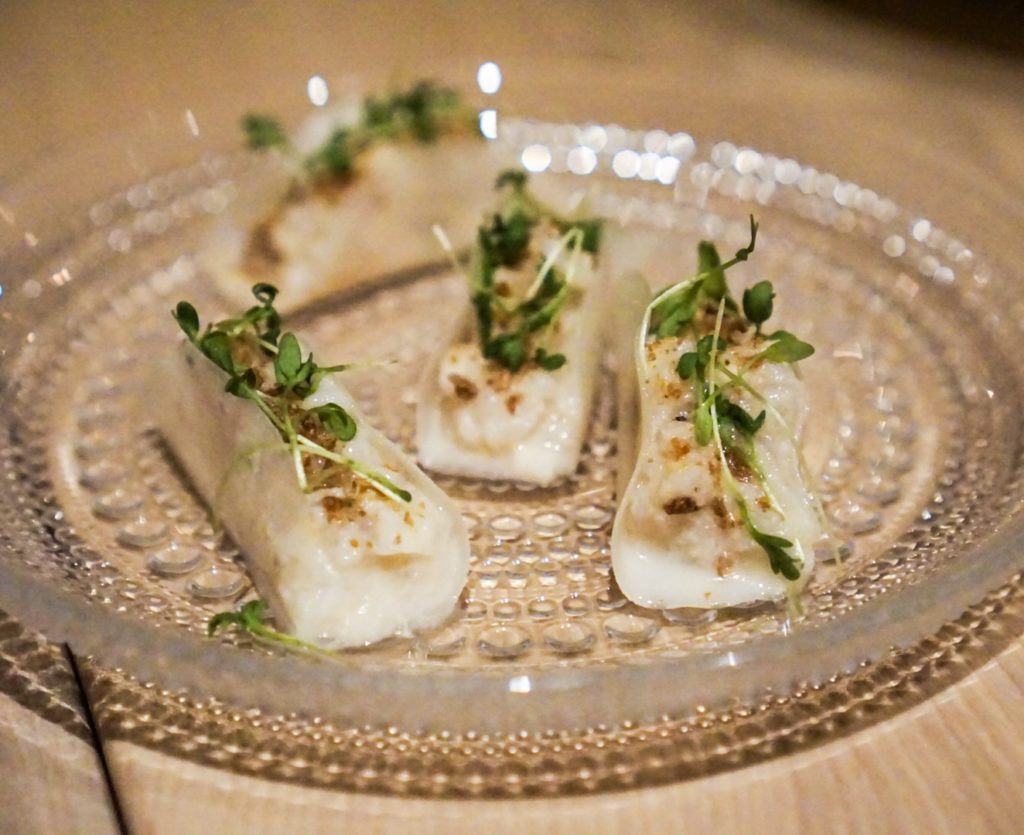 Mackerel & Horseradish I'm always excited when a dish arrives with any semblance to a taco. A nice spicy fishy bite.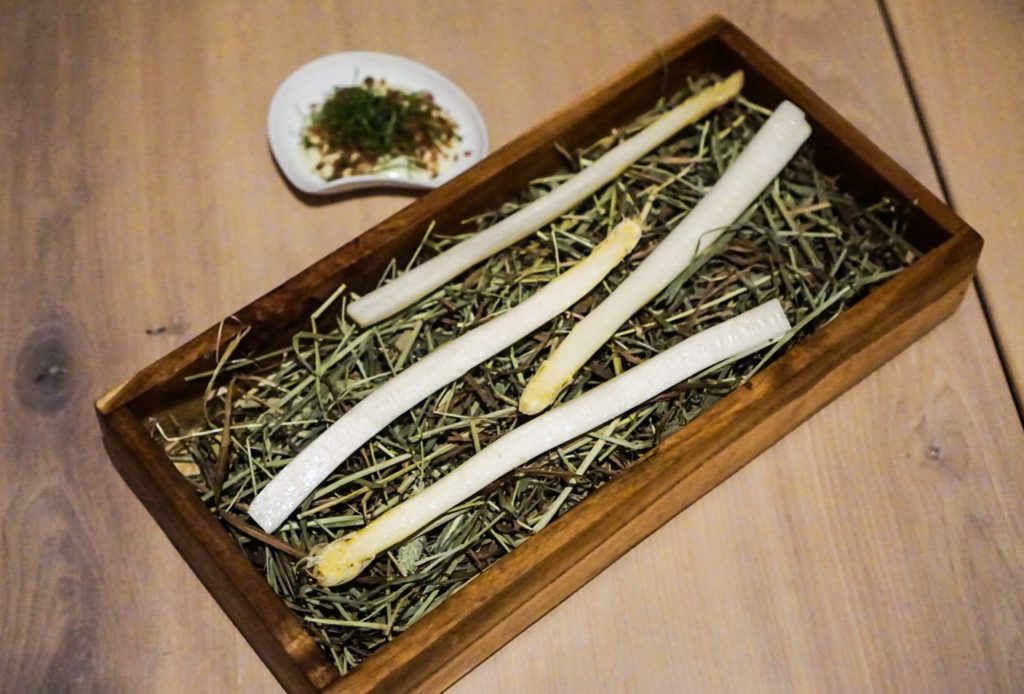 White Asparagus and Coppa The asparagus is raw, but presumably has been soaked because it's nothing like stalk rocks you buy at the grocery store. Dipping it into the tangy aioli feels like eating a very high end veggie dip.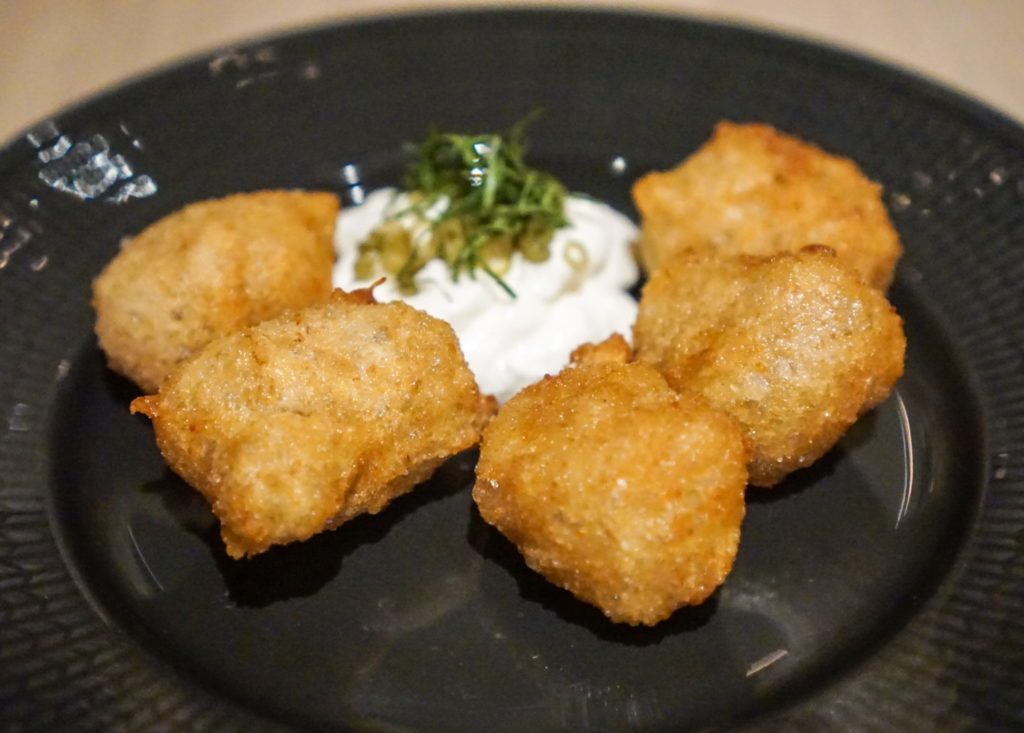 Potato Bread and Lovage Maybe the most pretentious sounding ingredient in the menu, lovage looks like parsley but tastes like celery. It's a fun bite or two.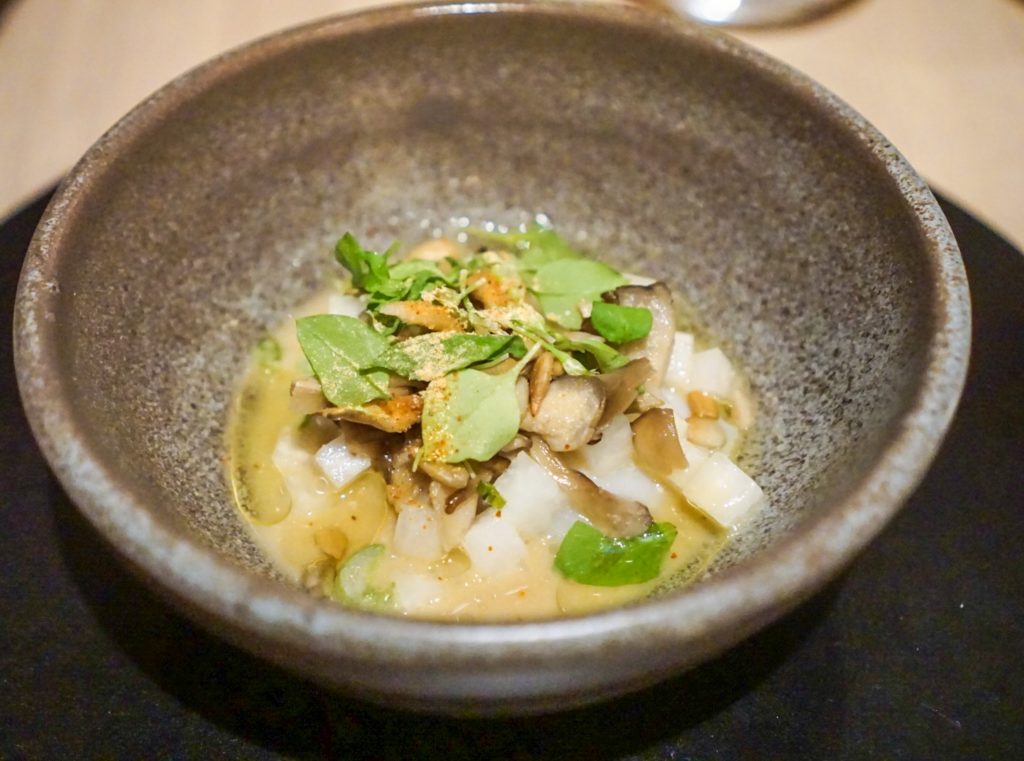 Sunflower Seeds It's interesting they highlight the seeds, because I consider this more of a scallop ceviche with mushrooms. They do add an interesting nutty element though.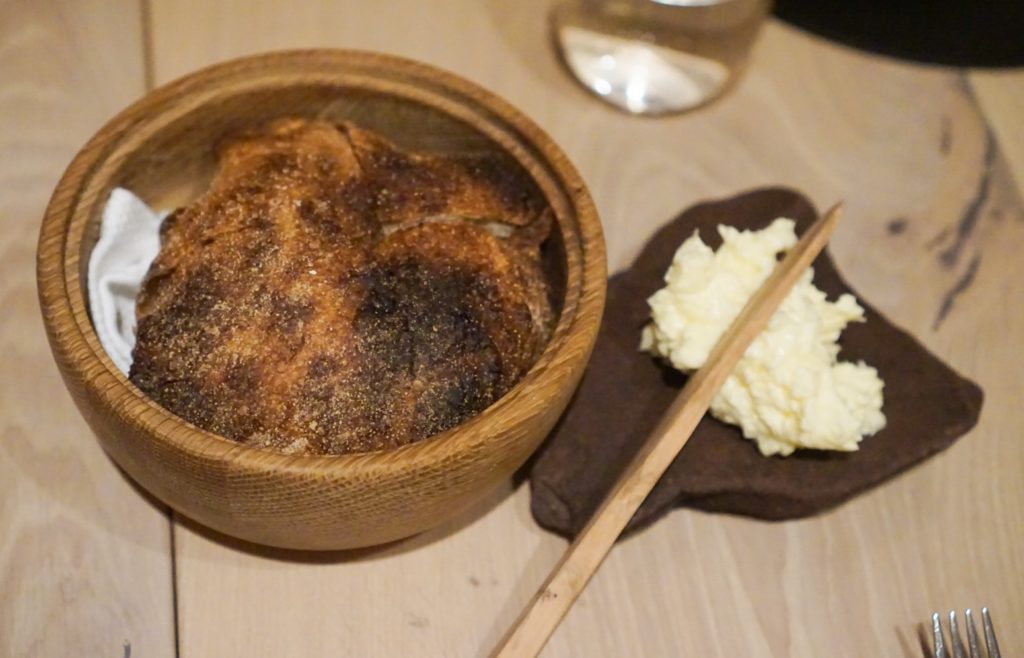 Sourdough Bread and House Churned Butter If you're going to put bread on a tasting menu these days, you sure better have someone hand churning it in back (all the better if they're wearing a tri-corner hat). And according to my Swedish friend, sourdough is the official hipster bread of Stockholm.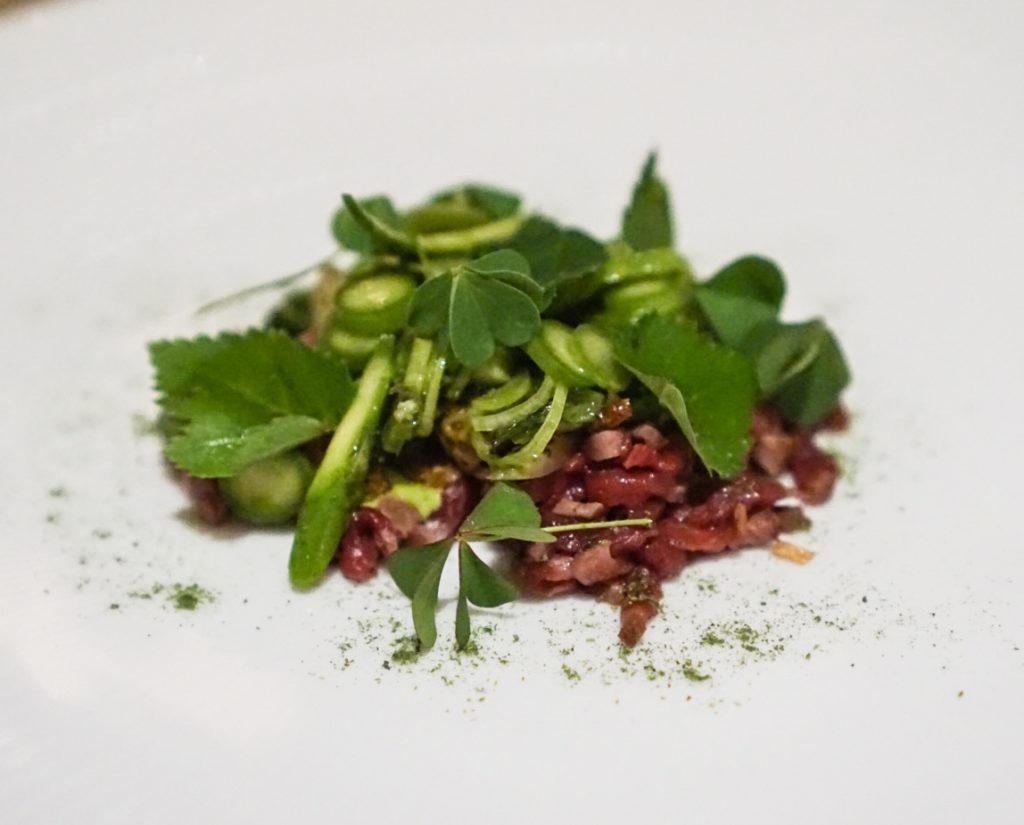 Beef Heart Did you watch the Game of Thrones scene where Danerys ate a raw heart and say "Wish I could do that!" Well here's you chance. Fortunately this one is chopped into small pieces, seasoned with garlic and covered in asparagus and green strawberry.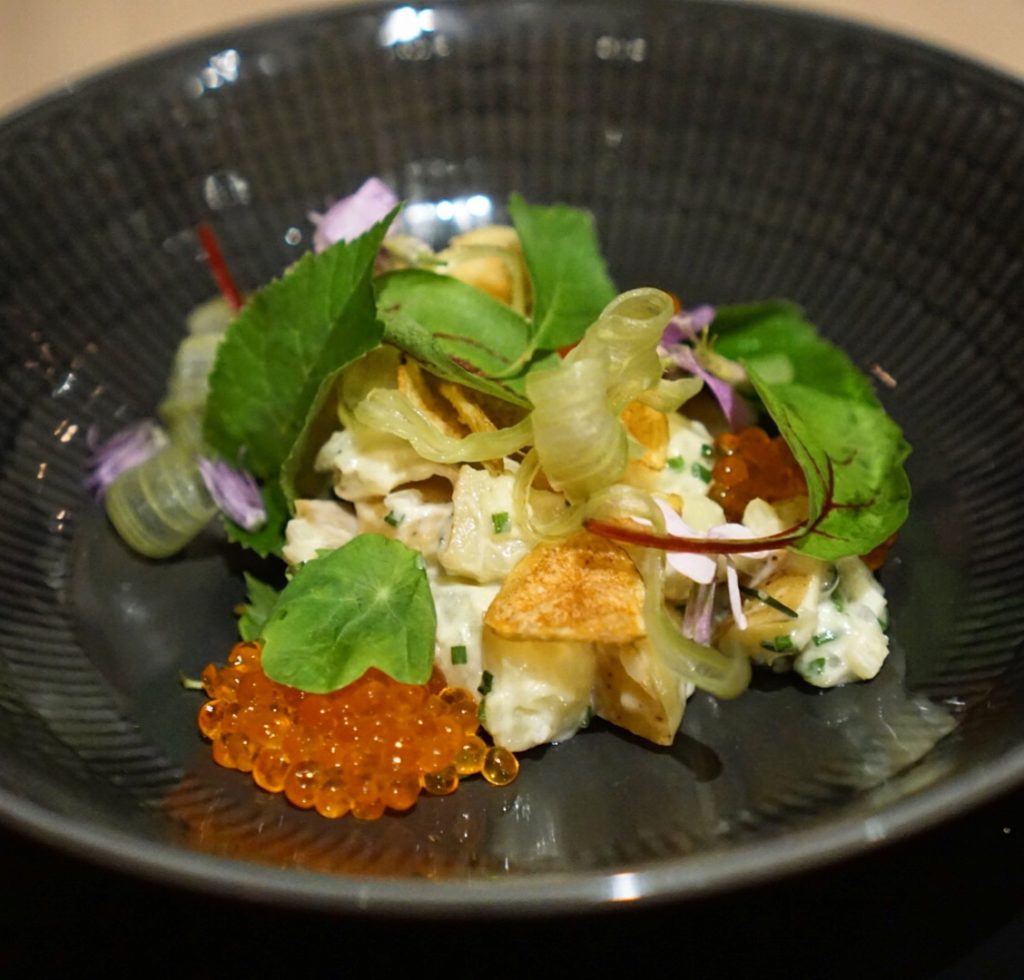 Potato Salad One of my favorite dishes of the night was this potato salad. Some of the potatoes were crisped into basically potato chips, an addition I'd like to see in more potato salads this summer. The addition of salty trout roe was another pleasant surprise.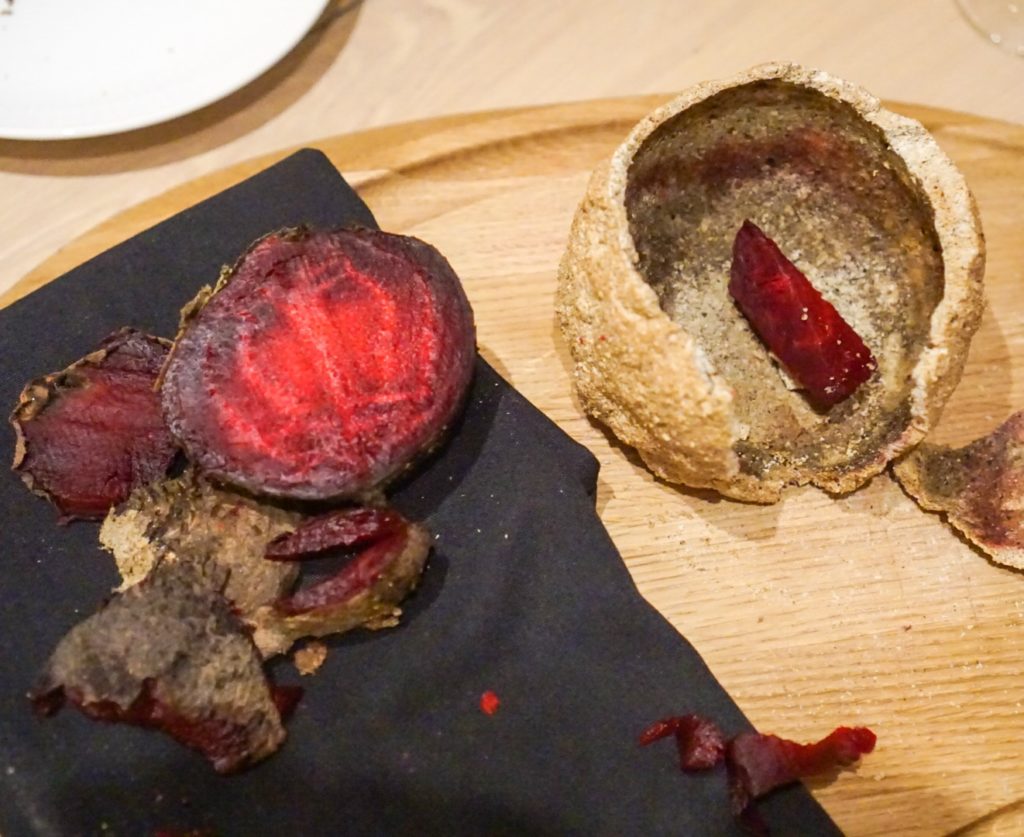 Salt Cured Beet The best presentation award of the night, this arrive in what appears to be a dinosaur egg. Once cracked open by the server, it's revealed to be salt casing of a ruby red beet. Add some horseradish and huckleberries and you've got a winner.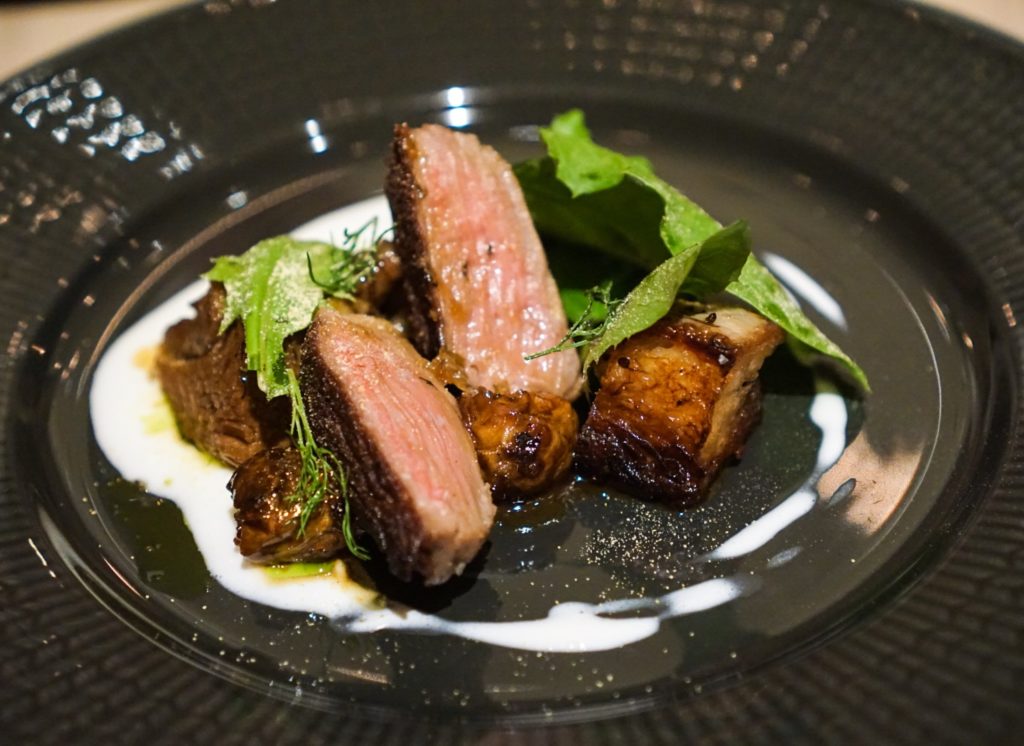 Lamb, Roasted and Braised Not the most unique dish of the night, but the one I would most like to eat more of (along with the potato salad.) The tender lamb is brightened by some fresh dill while the braised sunchokes add a touch of bitterness.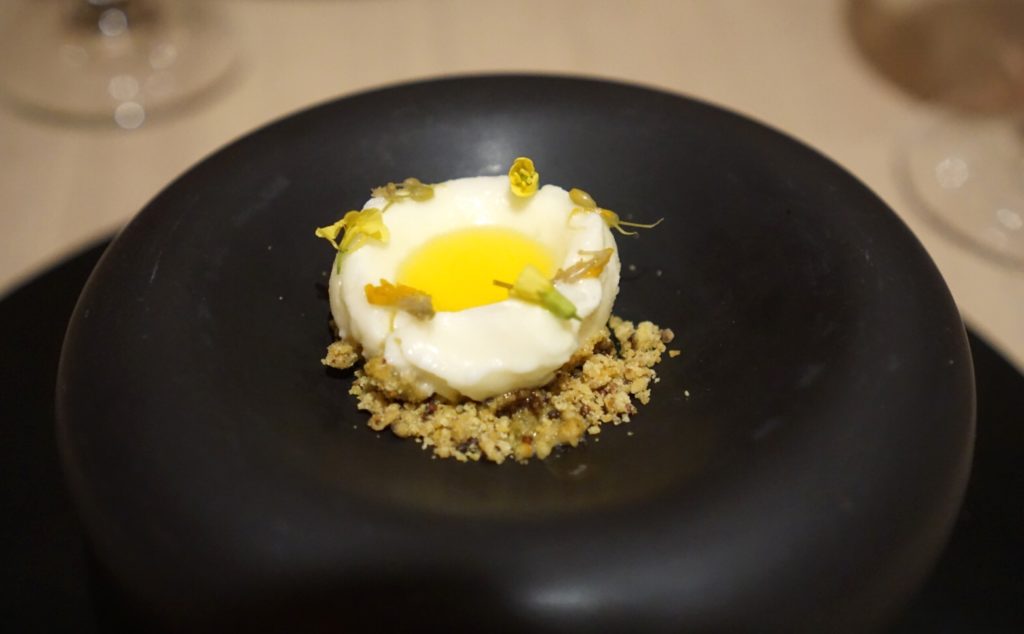 Rapeseed This palate cleanser was served with honey and mustard flowers. To be honest I had a little trouble getting past the bitterness of the dessert courses.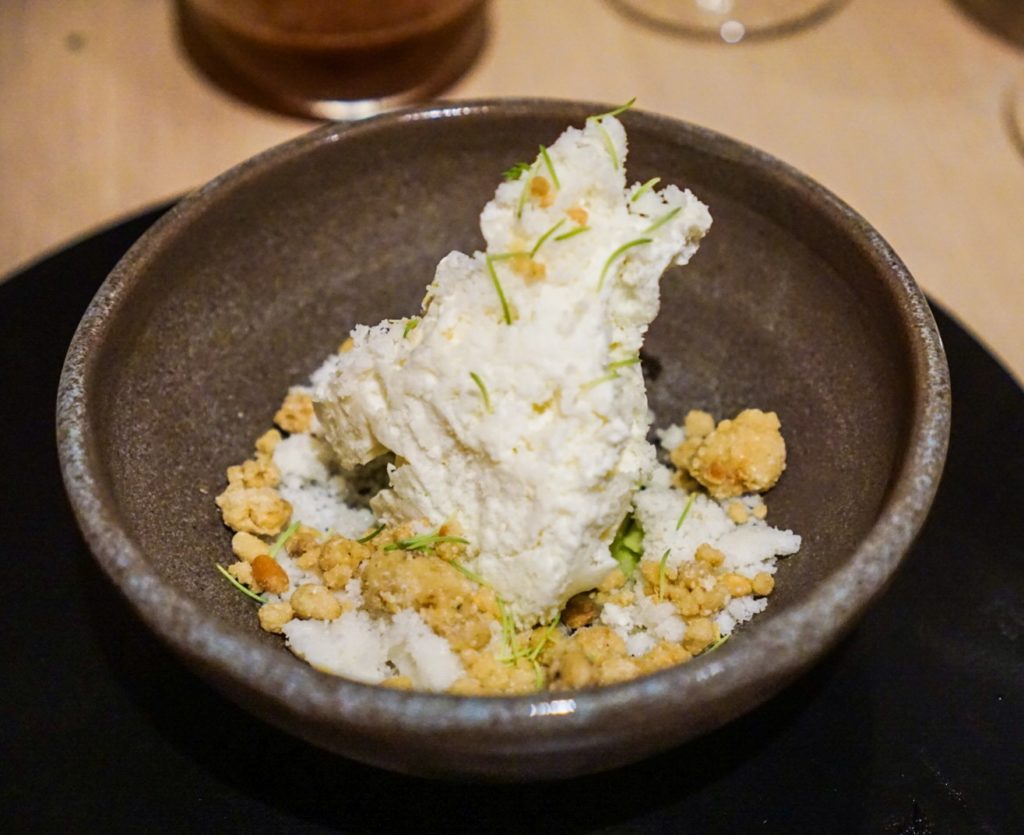 Frozen Pine Souffle I like to call this one the "Icelandic Tundra" because it looks (and sounds) like what you would find if you took a shovel to a forest in Iceland. The nutty, piney taste is also kind of what you would expect. It's better than that of course, but nothing you'll strongly feel the need to eat again.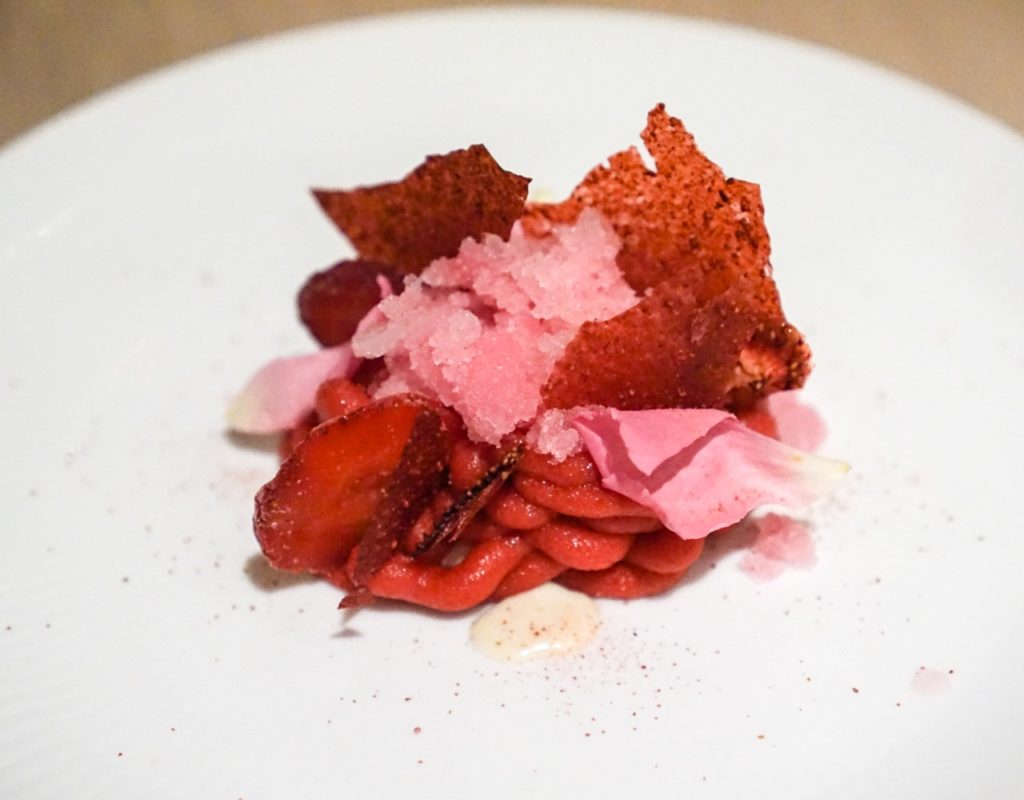 Strawberries We ended up receiving a bonus dessert not on the menu which included strawberries in various states including iced, freeze dried and normal. It was a refreshing change from the pine but unfortunately the freeze dried berries were a little too hard and cold.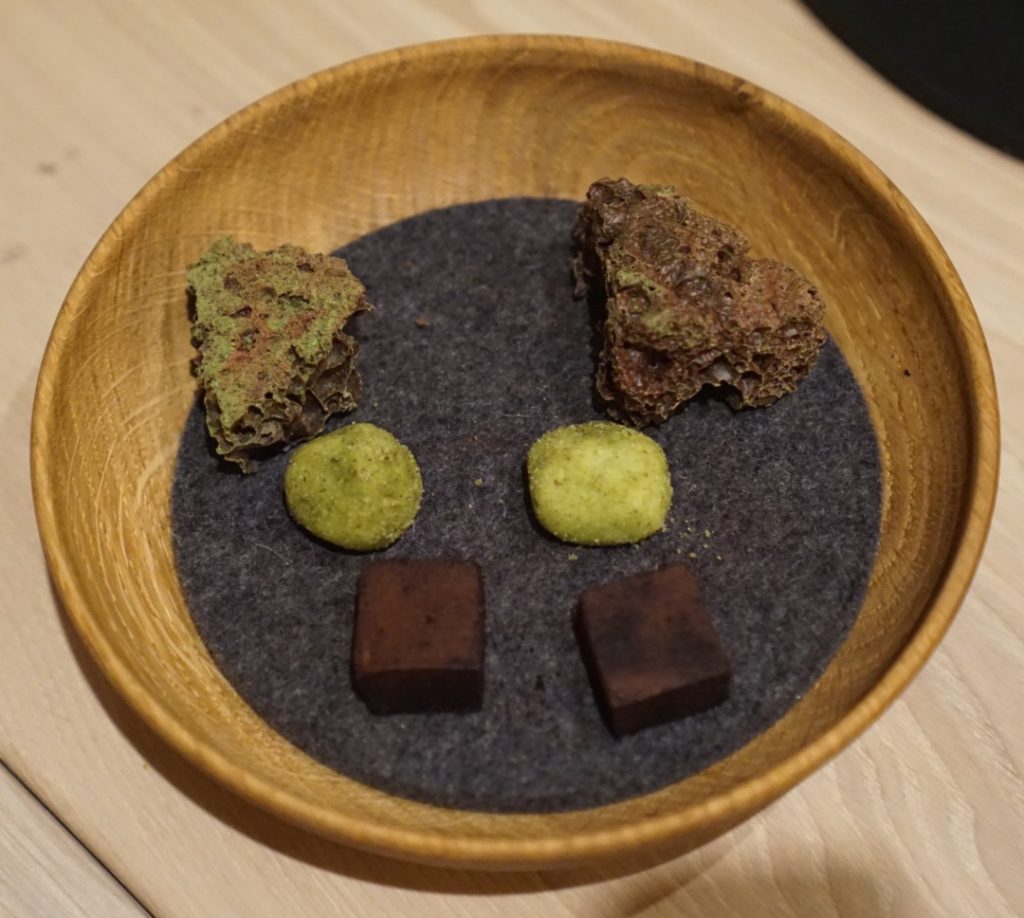 Petit Fours The meal concluded with a selection of more sweets including the moon rock-like piece of aerated chocolate, an ivy truffle and a more typical chocolate. The moon rock was my favorite.
Note: You probably noticed I decided to forgo rating the dishes. After careful reflection, I decided the uniqueness of the food here made applying my rating system like comparing the Mona Lisa to a Jackson Pollock.

Agern
Grand Central Station (Near Shuttle Passage)
New York, NY