Is it still legal to open a restaurant in Brooklyn that isn't Farm-to-Table? The answer is irrelevant at this point. But Olmsted is taking it one step further (or is it closer?) by offering – wait for it – Backyard-to-Table dining. The back garden of the restaurant is currently growing everything from carrots to asparagus and even raising a few quail and crawfish in the corner. And you can watch all it go down by having a pre-dinner drink there. On second thought, you may need several.
Chef Greg Baxtrom has previously cooked at some of the country's top restaurants including Alinea, Blue Hill and Per Se but takes a more casual approach at Olmsted. The dining room almost feels like a continuation of the garden with neutral tones and plant covered walls. The space isn't big but feels larger thanks to a design where almost no tables are actually next to each other – ideal for that awkward early in the game date. There's also seating at the bar or a counter overlooking the surprisingly tiny kitchen.
The cooking showcases the skills Baxtrom picked at his previous employers – at a far lower price point. The menu is divied up into snacks, small plates and entrees with everything under $25. You will probably need a few dishes to fill up so it's not exactly cheap eats, but it's a steal for the quality.  The menu descriptions are pretty minimal, so be sure to ask your server for the deets on what you're getting. Ours was very knowledgeable and enthusiastic, rightly steering us towards some things we may not have ordered. Overall, I was impressed with Olmsted's ability to bring something different to the New American / Farm-To-Table scene where most restaurants have become essentially interchangeable. It belongs on every foodie's hitlist.
Here's what we tried: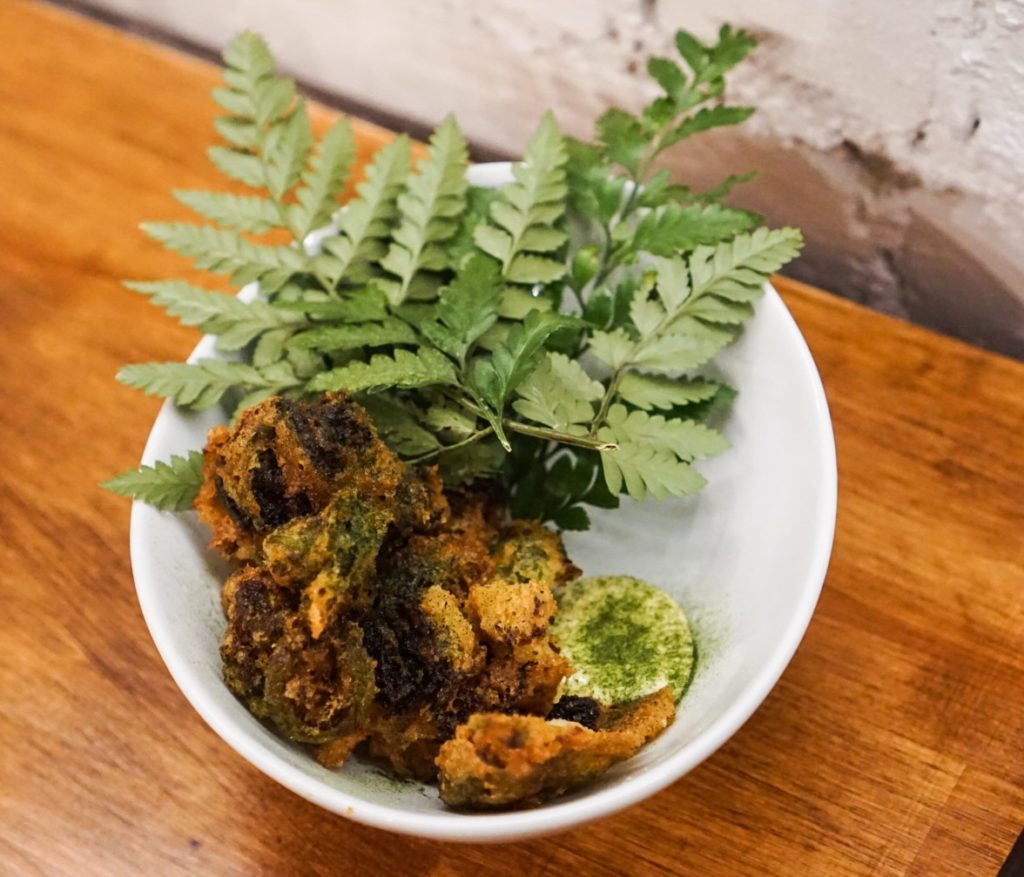 Fried Fiddlehead Ferns 

Excellent seasoning that starts the spicy / salty /tangy party in your mouth. But with a name like fiddlehead, what did you expect?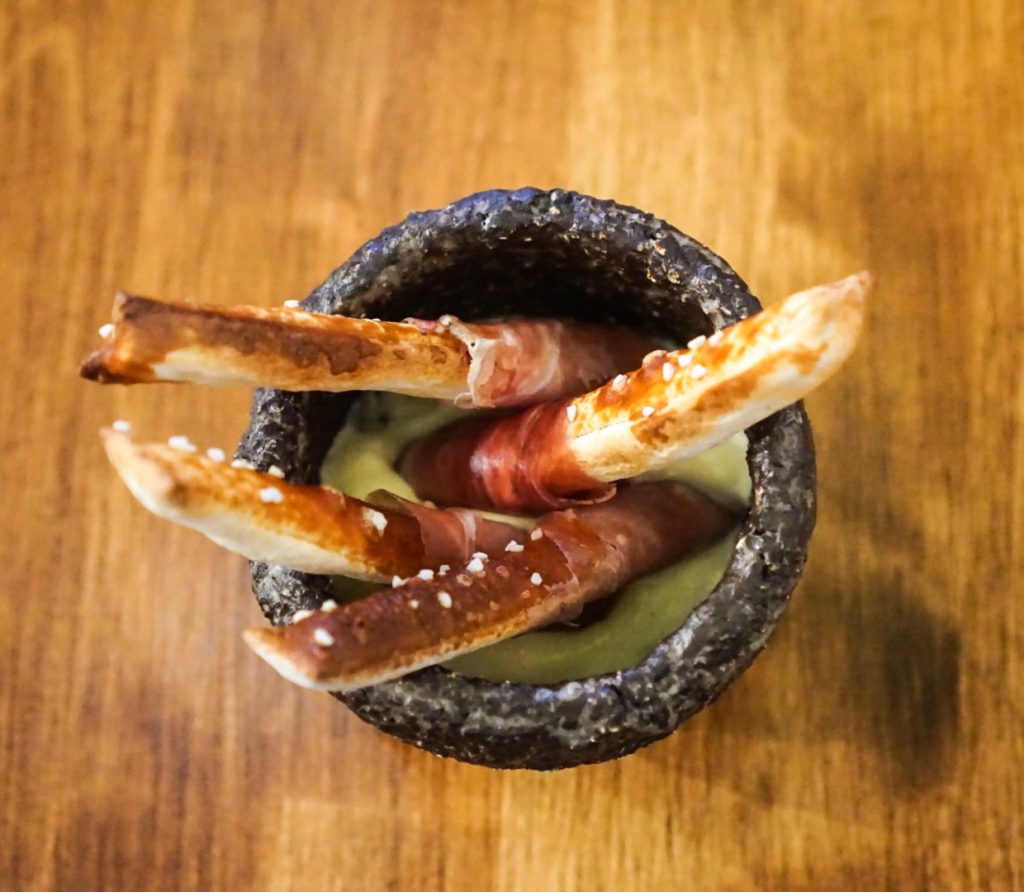 Charcuterie Pretzels 

The lamb comes from a local purveyor in Westchester and is like a meatier prosciutto. It's wrapped around housemade pretzels that are the perfect blend of crispy and airy. Scoop some creamy dijon mustard on it and you've got the perfect snack.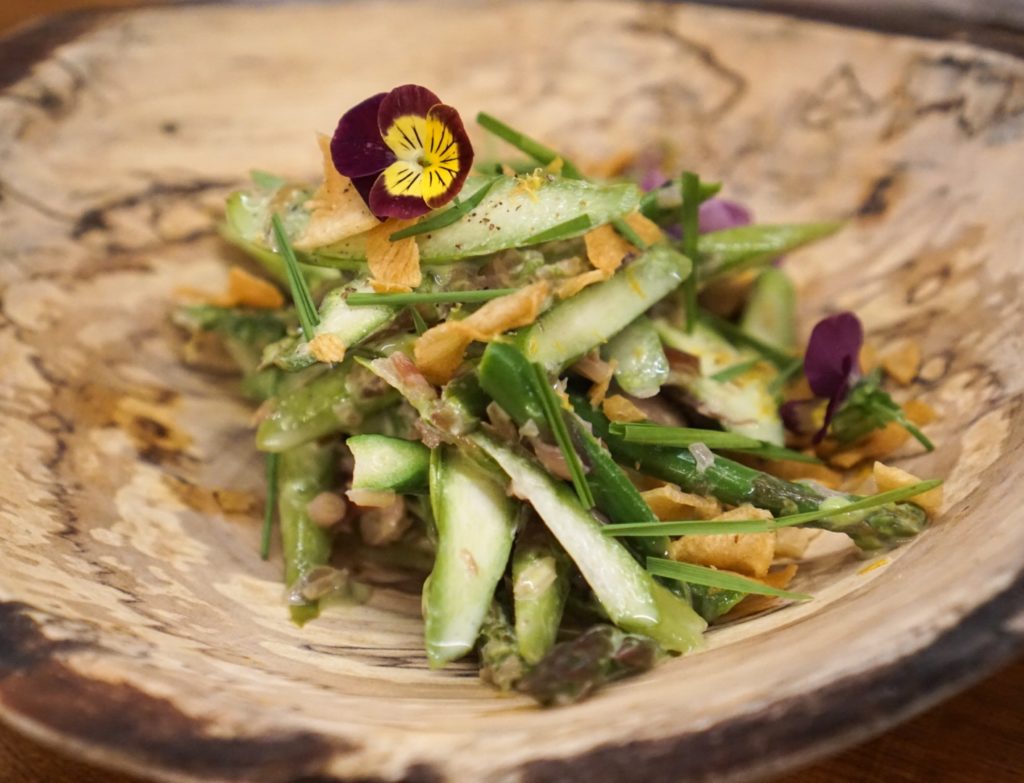 Crunchy Asparagus Salad

Asparagus is a vegetable that I have trouble getting excited about. But thinly sliced, fresh from the garden with some fried garlic makes this guy a must try.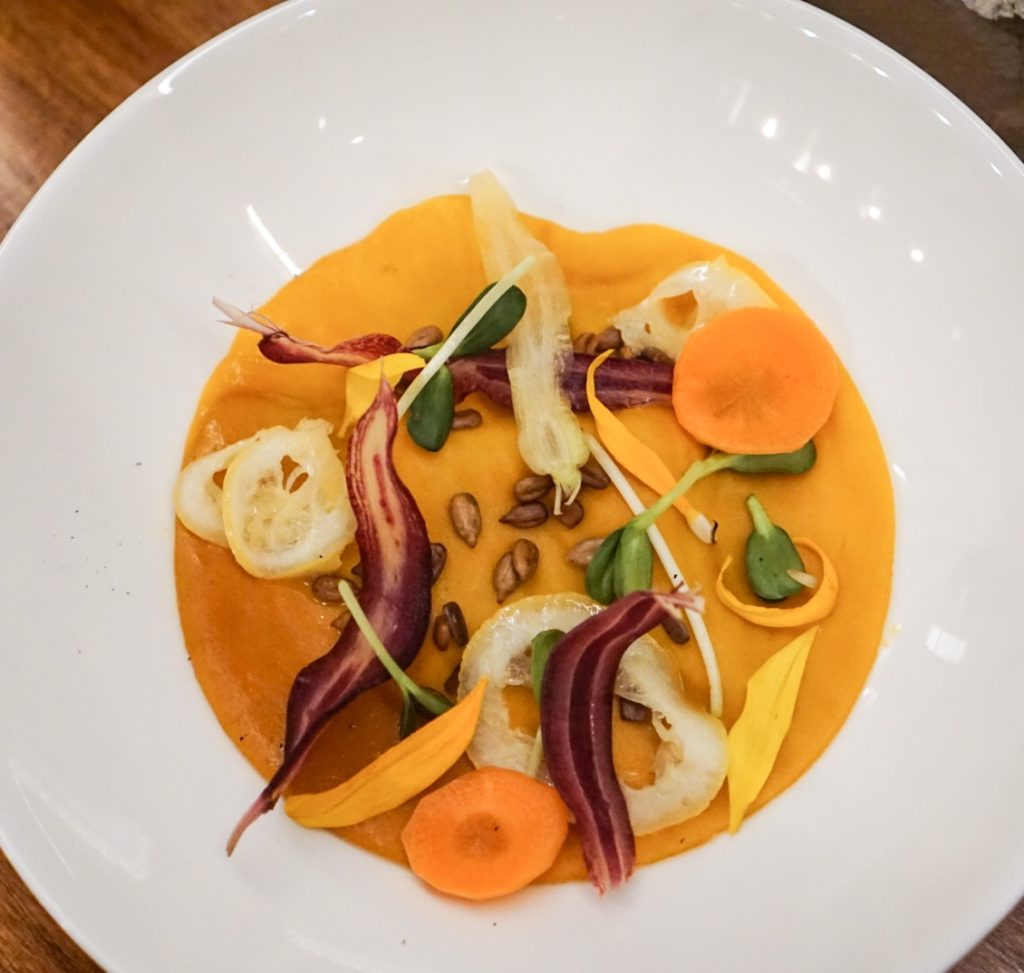 Carrot Crepe

A giant crepe engulfs clams and sunflower with a few additions from the garden on top. The flavors combination is interesting, but the buttery sauce overpowers what could have been a brighter dish.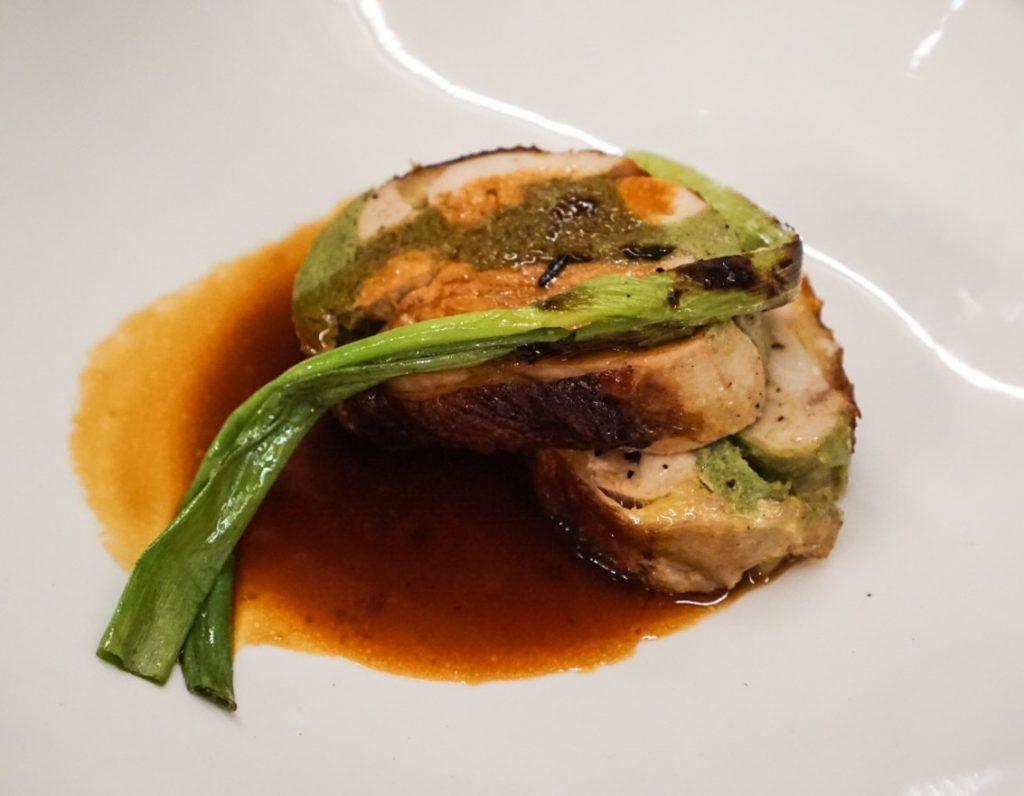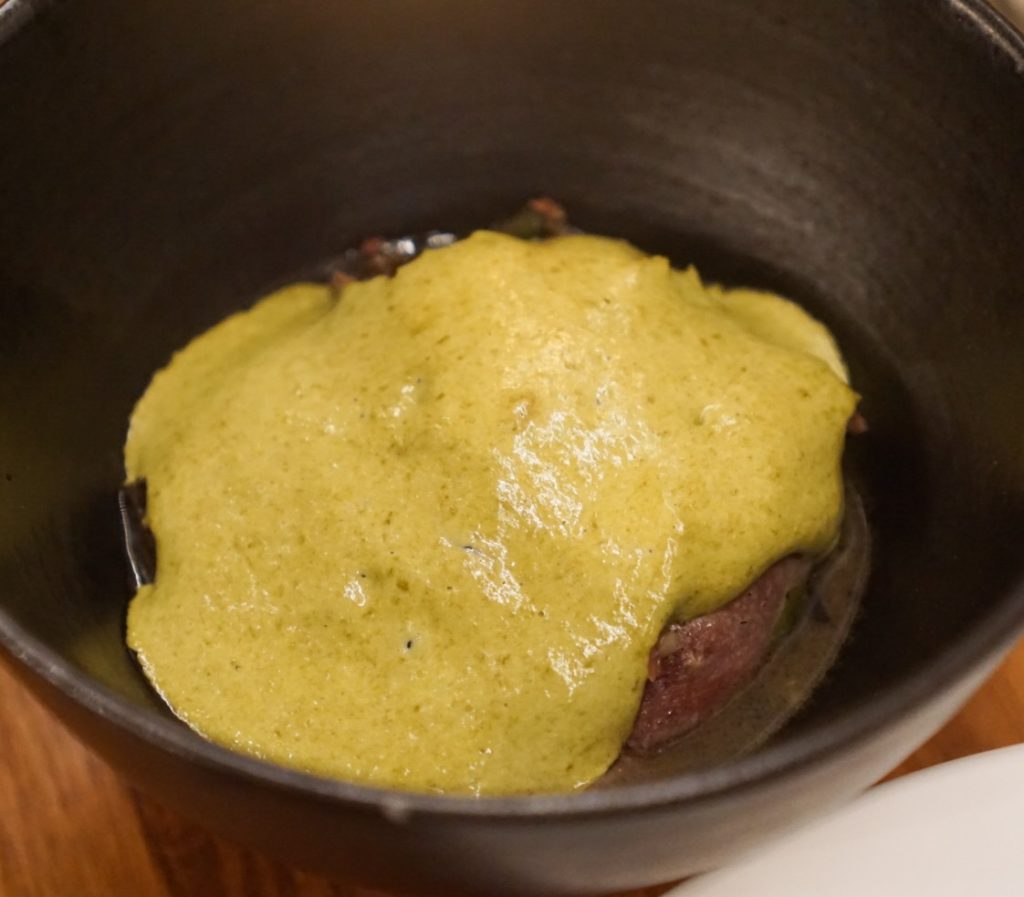 Guinea Hen Roasted and Confit

The hen arrives in two parts (seen above). On top is the roasted breast which is tender and served with a ramp in its own jus. The bottoms is the confit legs which come with morels in a dijon and morel sauce. Both are fantastic and make this probably the best quail dish in the city.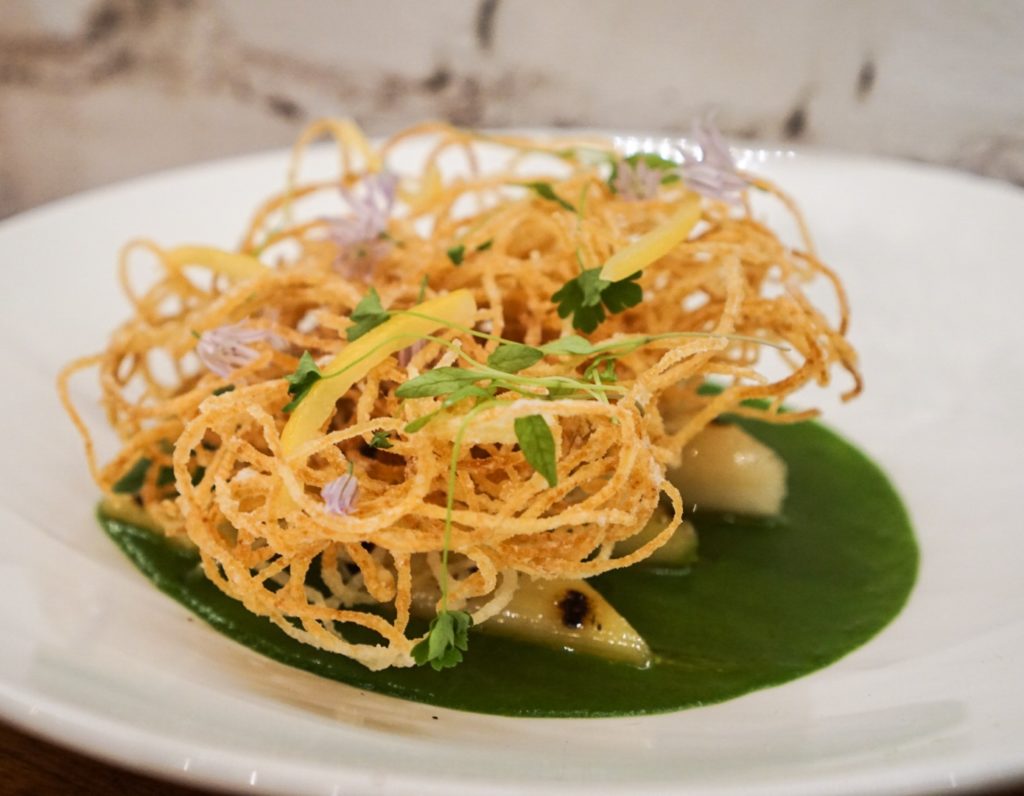 Young Leeks
One of the few vegetarian options, this vibrant early summer dish comes in a parsley veloute with crispy potato on top.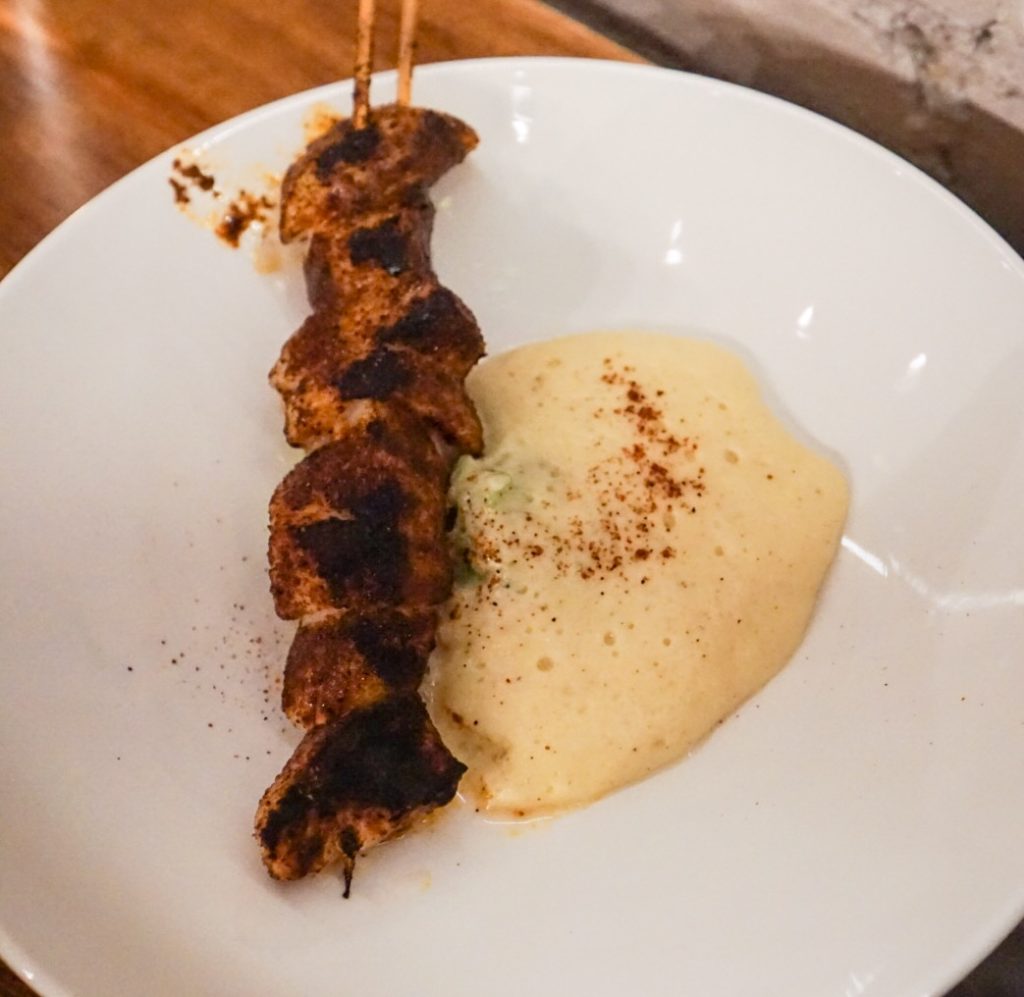 Dry Rubbed Scallops

The only miss of the night. The rub on the scallops lacked any real flavor beyond salt and heat.
Right Amount for 2? 2 snacks, 2 smaller plates, 2 large plates
Olmsted
659 Vanderbilt Avenue
Brooklyn, NY