Why Come Here? Tiki bar atmosphere, tropical drinks that aren't too sweet, vegan Polynesian fusion cooking
In case you missed the memo, last year was the year Vegan restaurants became hotter than a flaming kale stalk. I'm nowhere near handing in my omnivore card, but I have to admit it's easier than ever to not "miss the meat" in NYC. And now we have what I believe to be our first vegan Polynesian restaurant / tiki bar, Mother of Pearl.
Mother of Pearl has everything you expect from a South Pacific themed establishment from the multi-colored lighting to palm lined walls and, of course, tropical themed cocktails. And the latter is where this Pearl really shines. While the cocktails certainly tend toward the sweeter side, they manage to resist the typical tiki urge to ruin them with excessive sweet or sour (or both.)  Everything we tried was well balanced and enjoyable. That said, the one you'll want to make sure to have on your table is their signature Shark Fin (below.) Yes, that's a shark cup with a "blood" syrup poured over it. And unlike every other drink that comes in an animal cup, it's actually really good.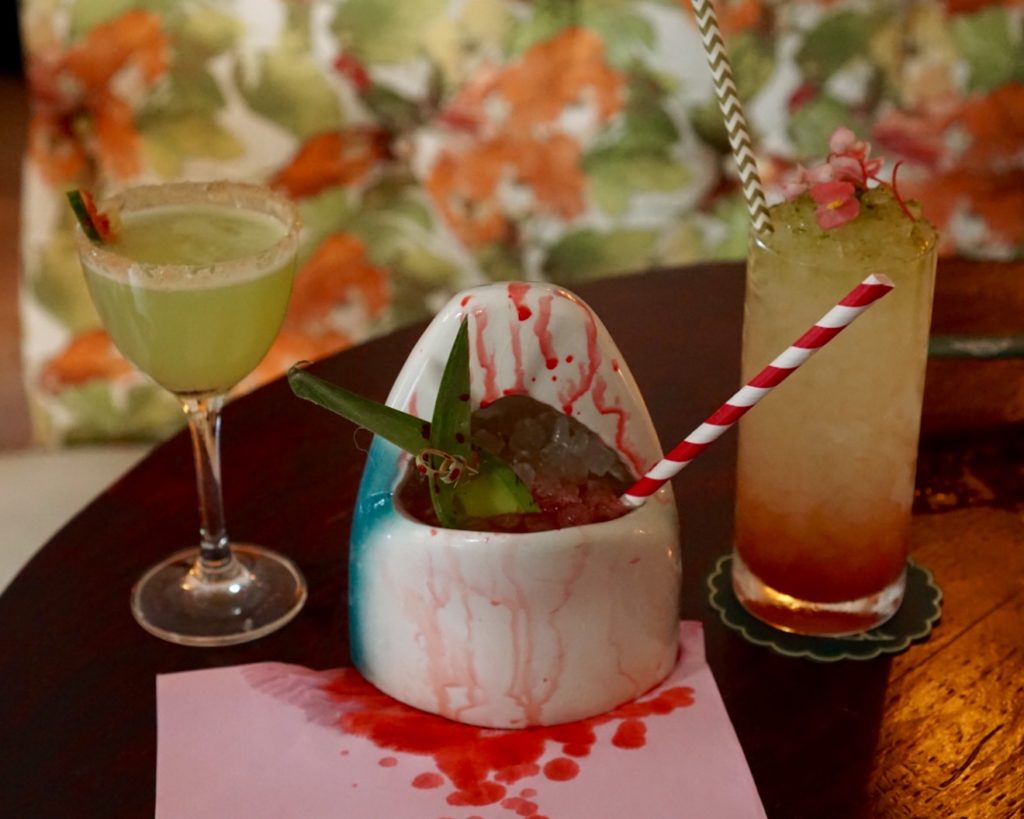 The menu is presented tapas style and features some unique representations of South Pacific cooking. If you're not sure what that means, it's basically Southeast Asian with more exotic fruit. The food is definitely enjoyable and something different, but left wanting to like it more more. Given this and some annoyingly hurried / inattentive service (my shark sat empty for 15 minutes, hence the blood), I recommend a full meal here only if you strictly go to vegetarian or vegan restaurants. Otherwise it's best to grab a cocktail at the bar and share a few bites. Here's what we tried: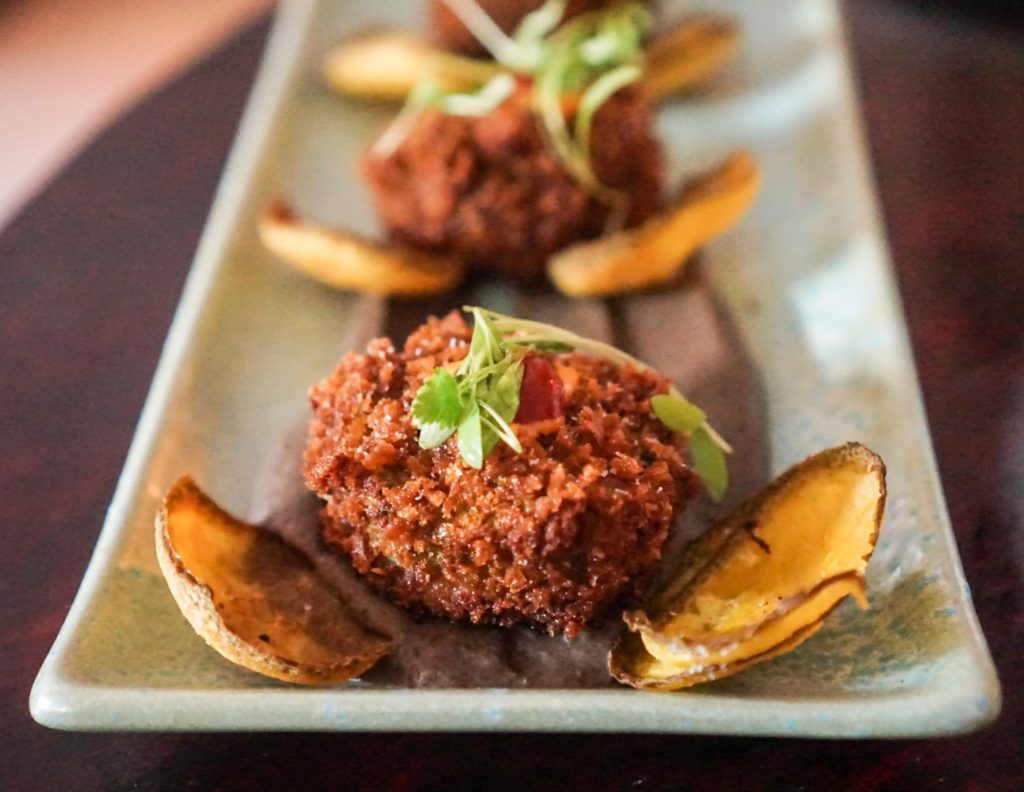 Fried Guacamole
 As soon as we saw it, there was no question this was coming to the table. Guac is fried in a croquette, with a black bean puree and plantain chips to scoop it up. Winner.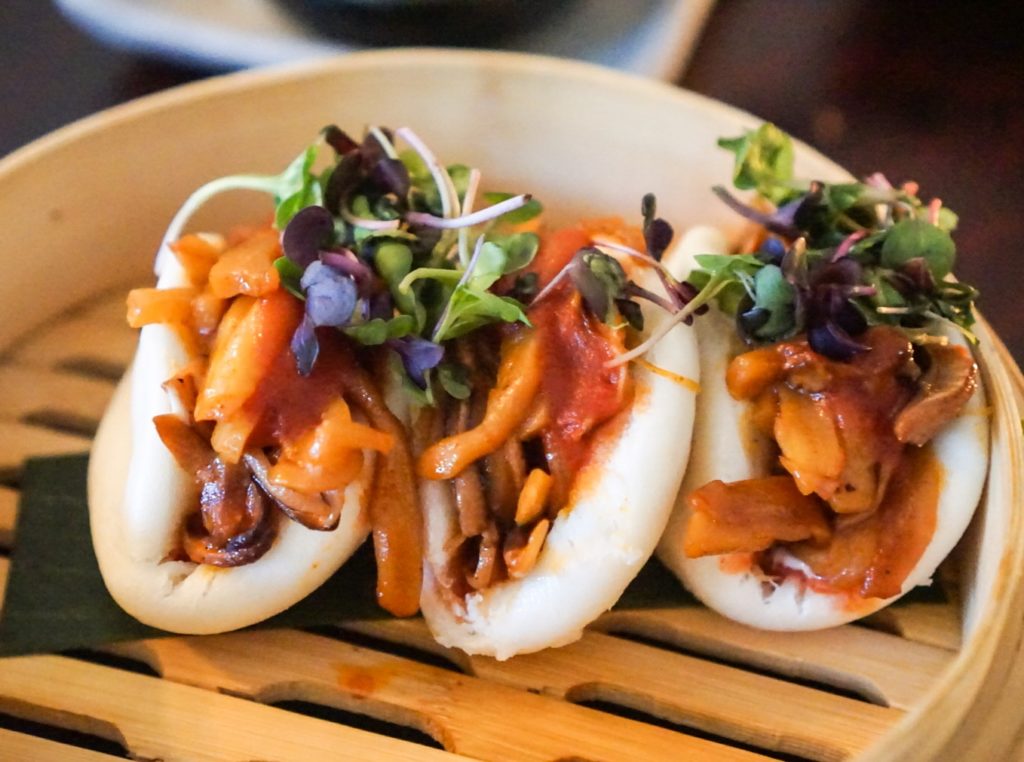 Jackfruit and Shitake Steamed Buns
Vegan blogger LetsNomNom tells me jackfruit is the new vegan pulled pork substitute. Sliced and braised, it has some of that texture though lacks some chewiness. It comes braised in a ginger aoili and five spice ketchup which gives it a Chinese bbq taste. Plus it's not like can say no to buns.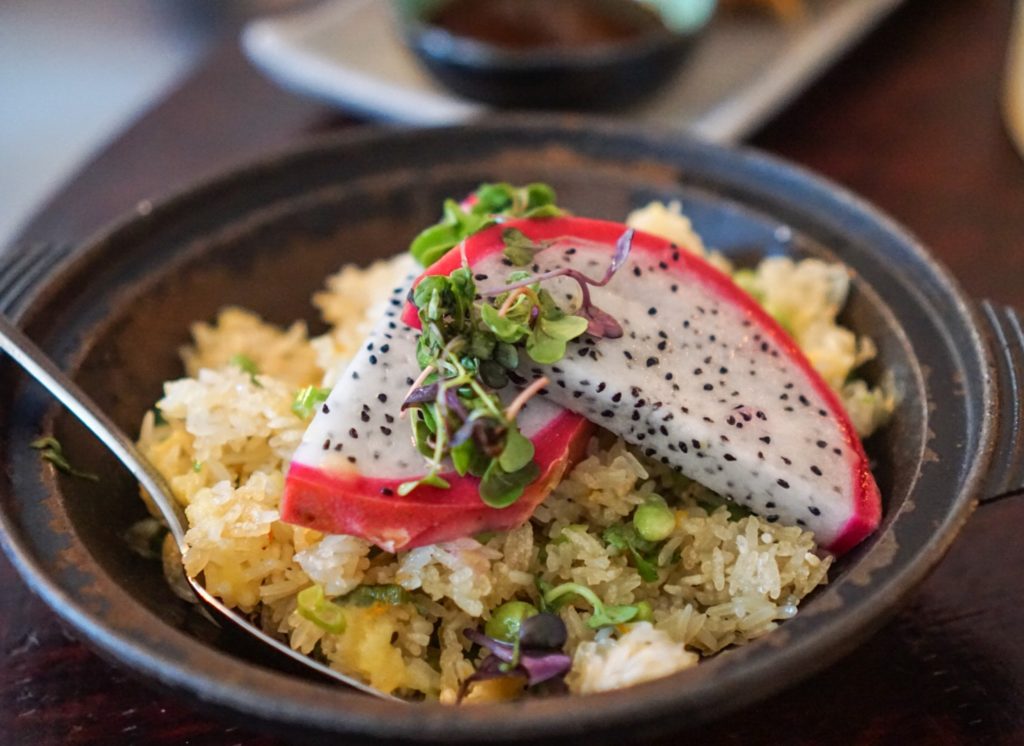 Rum Fried Rice

The rum makes the rice very sticky, sort of like the bottom of a paella. It comes topped with dragon fruit which I'm pretty sure is just there to make it more colorful since it doesn't have much taste. The rice a little sweet and sour with a distinct orange flavor.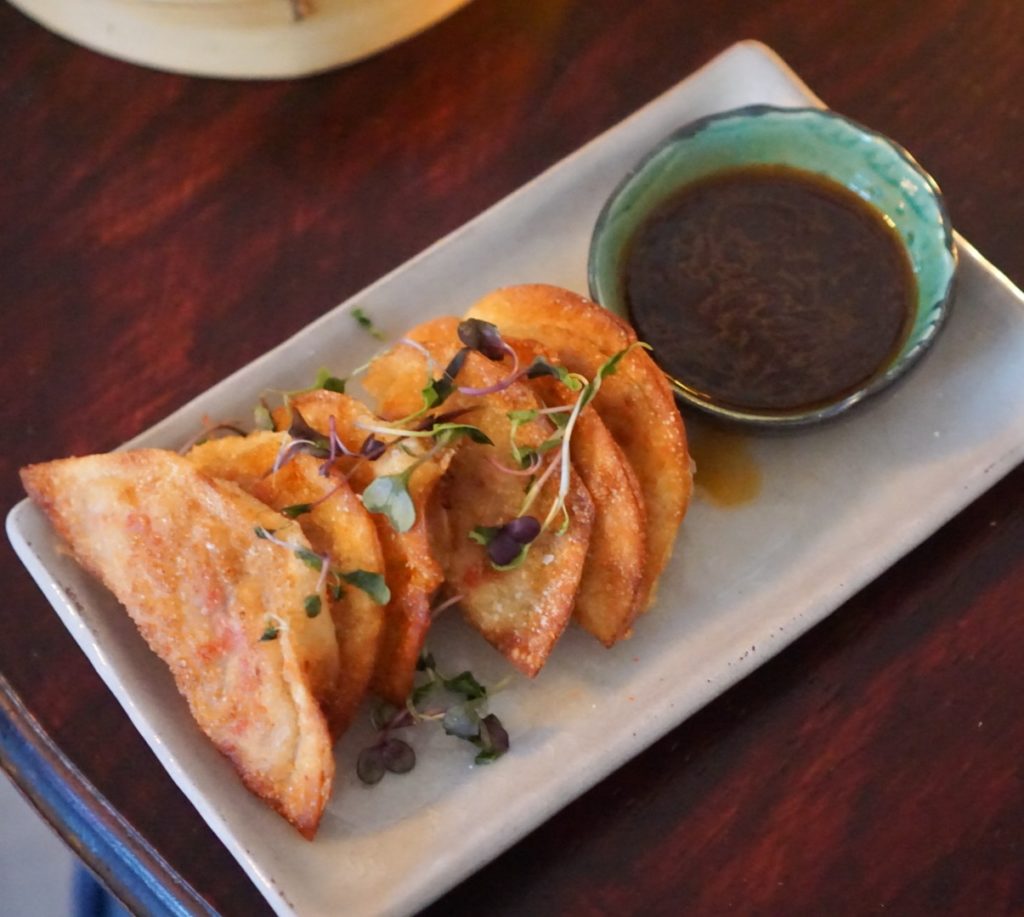 Lychee Potstickers

I enjoyed the crispy wrapper and black vinegar, but barely noticed the lychee and thai basil inside.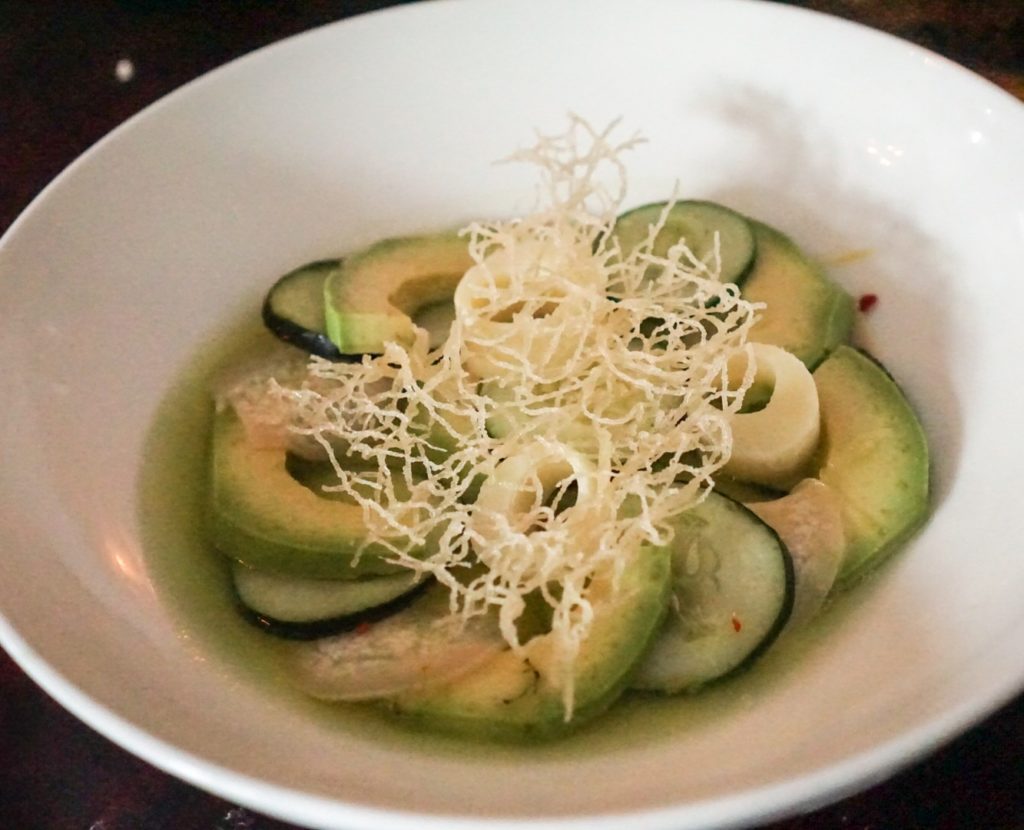 King Trumpet Mushroom Crudo 

Challenge: can you find the fungus in this dish? Good luck considering three food writers had to ask the waitress whether the kitchen forgot to add them. The mushrooms turned out to be those thin white chips doled out as if Pearl had secured the last reaming supply on earth. So despite the description (which didn't list either ingredient), this is really a bowl of avocado and cucumber. I hate to throw a goose egg, but I really felt duped on this one.
Right Amount for 2? 3 dishes