Why Come Here? Fantastic Detroit Style Pizzas, One of NYCs best burgers
For about two years, I (and much of instagram) have been singing the praises of a pizza and burger at a restaurant simply called Emily. But sadly it's located in Clinton Hill, a region I'm just don't find myself travelling to very often. So you can imagine my excitement when Emily & Matt Hyland announced the opening of their second restaurant – Emmy Squared – in my own neighborhood of Williamsburg. After two early visits, I'm glad to say this sequel does not disappoint.
Like Emily, the menu is heavy on pizza with an incredible burger to wash it down. But the similarities end there. Whereas the original featured Neapolitan pies, Emmy Squared goes with Detroit style, a variety apparently little known even to Motor City residents. As I assume you too are unfamiliar here's a quick tutorial. Detroit pies are square shaped – ergo the restaurant's name – but with a thinner crust than the traditional Sicilian quadrangle. But the real differentiator is how they are cooked. The oven has two different temperatures on top and bottom. This allows the crust to be thoroughly crisped without burning the cheese. Sounds good, right? Toppings range from well done standards like pepperonis and mushrooms to fancier fare like truffles and hatch chilis. Some work better than others, but none will leave you disappointed.
While the pizza is the main event, there are some other interesting options as well. A collection of sandwiches including fried chicken and meatball parm create some lunchtime intrigue. There's also a small starter section composed mainly of salads but they do throw in some cheese curd covered tater tots to balance them out. The burger is currently a special certain days, although there are plans to open a separate burger bar downstairs. Expect to see me there far more often than is healthy.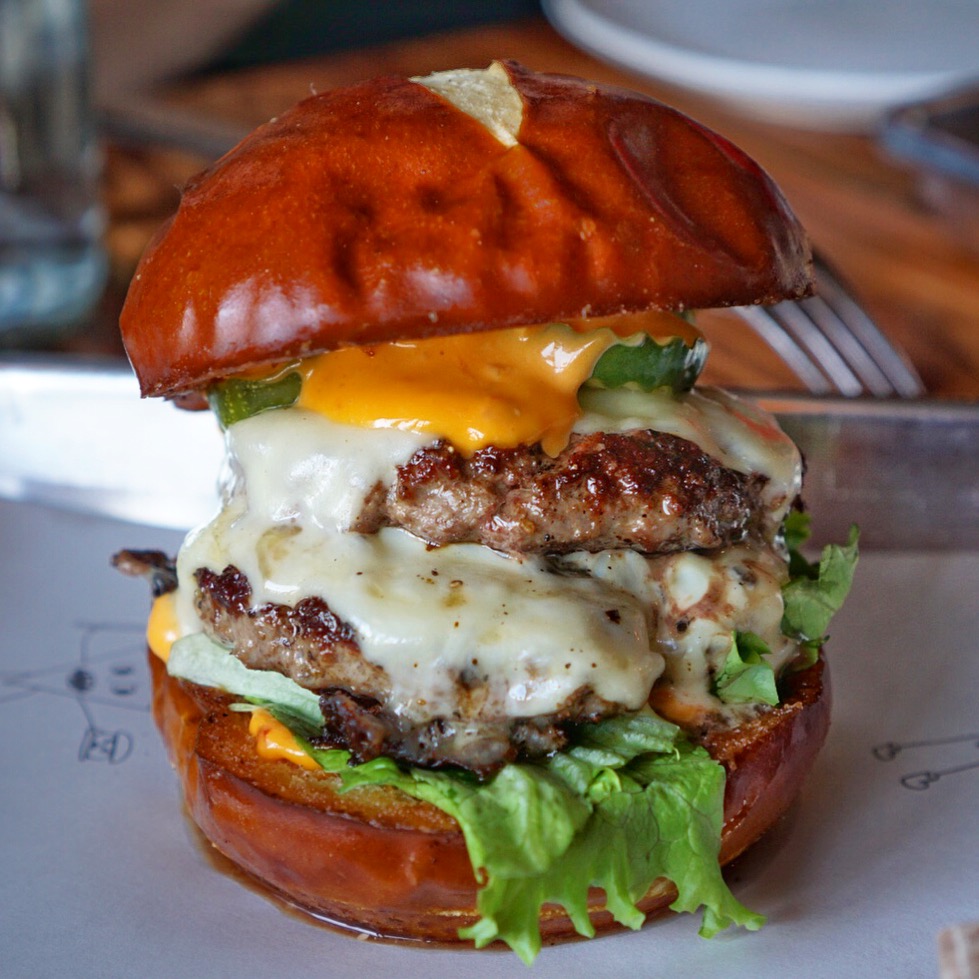 Roadside Burger

 The classic burger from Emily is my favorite in NYC. But this guy is close. Two patties covered in pickles and their spicy special sauce on a pretzel bun. It's currently only available as a special but if it's offered, you officially have no choice.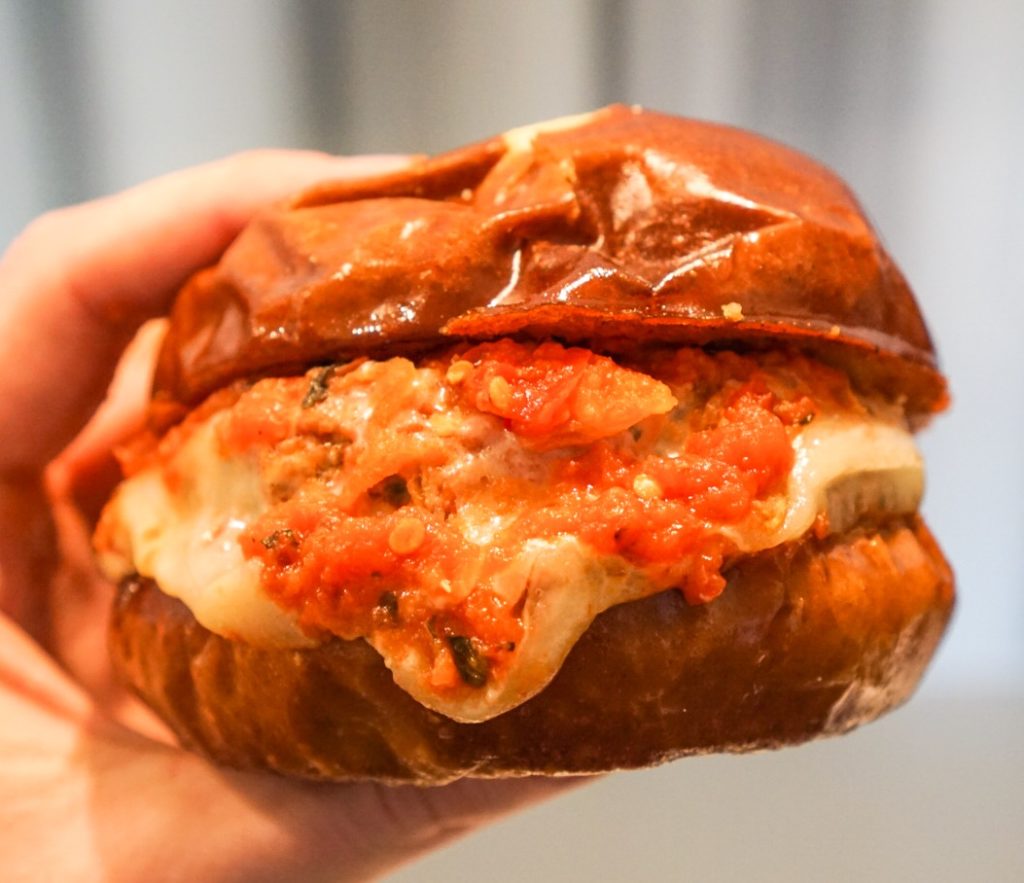 Spicy Meatball Sandwich

 A very good spicy marinara and tasty meatball patty on their incredible pretzel bun.
The Emmy

When you name a pizza after the restaurant, it better be amazing. But since it's Emily, you knew it would be. This one is covered in banana peppers and onions with just a hint of ranch dressing. Oh and there's some marinara sauce on the side because that always makes things better.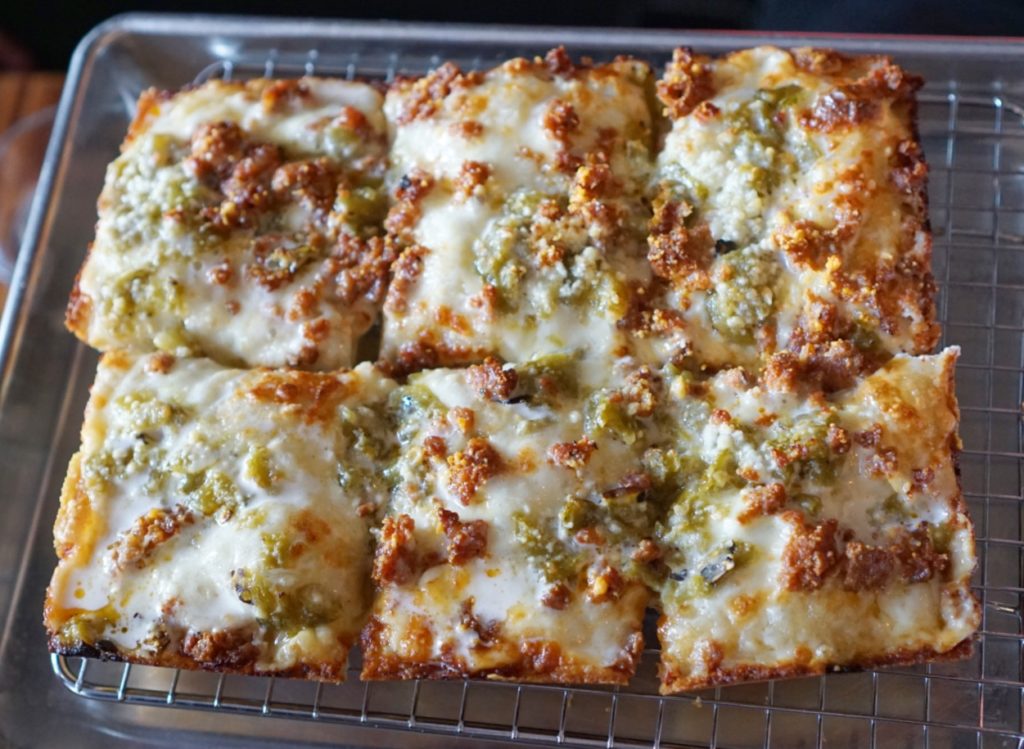 Hatchback

 Hatch chilis, chorizo and crema sounds like the kind of weird pie you might experiment with in New Mexico. But there's something to the meaty-spicy combination that makes it an unexpected winner.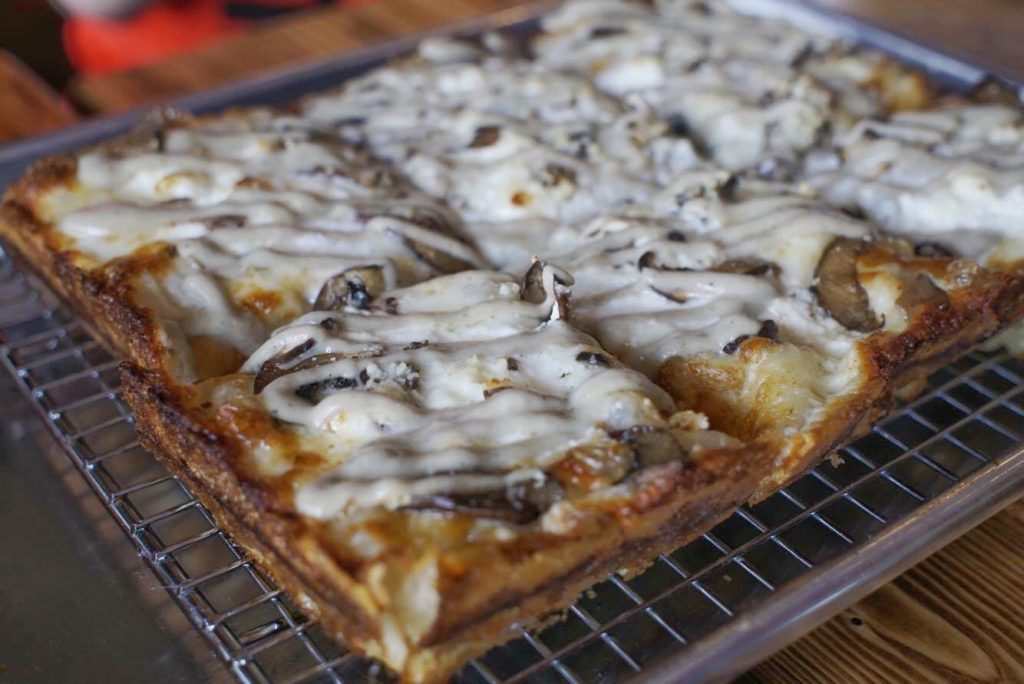 Photo Credit: Jill Rittymanee
Angel Pie

 It's a mushroom pie with truffle cream. Nuff' said.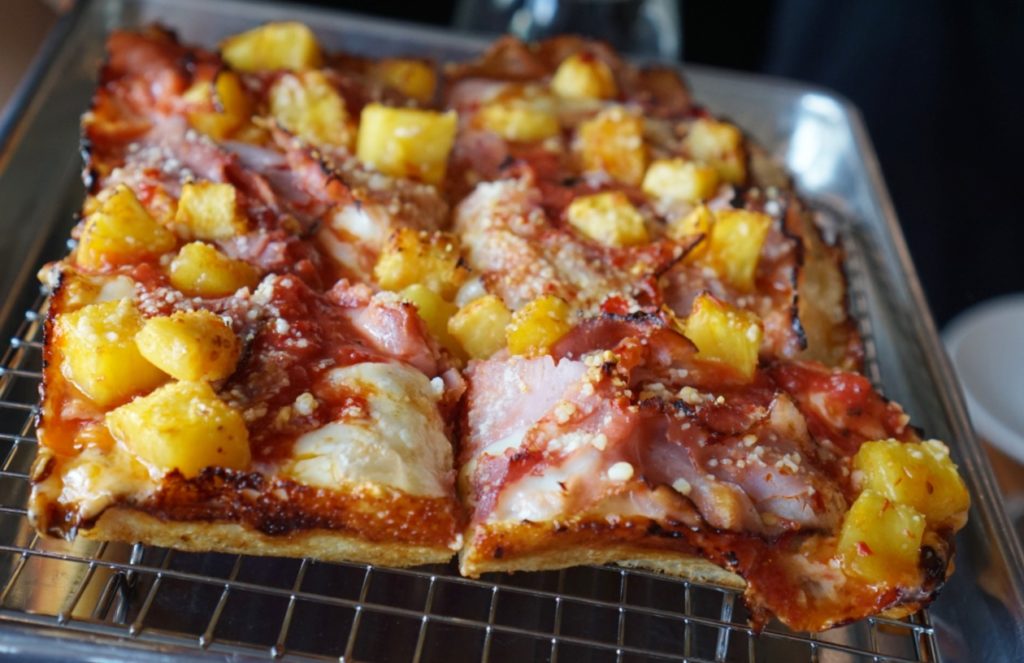 Lou-Wow
 I'm not normally a fan of Hawaiian style pizza, but by making the pineapple spicy it relieves some of the unpleasant sweetness. I probably won't order it again, but it is the best Hawaiian I've ever had.
Right Amount for 2? Two Pizzas
Emmy Squared 
364 Grand Street (@ Marcy Ave.)
Brooklyn, NY