Why Come Here? Unique and excellent Thai cooking is a gorgeous palatial setting
Most Thai restaurants in Manhattan offer a similar assortment of overly sweet stir frys, under-spiced currys and uninspired noodles in something that resembles the lobby bar of a not-as-trendy-as-it-wants-to-be hotel. The few that don't tend to be clustered in a handful of locations such as the East Village or Hells Kitchen. So when you come across a Thai restaurant that is pleasant to dine in an has an excellent kitchen, it's something to get excited about. Well Upper East Siders, it's time to get excited.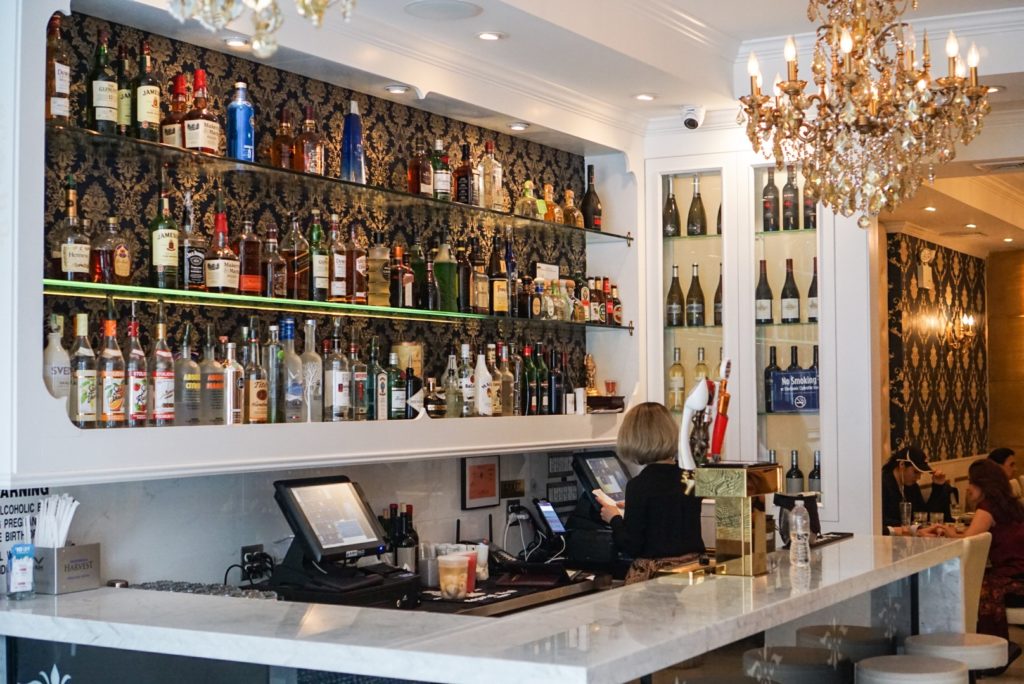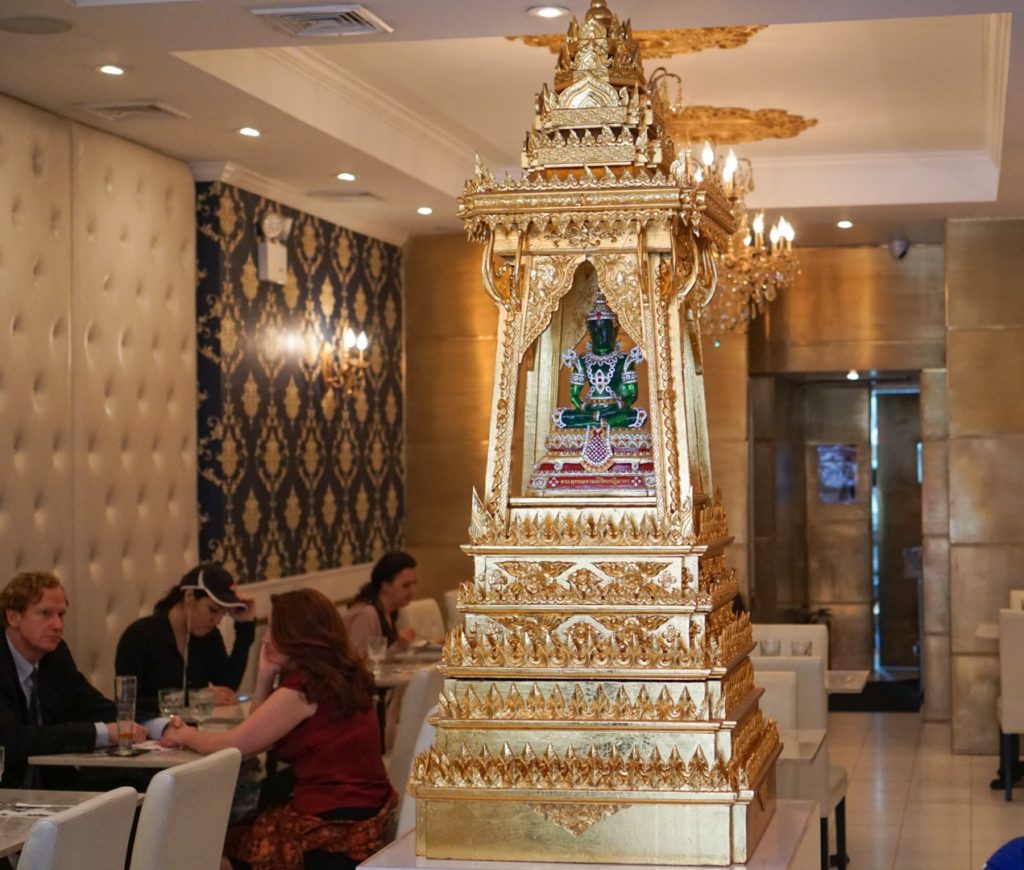 Step into Bangkok Cuisine and you immediately know you've entered some place different. The waitresses are dressed in royal Thai dresses. The dining room evokes the elegance of a Thai Palace with marble decor, crystal chandeliers and a gold and emerald buddah as its centerpiece. The front bar area includes similar features but a soothing waterfall and large portrait window create a more casual vibe. It's a beautiful space perfect for a date or dining with parents yet still relaxed enough for a night out with friends.
Equally impressive is what is coming out of the kitchen. Chef and Owner Tee Siriprakaisak blends French cooking techniques with traditional Thai cuisine to create his own unique style. This leads to some tantalizing signature dishes like the Volcano Duck, Stuffed Salmon in Panang Curry and Tom Yum Pad Thai. I also appreciate his commitment to using authentic Thai spices and herbs instead of the cheaper local substitutes. You'll notice the difference as soon as you take your first bite. As if you need another reason to come, prices are reasonable and the three-course lunch is a steal at $10. Here's what we tried: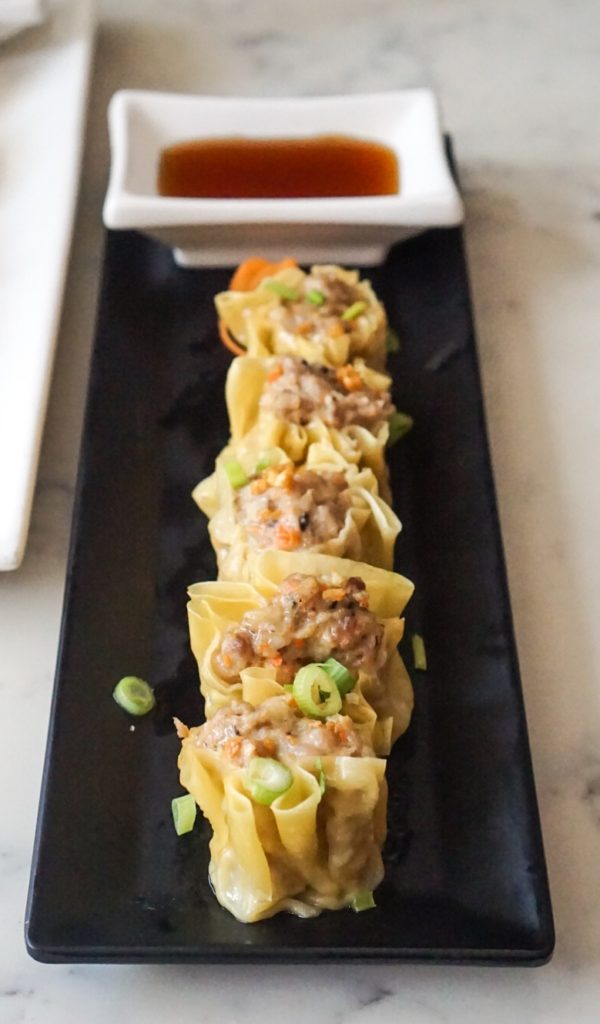 Five-Star Thai Dumplings These chicken and shrimp dumplings have some interesting Thai spices and come in a in a soy vinaigrette. Definitely a great way to start your meal.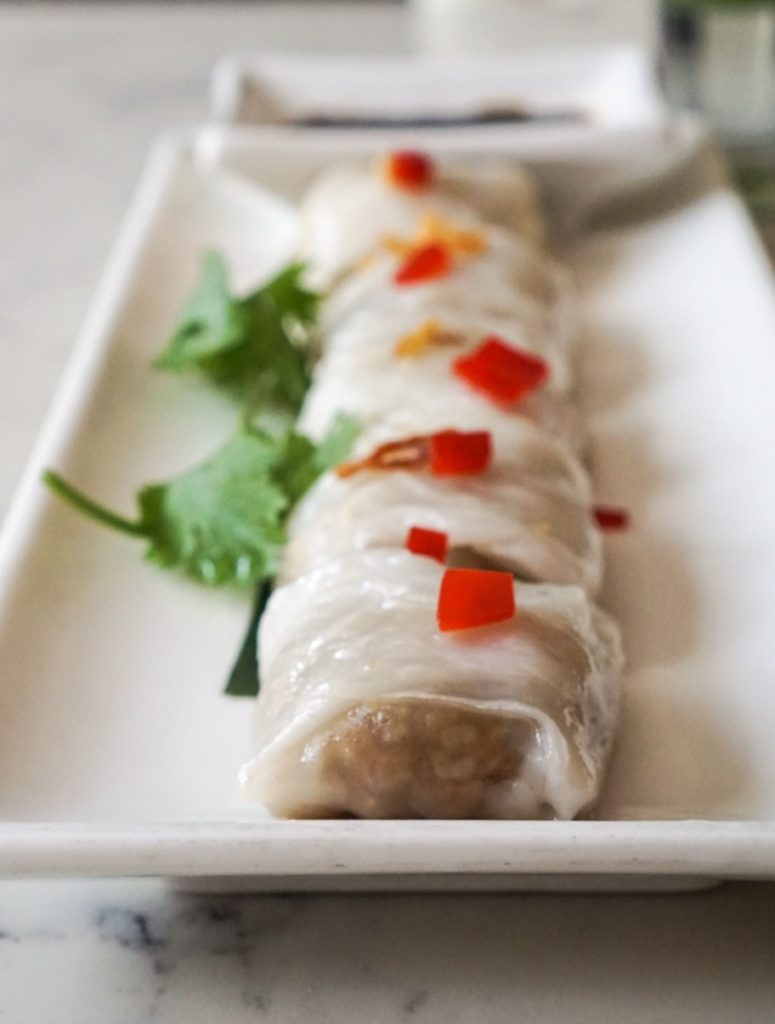 Authentic Thai Crepe A classic Thai dish rarely done well Stateside. The wrapper is a soft and slightly chewy rice paper skin which engulfs a ball of spiced chicken, shallots and peanuts. They're sort of like dumpling's lighter cousin.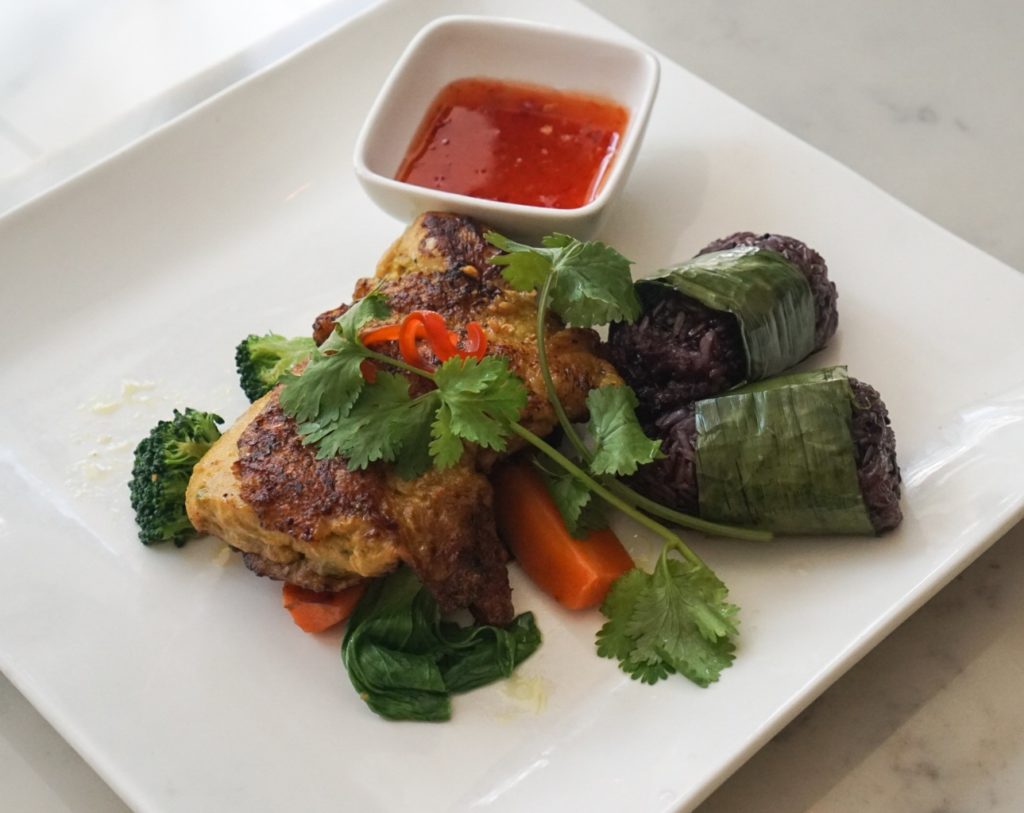 Chicken B.B.Q Despite it's simple description, this turned out being my favorite dish of the meal. The chicken is perfectly juicy and marinated in a flavorful blend of lemongrass and Thai spices. The sweet-spicy dipping sauce is surprisingly well balanced and probably the best rendition I've had. Plus I'm always excited to see black sticky rice appear on my plate.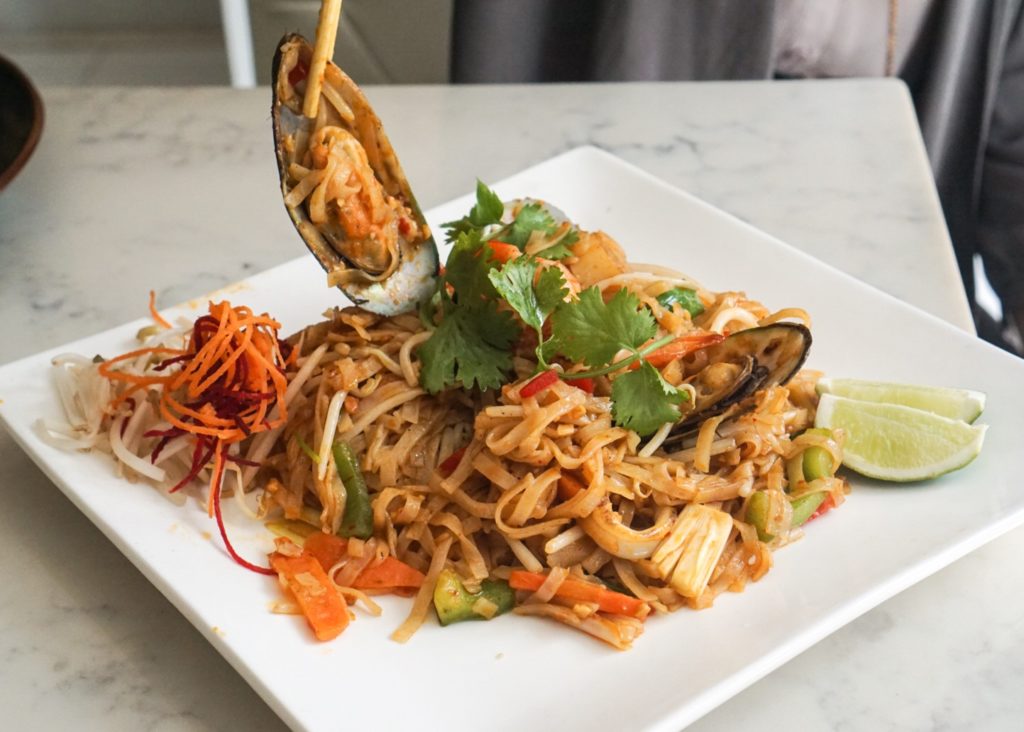 Seafood Tom Yum Pad Thai I generally consider Pad Thai the most overrated dish in the Thai cookbook. But with Bangkok Cuisine's version, forget everything you think you know about these noodles. Cooked in Tom Yum, it has just the right amount of spice. And instead of strips of dried out chicken, you get a beautiful assortment of seafood including mussels, shrimp, squid and scallops. This is another absolute must order.
Duck Tamarind A tender half duck breast sits under a wonderfully crispy skin. The tangy and slightly sweet tamarind sauce adds a lightness to the dish by cutting the richness of the meat.
Note: I was invited as a guest of the establishment and received a complimentary meal. This was not in exchange for a positive review and opinions expressed are my own.
Bangkok Cuisine
1586 Second Avenue (82nd Street)
New York, NY