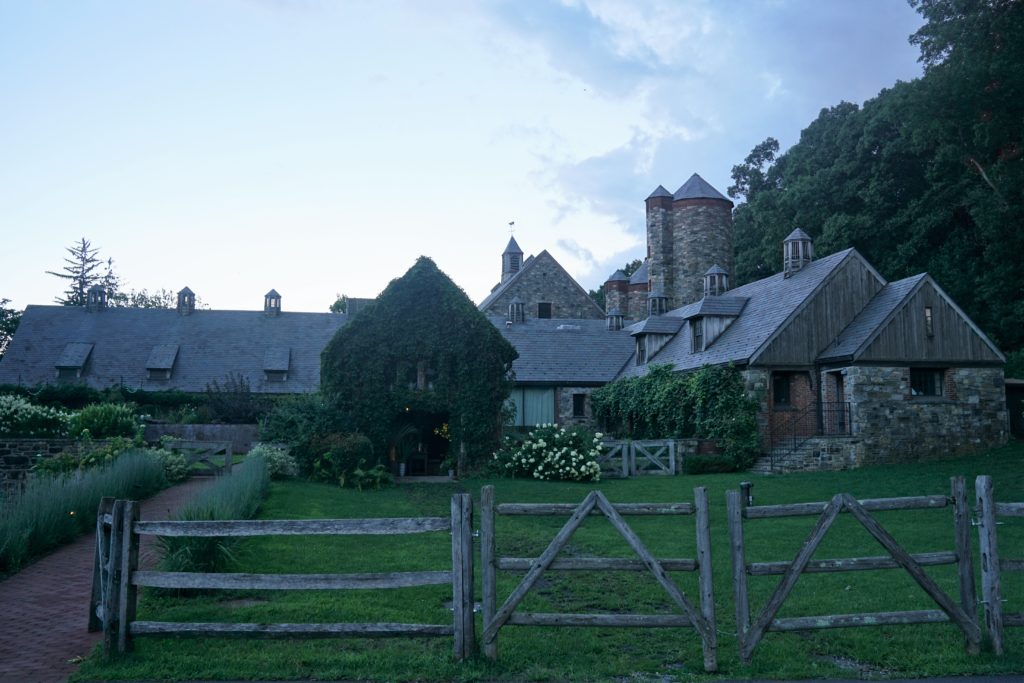 Blue Hill at Stone Barns – a Top 50 Restaurant in the World and recently named Best Restaurant in New York by Grub Street – had been near the top of my list for a long time. But the 2 month wait for a reservation and need to drive an hour north of New York to Pocantico Hills in Westchester left it lingering there for years. Until last Sunday. My advice to you is don't let the reservation process or location be your excuse. This is an experience every food lover needs to treat themselves to.
Farm-To-Table dining has been around long enough that the term has lost basically all meaning. But at Blue Hill it's exactly what you think it should be. Times a thousand. When you arrive you can choose to tour the 80-acre farm where much of the produce and many of the animals come from (Blue Hill farm in Massachusetts is the other main one). But it's not just about eating produce grown in the backyard. Chef / Owner Dan Barber works with plant breeders and labs at Cornell and Washington Universities to produce new varieties of fruits, vegetables and grains with a lot more flavor than even Whole Foods can offer. The results are incredible. Things like raw cherry tomatoes, squash and fennel actually become worthwhile snacks on their own. I recommend checking out the episode of Netflix's Chef's Table on Dan Barber and Blue Hill to learn more about his process.
Calling the experience at Blue Hill a "meal" is like calling Versailles a "summer cottage." Dinner is more like a performance of the magical things that can be done with food both in and out of the kitchen. There is no set menu and you may not receive the same items as the table next to you. You won't even eat your entire meal at your table. But you will receive fifteen-to-twenty imaginative courses of everything from bites of fresh vegetables to intricately composed plates.
It isn't a particularly hearty meal is definitely light on the meats. So if your ideal dinner is a 24oz ribeye at a top steakhouse, you might wonder why you just spent $300 on a bunch of vegetables. But if you're a foodie, the process of learning about your food as you eat it while sitting on the farm where much of it was grown is an experience you can't put a price tag on.
Below is how our meal played out, though yours will be different. I'm not going to rate the dishes because they are small bites meant to be experienced instead of chomped like a juicy burger. Also since there was no menu, all dish descriptions are based off my notes and may be incomplete.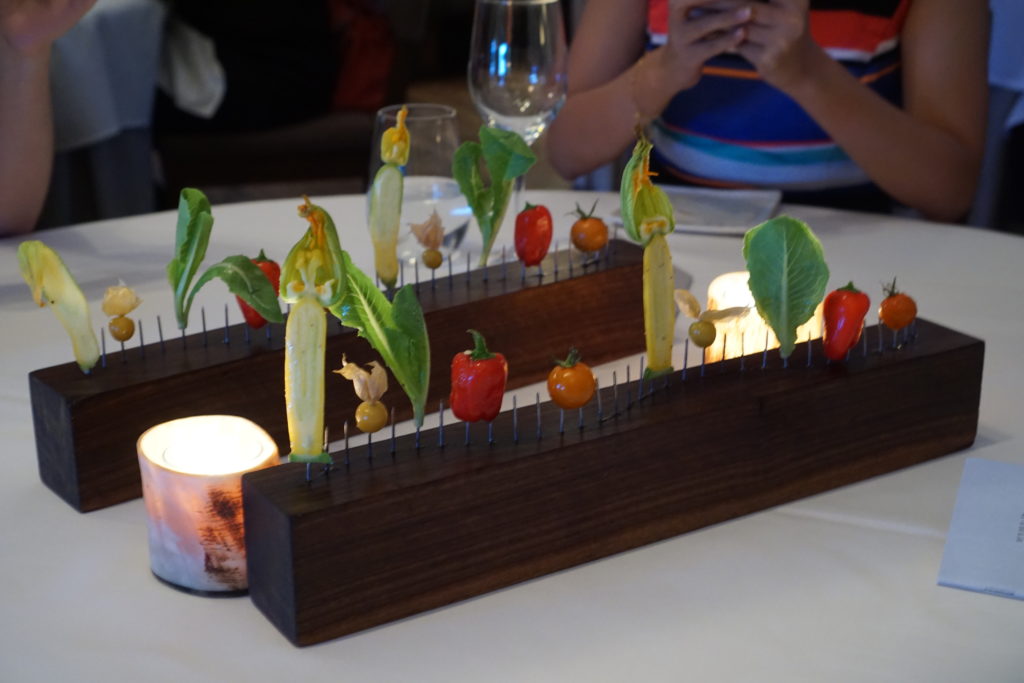 Garden Vegetable Tasting To open we received celery, cherry tomatoes and mini-bell pepper on spikes. I could make a meal of the sweet and tangy cherry tomatoes alone.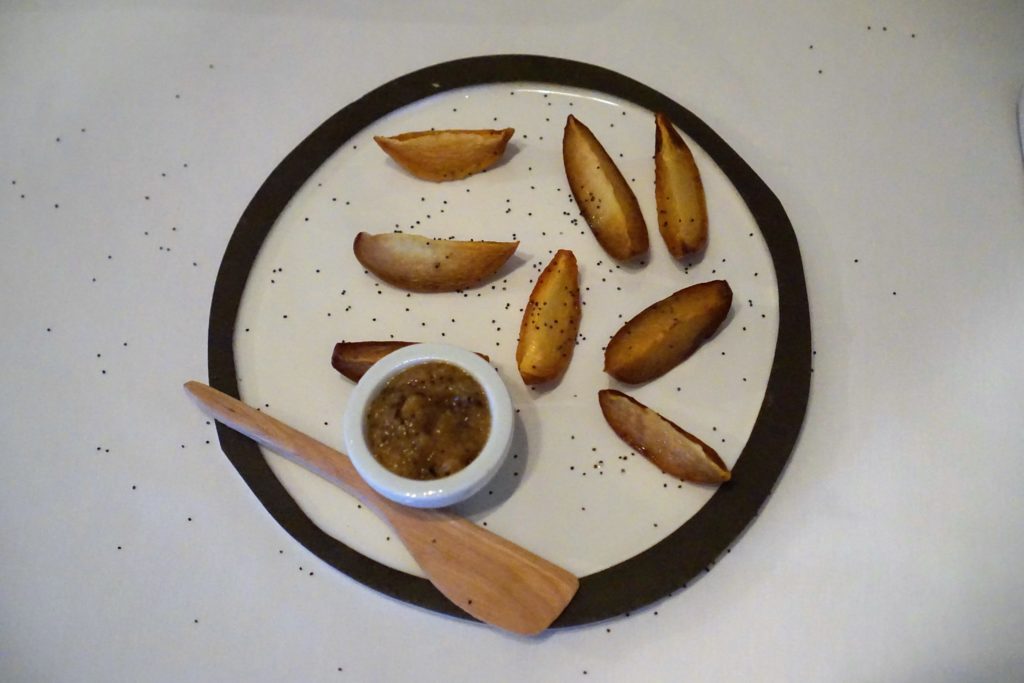 Dehydrated Peaches with a slightly spicy spreadable marmalade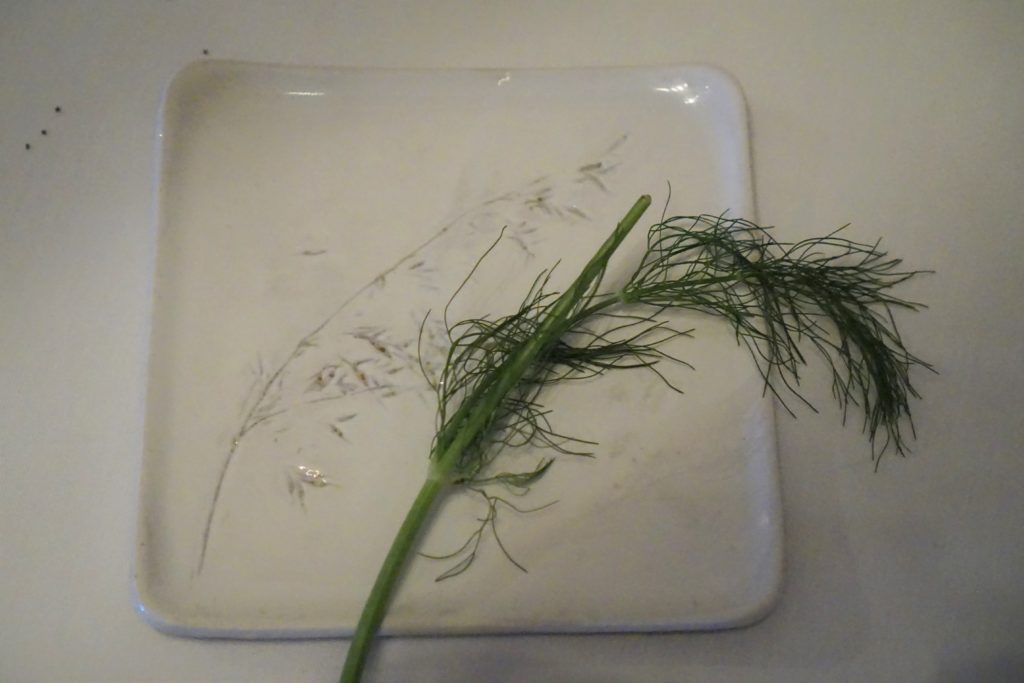 Fennel Stalk Next up we just gnawed on the stem of piece of fennel. It's like a crunchy licorice twizzler.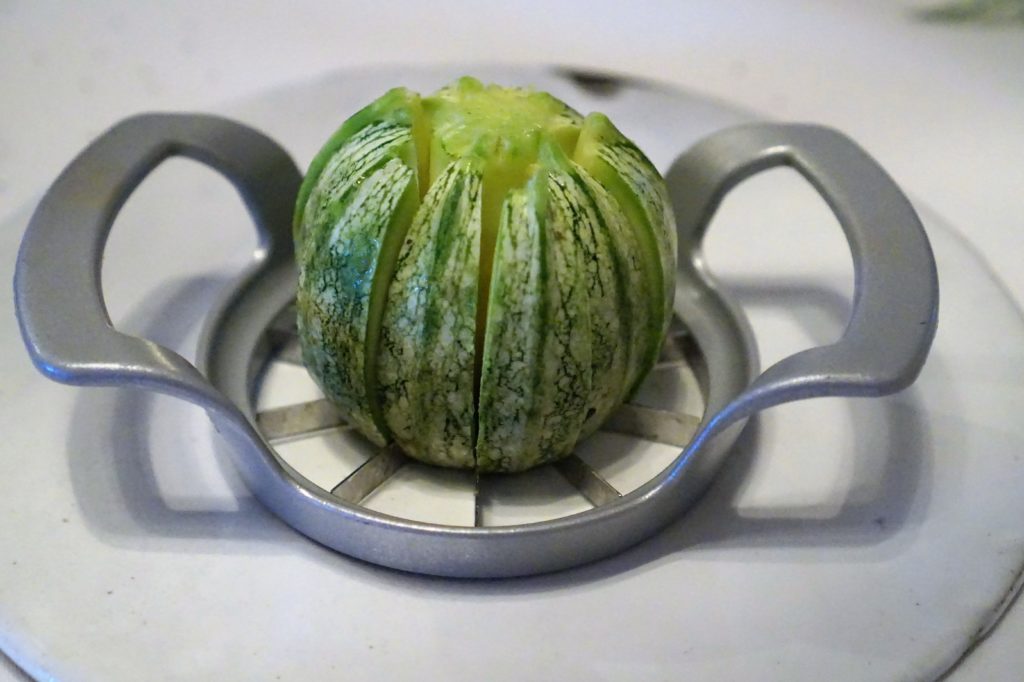 Squash This was a hybrid of winter and summer squash eaten raw like an apple.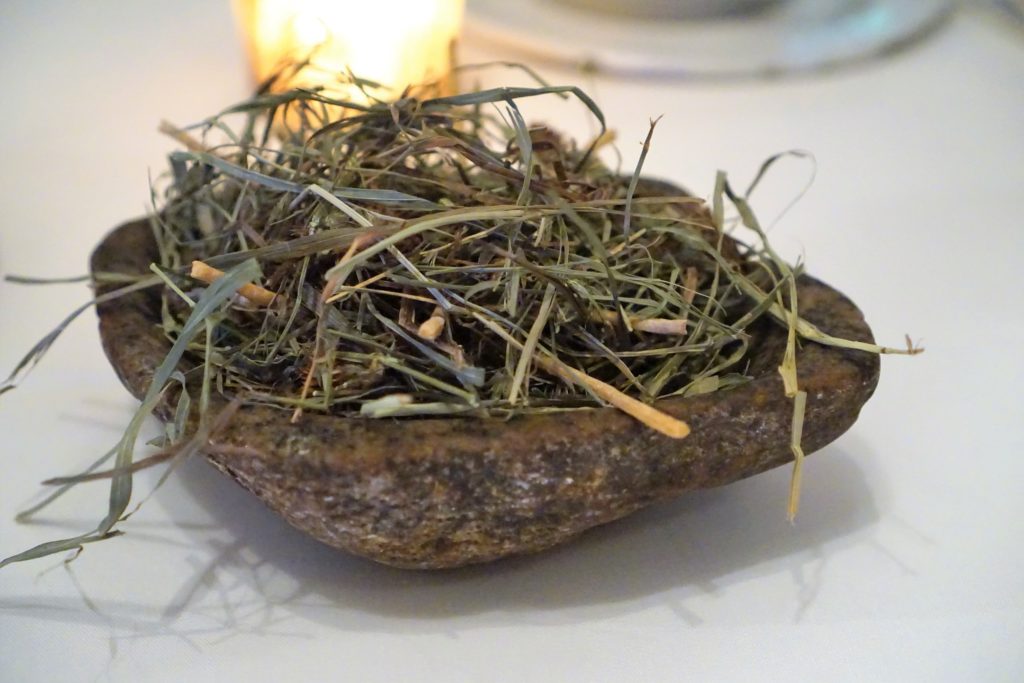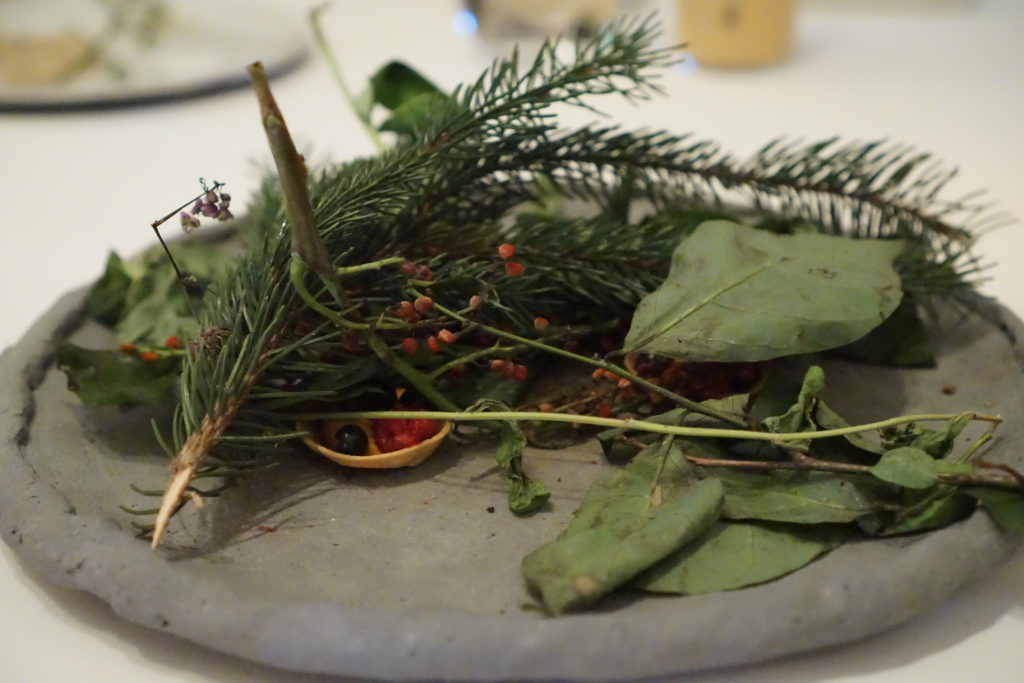 At this point we were told it was time do a little "foraging." Blue Hill works with a "forager" to find local produce because of course they do. Our dishes were hidden in some foliage scooped about around the farm. I could imagine an 19th-century landowner doing this and laughing at how he had done "proletarian" work for his food.
Cheese Sticks (top) hidden in hay. Berry and Mushroom Tart (bottom) buried in a pile of pine leaves.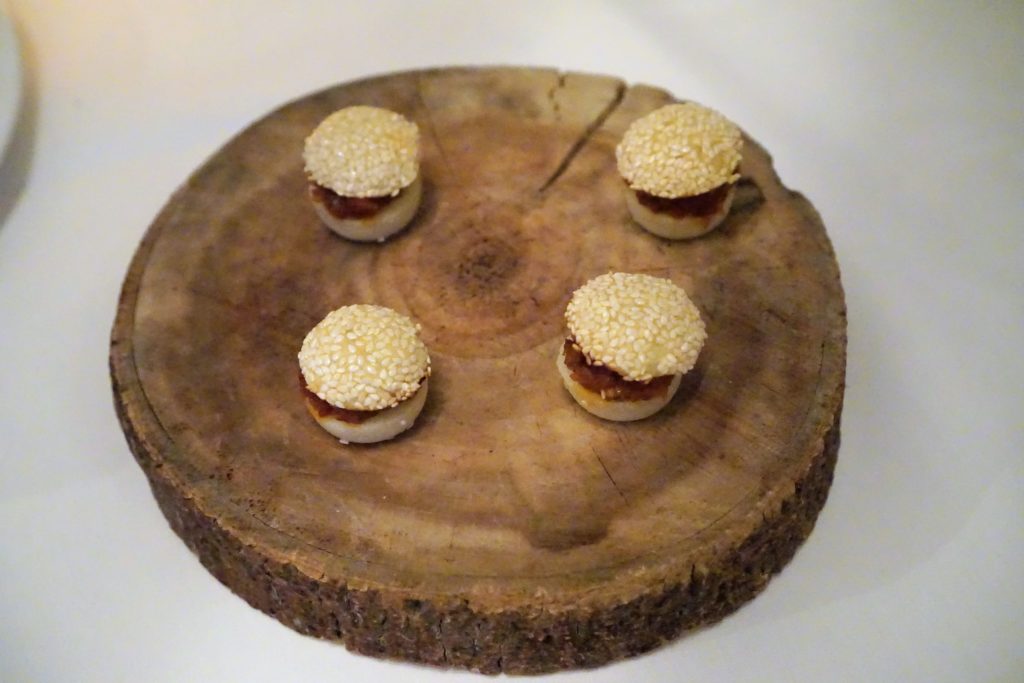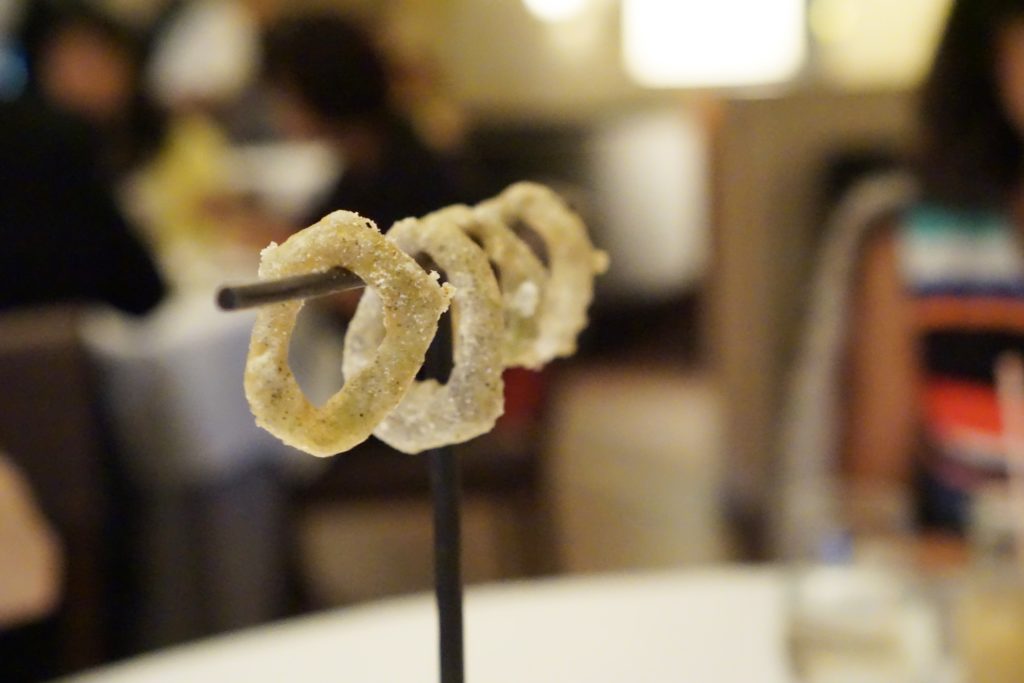 Tomato Burger (top) tasted like a slider with some very fancy ketchup. It was served with Tempura Cucumber Rings (bottom).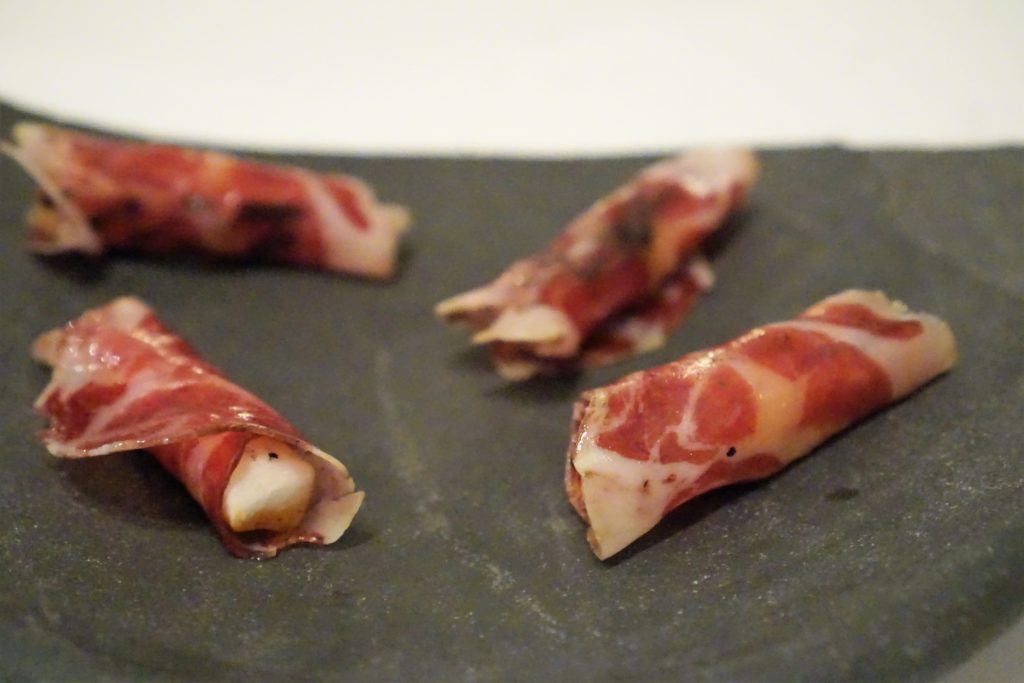 Honeydew Wrapped in Coppa Salami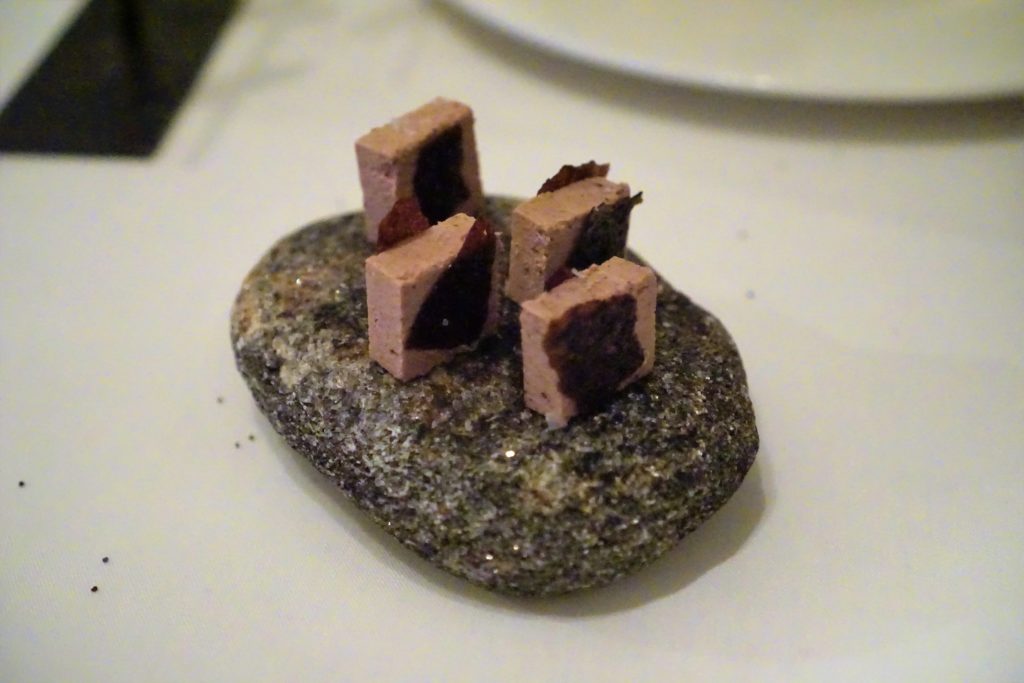 Liver in Chocolate If you have dreamt of having pate for dessert, it probably looked something like this.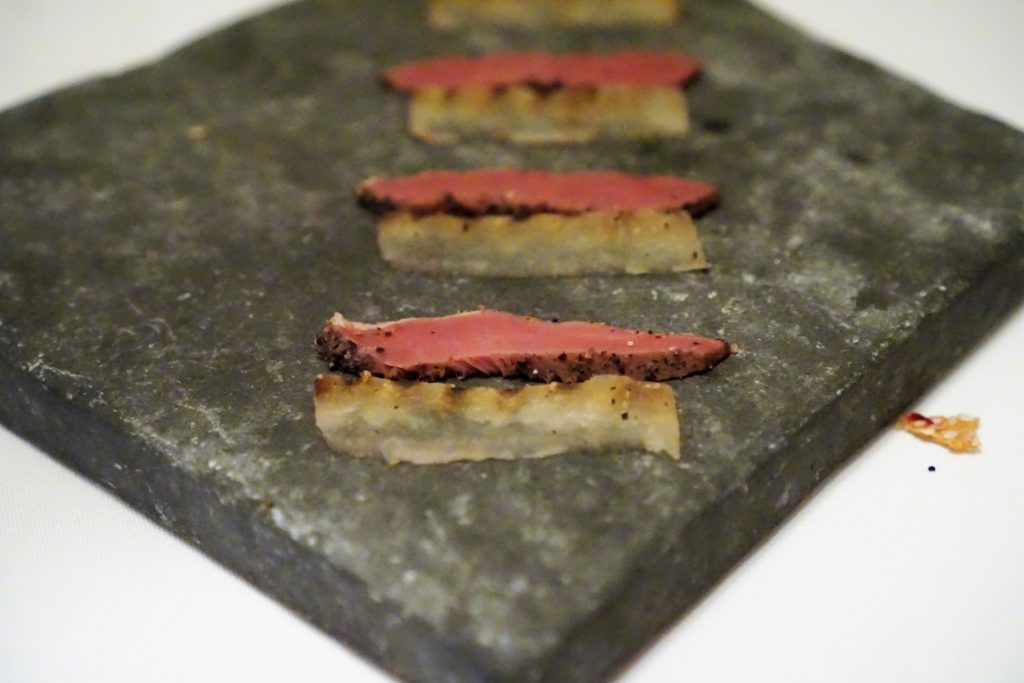 Pig's Heart & Watermelon Pastrami The heart tasted like a slightly tough pastrami, but the watermelon was a great sweet-peppery combo. It also went really helped cut the richness of the heart.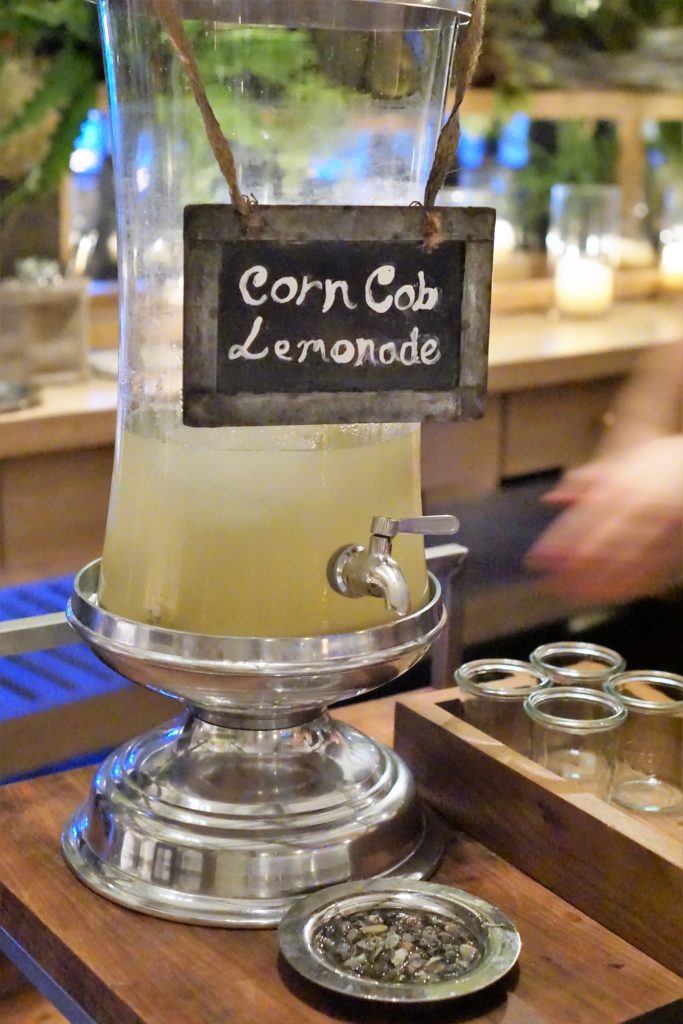 Corn Cob Lemonade Tasted mostly like lemonade but definitely with a hint of sweet corn going on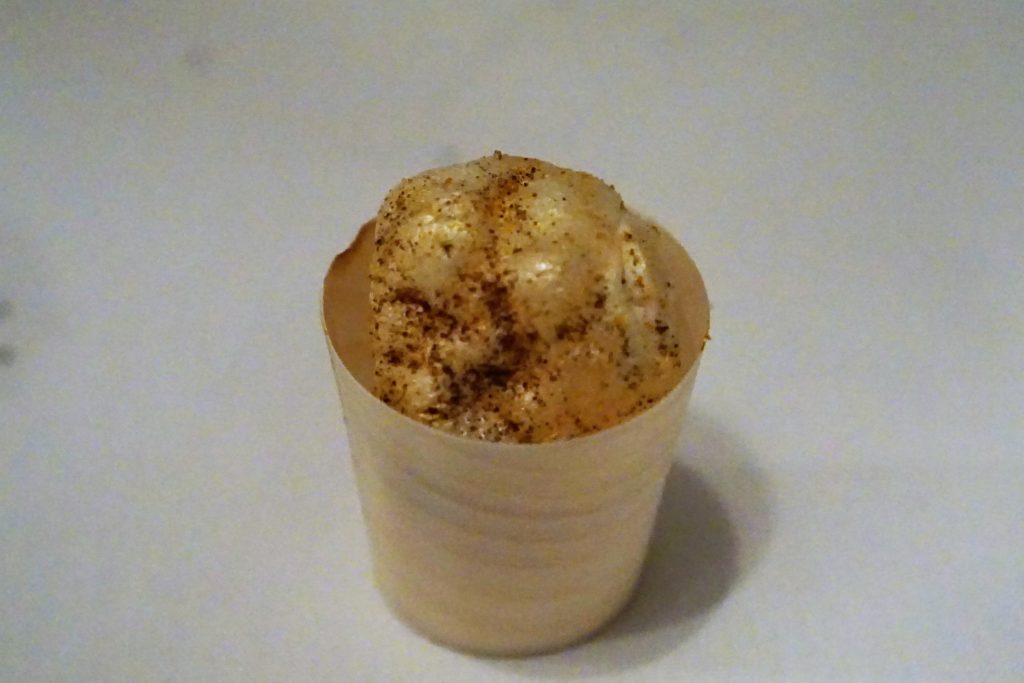 Pigskin Popcorn Wish I could have brought a bag of this home for football season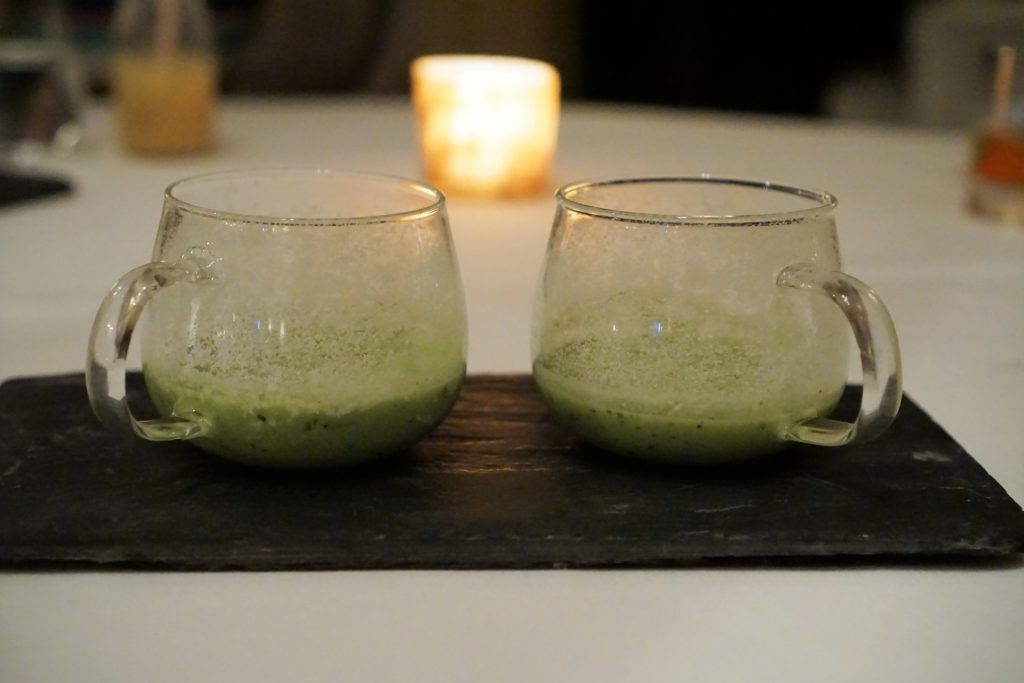 Cucumber & Melon Bits Gazpacho Chunky but refreshing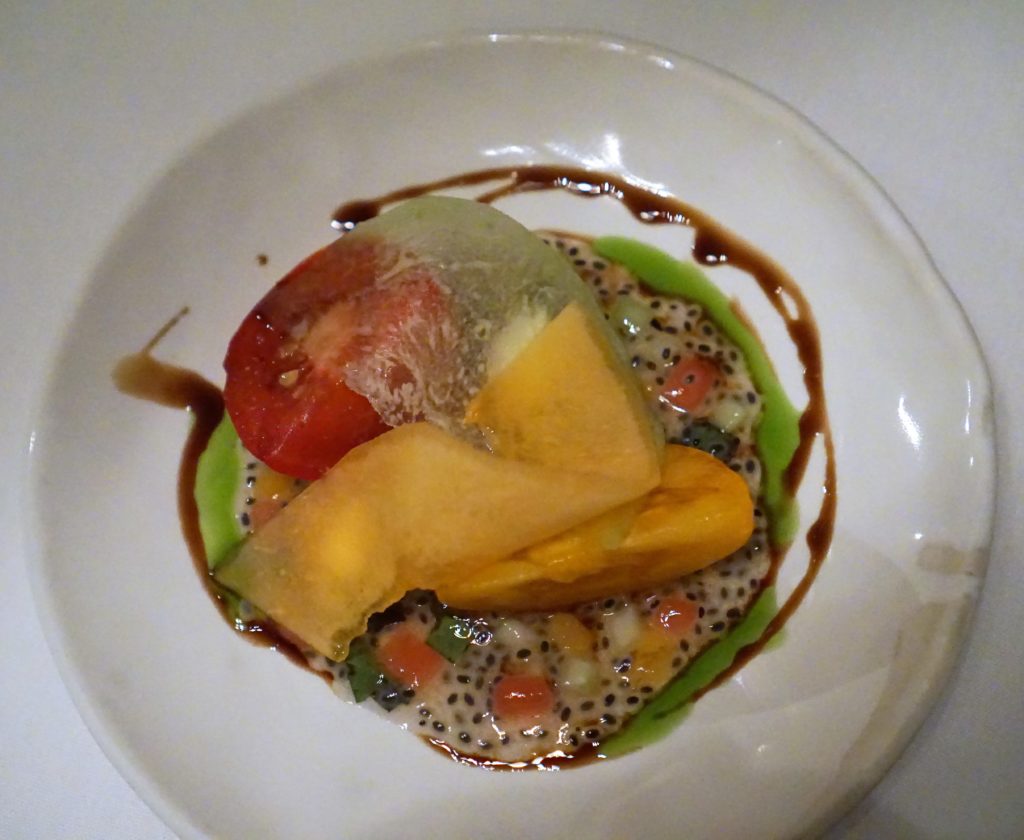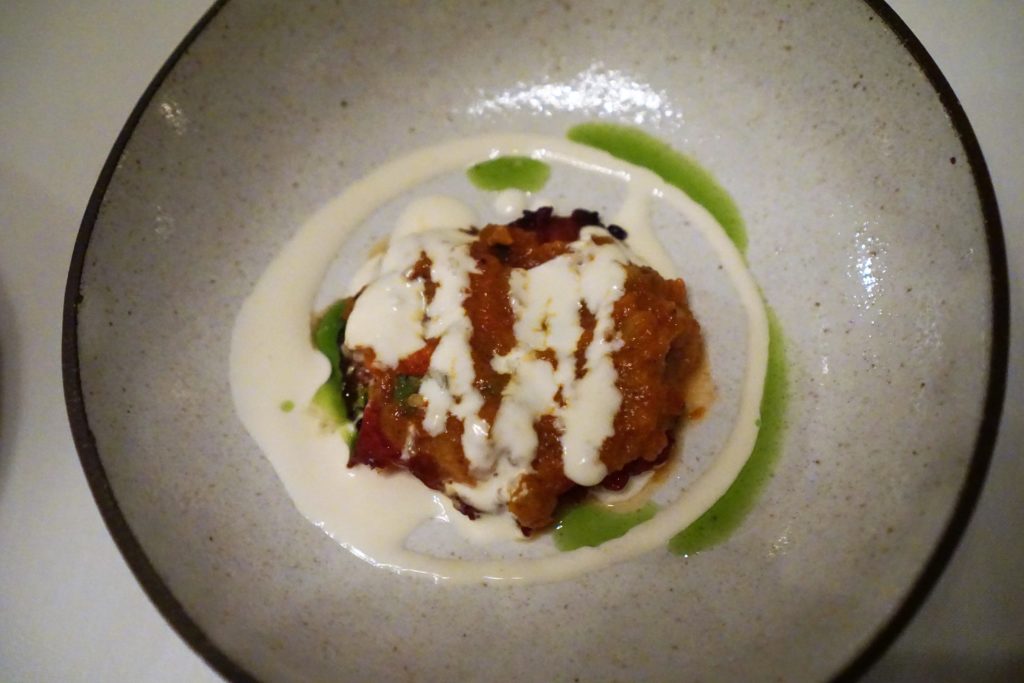 Heirloom Tomato and Goat Cheese Two Ways Top: "The Fresh" – fresh tomato, melon and goat cheese. Bottom: Tomato Confit with Smoked Goat Cheese sauce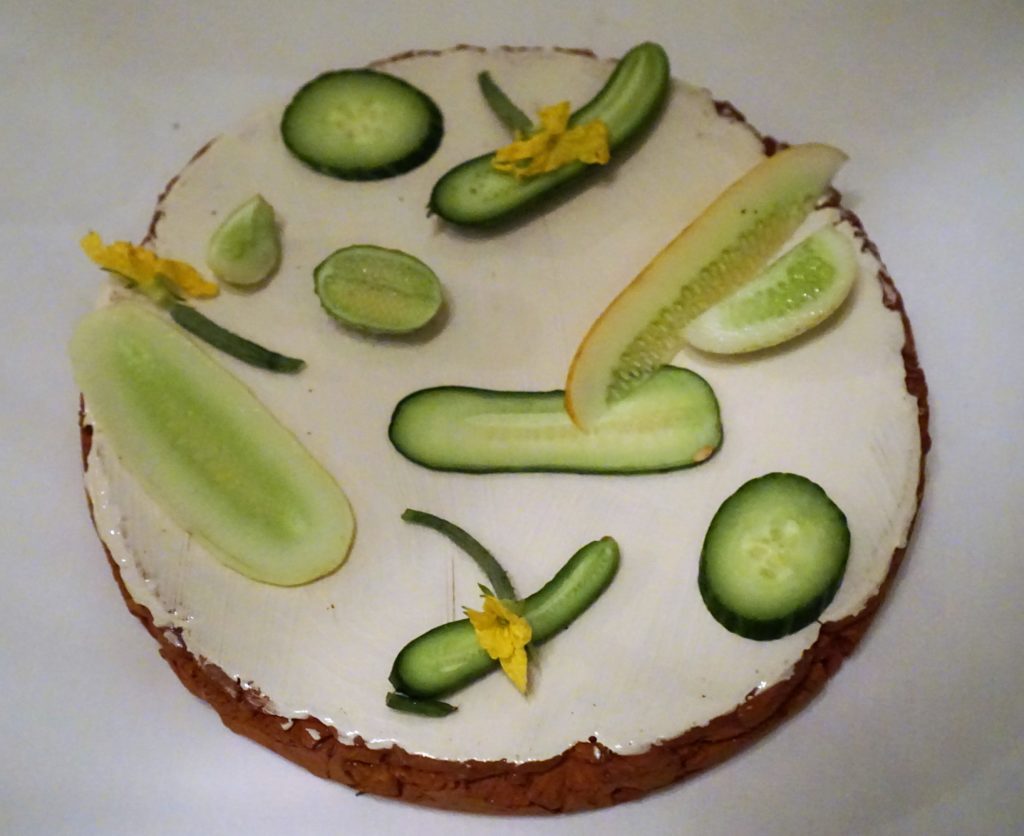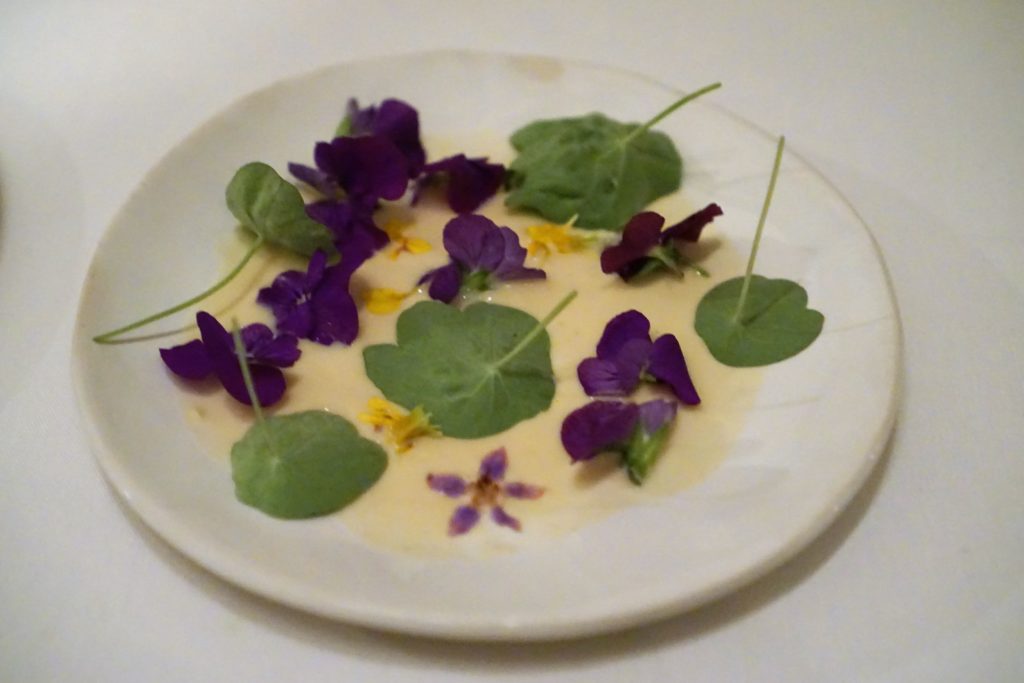 Stone Barns Cucumbers with Yogurt and Edible Flowers for Dipping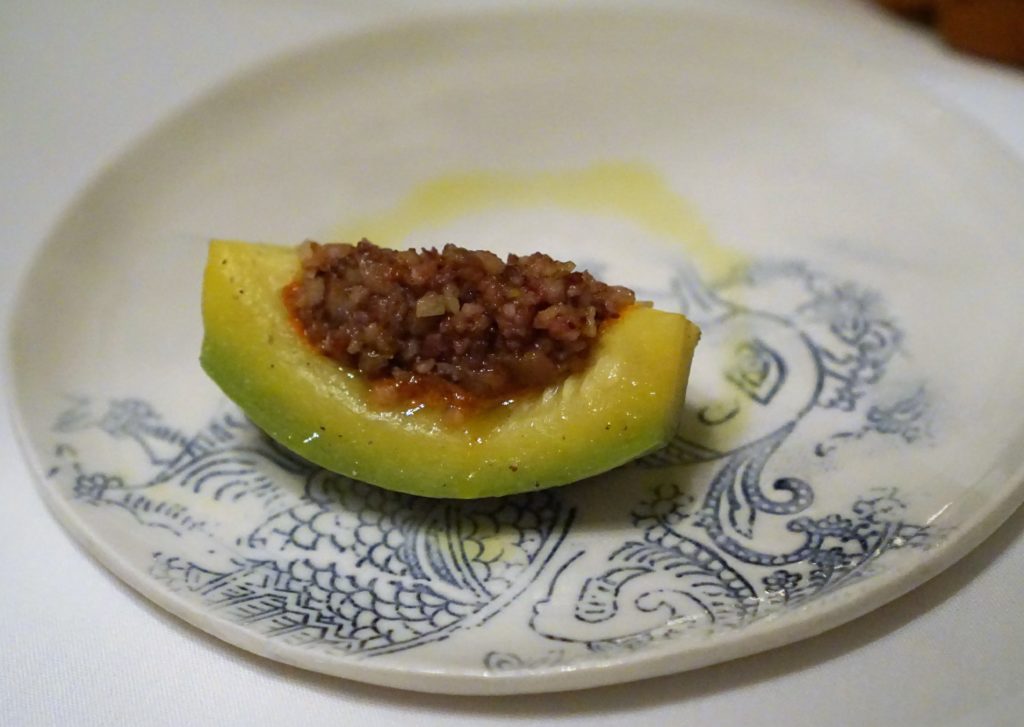 "Stone Barns Avocado" joked our waiter. In reality it's a blue hubbard squash. The blue hubbard is typically planted among other vegetables because insects eat it first, allowing it to act as a natural martyr pesticide for it's tastier fieldmates. It may not be great on its own, but cover it in this pig snout marmalade and I would be happy to join the bugs in demolishing it anytime.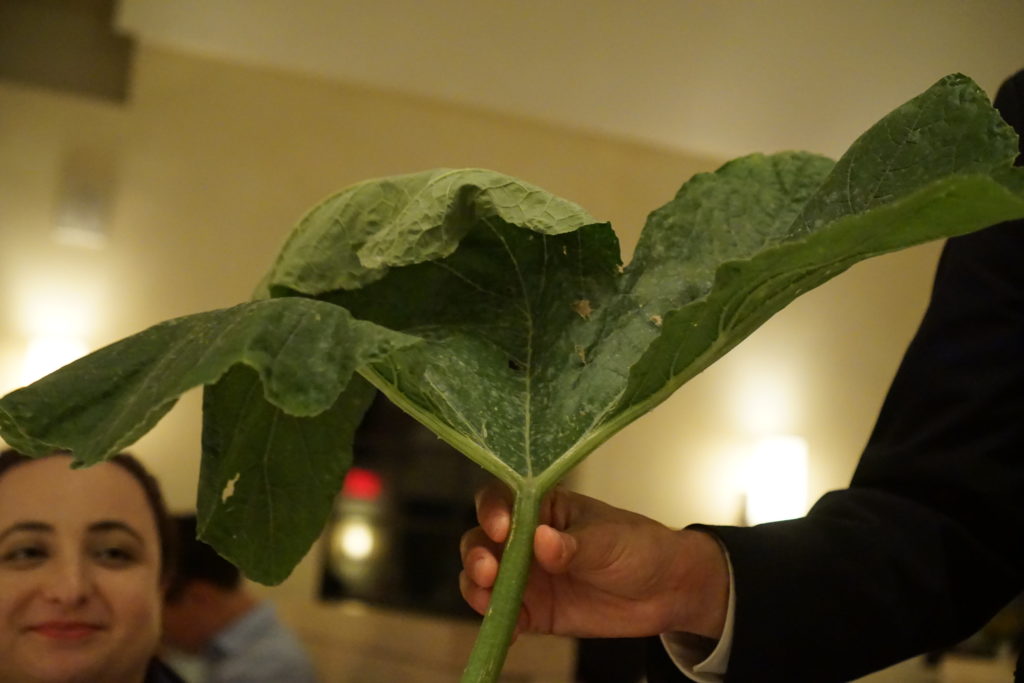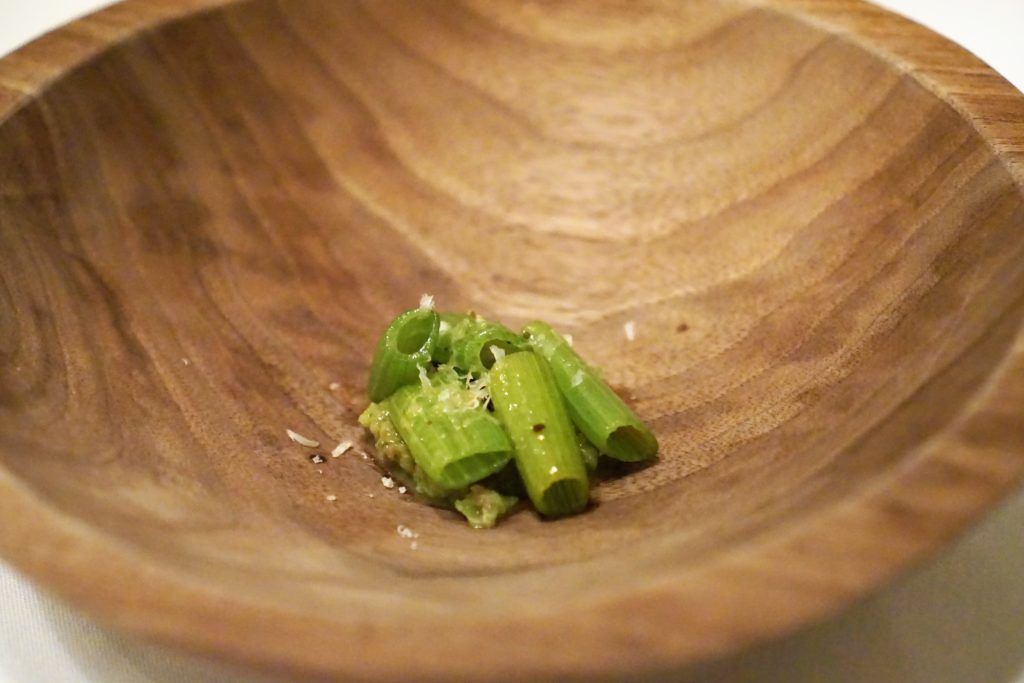 Squash Stem Romanesco The squash stem (top) is sliced and mixed with cheese and herbs. I didn't miss the wheat.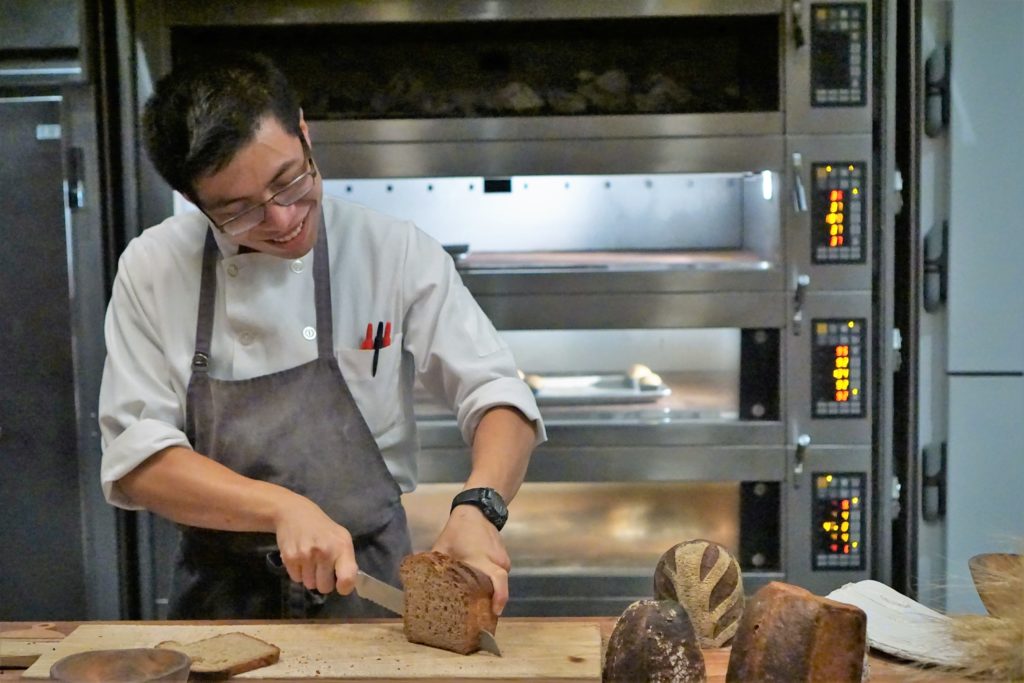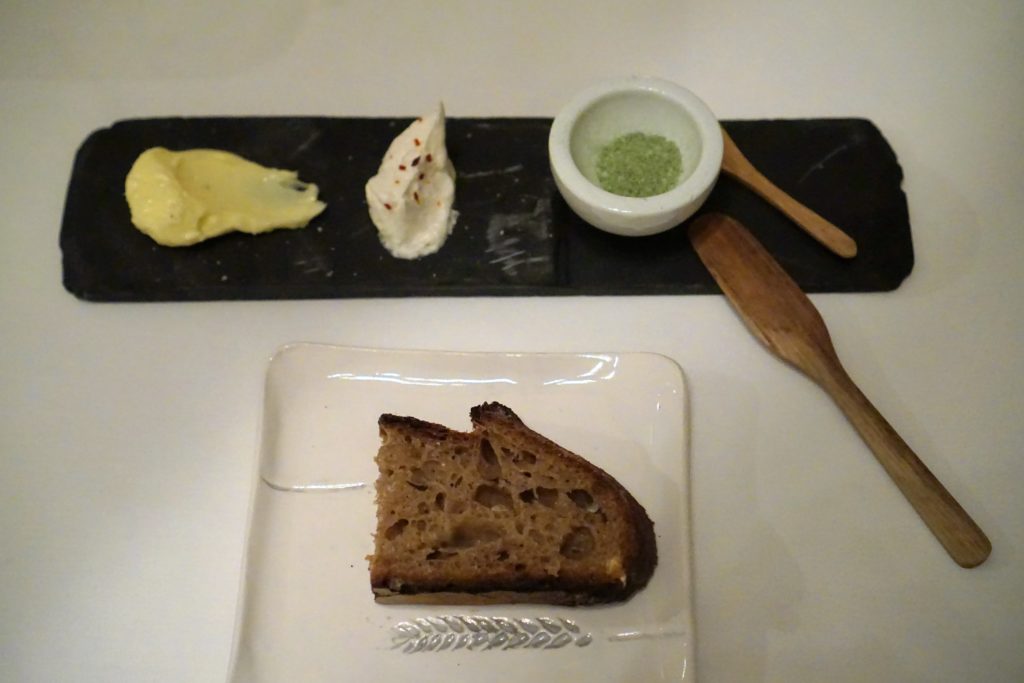 At this point we finally reached the bread course, which means the real meal can begin? We were led away from our table to the small bakery behind the dining room. There we met the head baker who told us about the experimental wheats Blue Hill uses to make bread. He also cut us some incredible fresh slices. Later back at the table we received more with butter, cream and fennel salt (below).
Potato and Charcoal Corn Gnocci in tomato sauce. Blue Hill makes its own charcoal through mulching which is used both in the fire pit, and to make a black gnocci shell. Apologies for forgetting to photograph it.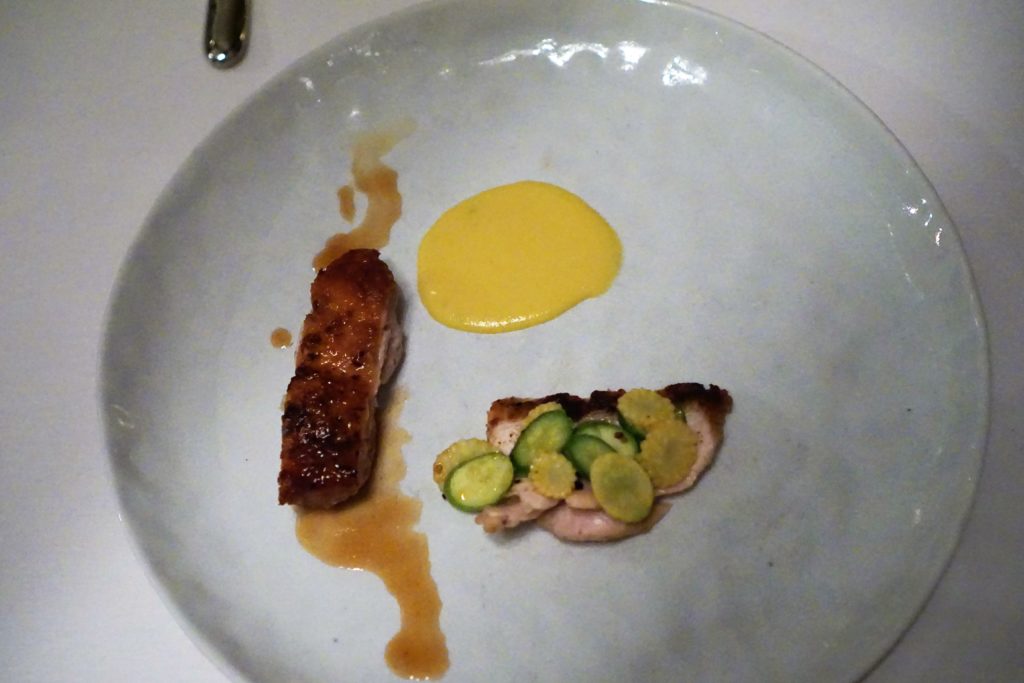 Chicken The only true meat course of the night was this chicken cooked with leftover levain from the bread making and served with a sweet corn sauce. It might be the best chicken I've ever had.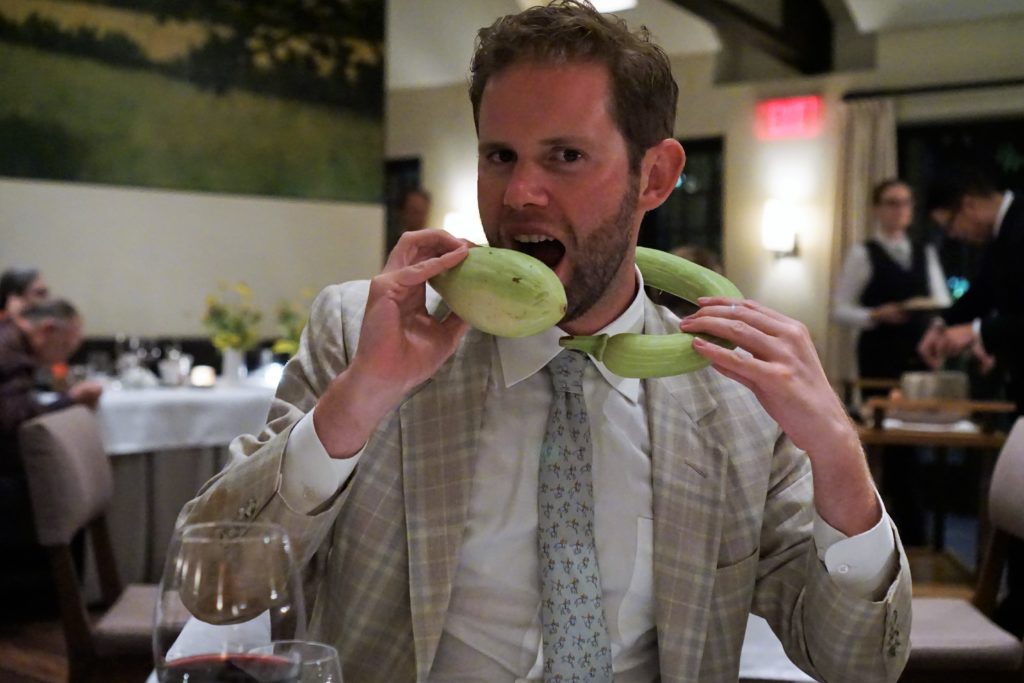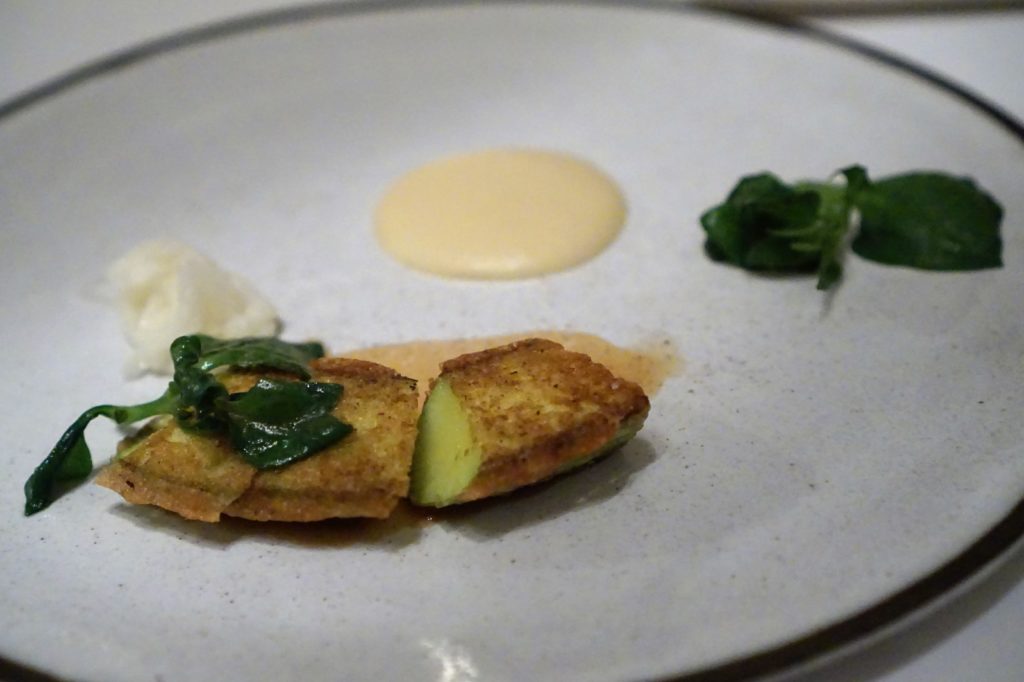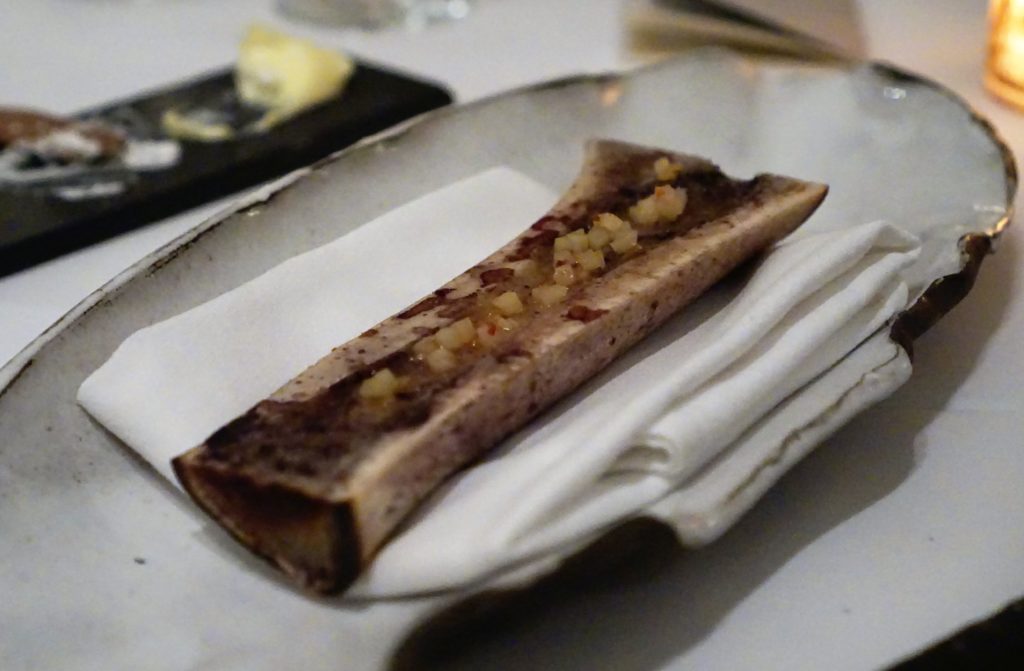 The final savory course involved another of Dan Barber's hybrid vegetables. This one was a cross between an Italian Tromboncino Squash (my necklace above) with his famous tiny butternut squash. The smaller breeding allows for less water and more flavor. This one was also cooked in the excess levain with fermented bees wax and served with a side of bone marrow because why not?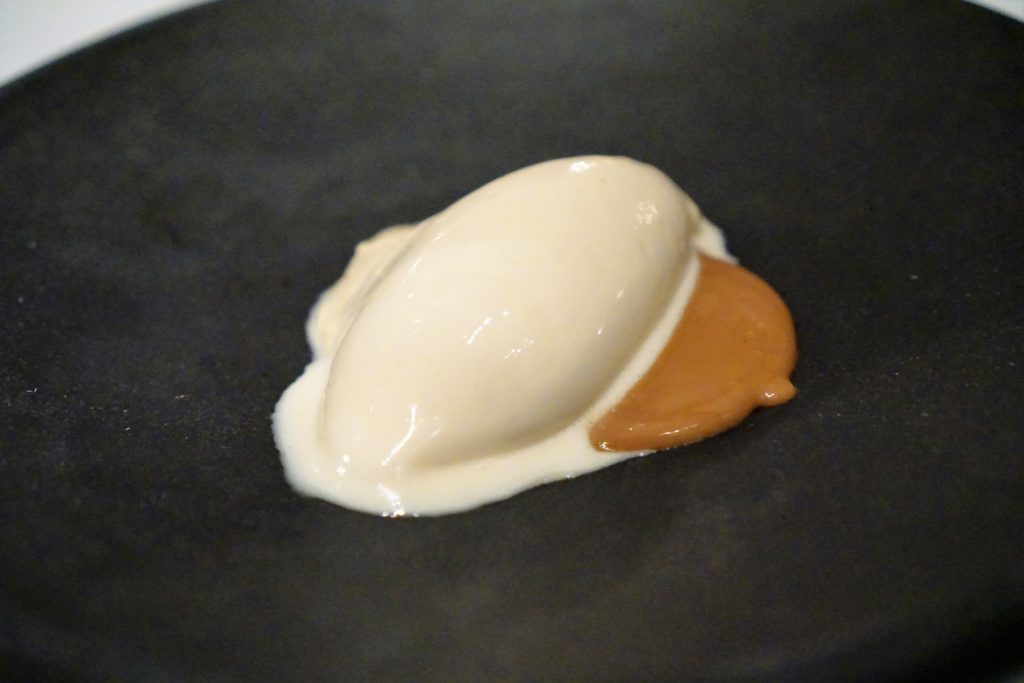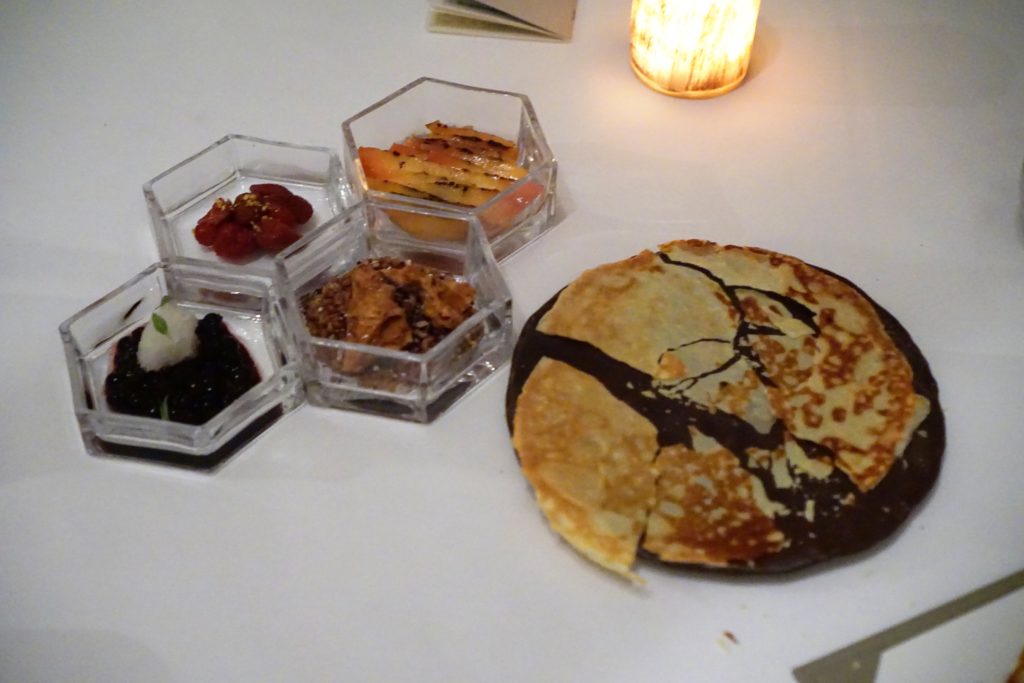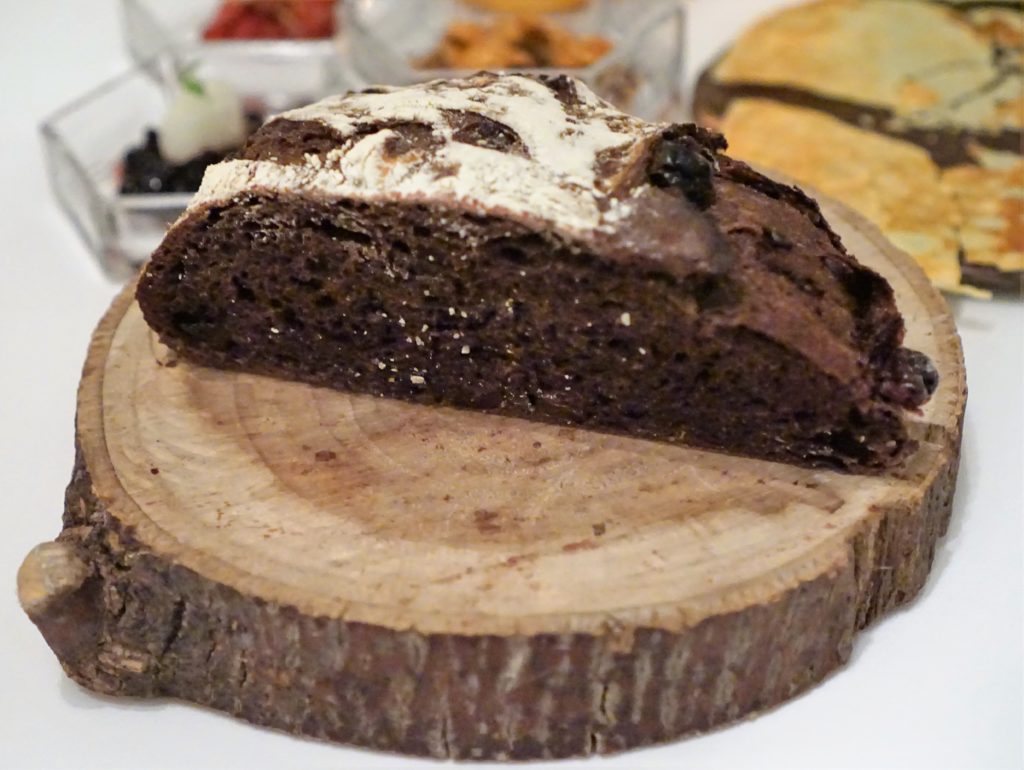 Dessert #1's theme was Milk. Top is a milk jam, milk cream (similar to panna cotta) and dulche de leche. It was served with a milk crepe (middle) and a series of fruit preserves to put on top. Since you clearly need something else to mop up all the fruit and milk, they also dropped a half loaf of chocolate cherry bread.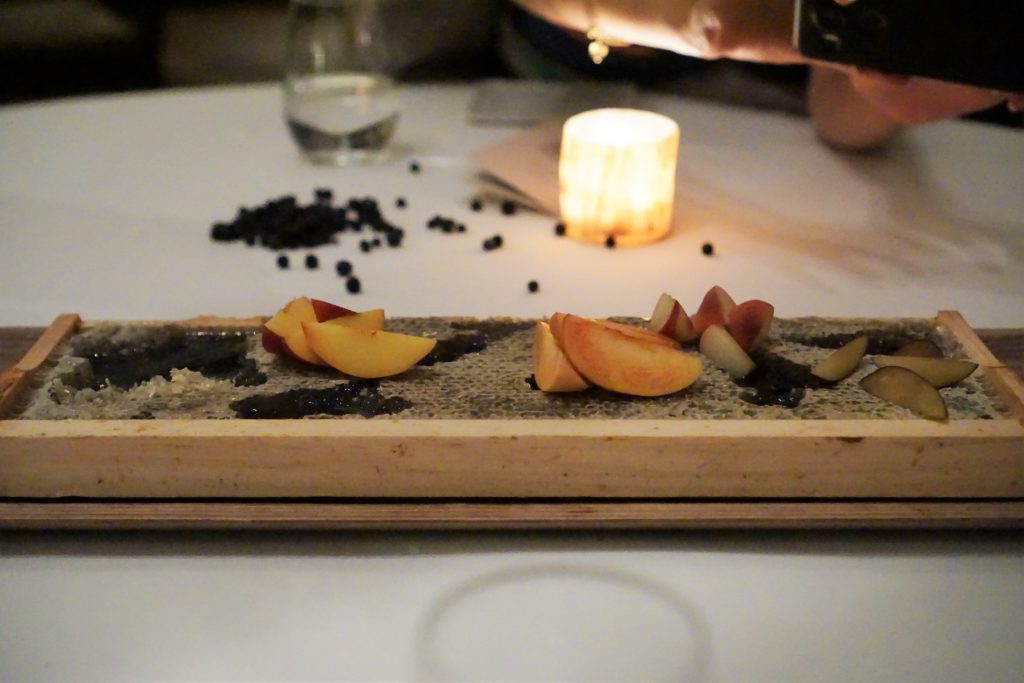 Stone Barns Stone Fruits over HoneyComb Dipping the peaches and nectarines into the fresh honey is just a simple pleasure that makes you feel like Winnie the Poo. In back are some blueberries that were – you guessed it – foraged nearby.
Blue Hill at Stone Barns
630 Bedford Road
Tarrytown, NY