I would venture to say that 95% of people who live in Manhattan couldn't locate Clinton Hill on a map. It's just east of Fort Green by the way, if that helps. To be fair there haven't been many reasons for those not in the area to know about this neighborhood, much less venture over for a meal. Which explains why a place like Otway has been able to exist for over a year in relative obscurity. Well, now it's time for the secret to come out. Because this restaurant from Claire Welle and Samantha Safer is doing some of the most exciting cooking in New York City right now.
One of the nice things about Otway is that while it may serve some fancy food, it manages to do so without pretension. The bright white space decorated only with plants feels more like a neighborhood cafe than a fine dining establishment. And the staff describes items on the menu you might not be familiar with – what is a sauce american? (lobster sauce apparently) – without the least bit of judgement.
The menu is small and focused with every dish intriguing in it's own way. Even more so when you realize none of them come out looking like what you expect. The largest section is the hors d'ouveres with 7 items. You could easily take the whole thing down with a group but we ended up skipping it entirely to sample two of the nightly specials: duck hearts and chicharrones. The four appetizers and four entrees are a good collection of salads, seafood and meats with a foie gras wedged in between. Here's what we tried: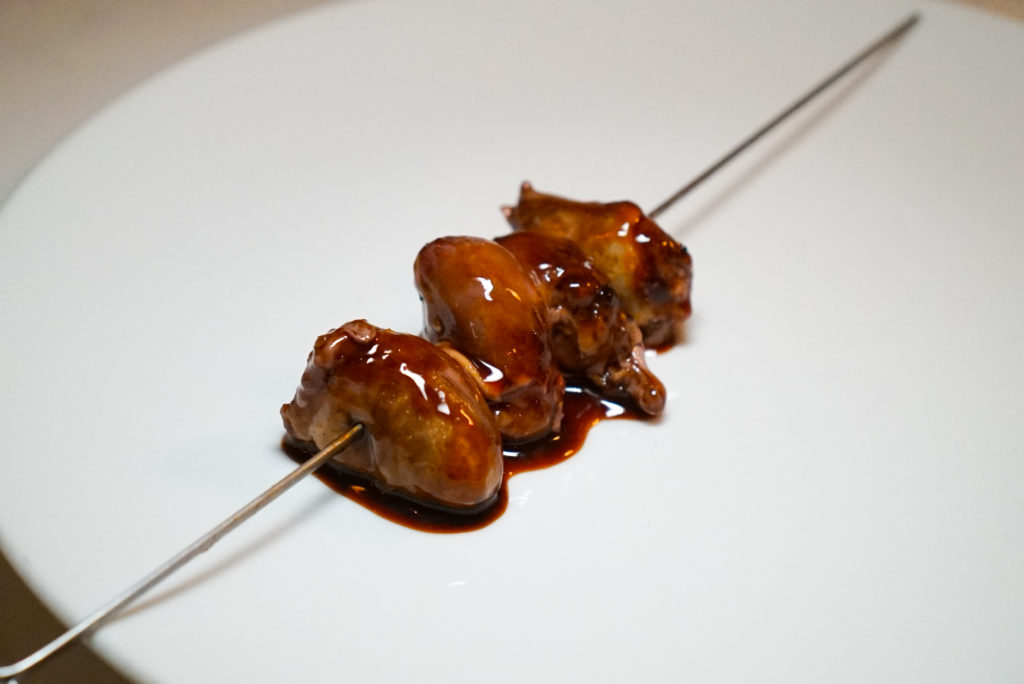 Duck Hearts When's the last time you saw these on a menu? Okay technically these were a special not on the menu but you get the point. This was my first time eating the heart of a duck and it was much better than I expected. The texture is a little rubbery but not in a chewy way. The Japanese BBQ sauce (similar but richer to what you get on unagi/eel) covered up any offal flavor. I would definitely order these again.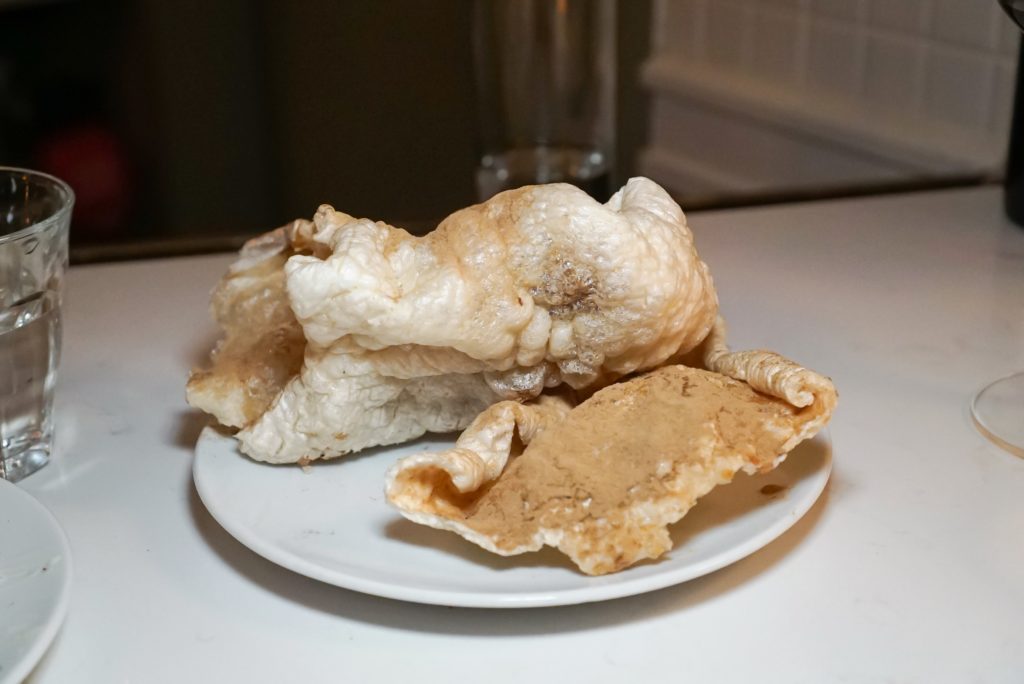 Chicharrones The only miss of the night. The crispiness was there, but they needed more of whatever seasoning was on them.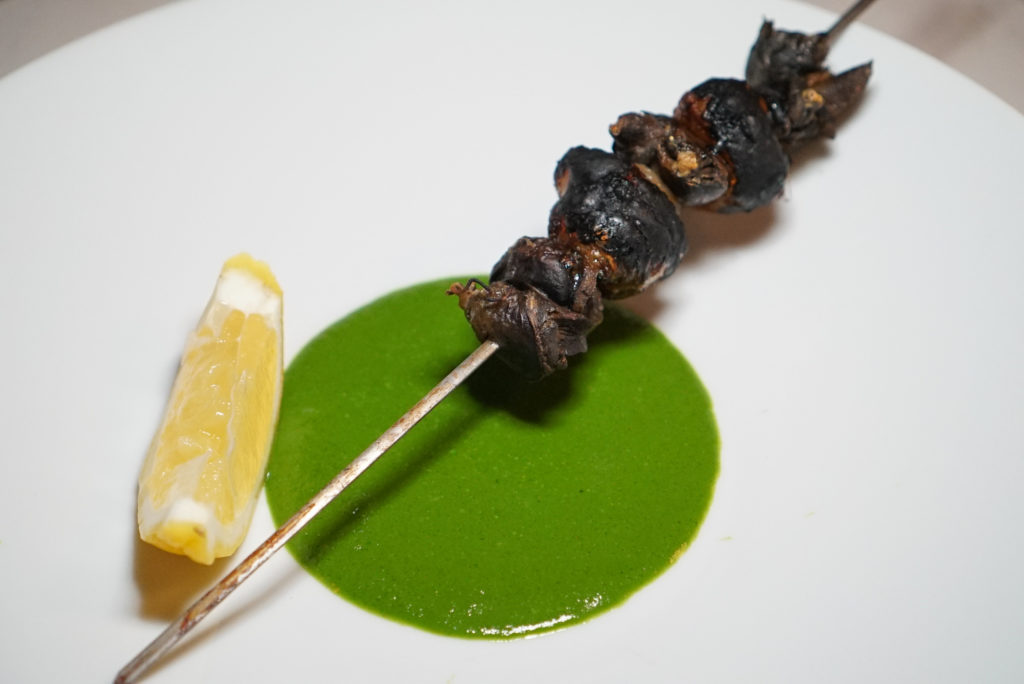 Grilled Snails Snails are usually seen swimming in a buttery sauce, so it's weird to see them sitting naked on a skewer alongside sunchokes. They definitely have a unique flavor, but if you're up the challenge they're quite tasty dipped in the garlic-parsley sauce.
Raw Venison Sometimes a meal is so good you forget to snap a photo of a dish. Sorry. Basically this comes out carpaccio-style with a peppery and surprisingly un-gamey taste. Highly recommended for meat lovers.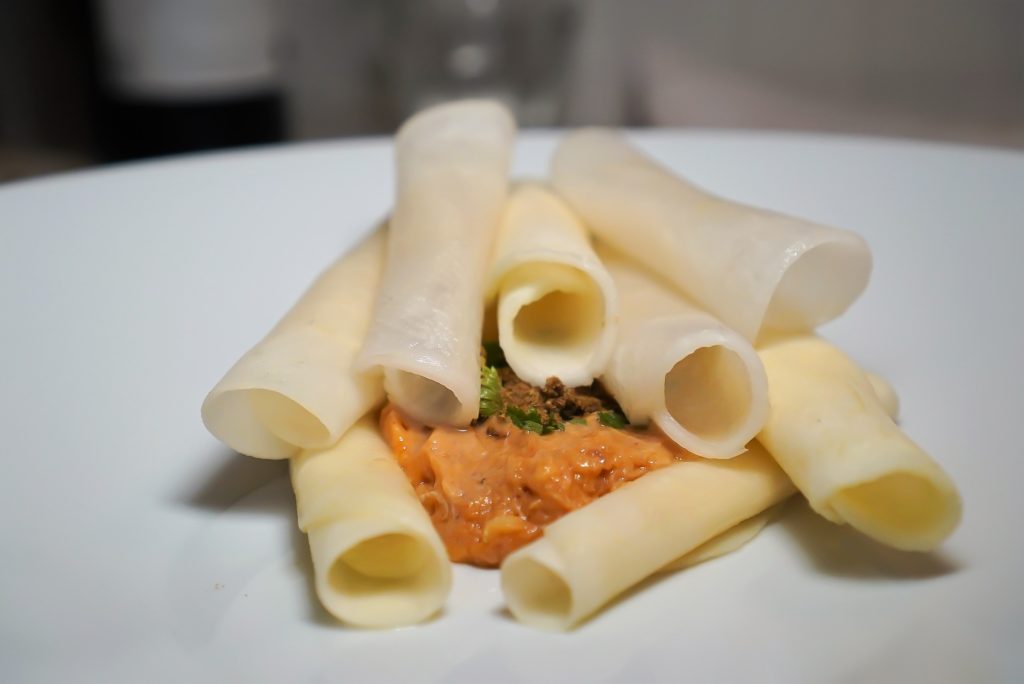 Kohlrabi with bayonne ham and chevril Bet you didn't expect it to look like this! The ham is made up into a salad with  chevril (a type of parsley) on top with hints of a chicory flavor. The thinly sliced kohlrabi serves as a perfect dipping stick, or potentially a make-your-own taco.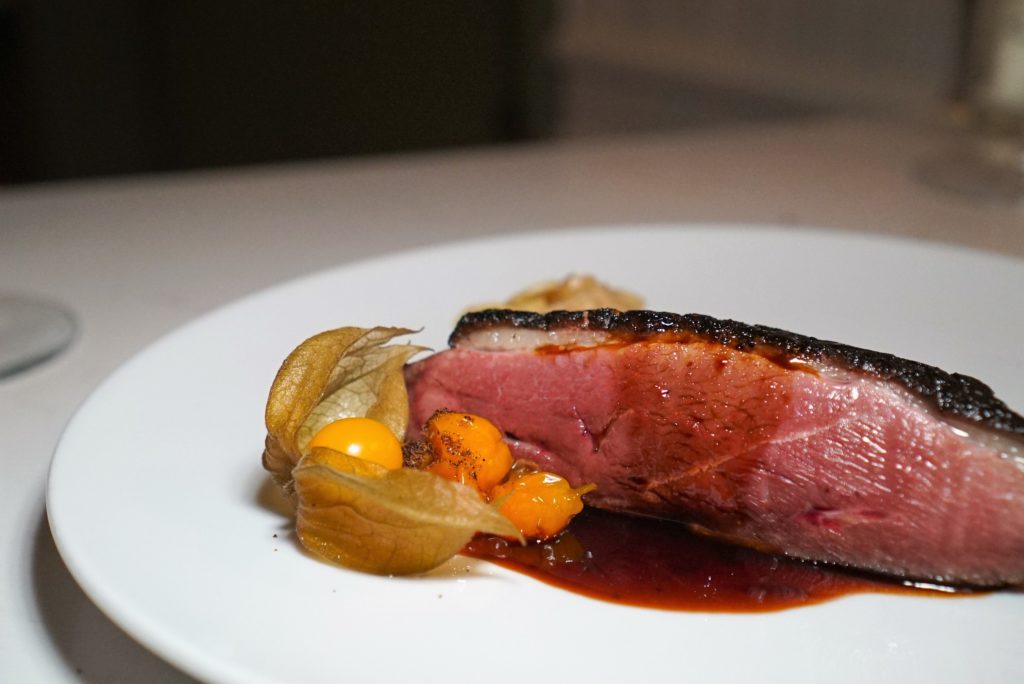 Duck Breast with chestnut, gooseberries and wild rice The first normal piece of meat and I have to admit the best. Not that the two are relatve. It just happens that this perfectly seared breast is one of the best ducks in town. Thankfully it sounds like it will remain on the menu at all times with only the sides changing seasonally.
Photo Credit: Interior photo by Emile Askey / Otway. Food photos by The Dishelin Guide.
Otway
930 Fulton Street
Brooklyn, NY